Hurrah! It's our first Tasty Bites recipe and I'm can't wait to share it with you guy. Like I said, we are so thrilled to have the Bird & Cleaver team over here sharing some of their delicious takes on yummy treats. First up? Homemade blueberry pop tarts. What?? Mmm hmm. I said homemade pop tarts. Sure these may take a little longer than ripping open that crinkly silver package we're all used to, but soooo worth it. And as Ashley recommends, you can make these ahead of time and freeze til the craving hits ya. OK, take it away guys…
Hello Modern Kiddo readers. It's great to be here! In our house, a big Sunday breakfast is definitely a favorite weekly ritual. This is one of the few times during our busy week when we can all relax and enjoy each others company (mostly) uninterrupted. If only for a little while. It is also the one meal, where we tend to indulge ourselves a little more than usual. We still eat relatively healthy, whole foods, but if we are feeling particularly inspired (or have a huge sweet tooth!), some sort of fresh baked good makes it way to the table. And by "we", I mean Mom. (Dad is not much help in the way of sweet treats, unless of course, you lump heaping bowls of Captain Crunch into this category….)
This time around it was Mom to the rescue with a homemade take on childhood favorite Pop Tarts. Flaky, gooey  and full of rich blueberry flavor—with very little sugar.  While I wouldn't say these are "healthy", they are made with real ingredients.  We all agreed that these were going to have to make another appearance really soon. Give them a try, we think you will agree!
pâté sucrée (aka pastry dough)
2 1/2 cups All Purpose flour
3 tablespoon granulated sugar + more for sprinkling
1 teaspoon salt
1 cup cold butter
2 egg yolks + 1 egg for wash
1/4 to 1/2 cup water
In a bowl, combine flour, sugar and salt.  Use a box grater and grate butter into flour mixture.  Toss together with your fingers.
In a glass measuring cup, whisk together egg yolks and water.  Add ice.  Add to flour / butter mixture a few tablespoons at a a time, kneading until dough comes together.
Shape in a disk, wrap in plastic wrap and chill for at least an hour.  (This dough will keep in the fridge for up to two weeks.)  Make filling while dough chills.
Roll it out to 1/4 to 1/8 inch thick. Cut into desired rectangular size and shape. Push together scraps and repeat.  Mine were about 2 1/2 x 4 1/2 inches. You should get 6-8 pop tarts at this size.  Place bottom layers on cookie sheet.
Place blueberry filling in the center and brush egg around edges. Place top rectangle over filling and seal edges with fork tine. Poke em' with holes to let the steam escape, and brush tops with egg wash. Sprinkle with sugar. Repeat with remaining tarts. Pop into freezer for 10-15 minutes while oven preheats.
Preheat oven to 350 degrees. Bake for 18-25 minutes or until golden brown. (Although we made these for breakfast, general consensus was that these would be delicious straight from the oven with a scoop of ice cream) Store in an airtight container…if there are leftovers.
juice of 1 lemon
1/2 pint of blueberries
1/4 cup sugar
Combine ingredients in small saucepan.  Cook over medium heat until mixture is thick and the consistency of jam, about five minutes. Set aside and cool.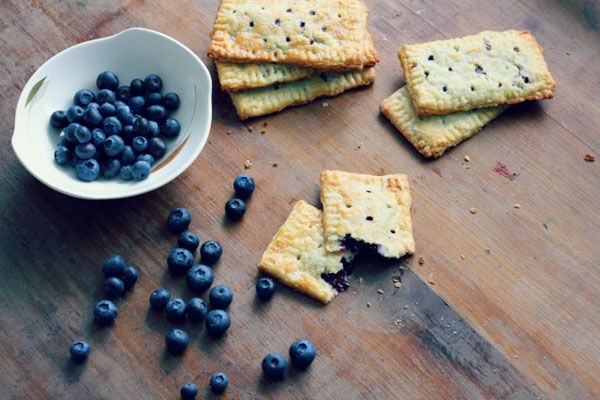 {recipe + photos by Lindsay & John of Bird & Cleaver for Modern Kiddo. For more recipes, go here!)