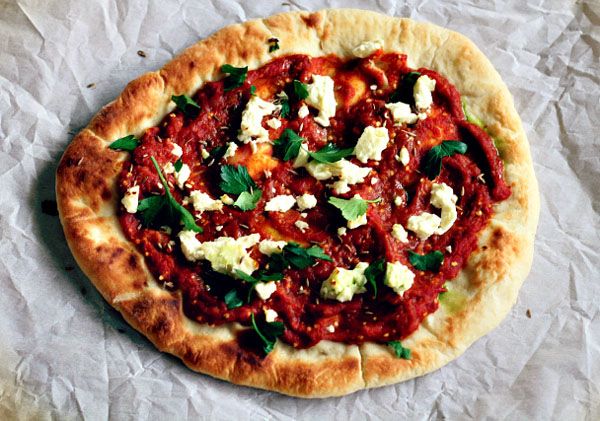 When we originally made this dish I don't think I gave it enough credit. Sure, the recipe is quite easy to follow, and can be pretty quick to make. But it is so much more! We are talking classic flavors here. It really does not get much better than eggplant and tomato in our book, and this preparation is about as close to perfect as we can think of. Hearty and healthy. Tangy and full of flavor, but with minimal ingredients. What's not to love? Pair these roasted veggies with your favorite flatbread, pizza crust, or even pita and you've got yourself an awesome meal. Honestly though, you could just skip the bread all together. Put it on your eggs, spread it on a sandwich, eat it on a cracker, dip a carrot in it. Hell, eat it straight out of the pan! It's so deliciously versatile, you'll figure it out after just one bite.
roasted tomato & eggplant flatbread
1 med eggplant
1 32oz. can crushed tomatoes
3 garlic cloves minced
2 tsp paprika
1 Tb lemon juice
1/2 tsp ground cumin
1/2 tsp coriander
 your favorite flatbread, etc….
for garnish:
feta cheese
flat leaf parsley
 cilantro
toasted cumin seed
Preheat oven to 400 degrees. Rub a small amount of oil on a 9×13 pan. Slice eggplant in half lengthwise, sprinkle with kosher salt, and place skin side up on the pan. Combine together tomato, lemon juice and spices, add to pan. Place pan in oven and roast for 45-50 minutes. Remove from oven and carefully scoop out the eggplant from skin. Add eggplant back to tomato mixture, mix well. Spread mixture onto bread/crust, top with feta and return to oven. Bake until golden brown. Garnish w/ parsley, cilantro, cumin seeds, and a sprinkle of kosher salt. Eat that thang!


Want more Tasty Bites? Go here. If you are on Instagram, be sure to follow @birdandclever for more delicious photos.