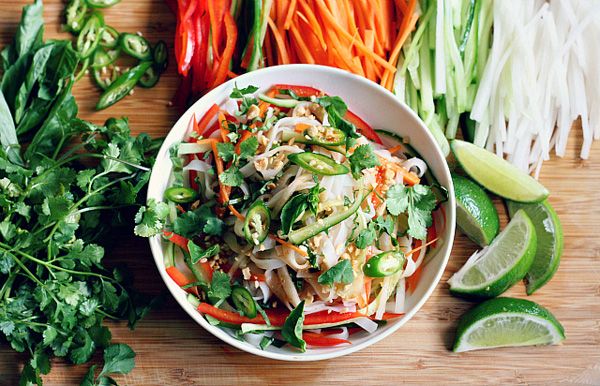 Hello again, MK readers! We have another short and sweet meal for you. But this time, instead of tasty libations, we would like to share one of our all-time favorite little salads. This Thai salad has saved us on many nights, when we were suffering from a severe lack of motivation—and/or time—but wanted something fresh and homemade. It is refreshing and incorporates the spicy, salty, sweet and sour flavors that we love.
This dish is also great because it is infinitely adaptable. Most of the ingredients are things that you usually have on hand anyway. Noodles, veggies, soy, sugar, oil, that's pretty much it. However, if you find yourself missing anything on the list, you can always substitute/omit to your hearts content. Just try to use as many fresh, local ingredients as possible, and you will definitely end up on top. This is also a good recipe to know if you have mutant, alien basil growing right outside your back door. Ya know, in case you were wondering.
thai noodle salad
for the salad: (all veggie measurements are based on our preference. feel free to adjust accordingly)
8 oz rice noodles, softened in hot water
1 red bell pepper, julienned
1 small daikon, julienned
1 cucumber, julienned
3 medium carrots, julienned
thai chile, thinly sliced
basil
cilantro
lime for garnish
chopped, unsalted peanuts for garnish
for the dressing: (feel free to double if you like it saucy!)
1/4 teaspoon of sesame oil
3 tablespoons soy
1 teaspoon fish sauce
2 tablespoons sugar
1 tablespoon sriracha
2 tablespoons lime juice
Combine noodles, sweet pepper, daikon, cucumber, and carrot.  Dress to taste.  Top with, chile, basil, cilantro and peanuts.  Serve with lime, sriracha and fish sauce.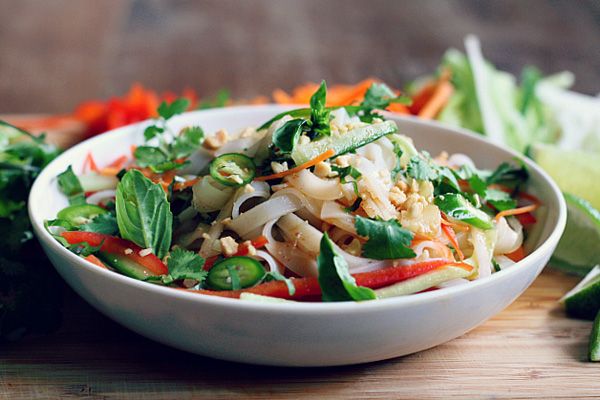 Enjoy! We'll see you next week, friends….