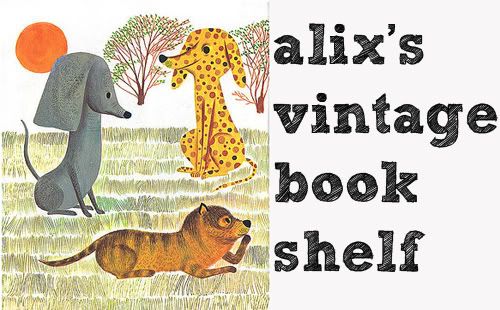 When I was a little girl I was pretty darn shy. Most people find that hard to believe because I'm a pretty outgoing girlie (ask my family and they'll say I'm a loud mouth, haha). BUT back in my shy-er days my mother put me in ballet lessons to help me come out of my shell. I LOVED dance class and recitals were totally thrilling. Satin and sequins? Yes please!
I had quite a few ballet themed books when I was little and one of my all time favorites was this one, by Dorothy Grider.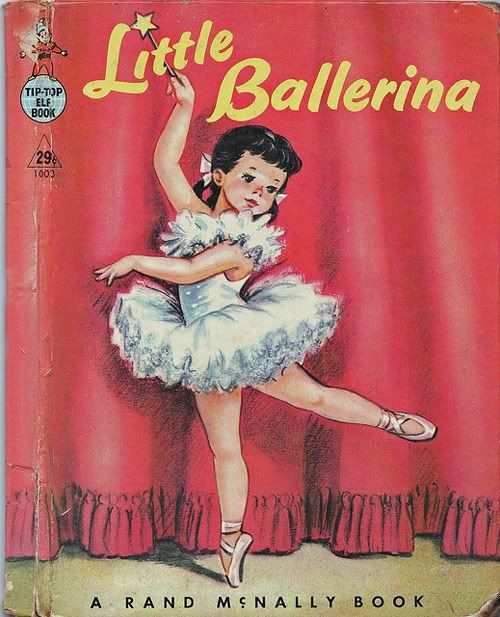 "Little Ballerina" is the story of a young girl namd Carol who has "weak legs" Â (I think due to Polio). She can't run and play with her friends so to strengthen her legs, she takes up ballet.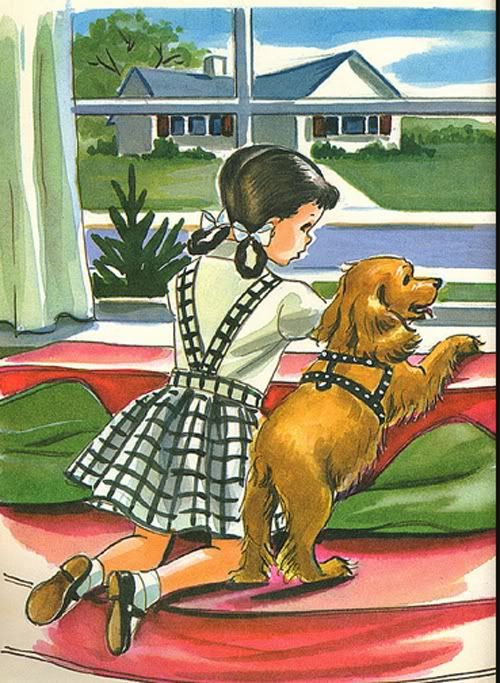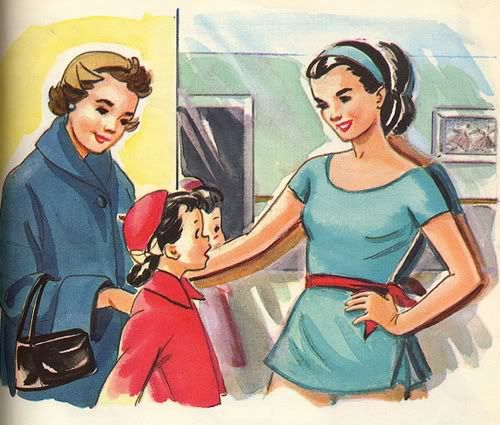 This sassy ballet teacher in her tunic and headband is fab.
I also totally love that the ballet class has some cool little guys taking dance. Check him out in his capri's and stripey shirt!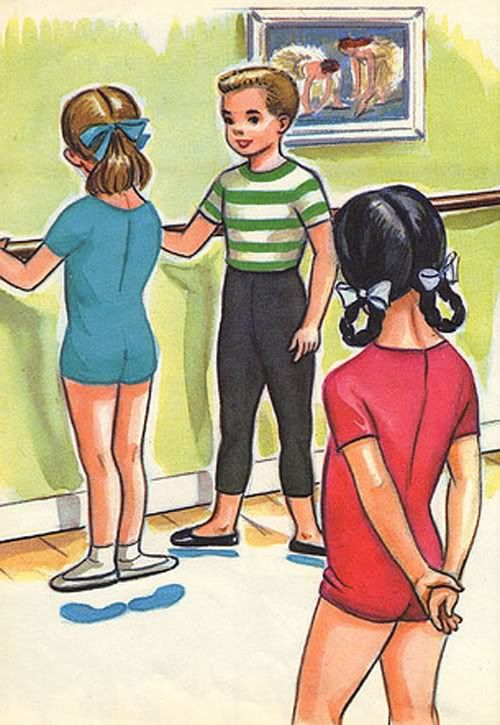 I remember I looooooved her hair in these little circle braids. I went through a phase where I wore my hair like that—except I was 30 and not 10!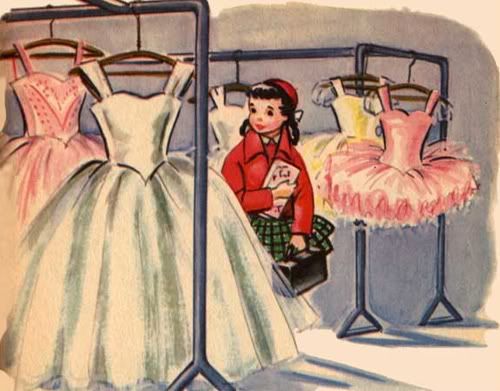 Carol ends up loving ballet and gets a starring role in the performance.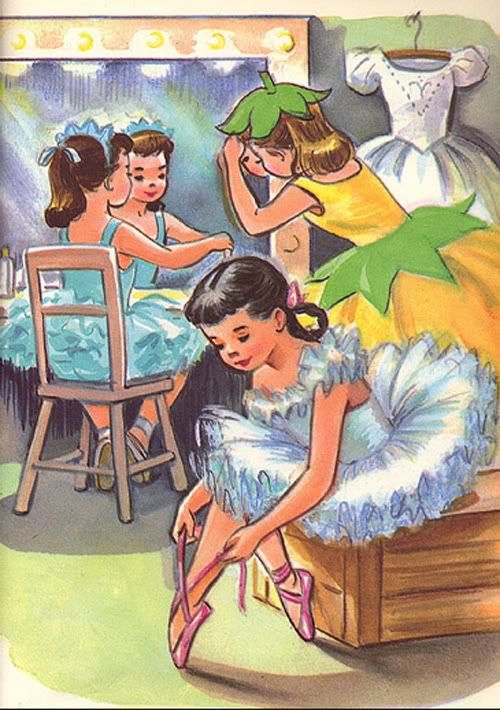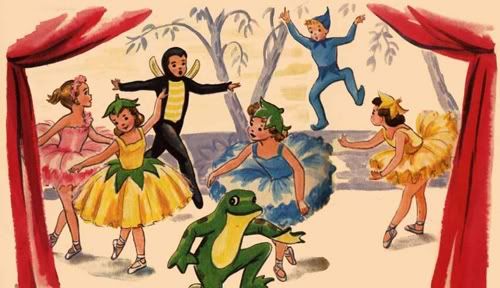 As a little girl I remember thinking, "I would DIE if I had to be the bumble bee!! I want to be a flower!"
Now as a grown up I have to say these little dudes are so cute! The story tells how "Jack Frost" leaps into the woodland scene and tries to freeze the flora.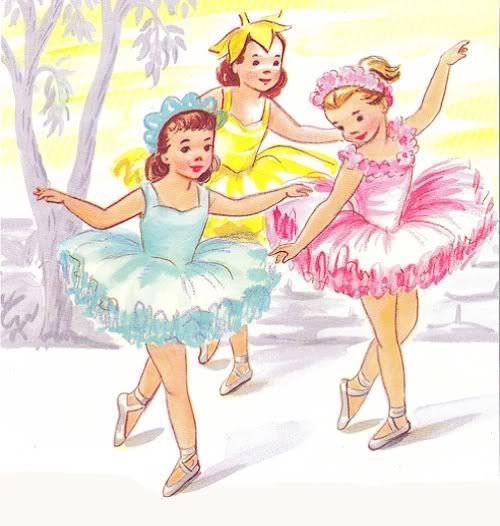 Lovely Carol appears and charms Jack Frost and they dance off happily ever after!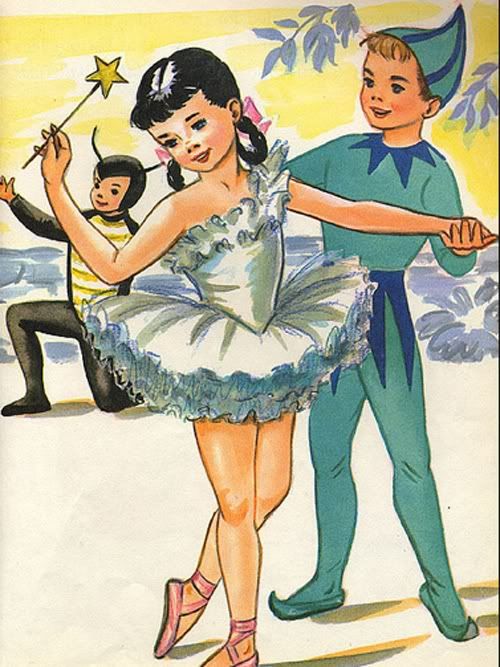 This is EXACTLY what I looked like as a little girl. Well, in my mind I looked like this….
It was such a charming book. I loved all the costumes so much. Dorothy Grider wrote several other awesome books. I remember my cousin (yes, the one I made buy the Donny Osmond doll) had A Little Majorette which was also fab. It too involved a little girl who had weak legs—apparently a common theme with ol Dorothy. She also wrote, Little Swimmers, Little Horseman and Little Skaters. I'm gonna go out on a limb here and say that I think each involved a little child who had "bad legs".