Hi hi Friends,
Oh May, how I've missed you.  You bring beautiful weather and blueberries and short sleeve shirts. Even a bout of food poisoning (my second in a month) could quell my e-thrifting desire and  a chance to find some goodies for you all on the double e's—Etsy and Ebay.  So I hope you like 'em!
Can't get your kid to wear a hat and sunglasses at the same time—well color that problem SOLVED with this sweet vintage sun glasses-hat. What child wouldn't be happy as a clam wearing it? Tee hee! From Ebay seller, BadWaitress503.
In honor of Alix's recent trip to Hawaii and the opening of ticket sales for Tiki-Oasis (remember it from Alix's trips there with Wolfie?)Â I found these great vintage Hawaiian aloha shirts. From Ebay seller, CathyinHawaii.
For the love of Pete, and the little girls, I had to share with you guys this vintage frowny apple striped dress. But really who wouldn't frown if you had a worm on your head, amirite? Â BTW, would you check out that rick rack edging?? Sigh. J'adore. From Etsy seller, Â Divine Debris Vintage.
Check out this old school Chutes and Ladder game. No candy cane slide here–I guess Milton Bradley upped the ante later. And would you please check out the adorable outfits on the kiddos? Â So sweet! From Etsy seller, Old and Wise.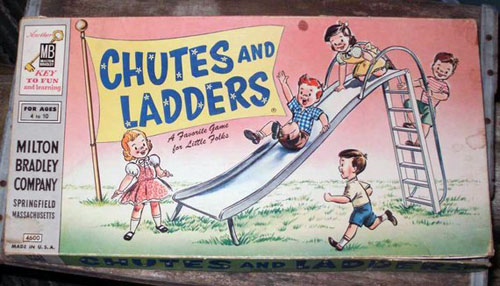 Oh good gravy, I remember seeing the movie Bedknobs and Boomsticks in the drive in theater in Cape Cod when they screened old movies on Wednesday nights.  So, I'm sure  the book would be just as good!  From Etsy seller, Oopsie Daisy.
I've posted these divine vintage kiddo shoes before and I have to post them again because they are adorable! Â And in beautiful NEW shape too! How could I not share these yellow and black patent leather dreams again?? From Ebay seller, Eegnats.
Dance your cares away with these great vintage McDonald's Fragglerock toys!  I don't recall the actuall Fragglerock gang having such sweet rides as a cucumber or eggplant with mushroom wheels.  But it's kinda kickass.  I gotta tell you when we were lucky enough to get to McDonalds Happy Meal as a kid I was so excited for the toys. Do they still have these high quality toys in them today?  From Ebay seller,  ckendall1979.
I think this might be one of my favorite vintage Fisher Price toys out there—the Mama duck and the ducklings. It is so darling and would look just as beautiful on a shelf as art as well as a favorite toy. From Ebay seller, roses4me2sell.
We are big fans of embroidery her at ModernKiddo and this little construction scene shirt from 3Ring Circus is just too adorable for words! Â And bonus points for the gingham "undershirt". I die.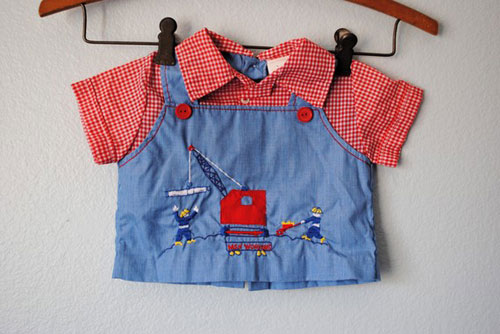 Here is the female equivilant of that grand shirt–this adorable vintage "ethnic" dress with gingham strips and adorable flowers, eh? Â From Ms.Tips!
Who doesn't need a little cuddle? Well, Sweet Shop Vintage has a grand selection of the cutest sewing kits for creative kiddos out there. Â I think my favorite is the whale in the party hat.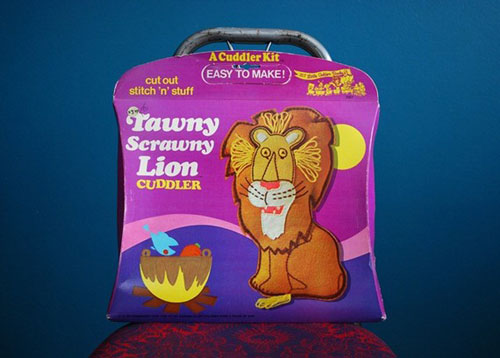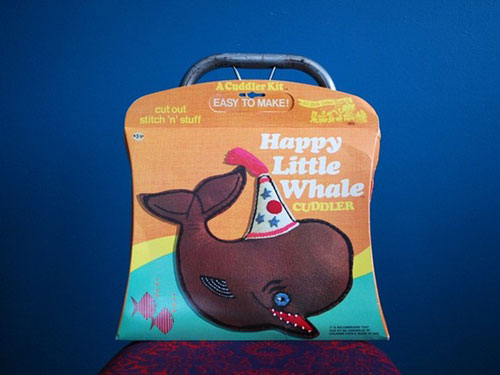 Well, there you go! Some fun treats for May. Happy e-thrifting friends!