Hello friendo!
It's Alix here today. Did ya'll have a great Father's Day? The weather here was bee-yoo-ti-ful! We had an early Little League game with Wolfie and then a leisurely brunch… so nice! Of course I still managed to squeeze in a little evening of e-thrifting to scare up some really fun goodies for you guys.
First up is this crazy cute little 4T smocked dressie. Can't you totally see a little girl wearing this while running through the summer grass, blowin' bubbles?? From the fine folks at babycomeback.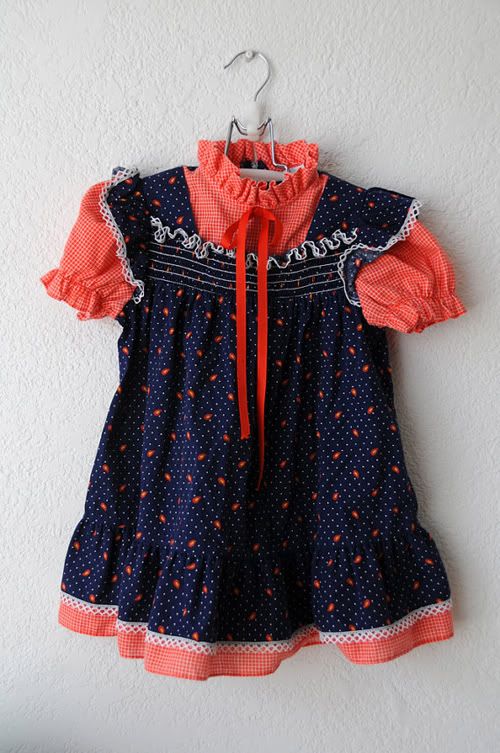 These wee little size 5 toddler sneaks are just too adorable. Great for kickin' around the playground! From fun Etsy seller tinsel and wheat.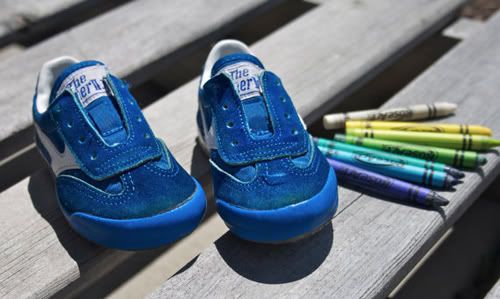 And these little grey ones? Oh sheesh, too awesome! From the super cute ladies over at pussycat vintage (they're a size 6 1/2! the shoes, that is…).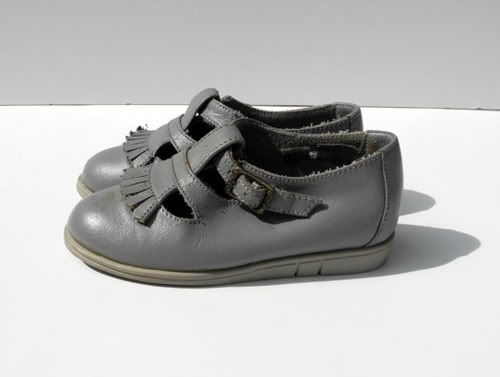 Oooh mama, if you have a little girlie who wears a 4 or 5 you're in luck! This mod sunflower dress is too good. From volenskavintage.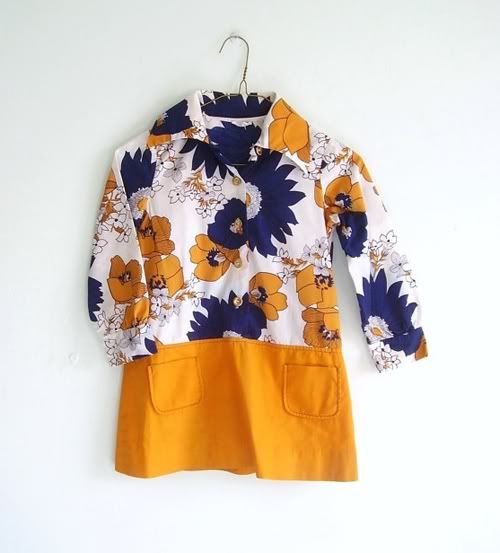 This sweet little strawberry shortcake dressie will keep yer little lady cool and stylish all summer long! From our girl Amanda, over at kyssa vintage. No tag but she estimates it's about a 12 month or so!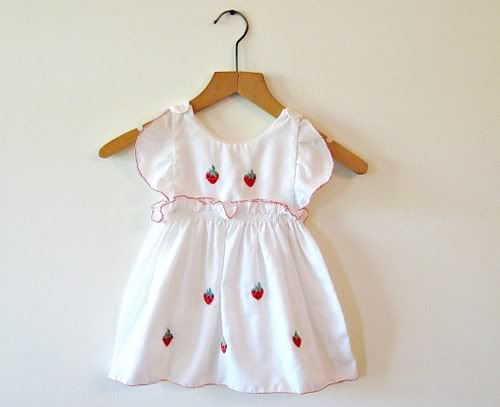 I think paint by numbers rock and these would look so adorable in a kiddo bedroom! From  hellcat vintage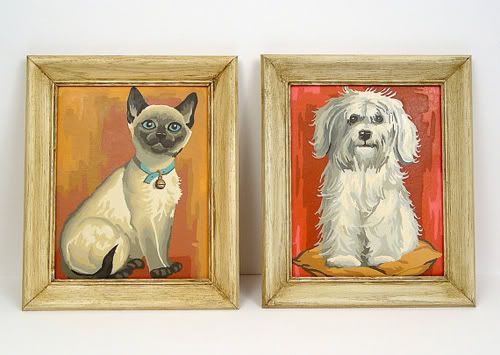 Aaaaaaay! This tee is the bomb and has Wolfie's name written all over it! I can't even tell you how much I love it! Great for a 5-8 year old. From the sassy pants duo at robot parade for kids.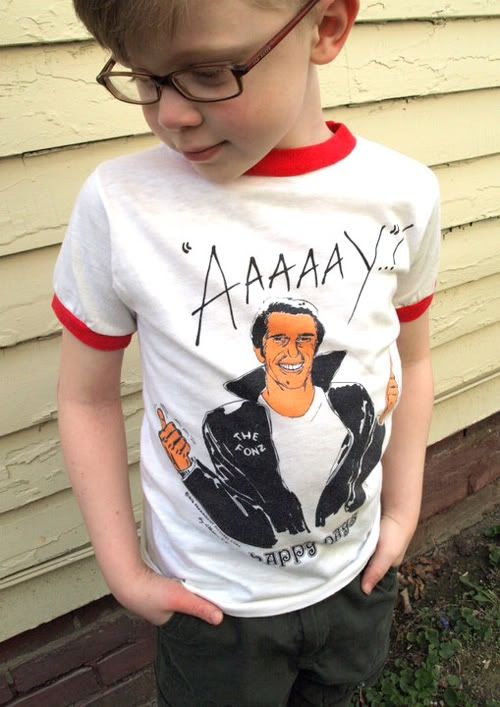 Heather, Heather, Heather…where do you find it all? I loved the little red gingham top but then realized it was part of a shortie set. KA-yoot! Yep. From 3 Ring Circus Vintage. Size 6-9 month.
I think a cool jacket is a great basic for kiddos and this lightweight zippy number is perfect! From my buddy Jeannette at sweet shop vintage. For a dapper 18-24 months.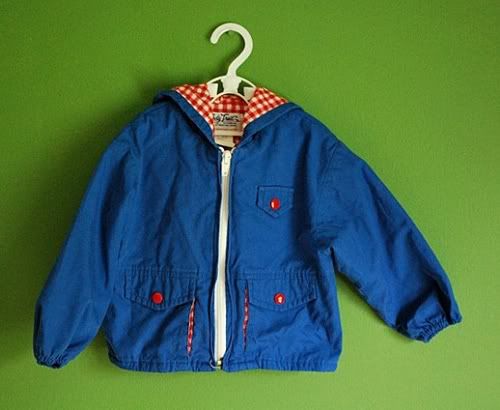 She also has this mega rad vintage alphabet blocks. They're made out of a plasticky material and  would be great for spelling out kiddo names on a shelf! Again from sweet shop vintage.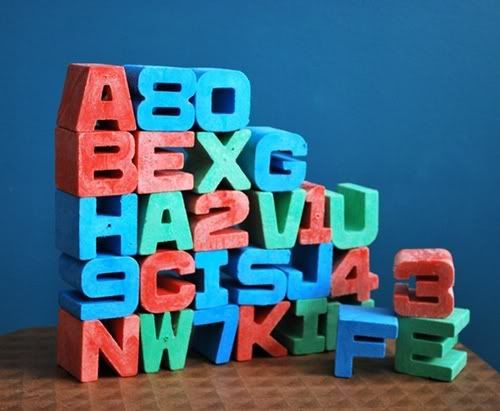 "Hello? Hello? Yes, hi…. it's time to wash your hair kiddo!" This bubble bath phone keeels me. From Etsy seller Kirbybeaz.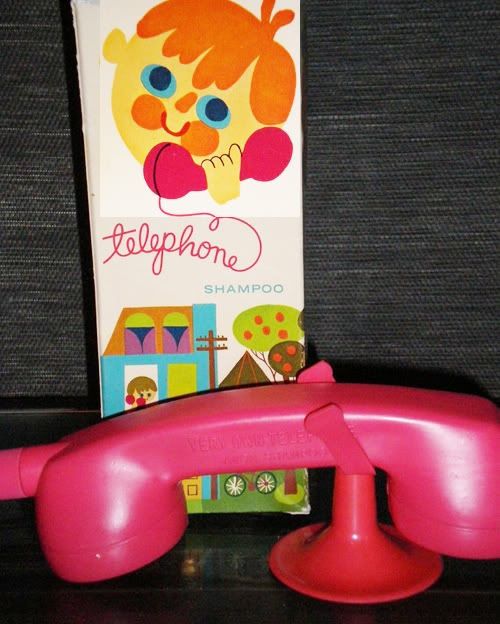 Ahhh, Health-Tex is a stand by here at Modern Kiddo. Bold colors and cute details, but never too precious! Love the lace detail on the top, but kids will appreciate the comfy cotton. From the lovely stephaniepress. For a 12 month old.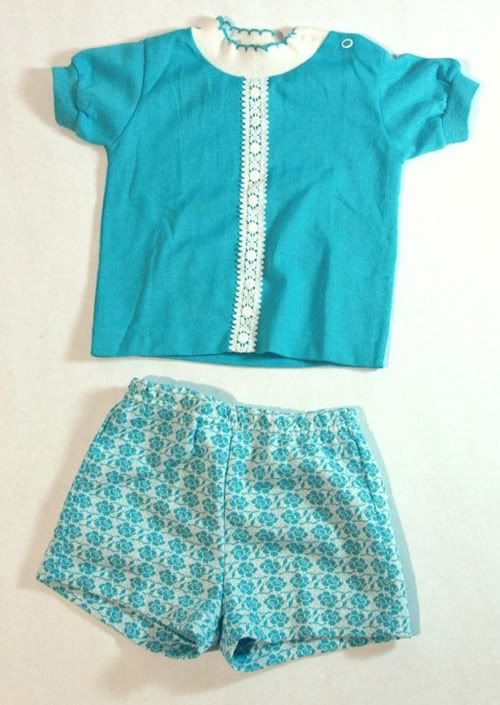 Buster Brown made super cool shoes back in the day, but they also had a fun clothing line (tres Health Tex, I must say!). This stripey goodness is a size 2T. From the groovy star friends on earth.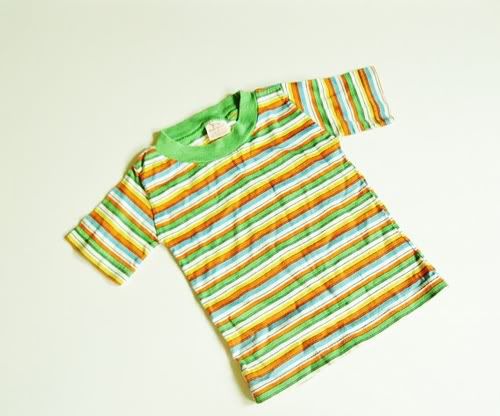 It's not easy being green, but it's sure easy being cute in this little thang! (badum- bum!) I'm loving this awesome romper from my girl, Alicia at Lishy Loo Vintage.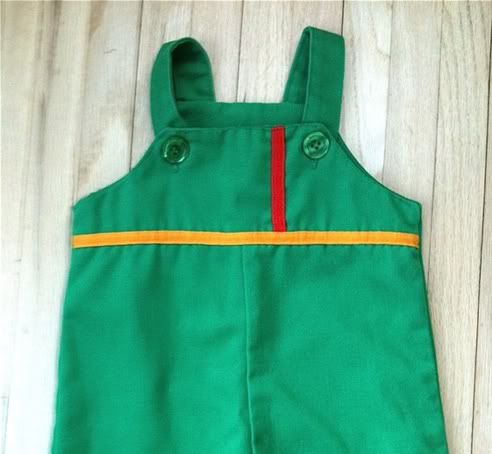 If you've been a Modern Kiddo reader for a while, then you know I love the storybook charm of Irmi lamps….and this one does not disappoint! The hat on the whale? Fuggetaboutit!! From my sassy gal, fuzzy mama.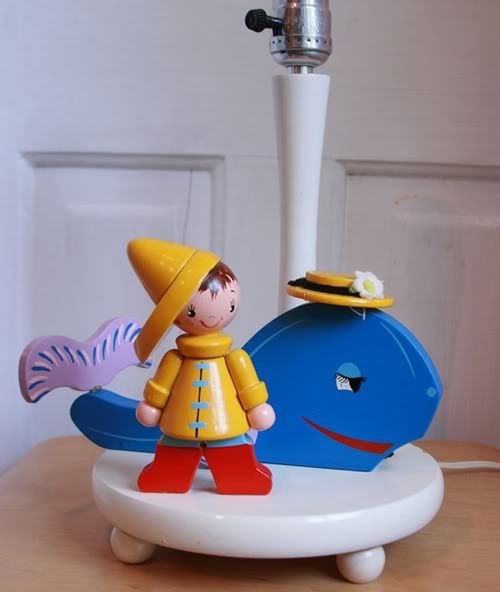 OK, one of my many other vintage obsessions are the Paper Dresses made in the sixties. I loooooove this paper play romper! "Disposable fashions to fling in – then fling out!"  It is marked a child's size 10-12, but vintage runs small so I'm sure it would fit more of a size 8- 10. From the fun peeps over at coincidinky.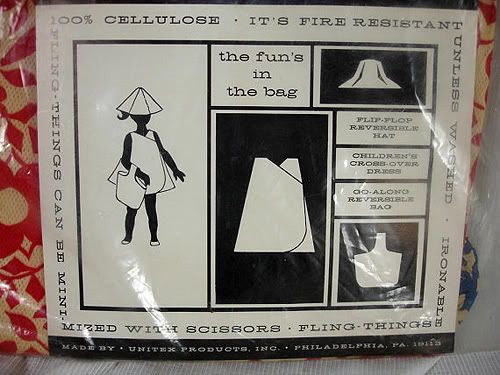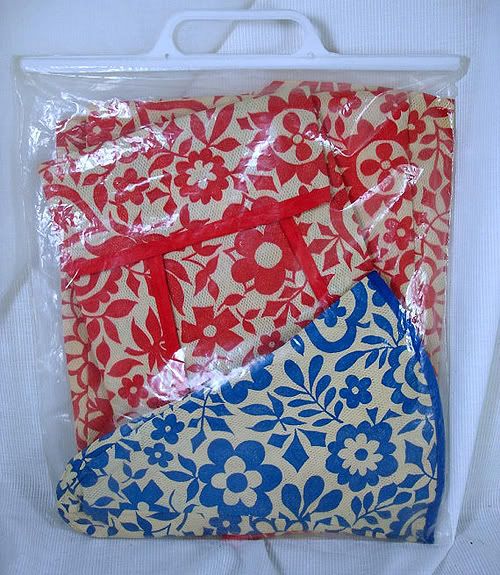 Thhhhhhat's all for now folks! HAPPY MONDAY!