Although the Peach still has a few years before she attends school, today is the first day of school for many kids in our neighborhood. And nothing says back to school more than PLAID to me.  So, this will be an all plaid Retro Round Up of awesomeness. Hurrah!
What is more school-tastic than a PLAID APPLE? Exactly! Nothing.  And here it is in a sweet little vintage dress.  From  Etsy seller,  LoveLoves2LoveLoves.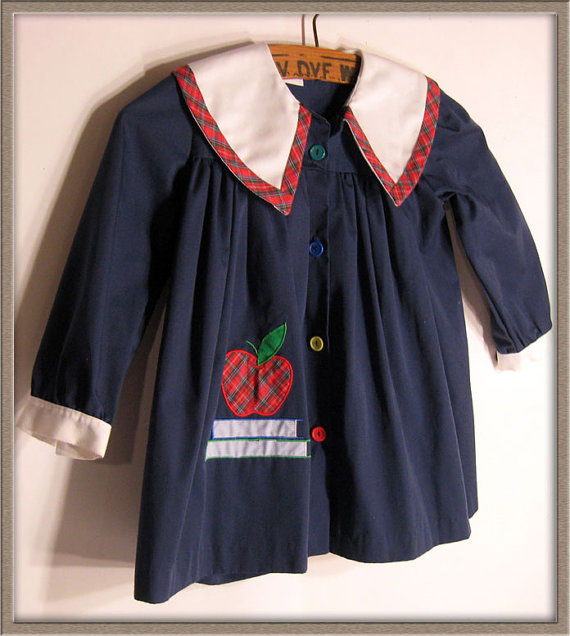 Is there anything cuter than little kiddo Keds. I found it–vintage plaid kiddo Keds. From Etsy seller, Toby11.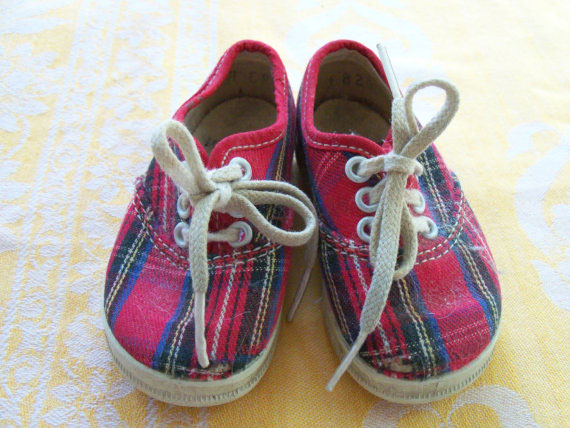 Don't let your little one's obsession with only wearing purple keep her away from plaid. Check out this sweet purple plaid dressie from Etsy seller, HartandSew, whose cozy shop also features quite a few other plaid pieces.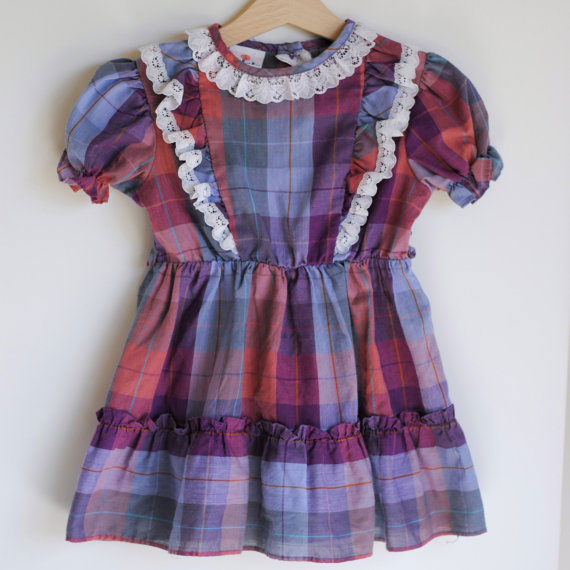 Check out this adorable plaid 1970s jacket. Also perfect for hayrides and overall cuteness. Â From Etsy seller, Little of This, A Little of That.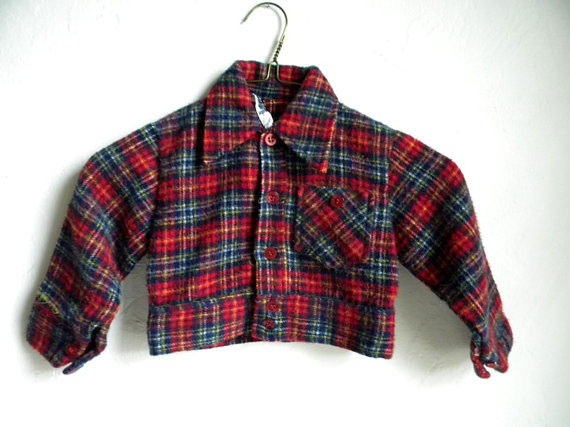 I think this vintage plaid lunch box is just perfection. Heck, I would use that today! From Etsy seller, The Hungarian Peddler.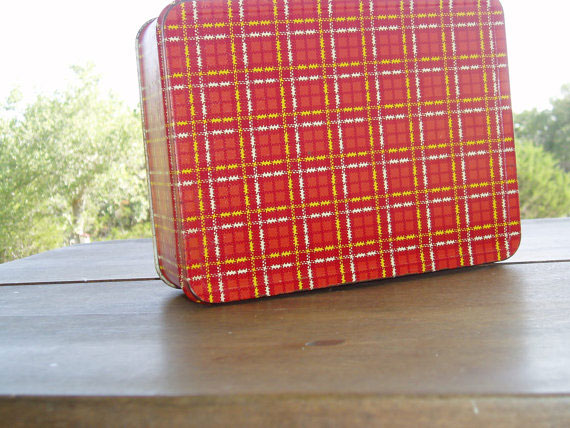 I love a little kiddo in a vest, but make it a plaid vest and I might pick that kid up and kiss them. Warning. From Etsy seller,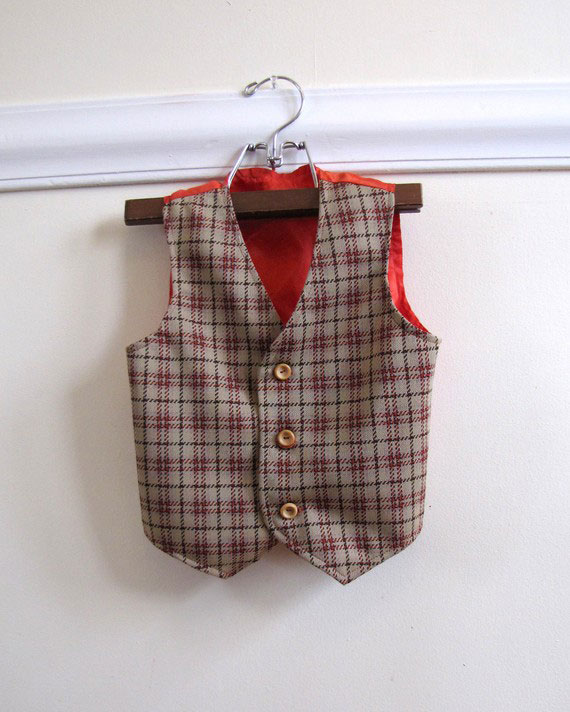 Almost too awesome for words. Â Toughskins really are the best brand that needs to come back. Â From Etsy seller, Fibbie. Oh and good gracious, she has another pair for sale too!!!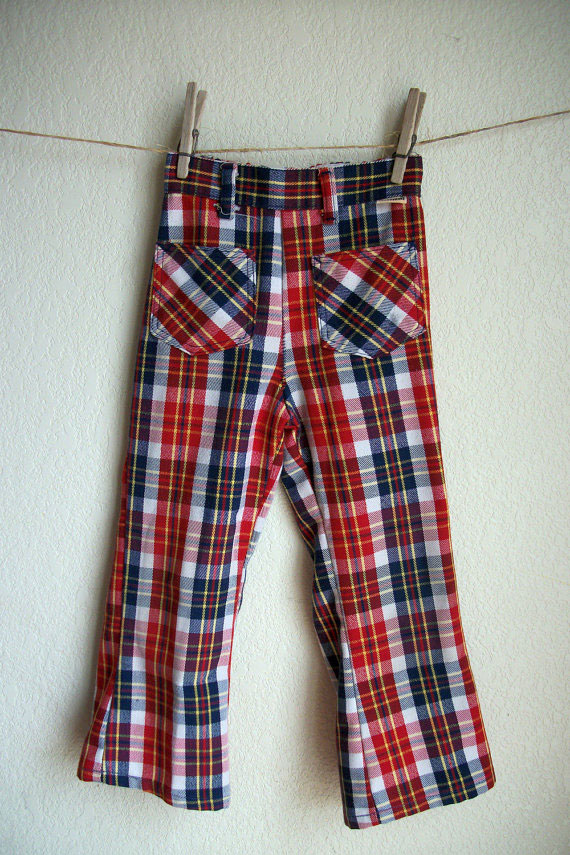 Oh, how I adore this vintage jumper from Etsy seller Flour Clothing. Â Â This dress can take care of my plaid longing and could be worn on the 4th of July as well.
What is cuter than a plaid puppy with polka dots on it? Yeah, pretty much nothing. Or your kiddo in this shirt with the plaid puppy with polka dots on it. From Etsy seller, Oh Dear Things.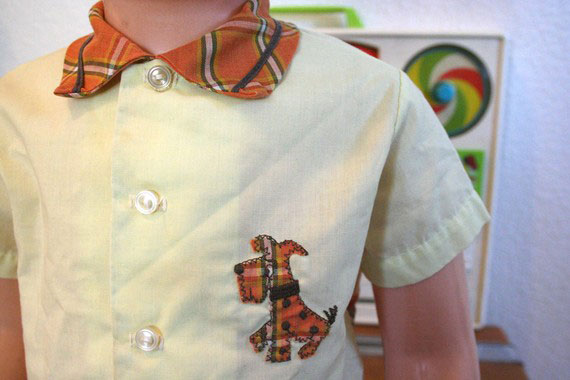 OK, ONE more plaid dress–but oh, it's a super cute one. I must look away or I will buy it right now. From Etsy seller,JDBok.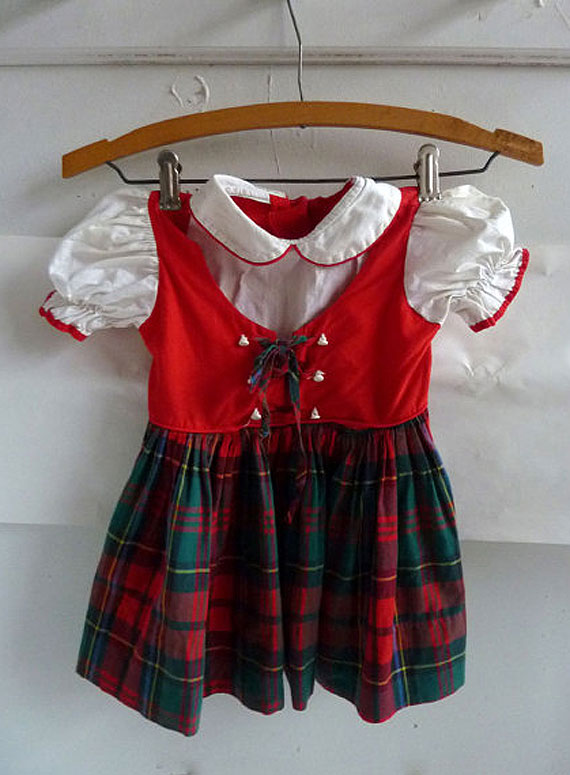 Sorry–gotta include one more. Shoes. Oh, but just not any shoes–red and plaid saddle shoes. Â I think they touched my soul, they are so awesome. From Etsy seller, White Wash.
Happy first day of school!