Hi hi everyone! Did you have a good weekend?  I did.  Because it involved more than SIX HOURS of naps throughout the weekend. Hurrah to that!  We also found a little park that offered train rides and had a sweet old carousel which was a wonderful way to spend Sunday morning.  I had grand plans to clean out our attic space, but instead spent it napping. Best idea of the weekend. But of course, I had to spend a bit of time looking for some goodies online to share with you.
And also, Alix and I created the following sweet little logo for our dandy weekly wrap up of vintage kiddo goodies to share with you.  We've been meaning to do it since we started it early last year. Oof! But we like it and I hope you do too!
OK, let's do this!
Globes are crazy hot in home decor, but this little vintage one has the rest of 'em beat because it is a bank as well as a globe! Perfect way to get your little one to start saving for future traveling adventures! From Etsy seller, Sweet Shop Vintage.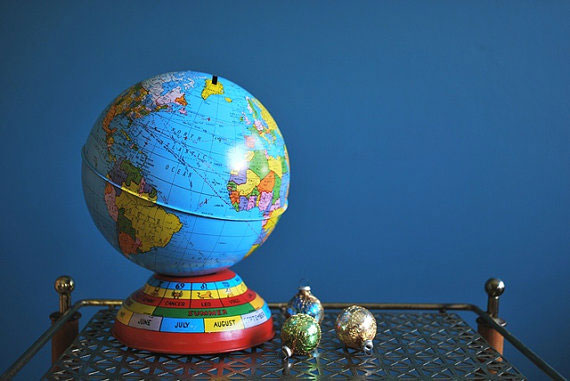 I always have a soft spot in my heart for Polly Flinders dresses and this one is the quintessential little girl vintage dress to me. Everything sweet and darling and yummy and back to school charming.  Thank you for sharing it, Etsy seller, Salvage House.
If the recipes are as yummy as the front page design of this sweet vintage kiddo cookbook, then I want to try every one of them. Yay! From Etsy seller, Arcanium Antiques!
Since RSI has gotten in the way of my knitting, I love finding hand knit vintage sweaters for  a song, like this one. And not only is this one in beautiful condition, but it is also a bit wider at the bottom allowing it to fit over those widdle diapered bottoms. From Etsy seller, Little Reader Vintage.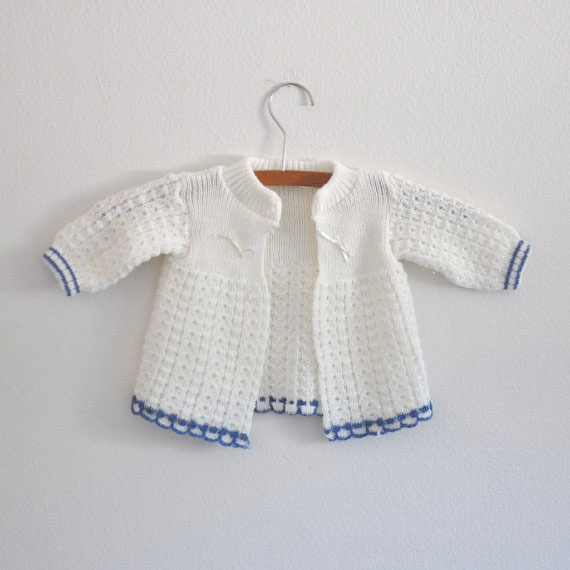 The Peach loves a good umbrella—just like I did when I was a little girl. And I would have plotzed if I had such a cute umbrella at her age. From Etsy seller, Stiletto Girl.
I always adore this type of romper set on little boys. I always get a bit weak in the knees when I see a set. Â  I know a little Wolfie that would look adorable in this… From Etsy seller, Galivanting Kids.
I'm just head over heels for this little striped vintage dress. I could totally see it with a pair of red keds. To me I could see so many mamas wanting the big version of this dress too!  From Etsy seller, Pretty Retro.
Just because it's getting cooler doesn't mean you can't have  your sweet pink cuteness?  Like this adorable lambie corduroy coat WITH matching hat. Yes, please!  From Etsy Seller, Kid Wonder, Frecklewonder's sweet shoppe for the kiddos!
OK. This dress. Oh, this dress. This paper doll dress. I am dying over this dress.  From Etsy seller, Kyssa Vintage.
What better way to get your kiddo excited about going back to school than playing school at home?  And they can with this sweet little Fisher Price school house circa 1971.  School is still school no matter what year.  From Etsy seller, Rusty Wagon Vintage.
Happy Monday, folks!