How can it be August already?  That is just bananas to me.  I feel like I just put away the Peach's winter clothes. And here we are flirting with back to school and trying to squeeze that last delicious sip of summer.  I did take one too many delicious sips with Miss Alix this weekend at her fabu fabu vintage clothing pahtee where everyone went away with vintage goodies a go go. But you can read more about that at Strawberry Lemonade…
Speaking of vintage, this week's haul has a couple of particular cutie pie pieces, like this one:
Denim? Check.  Vintage seventies style? Check. Bell bottom goodness? Check.  Insane print that could only be put on be seen on vintage seventies denim bell-bottoms? Priceless.  Oh yeah…
Speaking of denim, we can't let the ladies not have some of the fun. Particularly with Winne the Pooh is involved–this button cute babydoll top in sassy denim.
You know how much I love a good jonjon, right? But a bright green one with this darling little detail that almost looks like nautical flags.  Totally yummo.  And it is from the thirties. You see–classic style never goes out of style!
As Kay Thompson said "Think Pink" and who wouldn't want to when your little gal is wearing a delightfully charming ribbon edged cute coat.  The only thing that would make it more adorable is your little one wearing it!
The Etsy seller of this next gem suggests you, "dress your little man in this shirt and take him to see a movie in the park."  Great idea for a great shirt. And ahem—it's a nice size 6, which is one of those oh-so-elusive big boy sizes.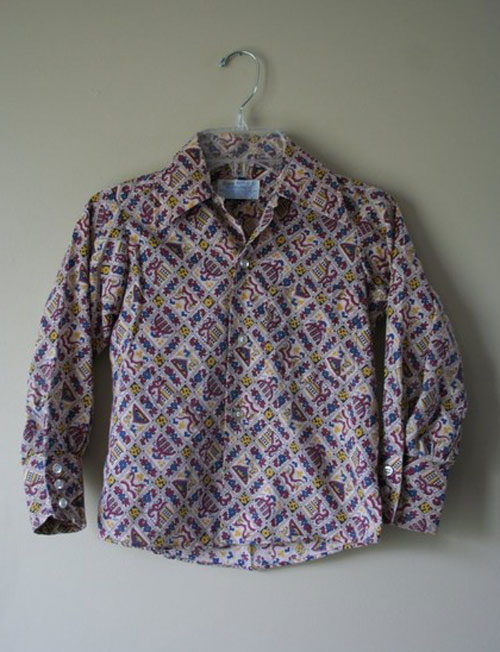 You just have to love this sweet florally goodness in girly girl vintage seventies dress form. And just to push it to eleven, we are going to add a little bit of lace. Too good, right?  And check it out–big girl size 6 to boot. Made of cotton but "Perma-Prest" so you get the best of all worlds.
Squirrels are very hot right now—it's all about woodland creatures.  But check out this lovely duck egg blue romper with the most dapper squirrel ever. Wearing his own little vest to boot. What's not to love?
Who doesn't love Snoopy? My friend Eileen's family named their dog Snoopy. I have a feeling her family wasn't the only one working that comic strip magic.  I'm sure Eileen would have appreciated this pink pair of tennies like these wee wonders on eBay.
I've always had a thing for pink elephants.  But what looks good on a vintage cocktail shaker can also look super cute on a pair of vintage kid's overalls.  And shall I mention they are HealthTex too? From our dear Frecklewonder's uber shop of vintage awesomeness.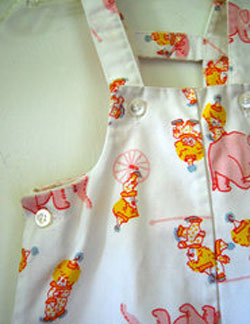 Well, I hope you all had a lovely lovely weekend and enjoyed the last remaining days of summer!