I don't think I could cram more fun into a weekend than I did this one! Â So much fun and so little sleep. Oof! Did some major shopping in outlets as well as a sweet estate sale where I picked up two full vintage pleated circle skirts in gorgeous fabrics, a sassy blue top, and picked up for my friend this brilliant bag and vintage fur coat for forty bones. Â Not too shabby! Â But a weekend wouldn't be a weekend unless I spend a bit of QT online shopping for the sassiest goods around!
OK, just one more perfect little vintage Easter dress–and this one is all about the little chickies. Â I love it! From Etsy seller, Liddle.
This little vintage circus romper with the elephant notched its cuteness level up to 11 with the pocket water bucket.  From Ebay seller, eclectic9jm.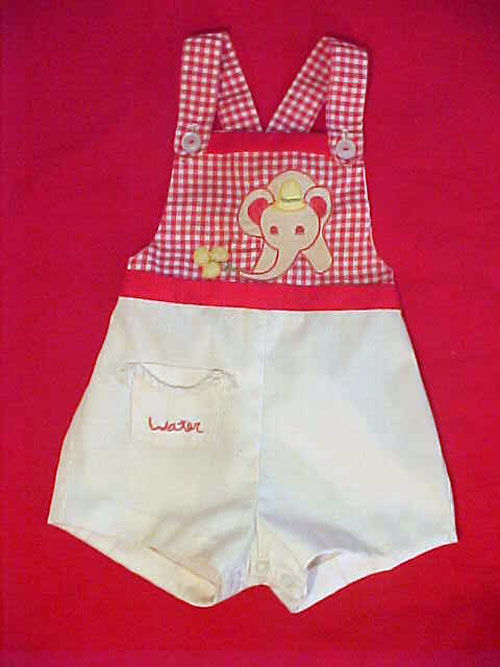 I love a good handmade stuffed animals. Â And a love this little seventies floral kitty! Why, she's purrrfect! From KyShop.
These little seventies pants are KILLING me.  Why get one when you can get them all? Deadstock to boot. HOLLAH!  From Ebay seller, cheeseburger100.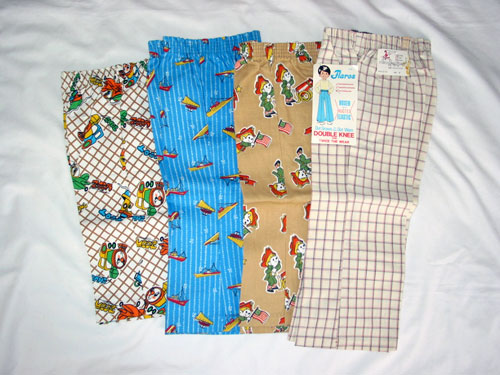 Who who wants a great vintage owl puzzle?  With bonus numbers too! SWEET! From Etsy seller, a Needle in the Hay!
OK–just one more vintage lot–just look at these pastel beauties for some sweet little baby. From Ebay seller, vickila82.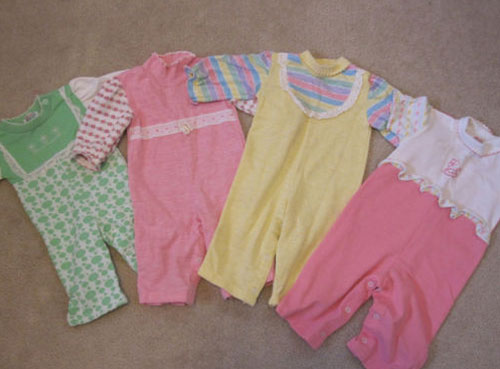 How to turn your little girlie into a secretary from the seventies? Then, put her in this little vintage ensemble. Straight from the mini-me production of 9 to 5. From Ebay seller, mypartytreasures244. BTW, you should consider checking out this sweet book written by the wonderfully talented Ms. Lynne Peril who is coming out with a terrific book called, Swimming in the Steno Pool.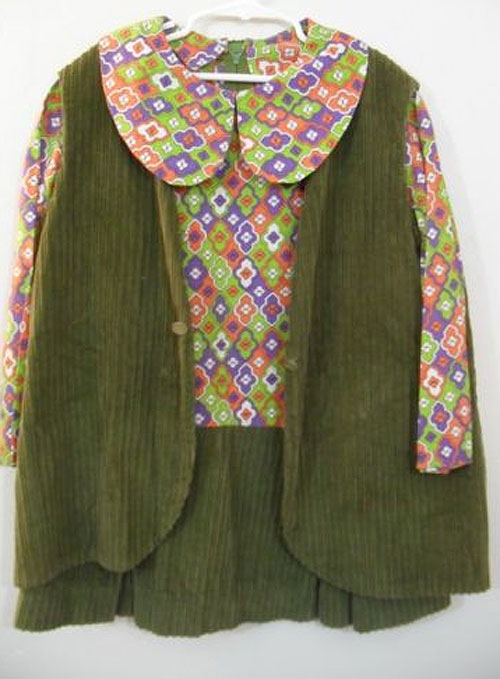 Schlemiel schlimazel hasenpfeffer incorporated!!! Â I spent part of my youth wanted to put initials on my dresses because of Laverne. And I love calling the Peach My Little Boo Boo Kitty. Â So, I would have played the HECK out of this Laverne and Shirley board game. Â From Etsy seller, Nick and Nessies.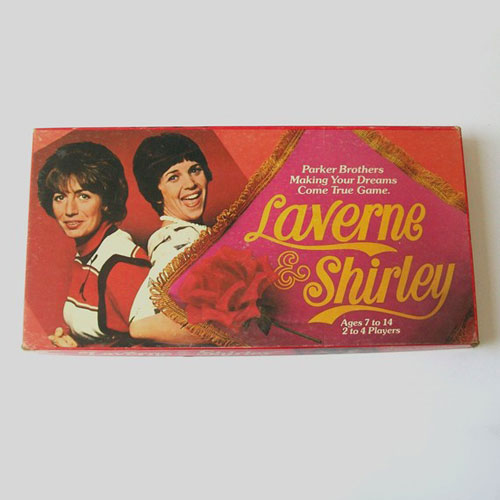 Hey, let's make something from this awesome vintage crafts book, Let's Make Something! I love book titles that pretty much tell it like it is.  From Etsy seller, Eco Quilter.
I think I remember one of my brothers wearing these sweet striped leather friends. They always did have great style! From Etsy seller, Revival Vintage.
Oh hurrah! Â Happy Monday, friends!