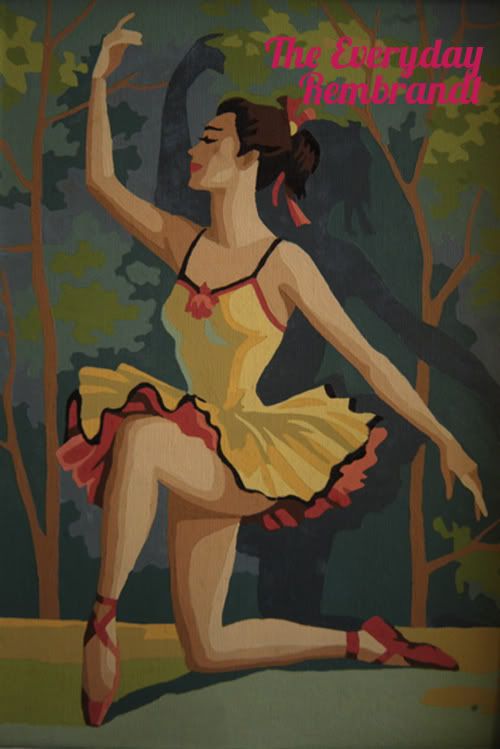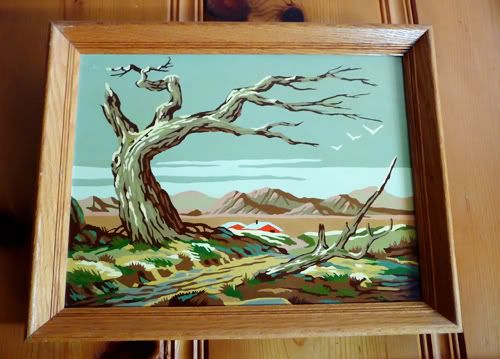 Ah paint by numbers! What was once a thrift store classic has now risen up in the ranks and become a coveted piece of Americana history. Friends, I don't know if you've ever tried to actually PAINT a paint-by-numbers, but it ain't easy! For those who don't know, Paint-By-Numbers are black and white canvases bearing color-coded numbered areas for the "artist" to fill in with appropriate colors. The daintiest of paint brushes and a steady hand are critical. When done well, I think they have a uniquely haunting quality. There is just something about them that makes you look twice!
So how did paint-by-numbers become such a popular fad? Let's take a little look see!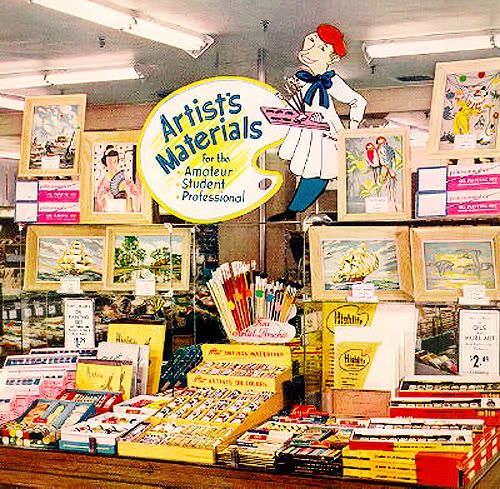 It all began at the Palmer Paint Company in Detroit, Michigan. They introduced the first paint-by-number kits under the label Craft Master at the New York Toy Show in 1951. Artist Dan Robbins (a Palmer Paint packaging designer) is credited with coming up with the idea and creating many of the initial paintings. Robbins was inspired by childhood memories of coloring books and Michelangelo—who famously assigned pre-numbered sections of the Sistine Chapel to his students to paint. The first Craft Master set was "The Fishermen" and included a rolled canvas stamped with the numbered outline of the scene, mini tubes of oil paint, and of course an artists palette.
Popular subjects ranged from moody landscapes and seascapes to playful animals, ballerinas and still-life floral bouquets. Paint-kit box tops proclaimed they would make, "Every Man a Rembrandt!"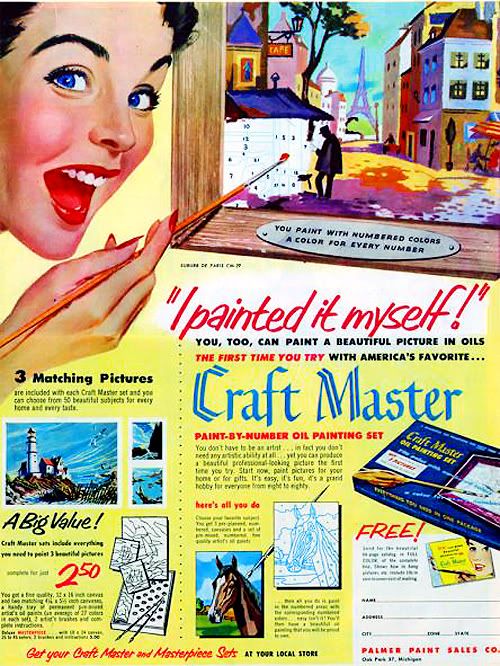 Paint By Numbers were not a critical success—many saw "number painting" as not only a novelty but a symbol of the "mindless conformity" of 1950s America. At the same time, the general public embraced them whole heartedly. There was something extremely charming and appealing about the paintings. They invited people who had never held a paintbrush in their life to suddenly feel creative .
"Most people think paint-by-numbers was an immediate success. Not true! In the beginning we couldn't give our sets away. It took almost two years to get our paint-by-number business off the ground. When we finally did, it took off like a rocket. All we could do was hang on for dear life."   —Dan Robbins, What Ever Happened To Paint-By-Numbers?
By 1954, Palmer had sold an unbelievable twelve million kits. They eventually became so popular that the White House even hung paint-by-number canvases created by J. Edgar Hoover and Nelson Rockefeller in the West Wing corridor. Amazing!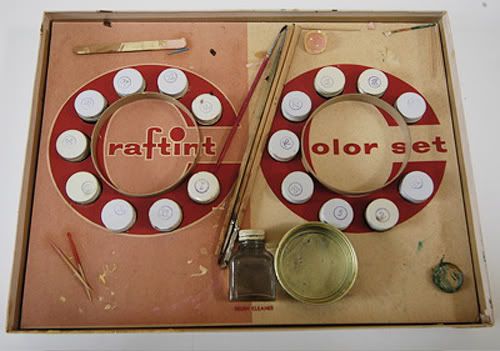 As the years went by, and more competitors started popping up, the line expanded to include celebrity portraits (what I would do for a Liberace Paint-By Number!) and more "exotic" subjects, like Balinese dancers and more tropical landscapes.
It's interesting to note that while the original Craft Master kits were printed on rolled canvas, they eventually transitioned to the now-familiar press boards with light-blue outlines. They also switched to acrylics rather than oil paint. The original canvas paint-by-numbers are highly sought after and often worth more than their press board counterparts. I still love them all! Here are some from my own personal collection: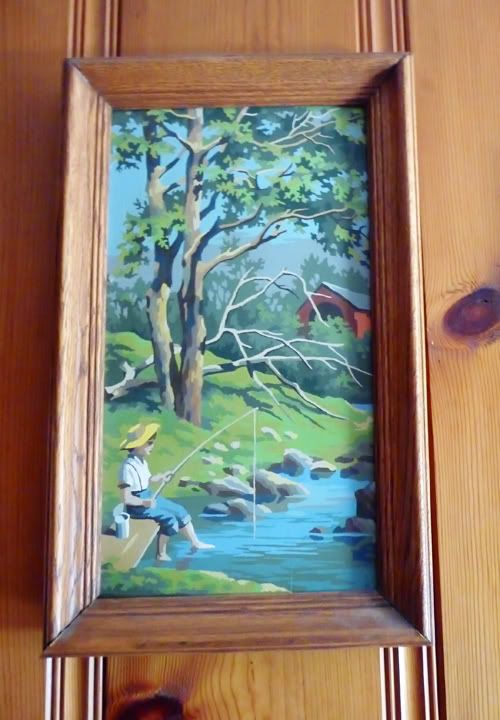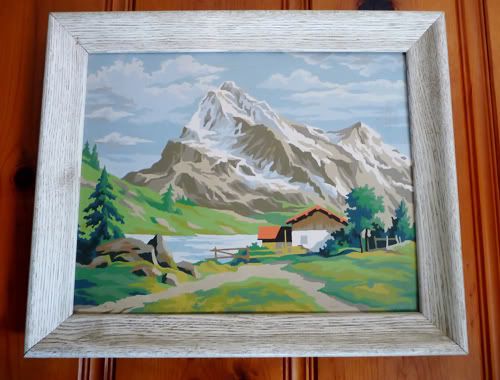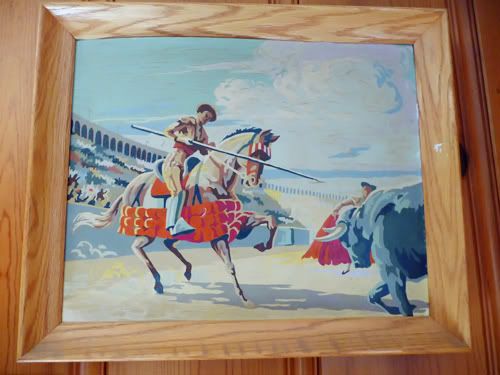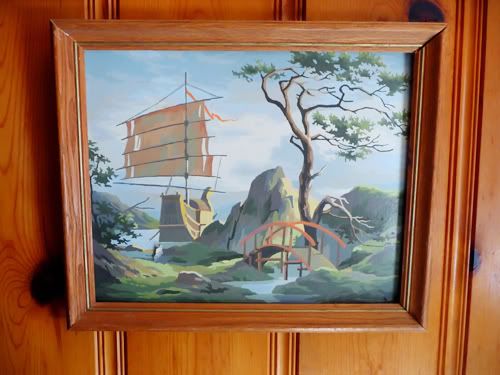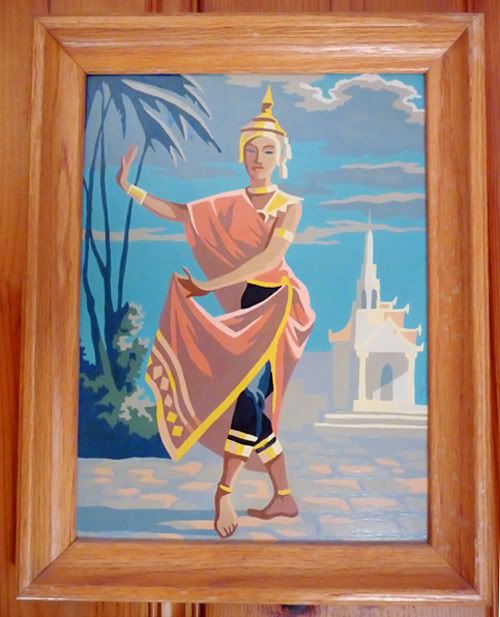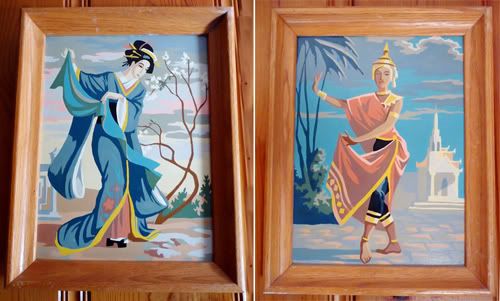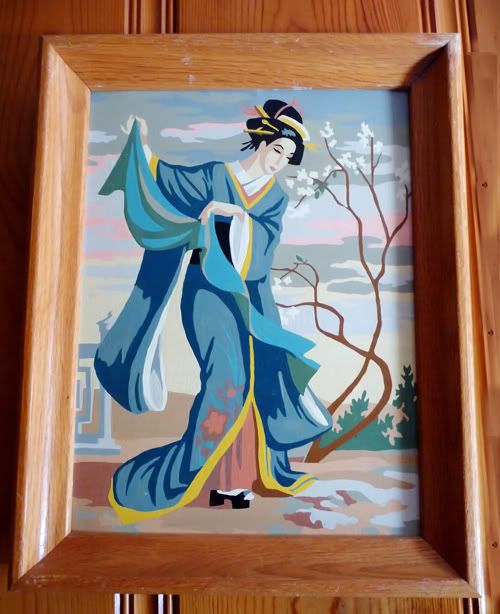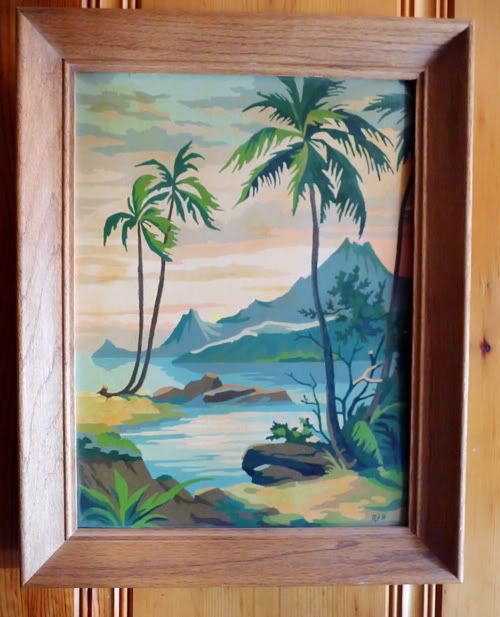 The "Far East dancers" and the doggies are my favorite….please note that the fella that completed the one above "signed" it. I love that.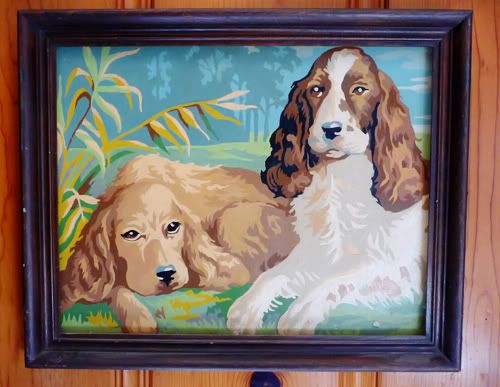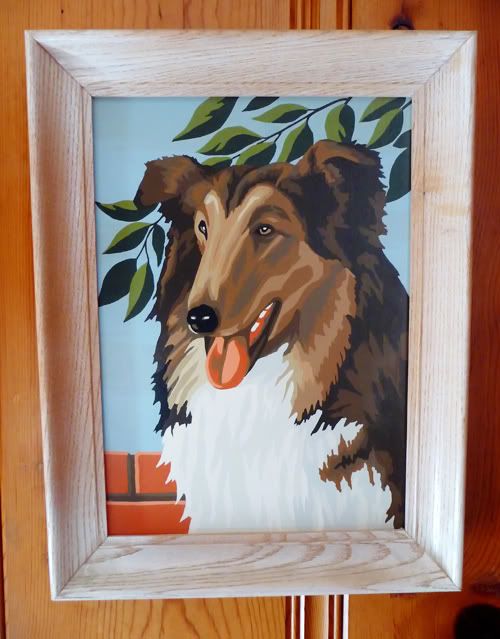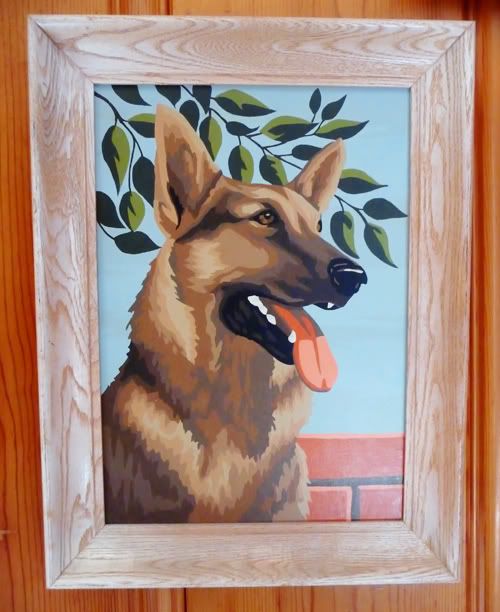 In the 1970s and 80s, the sets started to get a little more childishly kitschy….teddy bears, Snoopy and even TV shows like Mork and Mindy got the "PBN" treatment. While I love my 70s kitsch, I think these later versions are no where near as cool as the originals. The originals were attempting to be authentic—there was nothing tongue-in-cheek about them. Nothing beats the subtle elegance of a stoic collie or a dramatic sunset on a western prairie.
I love our paint by numbers and especially love to think of the back story each carries. Who was the intrepid artist who lovingly and painstakingly dabbed color onto canvas? It intrigues me no end! Paint-by-numbers are much harder to find in the thrifts today, and have moved up the ranks to be a genuine collectible.
And to lend a little credibility to their place in American history, there was a Paint By Numbers exhibit several years ago in 2001 at the Smithsonian. Not too shabby.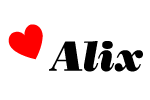 Read more at Collectors Quest and the PBN Museum.