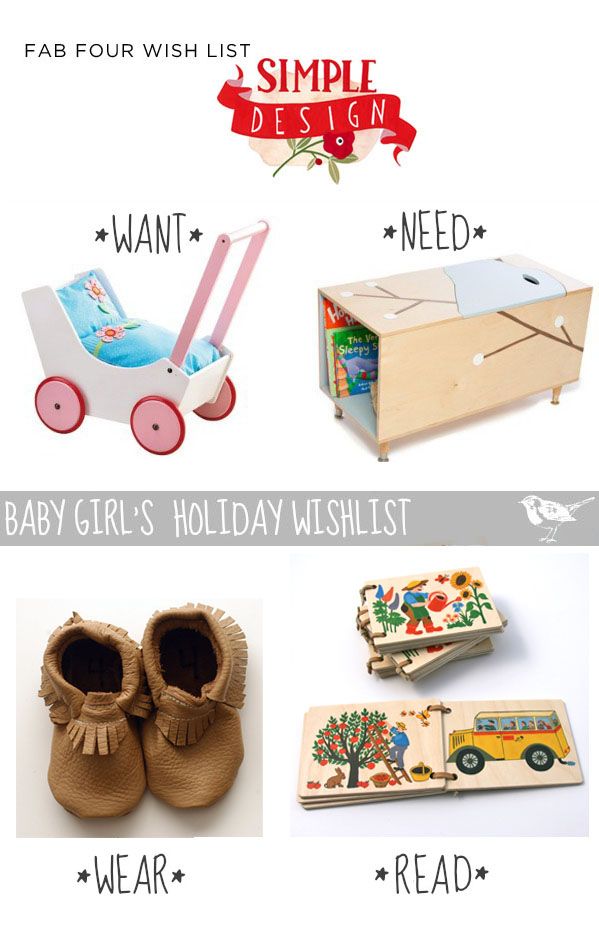 After three boys this is my first Christmas really shopping for my baby girl. Last year she was just a newborn, and this year she is fully embracing her girly girl self, and I love it! Here is my River's wish list:
want
// River is is obsessed with strollers and carts and anything she can push babies in. This 
wooden doll pram
 fits that category, and is the kind of item that can become an heirloom piece.
need
// As baby girl's toy collection grows, she is starting to need a stylish piece to contain and coral all her lovely things. I love the creative way the lid comes off 
this modern toy box
.
wear
// My daughter just grew out of her first pair of 
Freshly Picked moccasins
, so it's time for her next pair. The price might seem higher than your usual budget, but these are built to last and might become your baby's main shoe. She is partial to the brown suede in a size 4, just in case you're wondering…
read
// I'm obsessed with 
these wooden storybooks
. Plain and simple. And no little fragile pages for my baby to demolish. Love!
Are you shopping for a baby girl this season? I'd love to hear your favorites too!

Stop by
Simple Design
to get even more of Ari's obsession with fabulous design, Â style, and join in on awesome treasure hunts in her favorite thrift stores. THANK YOU SO MUCH ARI!