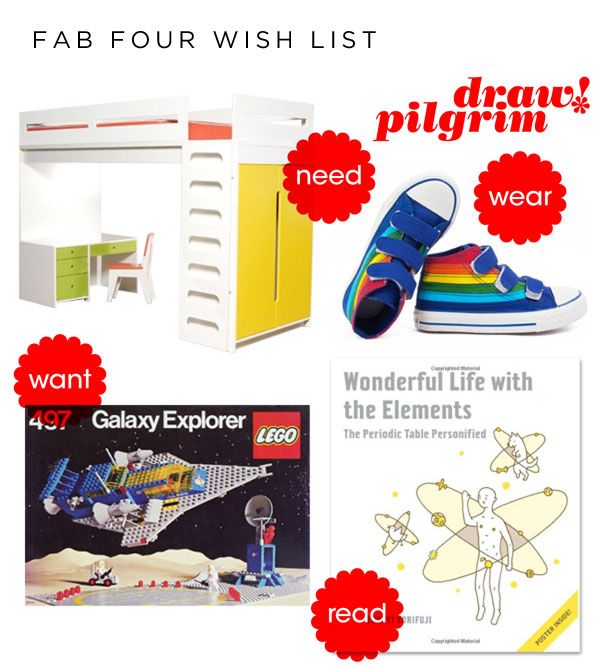 hello friends! it's hard to pick just four, but here are some  current faves that I think my son Donovan would looove!
want: vintage space lego sets! Donovan is crazy about space, and is really getting into building with lego. But contemporary lego is all about star wars, which we're not into, so some late 70s legoland space sets are on my christmas ebay watch list! The old sets had so much more scope for imaginitive play than the licensed character sets that seem to have taken over lego.
need: my son really needs more room to play and work in his bedroom, so a loft bed is in our future! The alex loft bed is just the bed for the job: very cool retro-futuristic style both me and the kid would be pleased to find under the christmas tree! He's excited about sleeping up high, and i'm excited about what a cool piece of furniture that is!
wear:Â rainbow bright hi-top sneakers from kawaii kids. shh! don't tell, but these are already wrapped and awaiting christmas morning. Donovan loves rainbows, and mama loves 80s throwback style. Everyone wins!
read: The kid's love of space has lead him to a growing interest in the science at work in outer space—but that is definitely not my area of expertise! So i think he's really going to love learning from "wonderful life with the elements" by Bunpei Yorifuji. Itsan illustrated guide to the periodic table where every element is a unique character whose properties are represented visually: heavy elements are fat, man-made elements are robots, and noble gases sport impressive afros. Every detail is significant, from the length of an element's beard to the clothes on its back. What a fun and silly way to learn, right?!
xoxo, Pilgrim


Be sure to pop on by the Draw! Pilgrim etsy shop to scoop up some of this talented girlie's amazing art. You'll also want to browse the Draw! Pilgrim archives to see Pilgrim's incredible finds. The world is just that much more colorful with Pilgrim here. THANKS SO MUCH MISS P!!