Notice
: Undefined index: display_above_content in
/home/alixndottie/modernkiddo.com/wp-content/plugins/pinterest-pin-it-button/inc/public-display-functions.php
on line
260
Notice
: Undefined index: use_other_sharing_buttons in
/home/alixndottie/modernkiddo.com/wp-content/plugins/pinterest-pin-it-button/inc/public-display-functions.php
on line
217
Notice
: Undefined index: remove_div in
/home/alixndottie/modernkiddo.com/wp-content/plugins/pinterest-pin-it-button/inc/public-display-functions.php
on line
217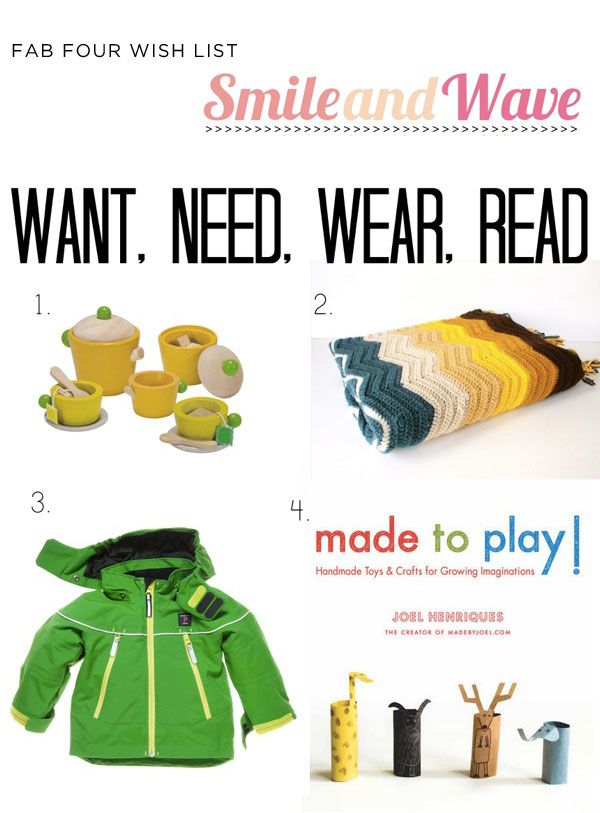 Hi guys! Here are my picks for the Fab Four!
1.Want // When it comes to toys, we love to invest in pieces that will last for more than a month or two and can be enjoyed by both of our kids. Of course, our kids still get their fair share of plastic toys each year but these wooden pieces are usually the ones that they stay interested in. This set from Plan Toys will surely last through many teddy bear tea parties or early morning baking sessions!
xoxo, Rachel

Stop by Smile and Wave to get a peek into Rachel's adorable world with her rad hubby and two fabulous little kiddos! She is a crafting genius and always has a fun project or two (or three!) in the works to inspire. THANK YOU RACHEL!