Sunday nightI turned on the TV and came across something so spectacular that it almost made me forget to tune into Downton Abbey  and I had to share it with you.
Folks, it was the KOFY Dance Party.
I'm sure you are familiar with American Bandstand and my personal favorite, Soul Train, but I remember in the eighties a local dance show in Philadelphia where I grew up that came on after school, where you could watch cool teens with great hair and outfits dance to the top 40. One of the girls in my French class was on there regularly and I thought she was so cool.  She had permed her blonde hair and wore frosted pink lip gloss every day.  I thought she was pretty awesome. And I was particularly impressed when she dressed up as a bag of jelly beans for the Halloween episode but her dancing was pretty much just jumping up and down.  I never went on, but I did enjoy watching it!
Maybe that is why the KOFY Dance Party hit a sweet spot in my heart and made me stare mesmerized at the dance party for a good 45 minutes in awe.  I remember reading about it a few years ago and was planning on going with some friends, but we never got around to it. And I've even seen videos on  YouTube of it, but to see it in its full hour glory is pretty darn awesome.
But we need to start at the beginning in the 80s when the show looked like this:
Pretty rad, right?  Alas, not everyone thought so when this video was first posted in 2009 on YouTube.  One comment about the video was, "Why has the bay area allowed this catastrophe??? It's like special olympics for Soul Train." Different Strokes, Different folks…
The KOFY Dance Party launched in the 80s with much local fanfare to the delight to the local teens and young adults who boogied across that dance floor in all their early eighties splendor.
In the nineties it changed to fifties nostalgia dancing (which I would have loved) and then withered away, ground out by grunge.
But a few years ago KOFY got its groove back on and focused on 80s music and found a whole new following and now have lines of folks around the building waiting for their chance to grace the stage.
And the mix of dancers is wonderfully San Francisco–a healthy helping of hipsters, but just random nutty folks that love to dance.  And to watch them dance can't help but make your feet itchy and have you singing along with the song.
I'm kinda loving the host and the way he kinda channels Don Cornelius.
The dance floor has pretty much remained in its low budget glory–which I think is kinda part of its charm. Pretty rad, right?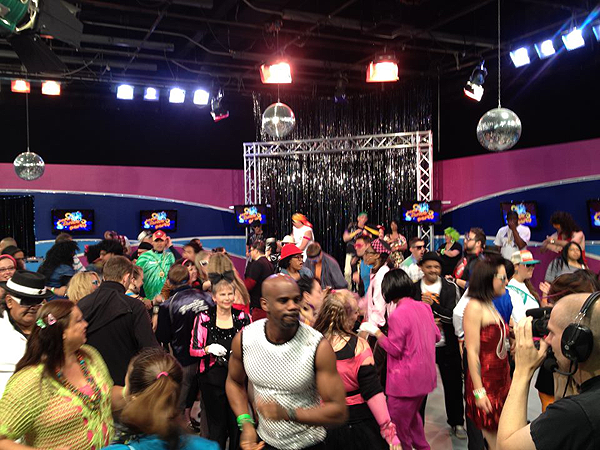 And boy do they get into it! With eighties outfits galore. Every girl can be Cyndi Lauper and every boy can be Will Smith.  Of course to truly enjoy it, you must watch them dance… Oh yes…
KOFY is still bring the dance party into Bay Area folk's living room with so much joy that you can help but move the coffee table and do your best moon walk!
Did you grow up with a local dance show? Were you ever ON a dance party show?