I know to you east coasters, our weather is positively balmy out here….BUT we've been dipping into the 30s and low 40s that's preeettty chilly to me. That being said, we've had a busy and fun winter, with lots of holiday tunes, fires, reading stories on the couch and indulging in Creme Brulee lattes (which aren't really coffee, they're more like a tasty dessert….but oh how shummy).
ALL I WANT FOR CHRISTMAS IS MY TWO FRONT TEETH
Somebody lost a toof…and then another one! I didn't think Wolfie could get any more awesome, but the missing teeth are pretty darn cute. I told him how I lost MY two front teeth in first grade around the exact same time…and when we had our school Christmas Pagent we sang "All I Want for Christmas is My Two Front Teeth" and the teacher made me stand front and center. Wolfie was appalled….not by my story, but by the SONG. "But mama…I don't want to get my TEETH for Christmas!" hee. I assured him it was just a song.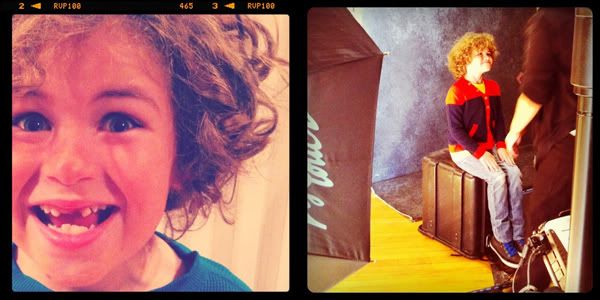 WALKS WITH SAM
I've been meaning to write an update on our Samson (aka Sam, Sammy, Sam Bone). For those who missed it, he was our fabulous, leggy pound puppy. He's just terrific. He's the handsomest, sweetest dog around. His fur is growing in beautifully and he has put on some weight. Everyone who sees him falls in love. Greg takes him to the red woods almost every day, and on the weekends we like to go to Point Isabel, which is one of the largest off leash dog parks in the country. It's so pretty, and Sam loves it.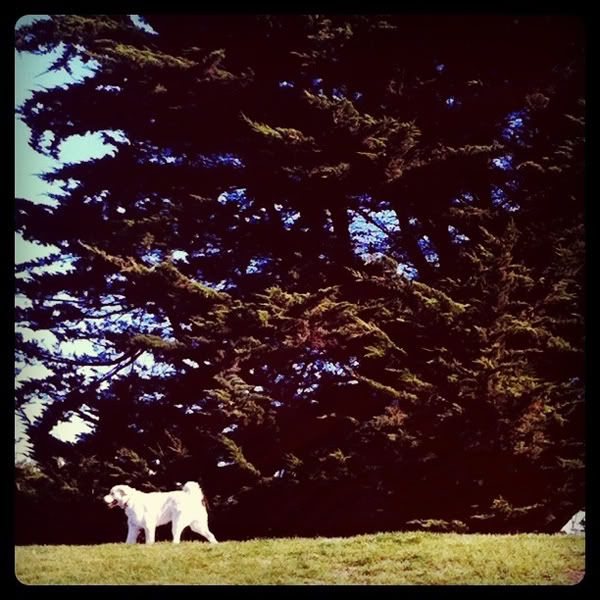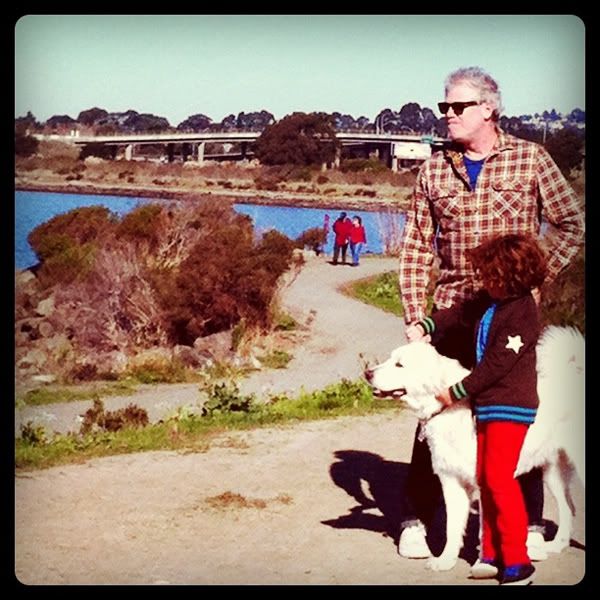 BUYING OUR TREE
You've already seen our holiday mania around the house….I can't remember if I mentioned we got our treeeee last weekend . We have a vintage silver aluminum one that we love, but I have to say nothing beats the smell of fresh evergreen. So we got a real one (not flocked, Wolfie is just standing in front of them!).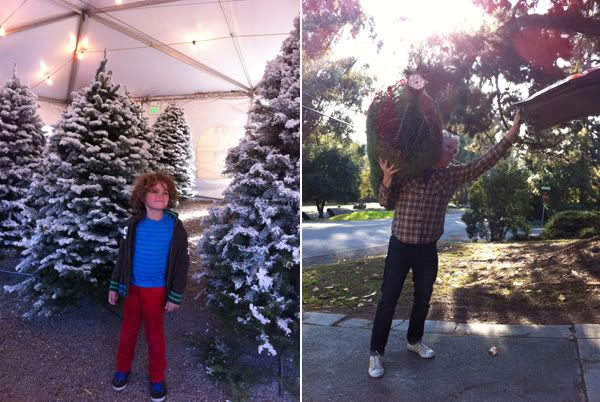 We trimmed the tree and watched our favorite holiday special, Year Without a Santa Claus. Snow Miser and Heat Miser get me every time!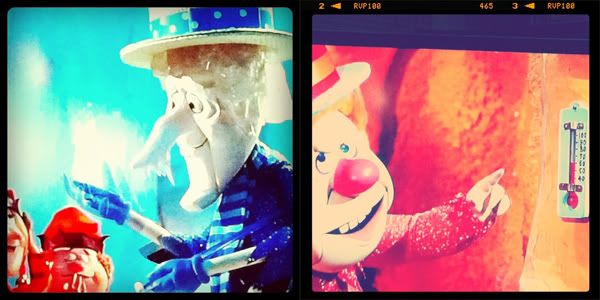 LIPSTICK OBSESSIONS
OK, this has nothing to do with winter or the holidays, but I had to share on of my new fave lipsticks— Revlon Lip Butter. Lip Butters are taking the beauty world by storm. They are packed full of great stuff like mango and shea butter, so they keep  your lips extremely soft…but the colors are much deeper than a colored lip balm. It's like Burts Bees and MAC had a baby! Kinda. There are TONS of colors—popsicle reds, fun pinks, bronzey nudes. Some sheer. Some bold. And they're only $7 a pop. They make your lips look nice a dewy. Go get some! [good colors: candy apple and cherry tart for pretty reds, lollipop and raspberry pie for sassy pinks, red velvet and berry smoothie for plum…oh and tutti frutti for a peachie orange that seems great for sunny days]

TRYING ARCHERY!
We love exposing Wolfie to new things. Some of them we have to gently urge him to do (like going to see Annie a few weeks ago—he wasn't sure about that! But they had a real live dog as Sandy and he was pretty into that!). Many times Wolfie comes up with the new thing he wants to try. On one of our redwood walks with Sammy we passed an archery range. It was all grown ups and Wolfie was pretty transfixed (having just devoured The Hunger Games trilogy over the summer, I admit I was too). Greg found out that the San Francisco Archery Club allows younger kids to try their hand on a special side range. I have to say he did really well! He had the stance down pat. If you look closely you can see that his little face is all screwed up in concentration.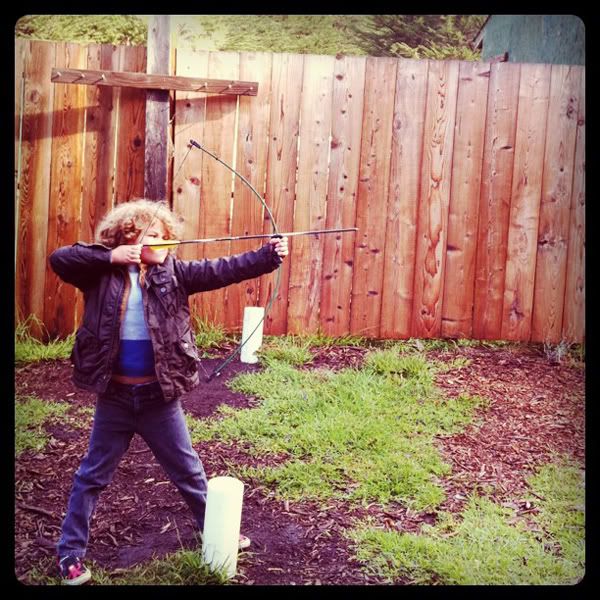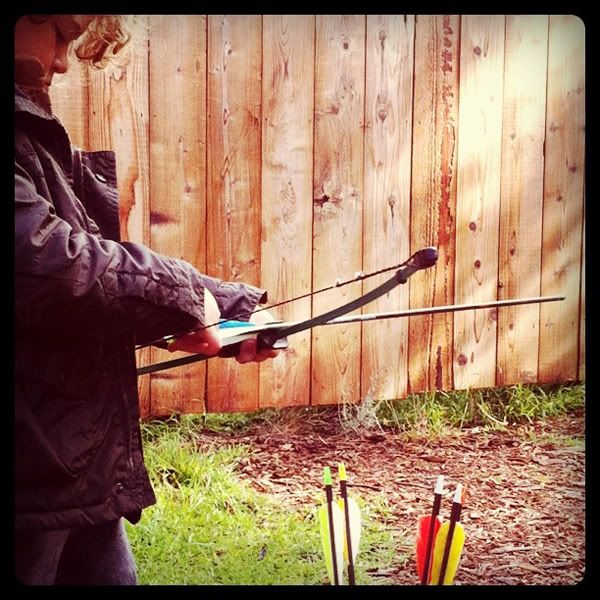 And today is Friday which means another busy bee weekend! We have lots to do before we head to snowy Michigan for the holidays. How about you guys? Are your weekends action packed too? Did you get your tree yet (if you're getting one?). Oh, I'm almost done with Mix #3! I'm hoping it will go up today, but if not, for sure this weekend!