1. A HAIR RAISING WAY TO PARK YOUR BIKE.
I love this big ol' 70s pack pocket comb as a bike rack. So clever! It's in Roanoke, Virginia, if yer close by.
2. UP, UP AND AWAY.
I reeeeally want to float away on this coach, with a juicy book. Doesn't it look awesome??
3. BELLE AND SEBASTIAN LOOK AS PRETTY AS THEY SOUND.
Sure they're known for their dreamy music, but this beautifully animated video by Lesley Barnes is almost prettier than the song. SO great.

Check out the full video here. So dreamy….
4. A KIDDO'S TOY IS HIS CASTLE.
The always awesome Robert Mahar of Junior Society has put together a collection of groovy kid's play castles. I love a good castle. Take a look for your little knight or princess.

5. I'M PLOTZING OVER PLOC.
Awesome Kiddo reader Flannery O'Kafka tipped us off to this rad new magazine from the makers of the lovely Anorak Magazine. Their new project is called, PLOC: The Happy Mag For Little Ones. The best part is that they contacted one of my all time favorite vintage illustrators, Alain Grée (I featured him here). He is an incredible French artist who illustrated children's books through the 60s and 70s. I can't wait to see the first issue!
via bambino goodies
6. THE 20 BEST TREE HOUSES AROUND
I love tree houses. I've always wanted one. And these are especially inspiring.


via babble
7. PAST MEETS PRESENT PHOTOS TAKE OFF!
The Dear Photograph blog is making the rounds and I think the concept is so lovely. Take a picture of a photo from the past in the present. I must boast here and say we actually posted about this idea two months before Dear Photograph launched (ahem, hee) but the blog is definitely a terrific idea. See my original post here for lots of great photos and then pop by Dear Photograph too!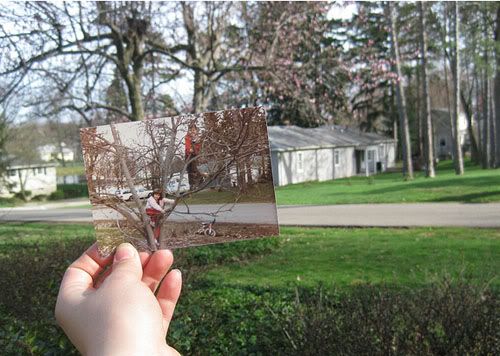 image: katie artzner
8 THE CRAZY CUTENESS OF RAINBOW CITY, NYC
Oh my. New Yorkers you have until July 5 to check out this extraordinary forty piece installation by FriendsWithYou. 'Rainbow City' is a vibrant collection of air-filled sculptures which make this 'city' a very happy place to be indeed! Located at the lot on 30th Street in the Chelsea art district.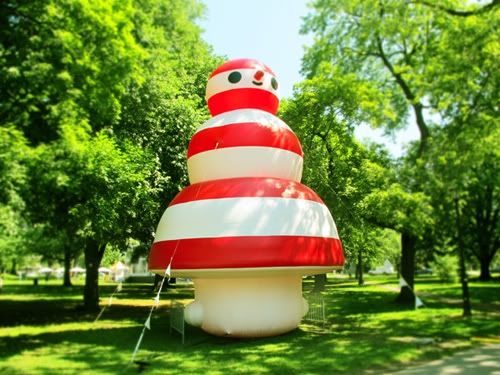 via LMNOP
9 AHHHH, GILT FREE SHOPPING
Have you heard of Gilt Groupe? It's a terrific site that lets you buy schmancy label goodies for your kiddos without breaking yer pocketbook! They call it "insider access to deals" and I'm a girlie who loves a good deal. In addition to gorgeous clothing you'll also find cool toys and gear. The line up changes all the time and this week is especially good!

How adorable, right?? They have really cute boy things too. Like that awesome frenchy lookin' stripey tee from American Apparel down there? Five bucks! And that awesome Tea Collection Wolf shirt? $12 smackers! You can sign up for free here. Head on over!
10 PEANUT BUTTER BACON COOKIES ROCK MY WORLD.
How does one type a droooooool? Earlier this week I met up with my friends James (of bleubird vintage) and Tracy (of Shutterbean). Tracy made these cookies. And I admit was a skeptical….but the lesson is, NEVER DOUBT THE BEAN! MAN WERE THEY SHUMMY! Tracy is an excellent maker of foods. And these cookies kick booty. Get the recipe here.

That's all folks! Have a super duper lovely weekend.