I know we usually take a little tour of wee baby clothes on Widdle Wednesdays, but this week I thought we'd mix it up a bit and take a look at First Birthday Parties! Whooo hooo! (insert fancy tooter sound effect here) So listen, I'm always torn on the First Birthday Party. I mean, on the one hand I think a sweet little cake and close friends is plenty for a one year old. Don't feel pressure to do it up crazy. And there *is* pressure. I mean some of these parties you read about are SOOOOO over-the-top and I think, "Really? Does this child even know what the heck is happening or truthfully even really care that you picked Meyer lemons from Martha Stewart's backyard for lemon curd and then hand crafted artisanal wee tartlettes topped with lavender scented whipped cream while the cast of Yo Gabba Gabba performed an accoustic set in your solarium??" But then the more I thought about it I realized, in a way, the First Birthday is almost like an anniversary party for the parents. Like, "Hell yeah! We made it through a year of no sleep, poop blow outs, crying and we now have mad diaper changing skillz!!" So when you think about it like that, why the heck not?? So I'm here to tell you….it's all good. You can go big or go small and it's all A-OK. I recently found a few First Birthday parties that were truly inspiring and SOOOOO pretty and cool I just had to share them with you.
This first celebration was an awesomely cute First Birthday for a little fella—although it could easily be for a little girl. Or a grown woman (hint hint…..August 22 is just a stones throw away, my friends. Ahem….). Presenting, Finn's Woodland Wonderland!

The party was held in a park—a portable table served as the centerpiece with mossy silhouettes and all kinds of yummy goodies to nibble on.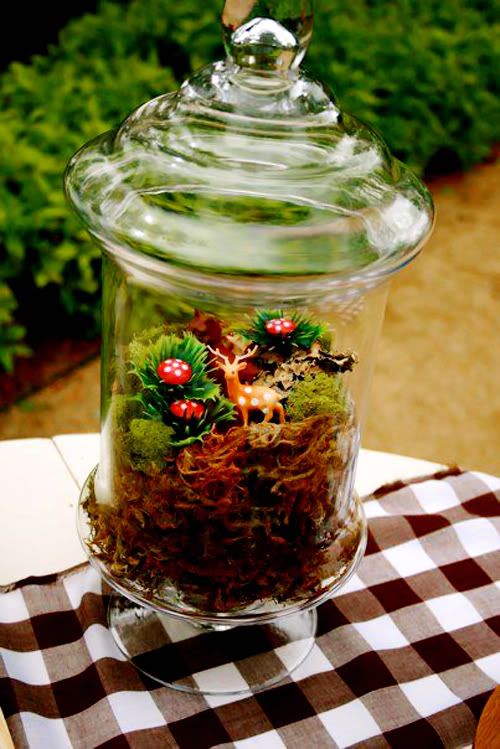 The desserts were created by pastry chef extraordinaire Melody Brandon, from Sweet and Saucy Shop in Long Beach, CA. She made owl cookies, mini key lime pies, mini candy bar cupcakes, rustic pies and other tasty treats!  Insanely adorable. The mushrooms decorations were crafted by the super cool mama, Sarah.

See that clever use of an old vintage framed mirror up there? Smaht!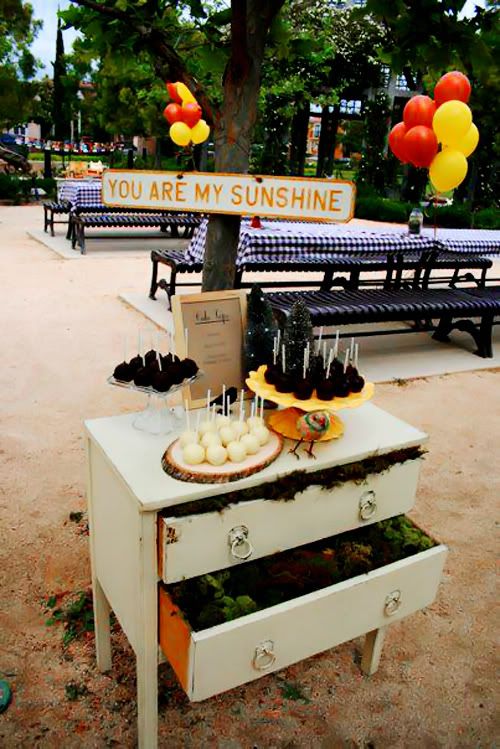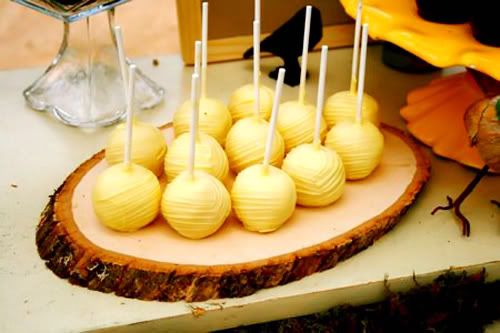 Those lollipop cakes are all the rage—I've never tried one, but they look amazing!! Also, look at the adorable photobooth. Very clever take on those "stick yer head in the window" ones. A basket of cool props completed the fun.

Amazing! I can't lie, this is probably WAY more effort than I would be able to muster up….but I am pretty smitten with the level of detail this mama went to. OH, and one more bonus track. Now, this last image isn't from the same party but I thought was another adorable take on the woodland treat—mushroom cupcakes! (Or perhaps for a Mario themed party??)
Images: My Sweet and Saucy. Mushroom cupcake from magnolia designs blog
The next First Birthday party is for a sweet little girl named Audrey and featured pink peonies —and adecidedly more feminine look. The theme here was a girlie, vintage sweets table. It's so pretty, wait til you see.

A big, personalized paper banner set the tone—and how cute are these hats? I love pom poms. By the way, I think that sweets table is fancier than my wedding.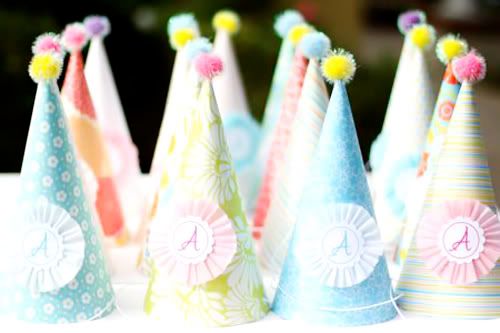 Again, super yummy pastries were the highlight. Served on beautiful vintage china and pedestals, they were like edible decor.
I love the little crafty paper flowers with Audrey's baby photos in the middle and the super sweet little bundles of wild flowers. A charming contrast to the chic elegance of all the fancy cakes!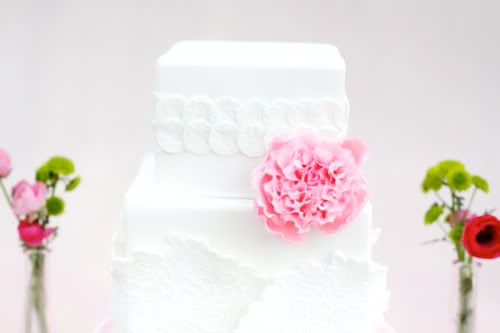 Speaking of fancy cakes…dig this birthday cake. Wow. The cake featured sugar paste "lace" and the most incredible hot pink sugar peony flower. You can see more of the party on Melody's blog.
The final party was created by my lovely friend Sandy, from the Winding Road. Sandy put together a totally do-able, sweet party for a lovely little girl named Kate. The theme? Teapots & Blossoms!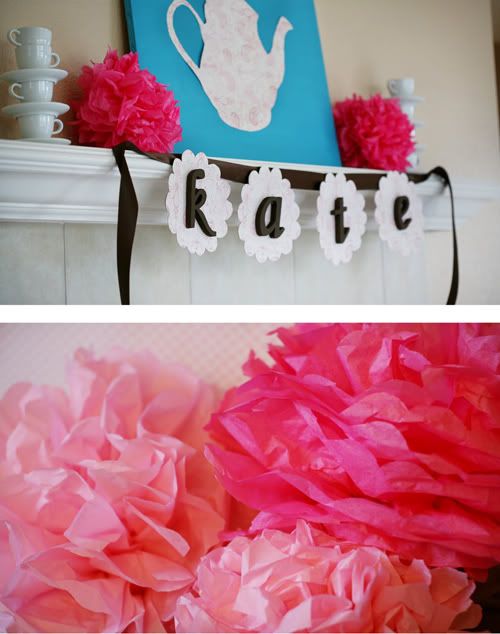 I am in love with this big fluffy paper flowers! And just look at this amazing "button" teapot Sandy made on a blue canvas. So simple yet so genius.
The cake was made by a friend who recently started a cake making business. Gum paste cherry blossoms? Wowza.
What I love about this party is that while it seems super fancy and pretty, it's actually a really clever collection of totally do-able items. Gorgeous tissue paper flowers, stacks of tea cups and a fun banner with the birthday girl's name on it. Sandy is so talented and artistic. Be sure to swing by her blog. She is an amazing photographer too.
So there you have it. Some pretty adorable parties my friends. I view parties like these as inspiration and eye candy. I'm not saying you have to go this all out, but glean some fun ideas for your own versions—like buying a bundle of paper flowers from the craft store instead of balloons….so cute! Can't wait to see what you guys rustle up in the coming year.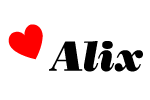 [TOP SECRET KIDDO SCOOP: Don't tell anyone—but technically we didn't buy Wolfie any birthday presents for his first three birthdays!! I mean, listen, he got enough stuff from friends and family and we figured he was still little so he wouldn't notice. Hey, I'm serious. Don't you tell him or I'll be paying in Pokemon for the next year!! Also, it rained on his birthday this year and we had to cancel his party—so he technically hasn't had a birthday party this year either. Woot! Let's hear it for Mom of the Year Alix! See? No pressure from me on fancy parties….but just you wait. When I finally get it together it's gonna be the bomb. Pinkie swear.]