How on Earth did it become October so quickly?  Well, add to your Monday to do list getting pumpkins and I'll start the Monday Retro round up with some plaid!
EBay seller, New Daily called this darling plaid dress something out of Buffy from Family Affair's closet, and I have to agree with that one. With built in neck scarf to boot.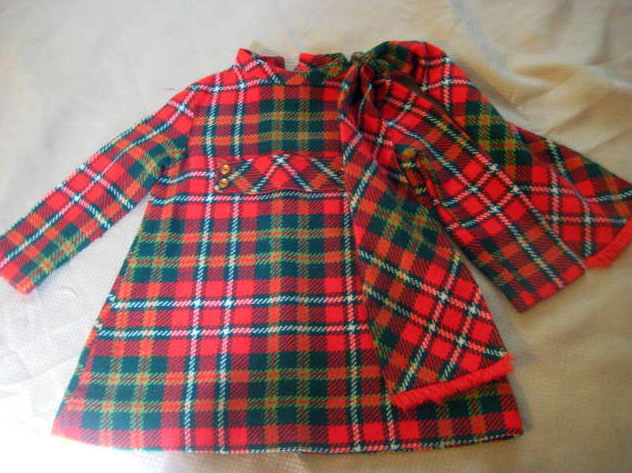 We know military style is all the rage on the runways, but this little vintage boys coat is quite the trend on. But more importantly, it is totally stinky cute! From Etsy seller, Little Yah.
Now this little faux vestie with the dressie is just super fun! From eBay seller Jewal, who has a slew of darling girlie bits.
How much do you love this bright orange vintage HealthTex jumper with the bird. I mean, really. REALLY–check out that bird! From eBay seller Perfect Will.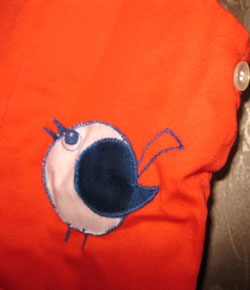 This goldenrod boys plaid shirt is so early 1960s that is kinda blows my mind.  Such simple lines and would be terrific with cuffed jeans and some Converse sneakers. Quite a gem from eBay Snoopery.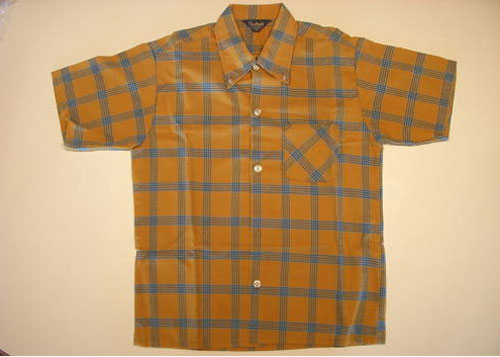 Red patent leather belt and red piping? On this little girl's dress? Too much.  Just too much. Another gem from eBay seller Zeke989.
Now this sweet little daffodil dress is a show stopper. That print on the skirt is so neo-colonial early 1960's, yes?   I have a real love for that charming 1950s colonial style print. I call it the "I Love Lucy Westport" years style.  All the dress needs is a faux spinning wheel… From eBay seller, Sales by Trudy.
A is for apple. And applique–which makes these pants doubly awesome what with the apple applique on the leg. From Etsy seller, Swan Valley, who also has a wonderful collection of retro-style aprons to boot!
I'm completely in love with this emo baby boy blue sweater.  I love Miss Lish's stuff–I even adore that blue Swedish horse tablecloth that you use on the background.
You have to adore this sweet little vintage pleated skirt. The pattern is just perfection. And bonus–big girl size to boot! From Etsy seller, Sammy Lee Vintage.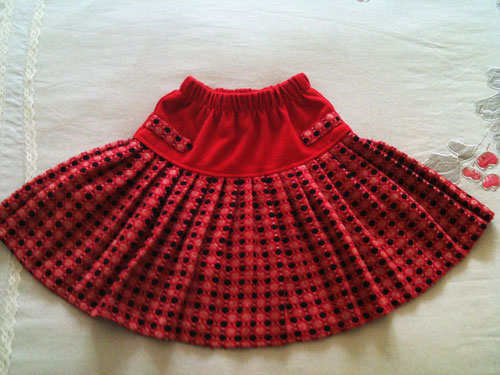 And lastly, how could I not include a wee bit of Halloweenery?  Our girl Heather at Etsy shop, 3 Ring Circus has these Franken-fabulous Halloween trick or treat bags! Boy, I remember these so well–you knew you hit the right house, when you were presented with one of these bags full of sugary goodies!
Speaking of Halloween, get ready for some great tricks and treats from us this month. Alix and I have been buzzing on our editorial calendar and I think you all are guaranteed some extra fun Halloween inspired posties coming up this month. Hurrah!