Oh three day weekends are so wonderful.  I love having that extra day to hang out with the family. And I even managed to spend two hours tackling the evil attic craft lair, which I will share with you one day… But before I start up the BBQ, I wanted to share some grand Memorial Day treats with you all. And I must admit, I have some outstanding ones today.
You know I love nothing more than a good matching mother daughter outfit. Well, check it out–a matching vintage mother/daughter outfit!!! GAAHHH!!! Insert head exploding sound. Â From Ebay seller, Attic*Fanatics.
Whoever said BINGO couldn't be fun? Not I! Especially when it comes in such a charming box like this where the family playing it is seen peeking through the curtains. Adorable! From Scout Dry Goods.
When I saw this little vintage HealthTex bit of cuteness I actually gasped. Farming? Little shovel? Stop it! You are killing me HealthTex! From Etsy seller, Mama Fabun.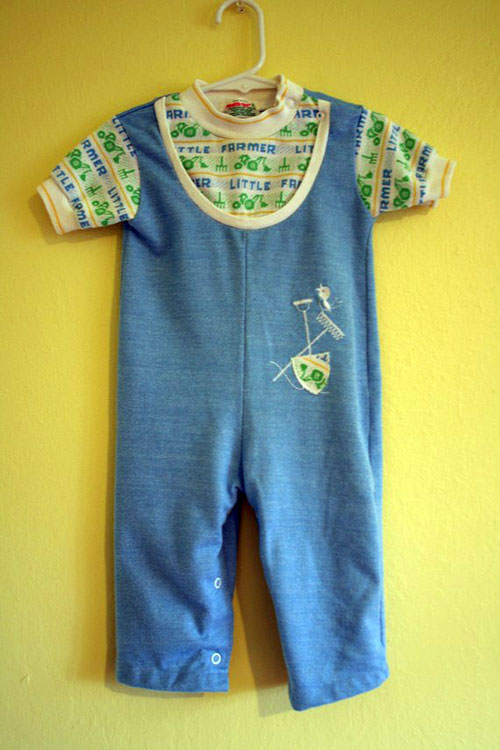 ZOMG! I loved these games as a kid! Go Milton Bradley Waterfuls! Â There was always one in the pediatrician's office. Â From Etsy seller, Topsy's Attic.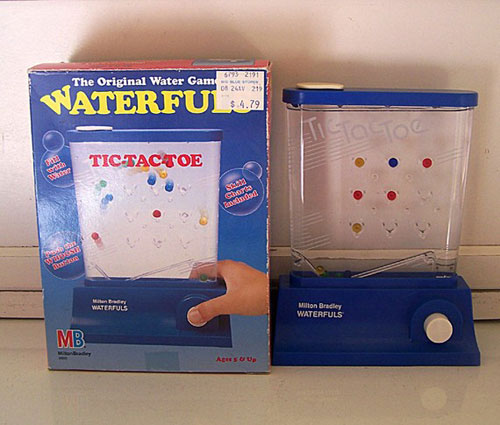 The Littlest has this little vintage two piece set listed as a "Spoonful of Sugar" because it is so darn sweet.  Who am I to protest with that?
We all love vintage Fisher Price, right? Well, feast your eyes on this vintage gem–the parking garage with a starting bid of $9.99. Â Remember how we all thought it would be so cool to work in a parking garage because of this game? Yeah! Â From Ebay seller, Lilfoxys.
Now that it is after Memorial Day, you can start wearing white shoes, right? Â Well, check out these wee cuties from Etsy seller, Hart & Sew.
Speaking of wearing white, check out this adorable nautical ensemble for a baby! Â I think this would be a wonderful item to put a little baby boy in for a summer wedding. Â SO CUTE! Great find, 3 Ring Circus!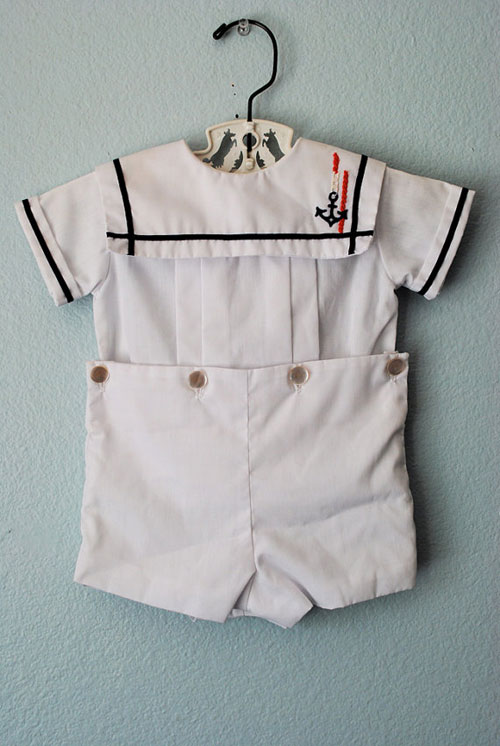 Does anyone else remember these Morgan books? I don't remember much about them other than that I LOVED them. Anyone? From Etsy seller, Treasure Hunt Vintage.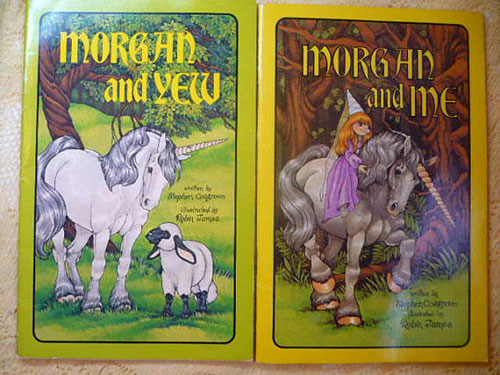 I think these might be the perfect little lounging about capri pants for a little girl. Imagine them with red salt water sandals and a plain white puff sleeved t-shirt. And BAM–baby summer perfection! From Etsy seller Oliver's Forest.
Check out this sweet vintage kids suitcase. Perfect for that first overnight trip to Grandma's house! I also love using vintage luggage for additional storage too. Â Cute and handy! Â From Etsy seller, Cheeky Vintage Closet.
Oh and of course, I saved the best for last. I remember LOVING magazines when I was a kid. Â Although I only had one subscription (to World Magazine, of course) I always read my brother's Bananas and Dynamite magazines. And good gravy–this Dynamite/Bananas collection offered by Etsy seller, Rigamarole includes five of perhaps the best issues ever featuring on the cover–Battlestar Galactica, Happy Days, Suzanne Somers, Jaclyn Smith, and a special double issue incudling Superman/Christopher Reeves and Dolly Parton. Â I know. I know. It's almost too much to take.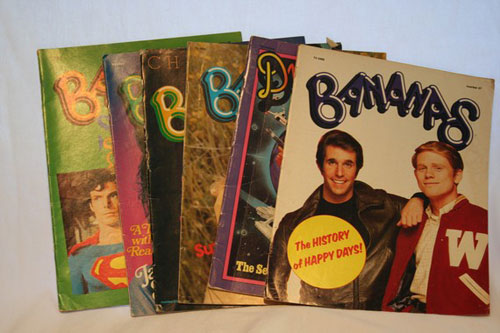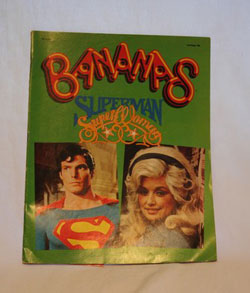 Happy Memorial Day, friends!