Update: ALAS, THIS GIVEAWAY IS OVER! Thanks to all who entered.
Calling all vintage loving mamas! This giveaway is for YOU!

Friends, today we have an AMAHZING giveaway from one of my all time favorite Etsy sellers–a $50 gift certificate to Etsy vintage seller, Fuzzymama.
Why, oh why is this so grand you ask? Because Fuzzymama has more than 200 items of vintage awesomeness including one of the best curated and well priced selections of kiddo clothing around.  Mmmhmmm… I discovered Fuzzymama early on in my Etsy foraging trips for the weekly MK Vintage Kiddo Round Up and I found myself coming back again and again and buying again and again too.
But behind the terrific shop is an equally terrific gal, Beth! So we sat down for some e-sweet tea one lazy hour this Memorial Day weekend for the following lovely chat.
MK: Lady, how did you get into vintage kid's clothing?
Fuzzy Mama Beth: I have always been an avid thrifter/flea marketer.  I got into vintage kids clothing when my husband and I happened upon a thrift store one Valentine's Day three years ago(yes, my husband loves to thrift as much as i do!)–it was PACKED with all these amazing kids outfits from the sixties and seventies that were barely worn.  I could not leave them there.  We packed our carts with about 70 outfits (I have never had such a coup since!), got a lot of weird looks, and headed home knowing I could do something with these gems.!  I had heard of etsy and after a bit of research, Fuzzymama was born!!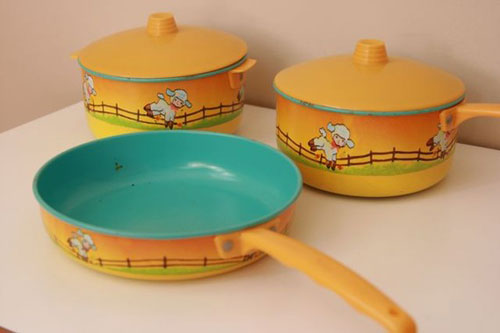 MK: Amen, sister! I have to ask, do you have a favorite era for kid's clothing?
Fuzzy Mama Beth: I think I am most attracted to the seventies because thats when I grew up. I love the quality of the pieces from back then. And the bold prints–kids clothes seemed to be more fun! Boys clothes from the sixties and seventies always get me, too.  I love a good classic jonjon–nothing sweeter on a little guy!

MK: You had me at Jon Jon!  How did you come up with the name FuzzyMama?
Fuzzy Mama Beth: The name Fuzzymama came from Fuzzybug, my online dating handle when I met my husband!!! (MK: Ha! That's hilarious!)  I was a bit of a pioneer in online dating—I highly recommend it.  : ) My husband had a card company he named Fuzzybug, I started my etsy shop shortly after that.  Our son Harrison, was 2 at the time and Truman was a newborn. (yes, the same names as Lishyloo–we vintage mamas think alike!!) (MK: LOVE IT! It IS a spectacular name!) and it was a GREAT way for me to make extra cash, have a blast, and stay home with my guys.
MK: This is a hard question–What is your favorite item in the shop right now?
FuzzyMama Beth: I am loving the houndstooth trench for a little boy–and the little nautical romper is frame worthy!!   I have also kept a few of the TGL Stockholm shirts for myself–there is nothing like a good vintage Scandinavian pattern.
MK: You and me both. I have such a weakness for all things Swedish.
And I have a weakness for Fuzzy Mama's shop too! And you would too.  And here is the best things about it–she also sells amazing goods for Mamas too!  Such darling vintage shoes, purses and of course clothes!
And wonderful housewares too…
Now, the giveaway. Here are the deets:
Now, to win a $50 gift certificate in our Awesome  Fuzzymama, here's all you need to do:
Leave a comment on this blog entry. To get bonus entries you may:
Follow us on Twitter. If you are already a follower, tweet about this giveaway—don't forget to include @modernkiddo in the tweet please! You can also follow our personal twitters @galexina and @missdottie for two additional entries.
"Like" us on Facebook.
"Like" Fuzzymama on Facebook.
Follow Fuzzymama on Twitter.
You'll get one entry for each thing you do. If you do all seven things on the list you'll be entered seven times. HUZZAH!!!
Voting ends Monday, June 13th at NOON PST.  The winner will be announced that evening Monday, June 13th at 8:00PM-PST.
Good luck, and we're crossing our fingers you win!