Happpppy Thursday friends! So I thought it would be fun to share with you guys Wolfie's room. It's definitely evolved slowly but surely from a baby nursery to a big boy room.
When I found out I was pregnant with a little boy I knew I wanted his room to be a little different. Soothing enough that it felt like a sweet nursery, but fun enough to reflect Greg and my love of color. Inspired by a vintage pillow I saw in a shop, we decided to paint the walls a bright robin's egg-with-a-splash-of-turquoise blue and add some fun poppy orange and white accents.
As Wolfie grew, the room had to evolve. We kept the paint job, but the crib was replaced by an Ikea Big Boy bed (aw, such a rite of passage) and the changing table was swapped for a dresser. This is what it looks like now: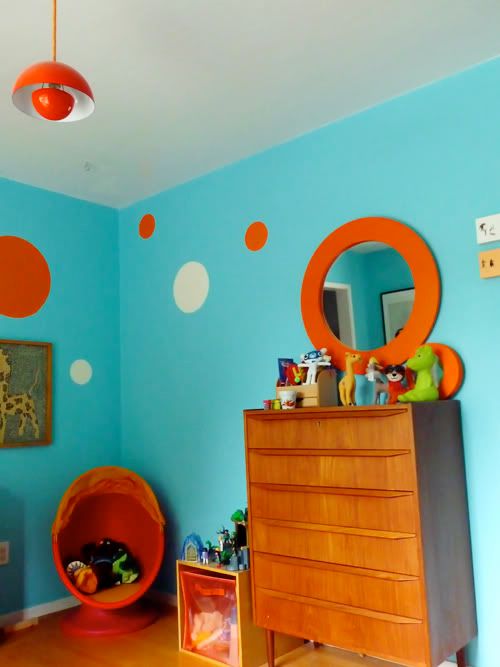 The lamp is a vintage Verner Panton flowerpot lamp we scored at an awesome sale. The dresser is a vintage piece as well. The teensy drawers proved perfect for his little tees and undies, but now that wolfie is bigger, his clothes are bigger too and I think we might need to upgrade to something with bigger drawers!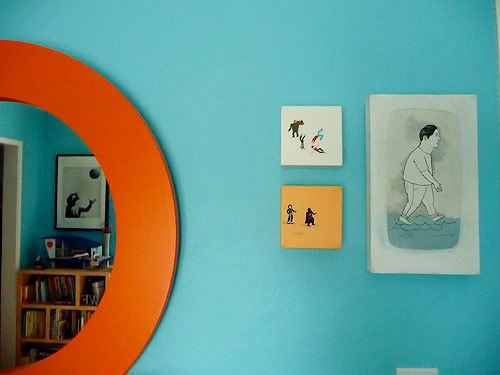 This little corner was where Wolfie's crib used to be. The chair is a vintage jobbie and made of a nauga type vinyl (it has a cool atomic pattern on it and is surprisingly comfy!). The lamp is vintage too but I have to tell you the shade is on its last legs. Very sad. The little ottoman dealie was from Target. Greg found that Calder-style mobile—I'm not sure where he got it.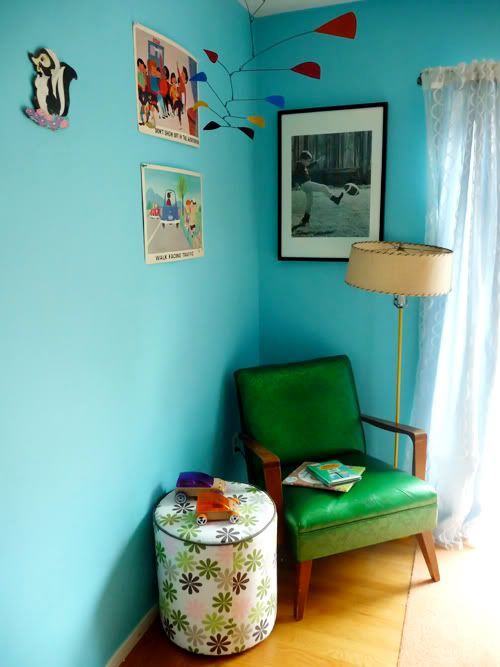 The egg chair below was an IKEA goodie. Kid's love it, I tell ya! Toy bins from Target.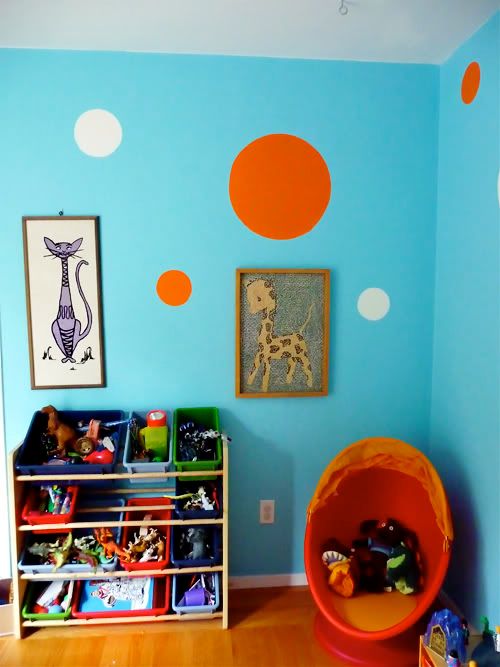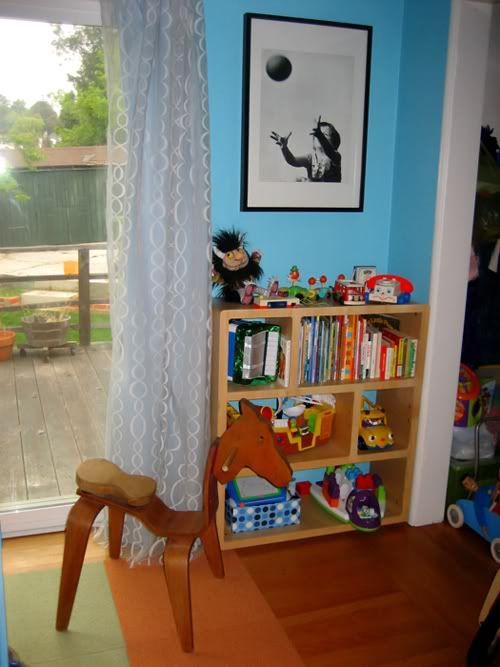 That horsie is one of my pride and joys. It was a birthday present I gave to greg when I was preggo—it's a one-of-a-kind piece. Some daddy back in the 50s or 60s took his old Eames chair and fashioned it into a horse for his child. I love it! I've been known to sit on the thang too….this is actually an older photo and you can see that we had more toys than books on the shelf. Today, the book shelf is overflowing: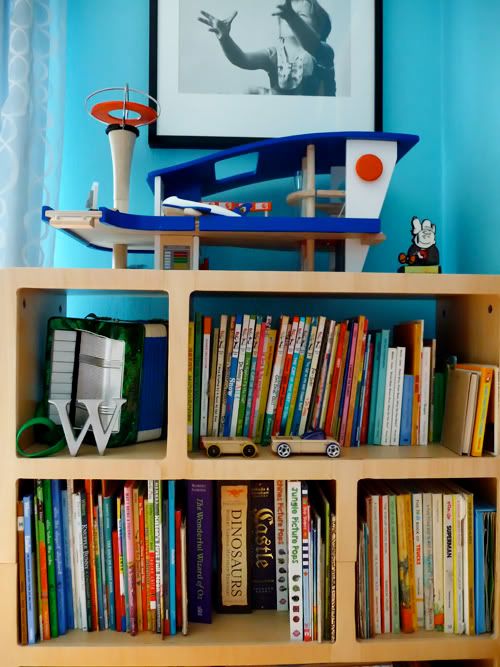 This is a fraction of the books we have. There is a whole bottom row,but I conveniently cropped out the huge pile on the floor that won't fit on the shelves (yep, sneaky blogger tricks to make you think my house is tidy and not an episode of Hoarders Lite). We love going to book stores and somehow we always end up walking out with one. These are mostly modern books, but I have a really huge collection of vintage kid's books as well. Actually the bottom right corner are all my old Pop Up Books from the 70s. They're really fun!
One of my very favorite things about Wolfie's room is the artwork we have on the walls. I love vintage stuff, so you'll see a lot of that in there. But Greg is a huge fan of supporting new and emerging artists, so we have some cool modern stuff too. I think there are all kinds of creative ways to decorate a kid's room.
That kitty is one of my faves, made of thread. The giraffe piece is all mosaic and weighs a ton….but I love how they look together!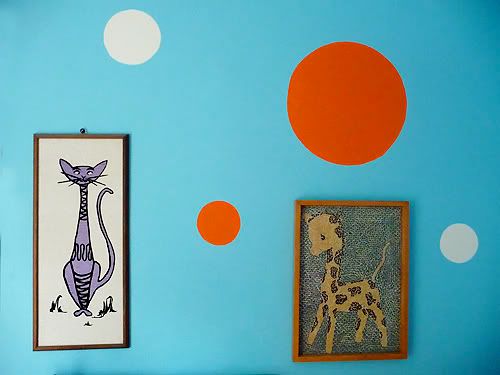 Greg bough these. The two on the left are SO COOL. They're by artist Megan Whitmarsh who is really cool (click that link later to see more of her rad designs). They are teensy small little needlepoints, but the subjects are always cool stuff like breakdancers and bigfoot or darth vader playing guitar. Hee. The dude on the right is by an awesomely talented feller named Marco Cibola.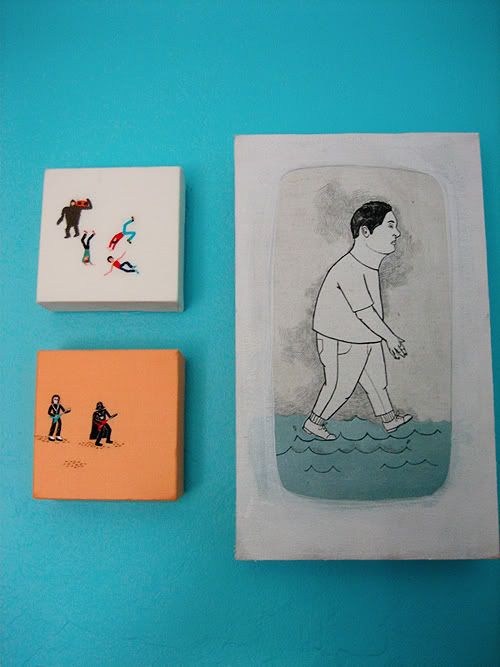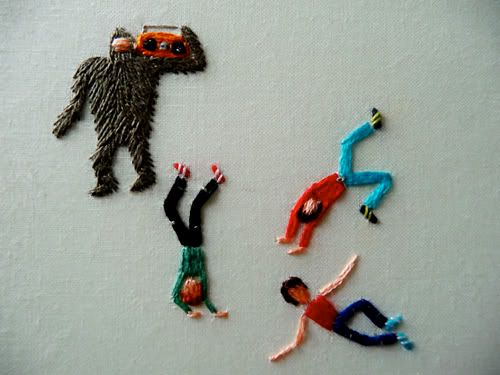 I found some really cool vintage classroom signage that has "Rules" for little ones to remember. This one always cracked me up. Was showing off in auditorium really a big problem?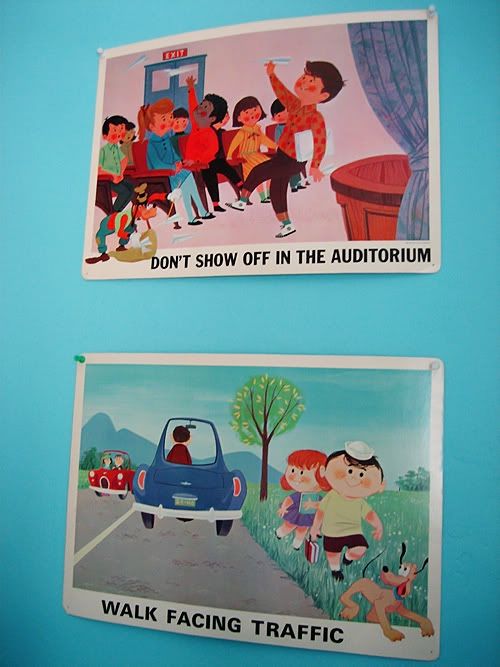 The photo above the book case (as well as the photo above the green chair of the little kid playing football) are also vintage. But they're actually printed on cardboard and, I think, were intended as classroom decorations too. They have photos on both sides (i got them on ebay). I stuck them in some cheap frames from IKEA and people always think they're some fancy art.
What you aren't seeing, of course, are the stacks of toys in the closet and a huge train table that now plays home to a monstrous Playmobile Knights and Dragons Castle. You can see the corner of it peeking out below. Hee. See? Sneaky blogger tricks.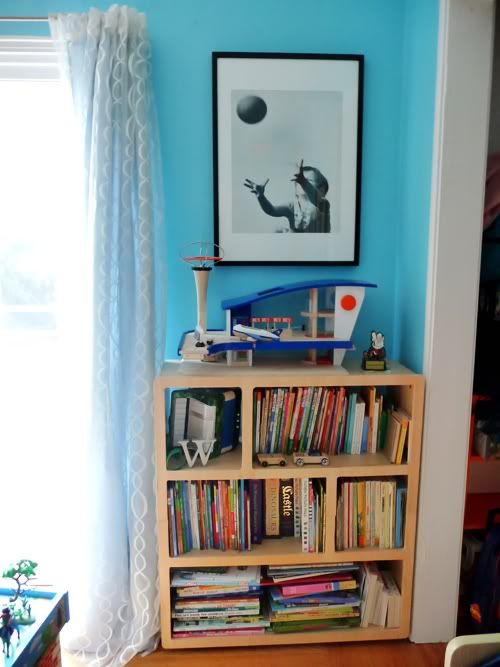 So that's the little man's room! It's cozy, bright and fun…..just like mah sweet Wolfie.
Have a great day pals. And for heavens sake, don't be showin' off in the auditorium, ok??