[Pssst! Yes, you still have time to enter!]
This is the adorable Emily Martin. She is the brains and talent behind the wildly popular Black Apple Etsy shop. And that's one of the very special limited-edition alphabet prints she made that we're GIVING AWAY!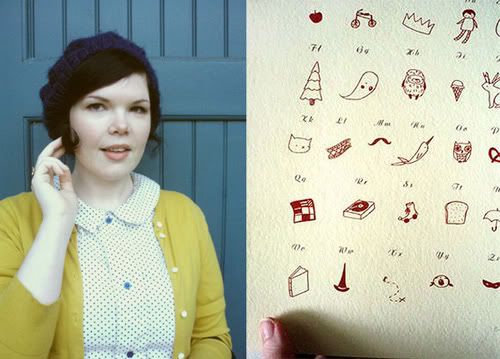 This charming print ("R is for Record Player" "T is for Toast") is a giclee on textured Watercolor stock. It's numbered 48 out of 50 and has a beautiful texture with rounded edges. She sells a reproduction of this in other colors on her Etsy site, but this one is the special SOLD OUT collectors edition. Entering is super simple—we'll be announcing the winner tomorrow (Friday April 2) at NOON!
How To Enter :
1. Become a follower of Modern Kiddo via our blog (just click "follow"on the lefthand side) and leave a comment letting us know you did this.
2. Follow us on Twitter or Facebook and tells us your favorite alphabet letter and a fun word that starts with it (for example, tweet: Hi @Modernkiddo! V is for Vespa!)
That's it! Enter enter enter!
Weekly Kiddo AND our Fun Links of the Week will be coming up in a bit, so be sure to check back here….