Oh darling Lishyloo!
We are back for more Lishyloo love today as part of the Lishyloo Blog Shower Skipperoo dreamed up by Sandi at Ada Lou Vintage. Who doesn't love a good party?
Oh, darling Lishyloo–what fun you'll have doing a nursery for a GIRL! Oh hurrah hurrah!  You've kept my kiddo in vintage goodies for her first three years and I expect more to come over the next handful of years.  We are so excited about your little one!
As my part of the Shower, I'm going to highlight some wonderful girly nurseries that all have a vintage flair that can't help buy make you smile. I expect lil' Miss Tova's nursery will be a sublime mix of all things awesome with a healthy dash of vintage throughout. Â I can only imagine the vintage adorableness in Tova's closet. But I'd like to offer some great examples of ways to add a special vintage touch throughout the nursery from some of my favorite girly girl rooms. Most of these I plucked from Ohdeedoh, which as I'm sure everyone here knows has THE best collection of kiddo rooms for inspiration.
Sebastian and Ruby's room (Mama: Rachel from Smile & Wave)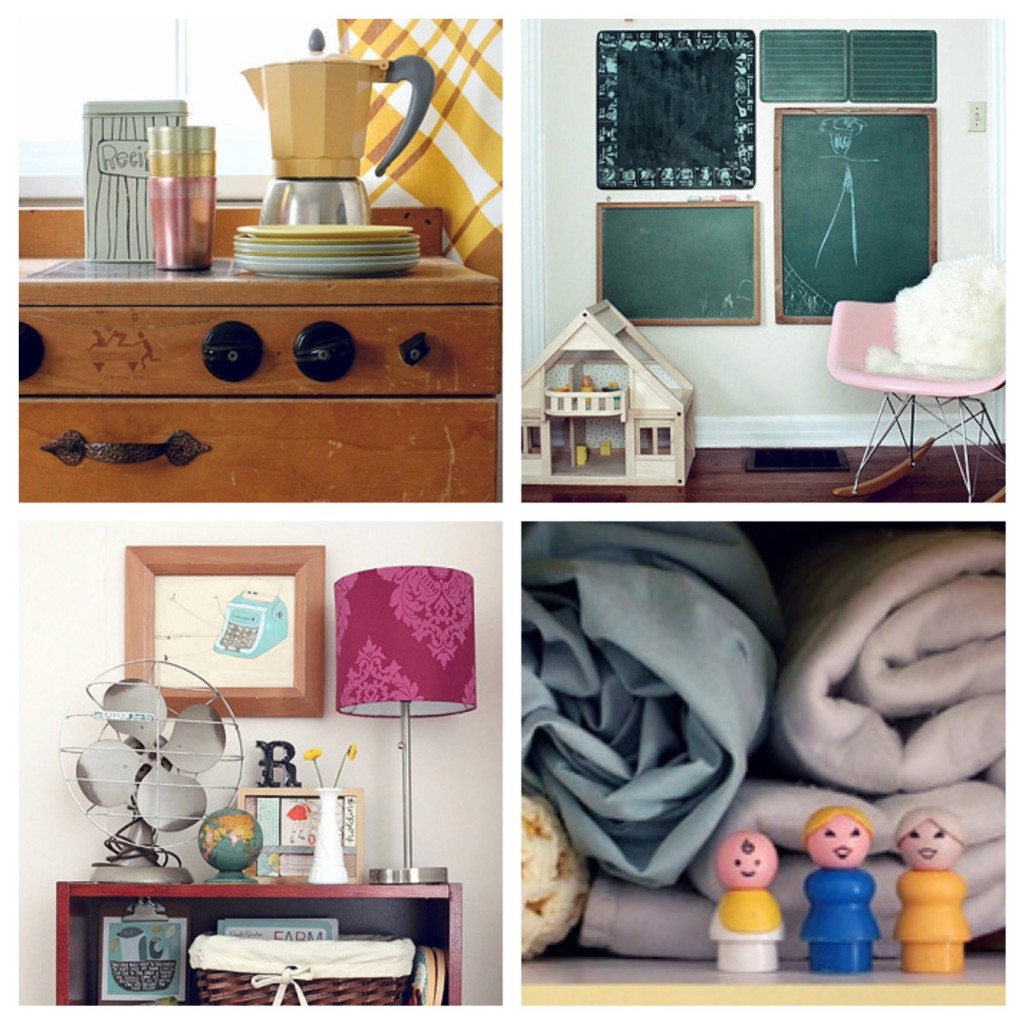 Hoo boy, I'm gaga for this room. Â What Rachel did with those vintage blackboards is nothing short of genius. They are beautiful on their own and I'm sure get a full drawing workout on a daily basis. Â And I love the little vintage kitchen Rachel found for Ruby. Â I love it that it's not perfect and that Rachel uses a couple of more grown up items that are kiddo sized, like the little espresso pitcher.
Poesy's room (Mama: Katie)
Whenever I think of vintage kiddo, I think of Irmi! And Poesy's mama found some amazing Irmi in this mobile and light plate. Â But what always sets my heart aflutter in this room is the use of handkerchiefs. Â That banner and even on the night stand. So pretty! Â And one of my favorite things about this room is the sewing/knitting dresser which Katie re-purposed as a hold all for sorts of baby knick-nacks. So clever, Katie!
The Peach's room (Mama: me!)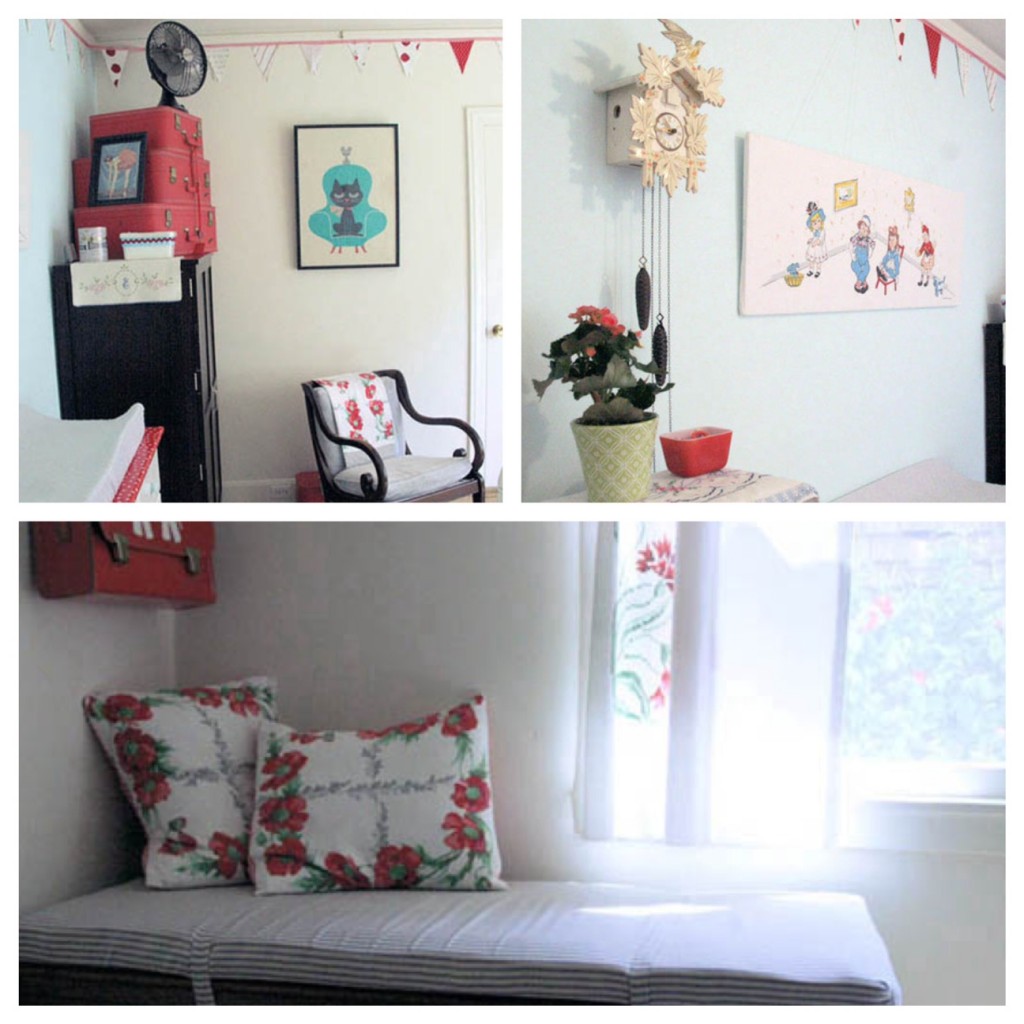 For the Peach's nursery, I incorporated my love of vintage all over the place. Â But I used a lot of vintage linens in unexpected places like an old tablecloth for curtains and another old tablecloth for pillows. I even used an old vintage Raggedy Ann sheet for a wall piece. Â Also, there is so much darn STUFF with babies that I had to create more storage–with the help of these vintage suitcases.
Little Miss & Lark's room (Mama: Hart & Sew)
Fellow vintage kiddo clothing seller, Hart & Sew did a beautiful job incorporating vintage througout her little girlie's room. Â I love the idea of hanging favorite vintage dresses on the wall. Â And those darling vintage book ends are beautiful and useful. And I love the vintage crewel on the wall too!
Emma's Nursery (Mama: Cinti from My Poppet)
I love this nursery not only for its just overall wonderfulness, but cleverness! Like using vintage bed sheets to make make a small one for the crib. (Prudent Baby has a great tutorial on how to do it. It's easy peasy! Or using thrift store baskets to put all those little pieces of toys away. And using the vintage cradle for stuffed animal storage is another great idea. And let's not forget that gorgeous handmade rug of vintage sweaters. Â Too amazing for words!
So, there you go! I hope you found some great ideas for incorporating vintage into your little Tova's room. Hurrah!
Please continue the fun of Lishyloo's Baby Shower fun over at Ada Lou's for FuzzyMama's fun post tomorrow. Â And here is the whole list of her shower in case you missed a day.
LishyLoo's Shower Skipperoo Schedule:
Saturday, Day 1 // Sandi of AdaLou
Sunday, Day 2 // Alix of Modern Kiddo
Monday, Day 3 // Jenny of Frecklewonder
Tuesday, Day 4 // Dottie of Modern Kiddo
Wednesday, Day 5 // Beth of Fuzzymama (guest posting on AdaLou)
Thursday, Day 6 // Amber of AppleSauceCrafts
Friday, Day 7 // Heather of 3RingCircus
Did you incorporate vintage into your kiddo's room? Any cool ideas to share? We'd love to hear them!