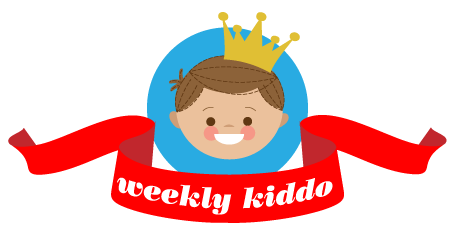 Modern Kiddo is an international affair and we love to see kids from all over the world! Our last "out of towner" was the adorable Donovan from Australia. This week we didn't have to travel very far to find a stylish lad. Meet Kingston! Kingston hails from the lovely city of Toronto, Canada and is 22 Months old (he'll be 2 in September). This little guy just makes me grin with his dapper sense of style.
Oh ho ho! How appropriate for our post this week Kingston! Sportin' the Star Wars gear. I like this boy already….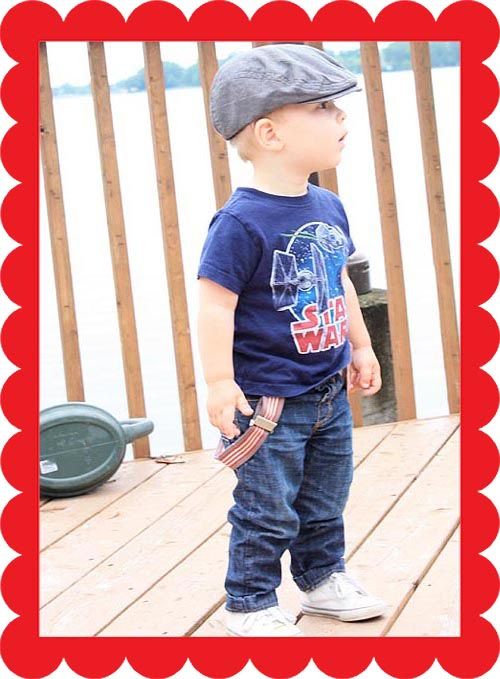 + Star Wars Tee Shirt:Â Junk Food
+ Grey News Boy Cap: H&M Baby
+ Jeans and Suspenders: Baby Gap
+ Suede High Top Sneakers: Unknown
The suspender/jeans combo is so darn cute, do you think?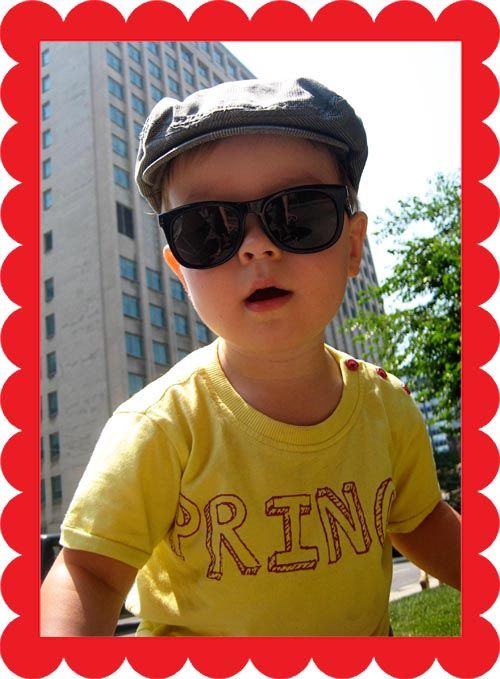 +Grey Plaid Paper Boy Hat: H&M Baby
+ Yellow Tee Shirt: Zara,
+ Sunglasses: RayBans
These hats are killing me! So cute…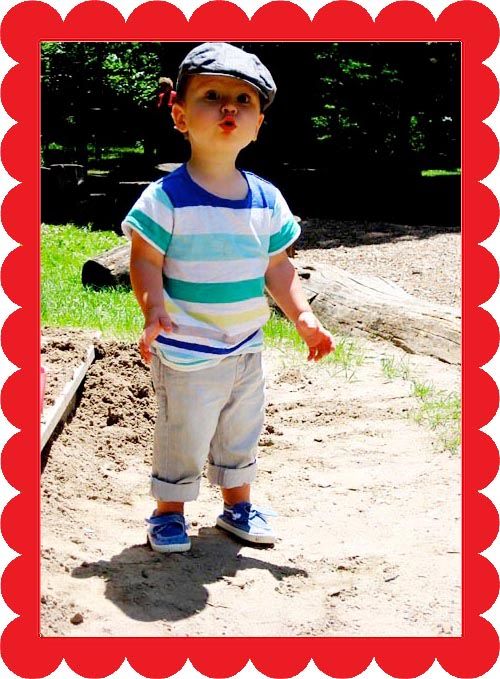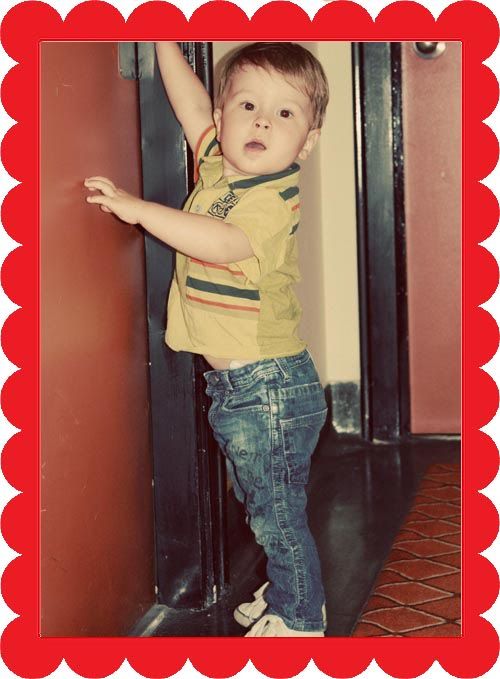 + Polo Shirt: Diesel Kids
+ Slim Jeans: Diesel Kids
This next photo KILLS me. I'm not sure what he's holding in his hand but the stance looks like he's got a little shoulder bag on and he's ready for a day on the town!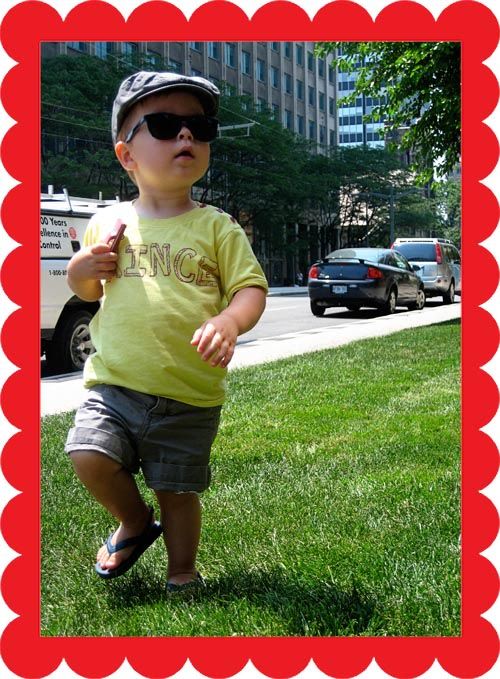 + Grey Plaid News Boy Hat: H&M Baby
+ Yellow Tee Shirt: Zara
+ Grey Bermuda Shorts: Baby Gap
+ Navy Flip Flops:Â Old Navy
+ Navy Shades: RayBans
This little cutie pie is SO GREAT. I love his wee cardigan too. Kingston, you're ready to front a band!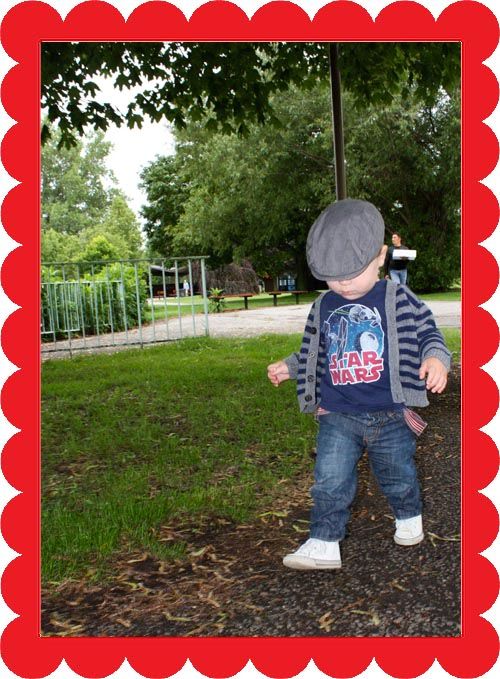 + Tee Shirt:Â Junk Food
+ Grey Paper Boy Hat: H&M Baby
+ Suede High Top Sneakers: Unknown
+ Jeans and Suspenders: Baby Gap
+ Striped Cardigan Sweater: Zara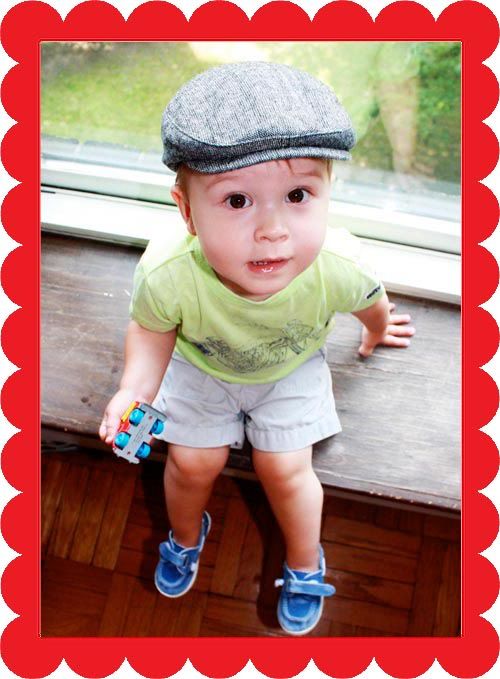 + Grey Tweed Paper Boy Cap: Â Baby Boutique
+ Lime Green Motorcycle Tee: Winners
+ Grey Striped Shorts: Winners
+ Blue Canvas Loafers: Unknown
As you can probably tell, the handsome little Kingston loves to dress up and especially loves wearing hats! Lately he has been picking out mom and dad's shoes ("mostly because he wants us to put them on so we can go out side and play!").
When its time for a snackie Kingston love love loves berries! His sweet mama Brandy says he won't eat much for veggies (i feel your pain sistah!), but he could nom on "boberry, wasbery, and sawberys" (Blueberries, Raspberries and Strawberries) all day long.
Kingston is a huge fan of all moving vehicles, but "firecucks", "pece cars" and "choo choos" top the list. Of course his favourite toys are his Hot Wheels! He also loves music and can't get enough of the awesome castle his mommy and daddy made for him (check it out here on his mommy's blog. It's pretty adorable.) Brandy tells us that Little Kingston is also an awesome big brother to his little sister, baby Harlow. She also had this super cute story about him:
"Just yesterday when we left the house, he noticed how hot it was outside. "Mommy, Hot!" he said, then he started to blow on the sun (try to) to cool it down, like we taught him to do when his food is hot!" Brandy he sounds like an awesome little guy! Thanks so much for sharing him with us!