OK folks. Take a gander at this little sweet pea. What a style maven she is, and only 3 years old! (ok ok, technically "2 1/2!") Her mother is the totally awesome Heather who is so very clever about dressing her little girlie. A lovely mix of store bought, thrifted and hand me downs gives this wee one a style all her own! The best part is that every little outfit looks as comfy as it looks cute. (We here at Modern Kiddo call it the "Cozy Factor", coined by my own little Wolfie when he tried on a Stella McCartney/Gap peacoat and proclaimed, "Mommy, this jacked isn't very cozy!") But I digress….on with the Pippi Parade!


1. grey sweater, baby gap (hand me down)
2. tie dye tee, baby gap (hand me down)
3. polka dot skirt, baby gap
4. pink leggings, garanimals
5. green boots, faded glory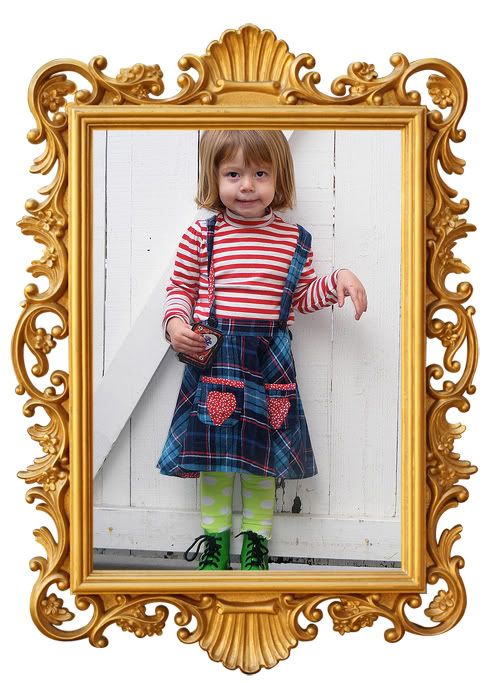 1. striped tee, baby gap
2. plaid skirt, acoustic clothing
3. hand made leg warmers
4. green boots, faded glory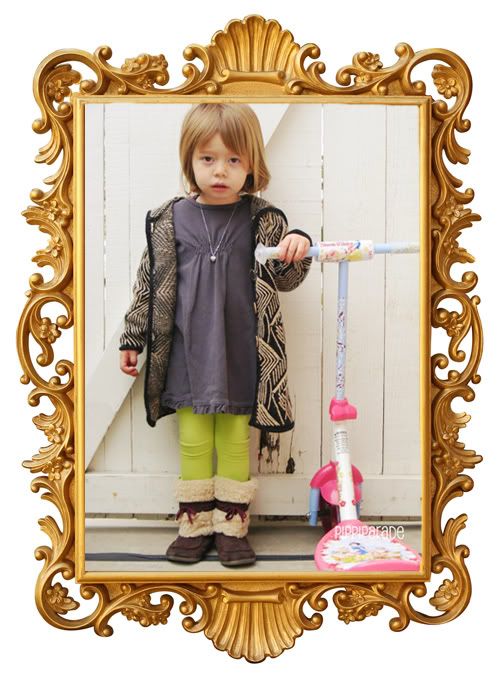 1. sweater coat, babystyle (hand me down)
2. grey dress, babystyle (hand me down)
3. green leggings, circo
4. boots (hand me downs)
I mean honestly, if the Pippi Parade doesn't just melt you're heart, then you have a heart of stone people! Miss Pippi loves Yo Gabba Gabba and Disneyland (especiall It's a Small World—this little one is my kinda gal!). She is extremely fond of peanut butter and jelly sandwiches (or jelly and butter as she calls them!) and she loves to play dollies and have tea parties. Her lovely mommy says that when she tells you a story it is sung like a song (I'm about to die, cute cute cute!). "Pippi loves to help me sew and color with her older brothers Dax and Cash. She is also the best thrift store partner, last time we went she found two matroyshka dolls on a bottom shelf!"
To complete this three ring circus of cuteness it shouldn't come as any surprise when I tell you that bunnies are her favorite animal. Everyone together now, Yippi for Pippi! (sorry, I couldn't resist!)
*************
HEY! Do you have a Modern Kiddo of your own? We want to see them! Read our Submission Guidelines and then email us at AlixnDottie@modernkiddo.com!