My mother mother knew I had a problem early on.
A problem with shoes.
The illness started with a simple pair of patent leather red mary janes that I desperately wanted. When IÂ  did get them (when they went on sale my mother likes to remind me) I wore them every chance I could get. Â I had to be bribed to not wear them during bath-time. And to this day, I still have a undying love for red shoes.
I fear I may have passed this shoe gene along to my daughter, but I am preparing for the illness with the only prescription I can write. To buy her shoes, starting with some adorable red ones!
Let's start off with a classic red shoe like these cuties from Footmates that have a totally vintage vibe–so 1940s in style!
Care for yours with dots? Yes please! I'll take these with the little hearts on the strap too!
People are very passionate about Crocs–they love them, they hate them, etc. But when I saw this super stinky cute pair of red mary janes called Alice from Crocs well, my heart melted a little. If you kiddo won't wear them, then I suggest hanging them from your rearview mirror.
I adore these little red shoes with leaf accents from Umi at a great price at 6pm.com.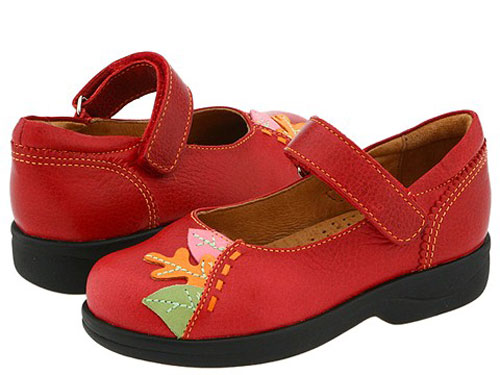 Speaking of shoes I'd like in my size, these canvas t-straps in red (and maybe navy too) from Olive Juice would be the perfect shoe for spring and into summer!  Couldn't you just imagine them on a little tan freckly girl hopping on a boat?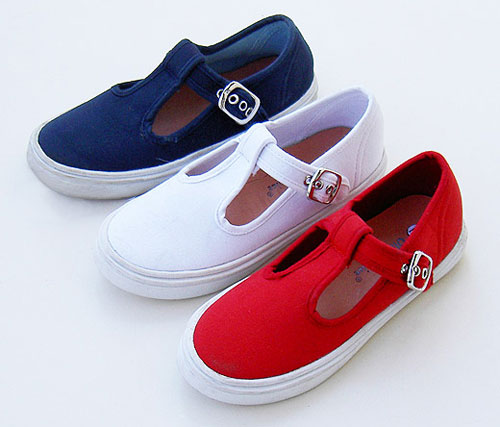 Oh! And these insanely cute shoes from Garvalin are so awesome I broke out in a cold sweat, just looking at them! Snowflakes?!? A little friend?!? And that cute sole?!?  Well, just call me Vice President of the Garvalin kid shoe fan club now!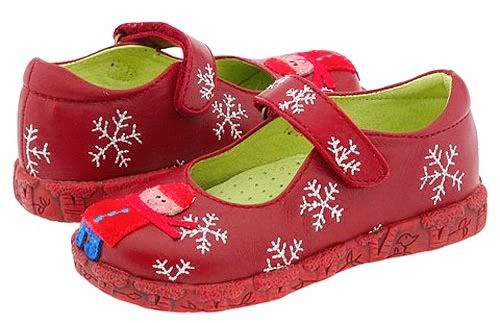 But people, we need to bow down to the ultimate little red shoe for girls—brought to us by our beloved friends at Target. Yes, it's the Wizard of Oz Dorothy red sparkly shoe that has sent girls for the past ten years into a fashion frenzy promising their parents they will go a whole month without the Cheetos snack pack if they could just GET THESE SHOES.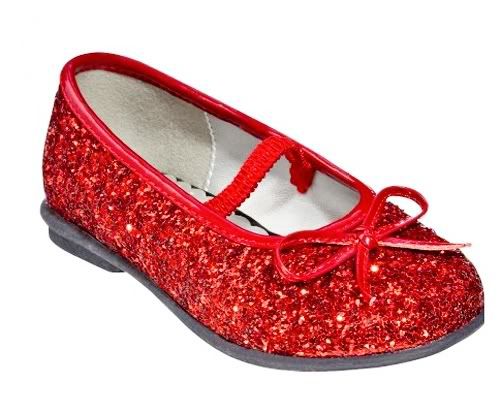 Where were you, sparkly shoe thirty years ago? You could have saved me from being grounded for two weeks after the infamous glitter/keds/red Rit dye/Dad's white work shirts incident of 1980! Pathos!