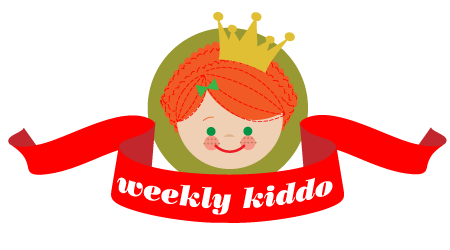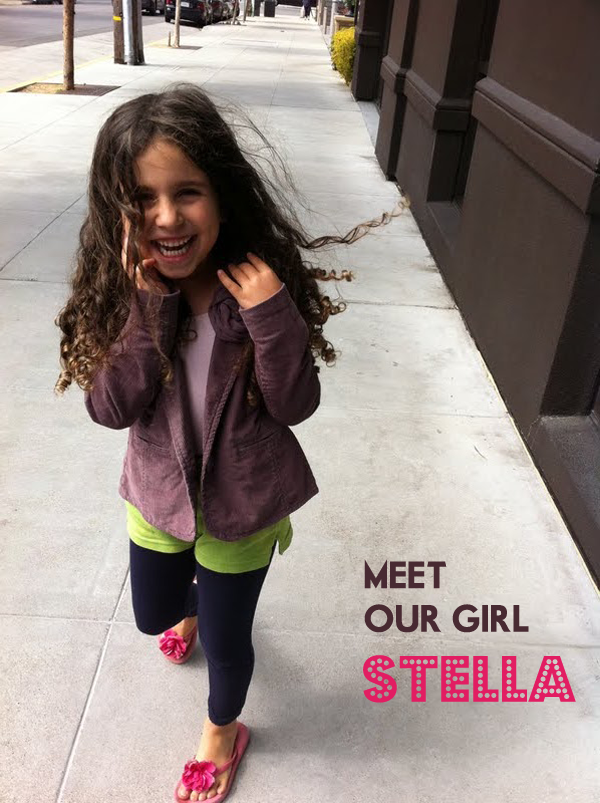 Oh, there is so much to love about Stella! Her marvelous curly locks, her laugh that demands to be joined with equal joy. And her clear charm and wonderful style which is so perfectly San Francisco and well, perfect for such a free spirit as Stella.
And Stella's fashion is just as delicious and multi-layered as her fair city. For example Stella already knows the power of a good red dress and topped it with the most divine green scarf belt. How perfect and unique. Just like Stella, who refuses to be in the same room as Santa, but can sing beautifully in front of a crowded auditorium.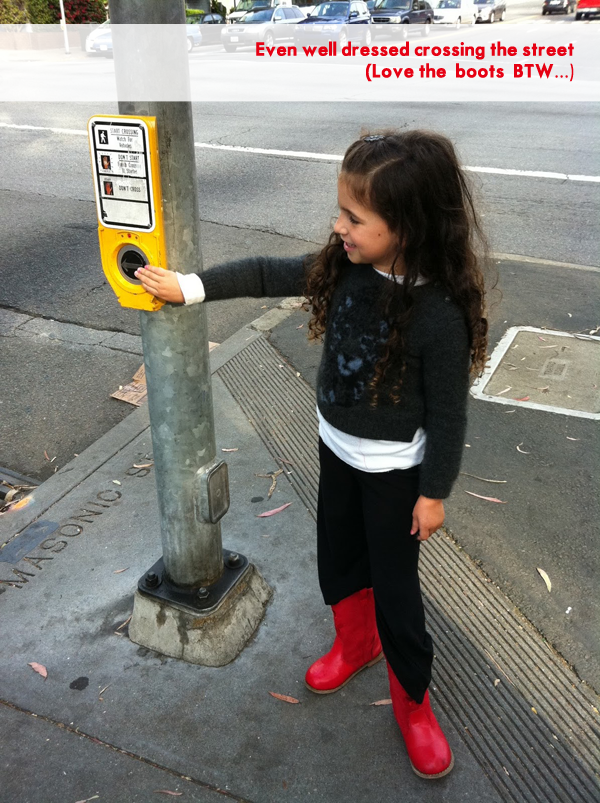 Like most kids born and bred in SF, our girl Stella knows a thing or two about practical comfy shoes and the importance of layers.  And who wouldn't want shoes as awesome as these sweet red boots?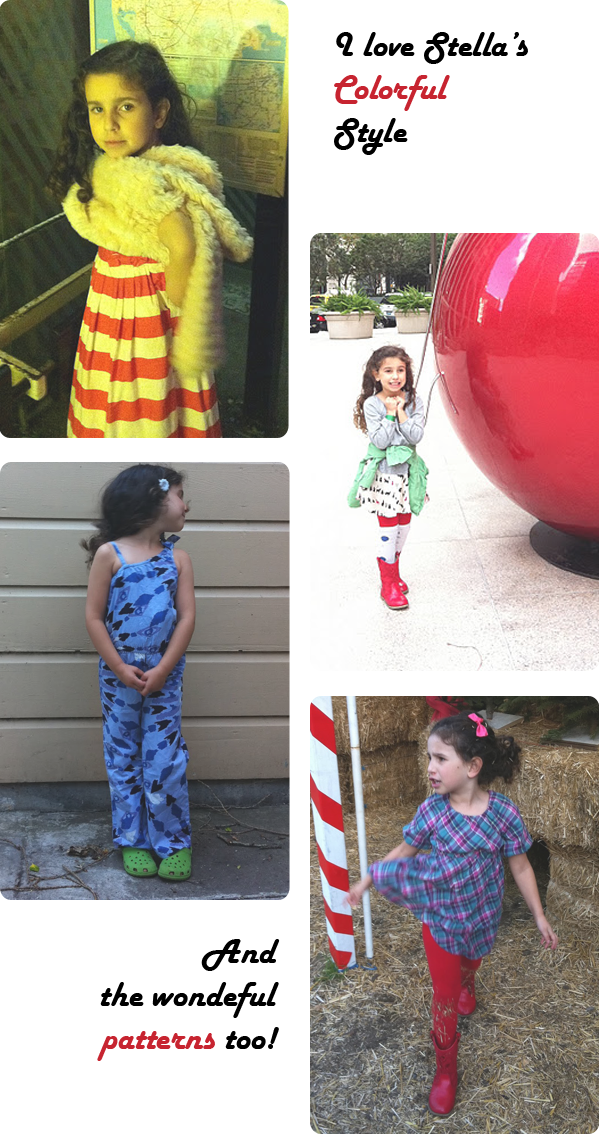 OK–I want to wear this outfit. Would you check it out? The playful birdie skirt with just enough match in the lovely hot pink flats. Well done, lady!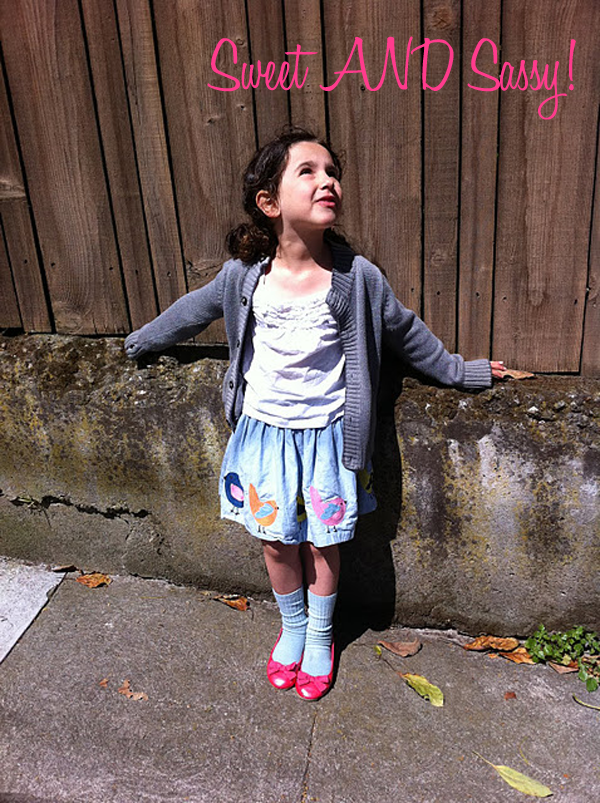 What is there not to love about this girl. This super super girl!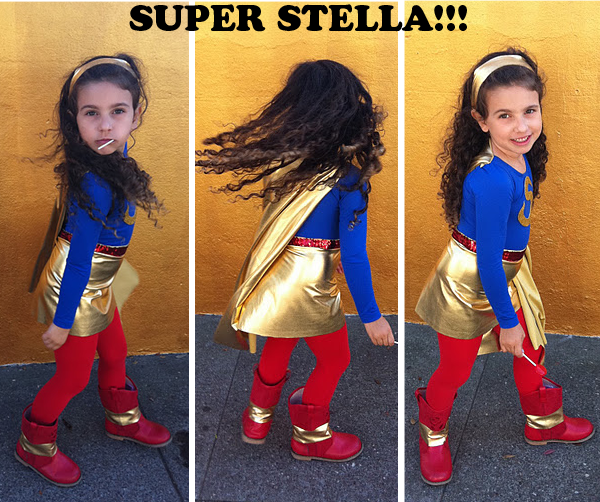 Oh, you are super, Stella!
I asked her mommy, Tiffanie to give more deets about this darling girl of hers.  Here are a few:
Stella is a big reader. Avid reader. LOVES to read.
She knows San Francisco like the back of her hand. Loves to go out and explore the city with her Mom.
Stella loves musical theater and saw Wicked twice when it was running SF! Lucky girl! She is active in a drama class that she likes very much right now.  Expect to read her name in a Playbill in the future, folks!
 If not on the stage, perhaps the future will find her in the kitchen as she loves to play fake cooking shows in her kitchen. Hmmm… Maybe a show on Food Network is in her future as well…
Stella has a massive collection of miniature Japanese toys, which she and her family like to build block houses and restaurants and shops for. She has a dollhouse her handy Mommy built for her which she likes to play with.
Also, she loves ANYTHING pretend. "Pretend we own a restaurant" or "pretend we're a greeting card factory" are two of her absolute favorites (especially card factory).  OK, maybe back to being in a Playbill…
She is spearheading an effort to get recycling bins on her play yard at her elementary school.  That makes me smile ear to ear!
On Saturdays, her favorite thing is to stay in her jammies as long as she can and eat sweets and read. She loves that Saturday morning is for the family to eat some giant sticky buns and sit around and pretend like she is not smack dab in the middle of San Francisco.
This girl LOVES hotels. She has picked staying at a hotel over birthday parties for the past few years.  Stella is clearly my kind of girl, as there is nothing more wonderful in my book than staying in a nice hotel.
But one of Stella's absotively posolutely  favorite things ever is just time out with just her mommy.  She and her Mom call them ladies dates, and they only get them once a month or so, due to her little brother being around (he's Oliver and he's 2 1/2). She and her Mom will see some theater and go out for tea, or pedicures and lunch, or ice skating and window shopping.  That does sound like heaven!
Stella, San Francisco is tickled pink to call you one of its own!
To find out more about Stella's adventures in SF and beyond, I highly recommend stopping by Tiffanie's highly addicted blog, Corner Blog.