UPDATE–March 5th, 2010:  Winner was picked using Random.org and it is HEATHER from Pippi Parade!  Thanks to everyone who played along and hurrah for Pippi!
In honor of the Peach's birthday, we are having our first giveaway! Yahoo!
This giveaway is really a thank you to each and every one of you for coming to our little bloggy! Gosh, if we could give you all a big ole hug, we would. Every comment is read and makes our hearts swell.
And if I do say so myself, this is a peach of a giveaway! Tee hee!  Thanks to our friend Jenny Vallez from Sophie and Lili we are giving away one of her handmade beyond adorable dollies.
Please know that all of Jenny's handmade dolls are one-of-a-kind designs printed on high quality quilters cotton & personalized with a name or message of your choosing.
Oh, I adore these little girlies and their sassy style! Jeggings and jumpers!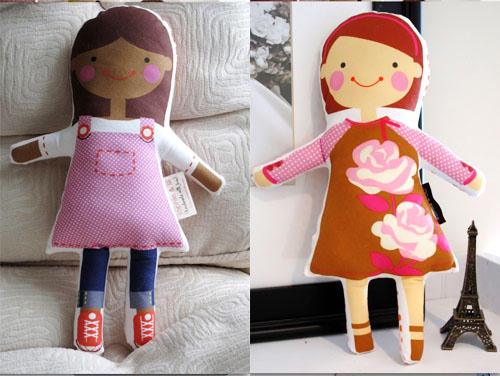 Did you know that clever Jenny makes hair accessories that are designed and printed on a linen/cotton canvas and made to match some of our most popular doll styles?  Yup, pretty cool.   Oh, wouldn't that be sweet to have your little girl have barrettes that match her dolly? I'll say! She'll even let you choose which style you want, which is pretty swell of her if you ask me!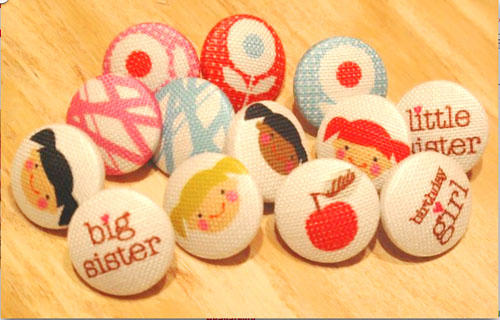 I'll take the birthday girl one for my little Peach! Happy birthday my sweetheart girl!
So, to get this wonderful dolly, just leave us a comment and we'll add your name to the drawing. We'll also add your name again to the drawing if you start following us on Twitter, Facebook, or Google (over in the right column)–just leave us a comment telling us that you've added us!
We'll close this giveaway Thursday, March 4th at noon-PST. And we'll announce the winner Friday, March 5th at noon(ish).
BTW, the sassy doll we are giving away is named Jane. Isn't she darling with her dottie top and fashionable side part with headband? The cast of Gossip Girl has nothing on her fashion-wise!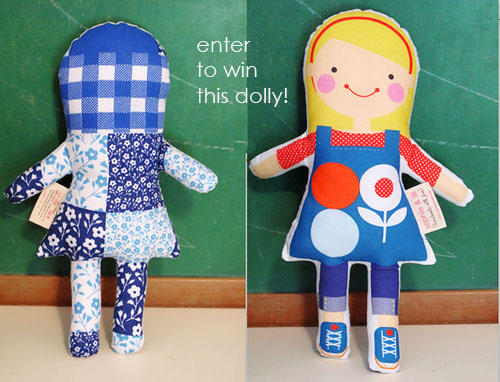 Happy weekend, everyone! May it be filled with giggles and full nights of sleep!