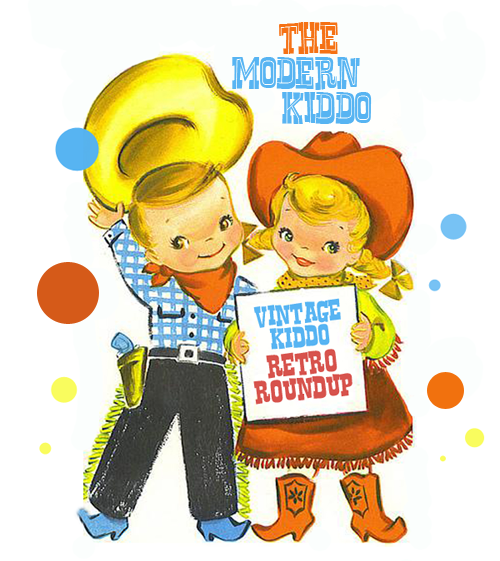 Few things have delighted me as much as seeing the success of the new Muppet movie!
I cannot deny or confirm that I chose my college alma mater based on it being featured in Muppets Take Manhattan, but I can tell you that my love of the Muppets is strong.  I even wrote a post about them last year. Don't even get me started on the show hosts because we'll be here all day.
But what makes them even more awesome is that you can share the old school vintage Muppet goodies easily with your kiddo or add them to your own Muppet shrine that you might have made in your back closet. (I'm just sayin'…)
I'm sure milk tastes even better in this muppet glass. From Etsy seller, Bring the Funk.
A nice beginning puzzle for the neophyte Muppet fan. Of course Kermit's in the sidecar… From Etsy seller, From Lost to Found.
Want to be the coolest kid in the cafeteria? You can be with this lunchbox! Pigs In Space was the best! I know you are saying it in your head right now. PIGS… IN… SPAAAAACE!!! From Etsy seller, Kevin's Kollectibles.
I so need to write a post on latch hook rugs. But until then I will just marvel at the genius of this Fozzy the Bear latch hook rug.  Look at the extra long yarn for the ears. Well played, Caron. Well played… From Etsy seller, Magpie Apothocary–who may or may not have a Kermit Latch hook still available.
Oh, Miss Piggy!  The gal who said, "Never eat more than you can lift."  Rocking the Jane Fonda look here in this brilliant magic pen painting book.  Oh yes, there certainly is magic here. From Etsy seller, Jolly Jawa.
The Muppets Musicians of Bremen? OK! From Etsy seller, Staircase to the Attic!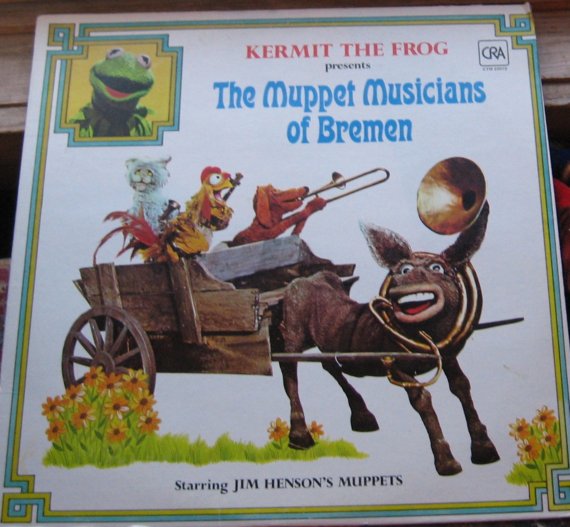 Oh Gonzo, you… well, I don't know what exactly you are, but you sure are cute! Especially as Gonzo the Great.  And this rare stuffed version is too cute for words! From Etsy seller, Scott McKinley.
"Kermit had good rythym," said Etsy seller, Polly Go Lightly.  And who wouldn't with this great Kermit tambourine?
If there was ever a toy that needs to come back, it is Colorforms. And this Kermit the Frog and Miss Piggy Dream Date Color Form set needs to be bought RIGHT NOW. From Etsy seller, Hippie Jo.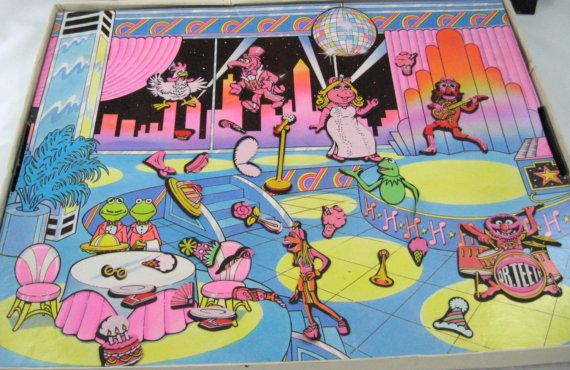 You know this was on Nancy Kerrigan's wall when she was a little girl.  From Etsy seller, Krafts Keep Me Sane.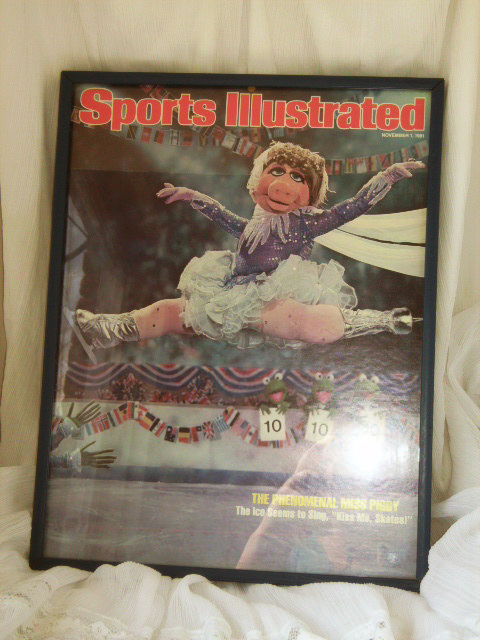 I will end my Muppet Monday with this wonderful sweet gem from Etsy seller, Funky Art Diva— a keychain that summarizes all of the awesomeness that was Kermit.
Happy Monday, folks!