I'll admit, I never liked Elmo. I thought he was a bad nineties addition to my beloved Sesame Street. And I freaking LOVED Sesame Street. One of my first purchases when I found out I was pregnant was the classic Sesame Street DVDs. I thought Elmo was the most annoying little red headed idiot out there. He didn't have the humble charm of Grover, the over the top dull witted sugar rush hilarity of the Cookie Monster, the elusive eyelashed wonder of Snuffaluffagus or the insouciant whimsy of Gonzo. No, Elmo was an annoying high pitched whiner who couldn't even get it together enough to understand the proper use of I. Sheesh.
I mean, can it ever get better than freaking STEVIE WONDER and GROVER?
But then the Peach spied him on some random video on You Tube that popped up after the Ladybug Picnic—no more than five seconds of Elmo and drat it if she wasn't hooked. And she wanted more. More. MORE.
Well, OK. Maybe. Just on my phone. A little video. Let's check it out.  And I did check it out.  Clever Sesame Street.  Very clever.  Bring in some amazing musicians and pair them with clever takes on their most songs. How could I not enjoy it? And those bite-size bits of Elmo made me begin to actually kinda like him.
Here are my favorite videos that might even turn the most sour Elmo hater into a possible fan.
I love this Katy Perry video of Elmo. She is so charming and bubbly and such a good foil for the Elmo.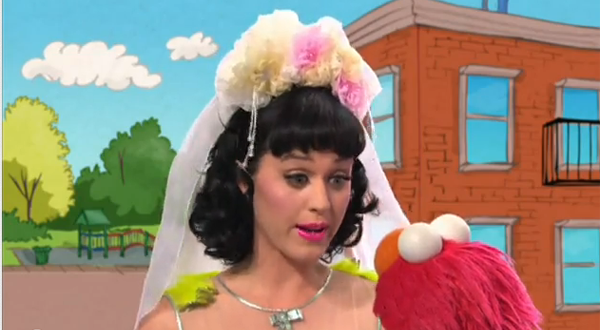 Weirdly enough Georgia likes opera music, so she totally digged this version of Bocelli's most popular aria. And I adore that it is about not wanting to go to bed. I think this one is my favorite actually. Oh, if I could only sing this to her at night… And hearing him talk to Elmo in his dreaming Italian accent, "You have the bear-ah, and you need-ah to sleep-ah…"
I love Feist and her most popular song was a shoe in for a Sesame Street Elmo piece.
And Elmo gained some serious bonus points from me for this video with Elvis Costello. The glasses look good on you, Elmo…
Oh, but I dare you not to sigh with happiness after hearing india.arie sing the Alphabet song to Elmo.
Well, I'm officially won over, Elmo. And I tried to resist you so hard, but then you won me over with my old musical friends!
Are you a fan of Elmo? Â What is your relationship with this red furry friend from Sesame Street?