Every year we go to our favorite pumpkin patch at the Western Railway Museum. You take a little vintage train out to the patch and they have bales of hay, games, music and yummy treats. It's really awesome. But as charming as it is, it's not reeeeeally a pumpkin patch. They schlep the pumpkins in from somewhere else and you get to cruise around and pick your faves. Don't get me wrong. I love it. But this year we decided to mix it up and try something a little different.
It all started with me craving a little bit of Autumn. When I left Prague, the weather was like this:

It was full-on fall. Crisp and lovely. My favorite time of year. When I got back to San Francisco, I was thrust back into summer. Our weather is decidedly fickle in September and October. We had a HUGE heat wave with temperature in the steamy 90s. Lemme tell ya, I was not feelin' it. Who wants to be sweatin' their butt off in October?? As a result, I have been craving AUTUMN. To help me out, Greg had a great idea. We decided to head towards Tahoe….to an area called APPLE HILL. Apple Hill is a winding scenic road with FIFTY different apple orchards, ranches and pumpkin patches. I was in apple-lovin' heaven. We decided to pick 3 or 4 to go to. The first spot we hit was one of the most charming: Willow Pond Organic Farm. Super sweet!
Yep. There really was a Willow Pond.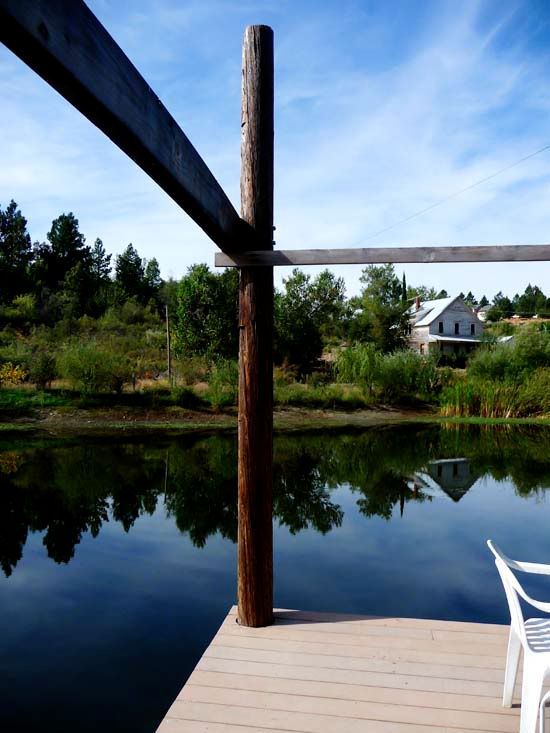 This little farm was an honest to goodness pumpkin patch, with punkins on da vine! I loved it.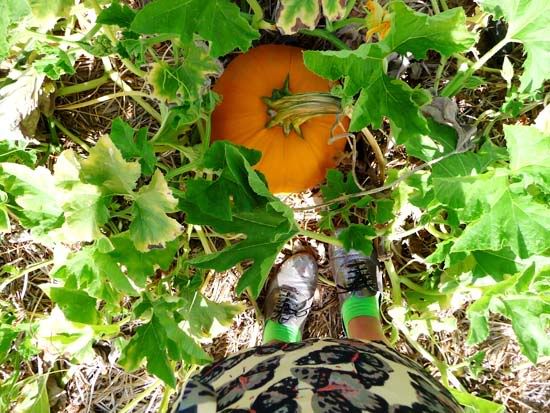 Wolfie specializes in picking extra huge punkins.
Of course the other big sell was the sweet  little apple orchard. I love picking apples and drinking cider. My favorite apples are Honeycrisp—which you can only get during a small window in October. They are a little sweet, a little tart and you guessed it…..crisp. Mmmm.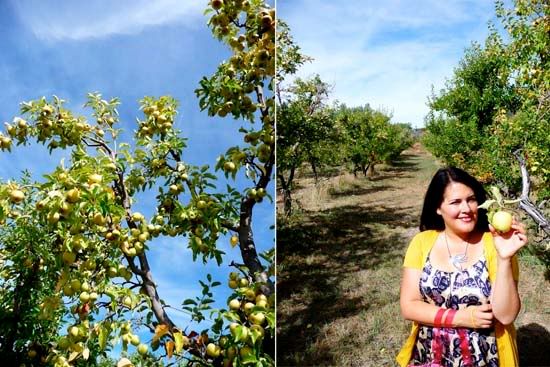 With two pumpkins in hand, we kept on driving. It was a really pretty drive. And while these are redwoods, we DID see lots of trees with changing leaves…and the air was perfectly crisp.
The next place we went to had an awesome corn maze…..and of course more pumpkins. We got two more at this place.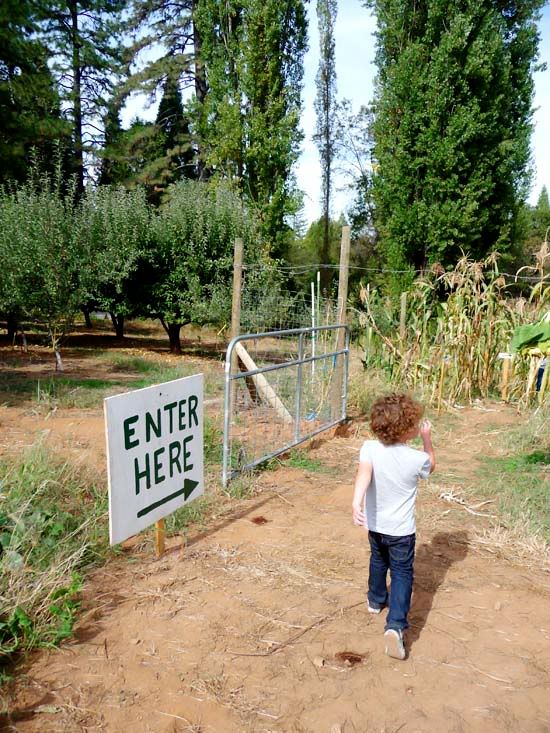 Each apple orchard was different and unique. Some were a little bit of a circus—overcrowded and had more of a cheap carnival vibe. I wasn't that into those. Neither was Wolfie.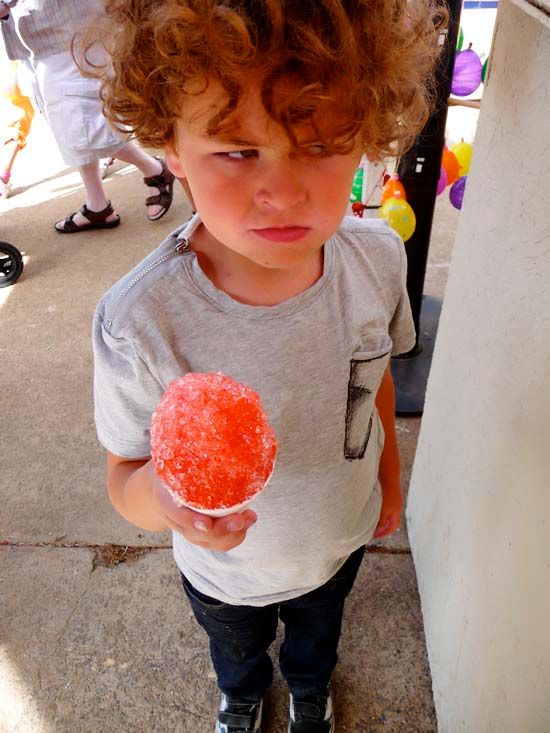 Of course he *was* thrilled to have a little Sno Cone action. I was on the prowl for a caramel apple. Caramel is one of my favorite things and caramel apples? Fuggitaboutit. As a side note, I don't recommend getting a caramel apple when you go to the movies. I did that one time and it was a mess. I kept trying to eat it quietly and it was all crunchy and juicy….I had to wait for the loud action scenes to take a bite and then it got all dribbly and messy. Yeah. Definitely leave the caramel apple at home.
We finally got back on track and hit the orchards that were more off the beaten path.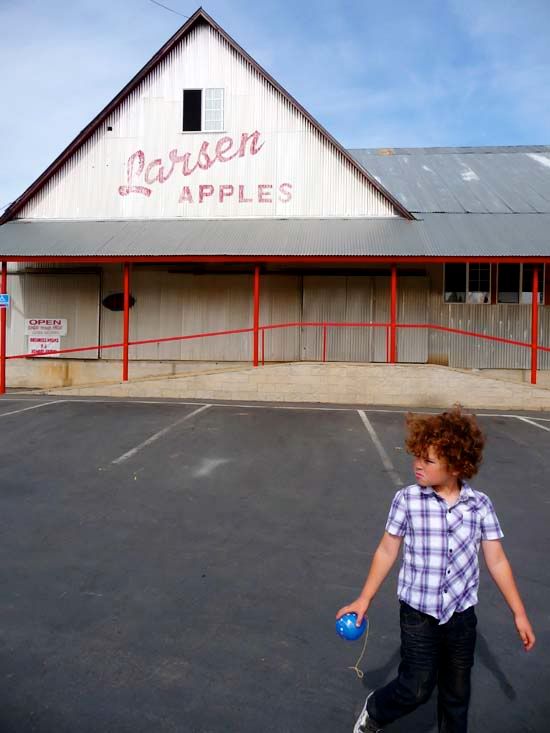 You may notice a shirt change on Wolfie. We had a little exploding sno cone action and his tee was a sno-cone mess. Miraculously I found a spare shirt in the back of the van. Yes. I said VAN. I drive a Jetta and Greg rolls the Honda Odyssey. Woot woot!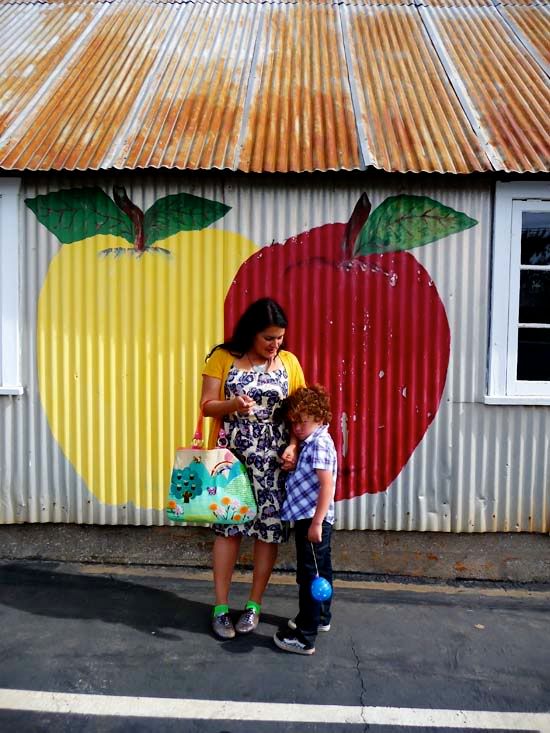 The last apple farm we went to had a HIGH-larious name. Something like "Ken's Apples and Laurie's Dolls". Â We weren't going to go (the name kind of scared me….I was expecting lots of soft bunny dolls and "kooky" ragdolls) but then we saw these gorgeous flowers and had to pull over.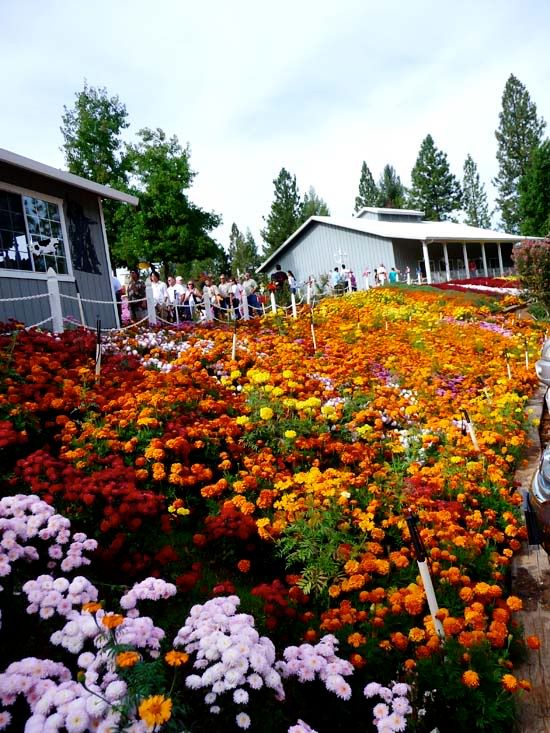 The dolls were as bad as I expected (L-A-M-E…..sorry Laurie), but the place was really pretty and manicured and Ken turned it out with the apples.
They gave away free apples that were peeled into a curly cue. This was a big hit….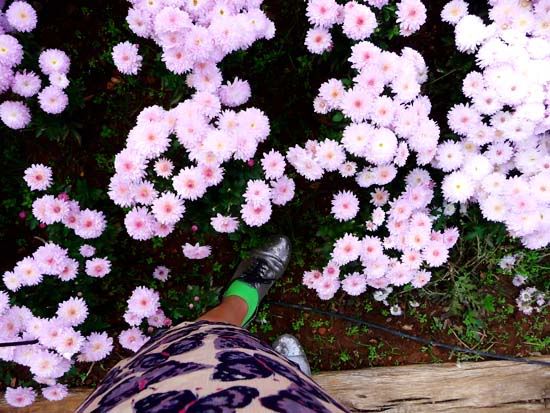 We definitely had a super awesome day…..the guys listened to the GIANTS game on the way home. (GO GIANTS!)
Now to carve the FOUR pumpkins we walked away with…..and make some apple crisp. And come to think of it, I never DID get that caramel apple. Hmmm.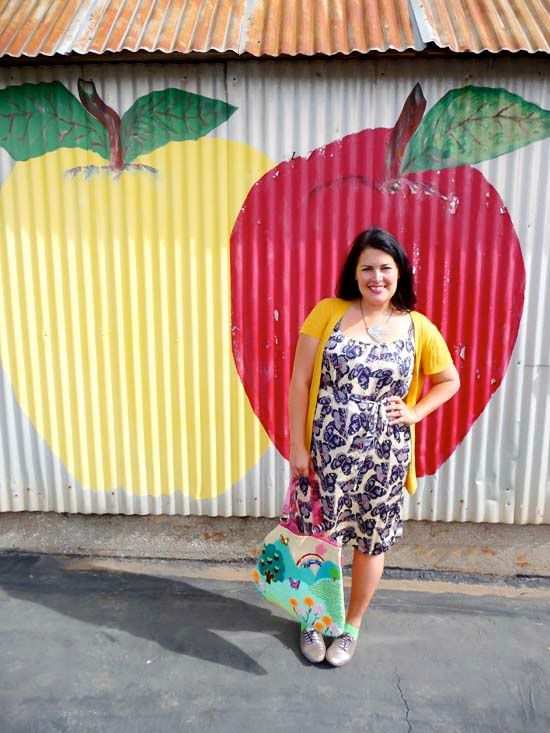 Please swing by later today as we will have a couple of fun (and easy!) crafty posts for ya!