What do you get when you add plastic kitchen goods, a dozen ladies and ten bottles of champagne?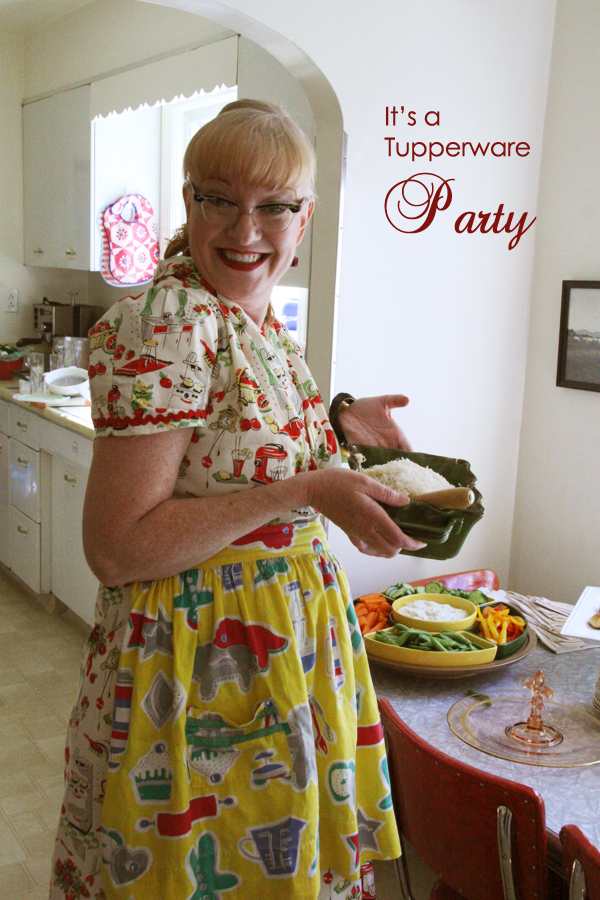 A hoot of a Tupperware party! (Oh, and I know what you WERE thinking, ahem!)
Last Saturday a bunch of wonderful ladies came over to my house for a Tupperware party. Yup.  Tupperware, and it was so much darn fun!  My gal pals showed up wearing their best vintage aprons and even gloves (thank you Miss Karen) and listened with delight about the miracles of plastic while sipping mimosa after bellini after vodka gimlet.  Oh, that was such a blast!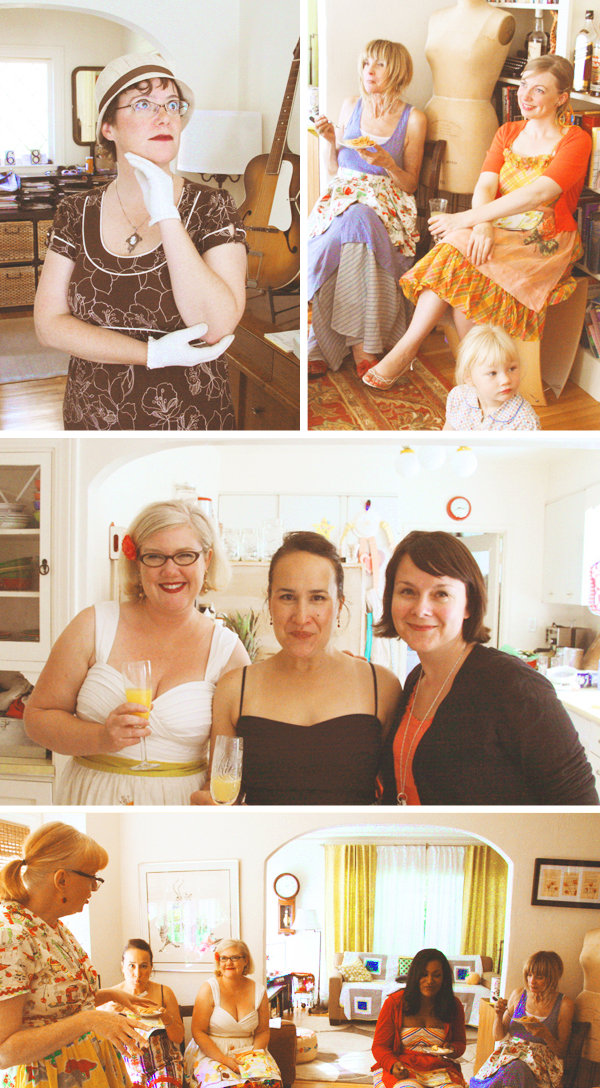 But that had to do with our wonderful Tupperware hostess, the completely fabulous Ms. Karen Finlay.  Now, you might recall Karen, who guest blogged here about her love of the musical Annie.  But this wonderful lady also sells Tupperware.  And her Tupperware team includes the creme de la creme of Tupperware sales people including such faaaabulous drag queens named Dixie Liongate, Aunt Barbara and Danny Pintauro from Who's the Boss. (Note — Karen hasn't met him, but she's  sure he's very nice!)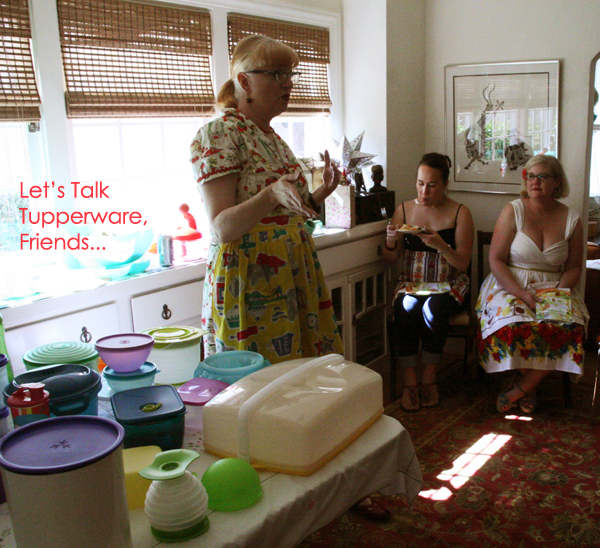 It is more of a comedy routine than a Tupperware spiel.  I swear, Karen should have a brick wall behind her–she is comedy gold! And I gotta say, I was totally impressed!  Tupperware products scored the best out of 30+ products in a Good Housekeeping microwave test and contain no BPA or phthalates.  Which makes this mama breathe a sigh of relief.
And it was so much fun to see the ladies. Like our girl Katie who brought a peach for the Peach! J'adore!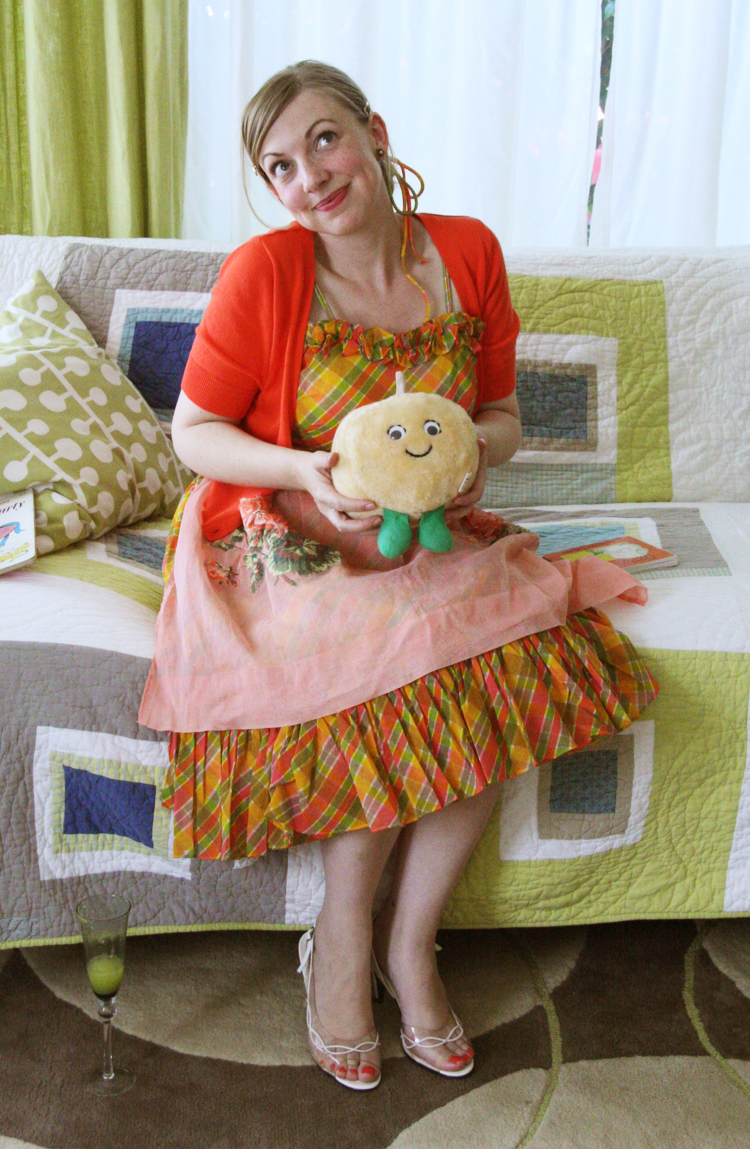 Speaking of the Peach, she had a great time too and sported an orange vintage apron to match her Crocs. She looked more like Mario Batali than Sally Draper–I love it!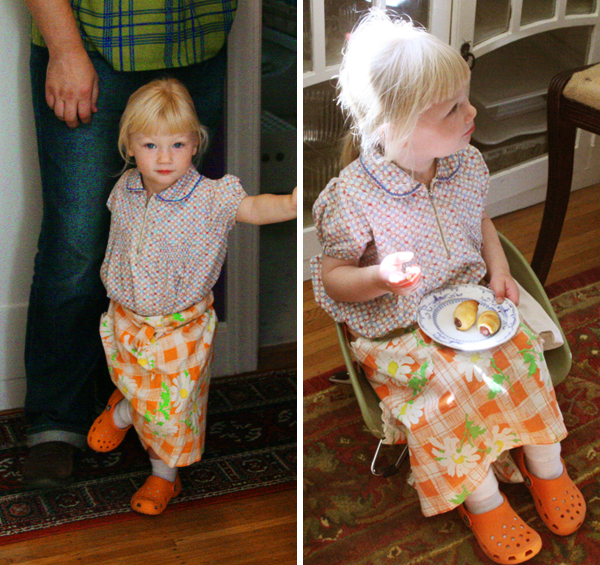 Such fun for a Saturday afternoon! Have you ever attended a Tupperware party? Do you remember your Mom going to one or throwing one? Did you grow up with Tupperware?