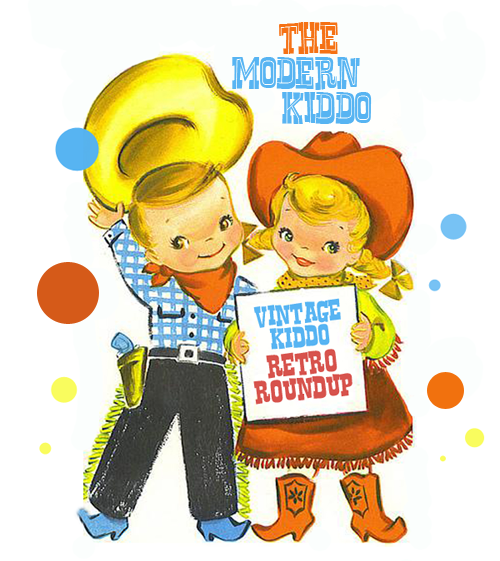 Well, I'm back for a few weeks in SF after a most wonderful time in Salt Lake City working with the kind folks of Overstock.com and having too much fun with couple of wonderful blogging friends that are making me ache for SLC. Although it was heartbreaking to be so close to Evo Conference and not attend, but next year, I'll work something out. This weekend for me was full of girl time with my special little lady. But in between soccer lessons and first pedicures, I did find some dandy vintage pieces to share with you all!  Enjoy!
This coat, oh– it DOES things to me!  The ric rac, the tulip, the Peter Pan collar and double row of  pearl buttons.  Killing it! From Etsy seller, Arlene Lane Vintage.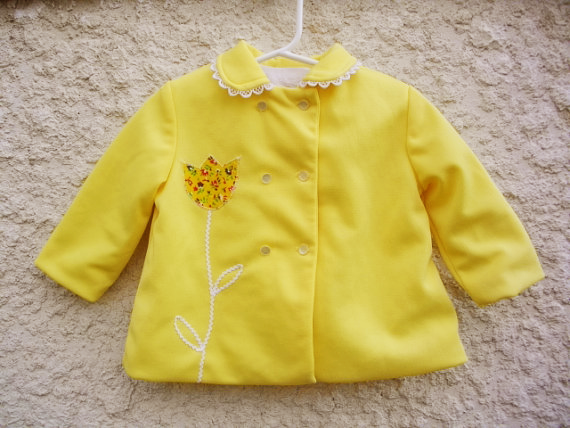 Have you ever seen such as sassy little bunny–pulling a carrot out of a top hat!  So cheeky!  From Etsy seller, Mother Midnight.
How could I not include this wonderful past weekly Kiddo looking SO CUTE in this wonderful whale dressie.  Who doesn't love a whale wearing a beret? From Etsy seller, Vintage Goodness.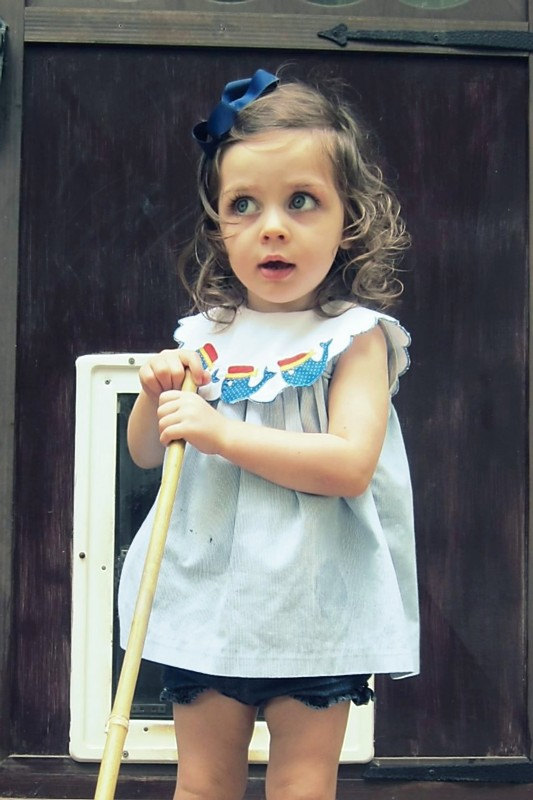 There is something so charming about boys in old fashion pajamas, like these.  It makes them look like little Mad Men. Tee hee! From Etsy seller, 3 Ring Circus!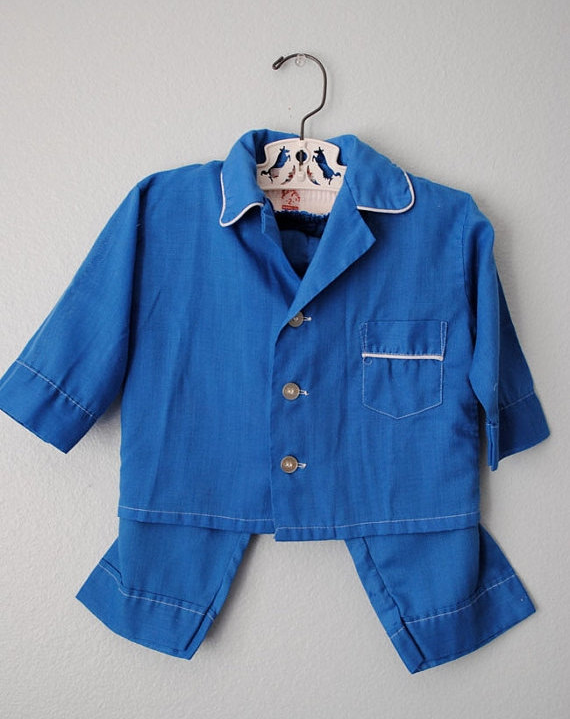 I adore this sweet pink gingham  shirt dress in a big girl size 7/8 which is a rarity.  I'd love this to be in my size! (Add that to the mile long list). From Etsy seller, FuzzyMama.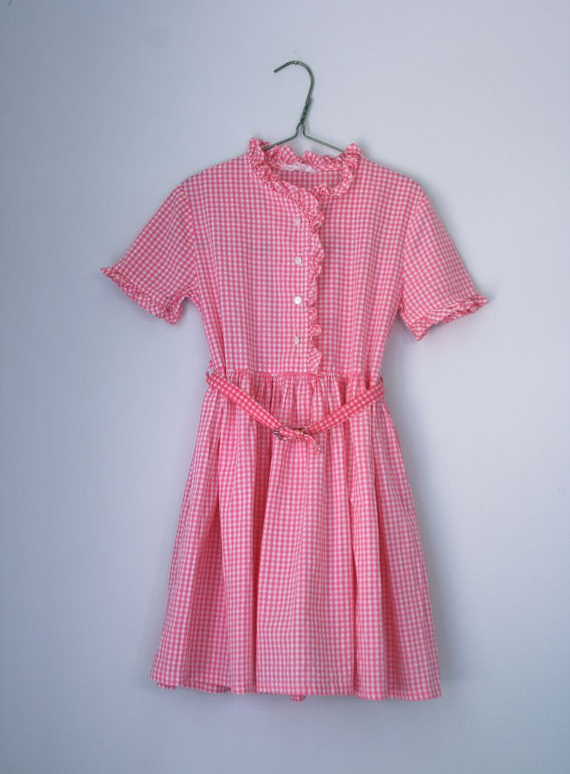 Miss Lishyloo has some terrific goodies, but out of all of them, I kinda am going gaga over these great vintage kiddo books.  I know the Peach would adore them! Hmmm… Might have to buy them myself since they are only $10 for the set!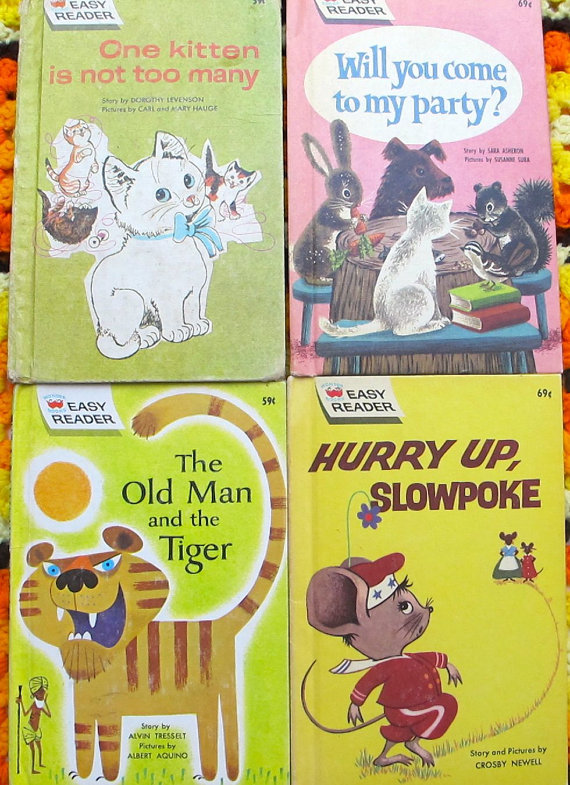 Here's another bigger girl size–12! What a great little scooter dress in orange and green plaid.  How great would this be with black turtleneck and tights. So good! From Etsy seller, Toadstool Vintage.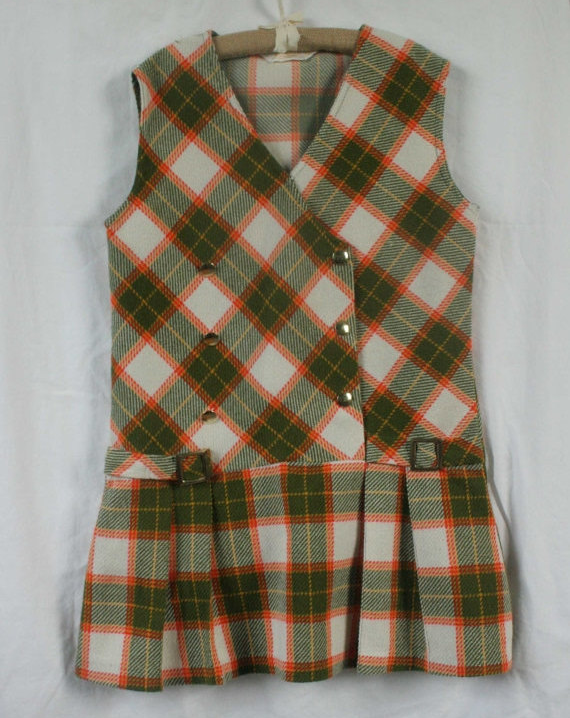 Etsy seller, Toys of the Past can always be counted on to have great sets of Fisher Price toys and this house is at a very decent price. The Peach LOVES hers!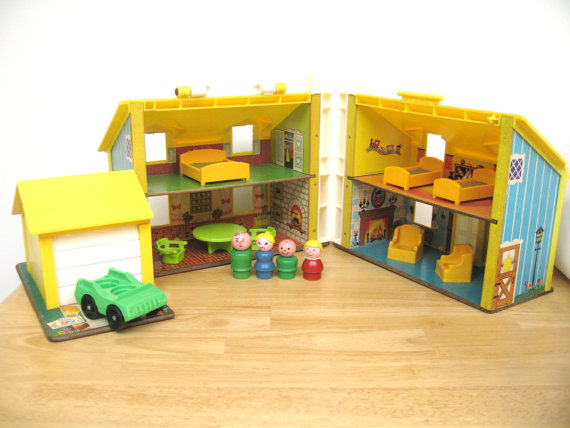 What a great little jacket to wear for the upcoming Olympics!  Go U. S. of Yay! From Etsy seller, Jungle Dream Pagoda.
This dress is rather different, but the embroidery is simply divine. I could see this turning into a little girlie's favorite dress. From Etsy seller, Storybook Retro.
Happy Monday!