We are so pleased to announce a new sponsor here at Modern Kiddo—the amazingly marvelous Kristin Loffer Theiss of klt:works. To celebrate our new friend joining Camp Kiddo, we have a very special giveaway for you! I must admit that I am super excited about this giveaway because Kristin is one of those very talented people who turn everything she touches into something rather wonderful. Whether it be her stunning thread portraits or delightful mobiles, Kristin's background in fine arts shines through in beautiful and lively work.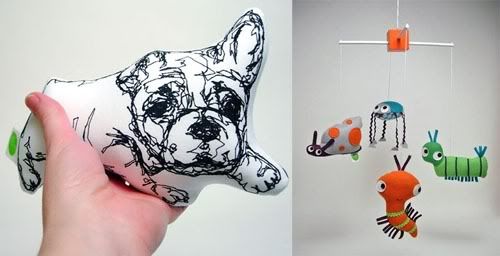 By the way, you must check out Kristin's colorful and highly addictive blog called klt:sketchbook, it is soooo worth bookmarking.  She has a feature called Fabric Fridays that makes us feel all squooshy inside.
So, about this awesome giveaway—the best part is that the prize is perfect for either a boy OR girl! Hurrah! No, wait, the best part is that it is actually for TWO amazing items! Both items are from Kristin's new line of tees that feature silk-screened versions of her original drawings done in thread. (How she does this, we'll never know!)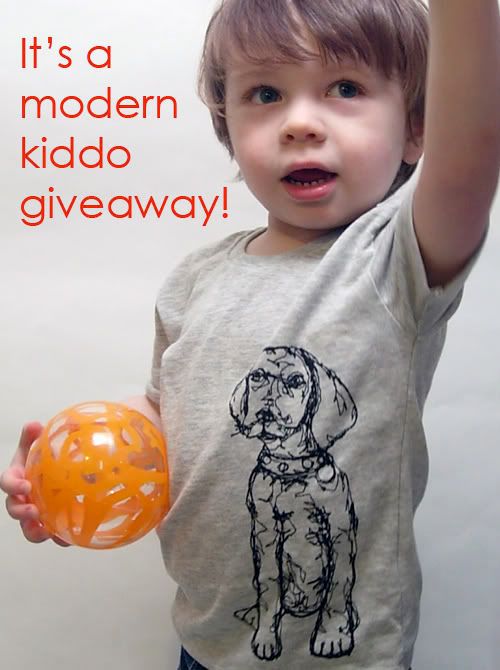 First we have this great doggy tee made of organic cotton in a soft and cozy oatmeal.* Could it be any cuter?  Well, maybe on YOUR KIDDO!!!
Kristin knows that any tot worth his salt is going to want to hug and kiss a dog as cute as the one on the tee, so she is including a matching plushy pet!  And this is no ordinary little pup, but has a jaunty green polka dot and flower fabric on the back. Hot dog, indeed! This whole crazy ensemble is a $43 value. (Although really getting a piece of someone's art is kind of priceless, no?)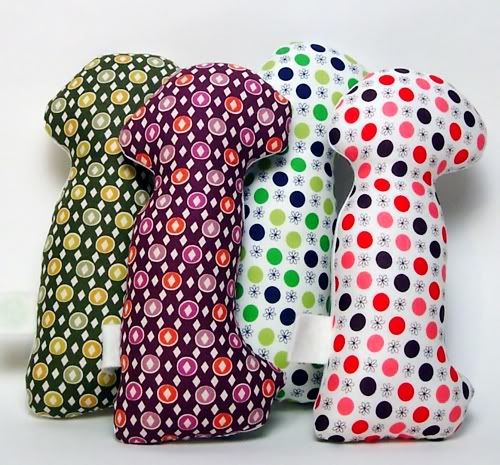 *Please note that Kristin can offer the winner the tee in sizes 12-18m, 2T, 3T, or 4T. And HOW CUTE is the green polka dot fabric??
OK! Let's get down to brass tacks.  Here's how to win. Simply leave a message on this blog and tell us that you are now:
Following Kristin on Twitter.
BONUS ENTRY! We'll enter you again if you leave a message on Kristin's blog klt: sketchworks and mention modern kiddo! A double win because you get to check out her sassy blog. Trust me you'll love it.
CONTEST ENDS AT NOON ON FRIDAY, APRIL 23.
Good luck!!!!
Thank you so much Kristin, and welcome to the Modern Kiddo family! We think you're TOPS!
xoxo