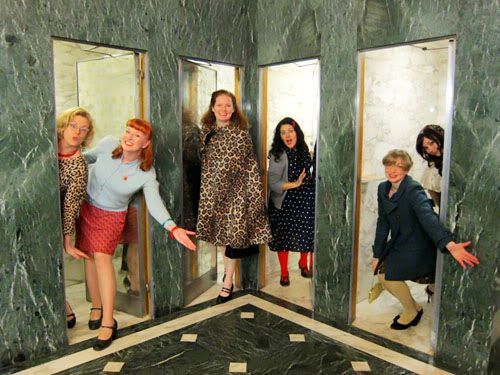 Last month I told you about a new, monthly supper club that Dottie and I started with some great gal pals: The Dames. It was the brain child of our friend Doe, who is one of the most creative, organized and talented people I know! We realized that we wanted to see each other more—and we wanted to connect with other cool mamas. The concept? Get 10 or so rad mamas who love dressing up and once a month we hit a retro restaurant and have a fun night out! Last month we went to Joe's of Westlake, an old school Italian restaurant with fab architecture. This past month The Dames decided to go to the historic John's Grill—a cool seafood joint made famous as a setting in Dashiell Hammett's novel The Maltese Falcon.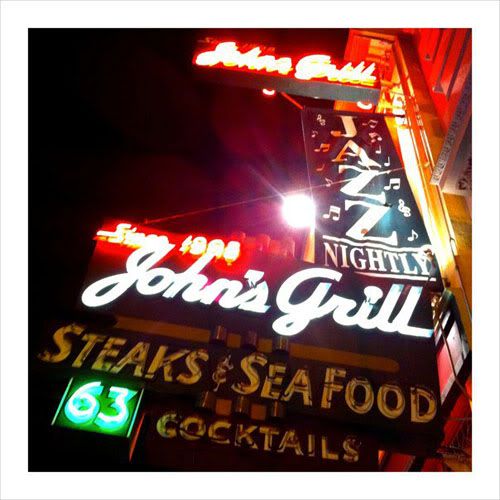 BUT before we met at the restaurant, our friend Shona suggested we meet at the Union Square Macy's 6th Floor bathroom. "The Macy's Bathroom? Whuhhh?" Sounds a tad strange, but hear me out. The Macy's 6th Floor Bathroom is somewhat historic. Upon entering, you pass through an unremarkable, generic bathroom with the classic row of white sinks. Turn a corner, however, and you are suddenly met with this: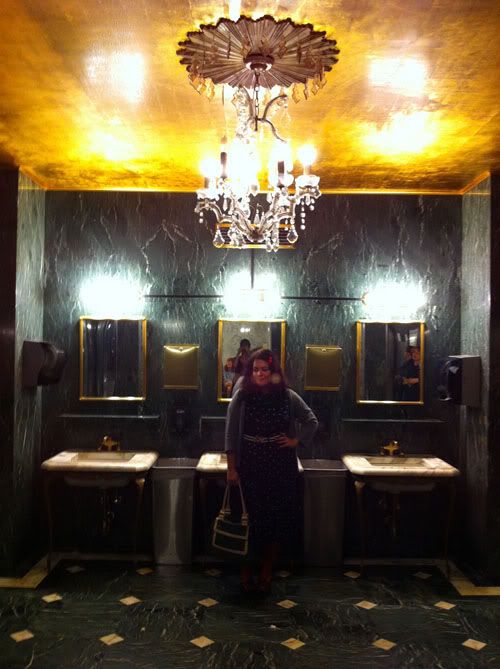 Off the main restroom is a square room made of green and cream marble. There are pedestal wash basins, a lovely crystal chandelier and a gilded ceiling. It's FABULOUS! The walls are covered with floor-to-ceiling mirrors and it's not until you push on the mirrors that you realize that all of the stalls are hidden behind them.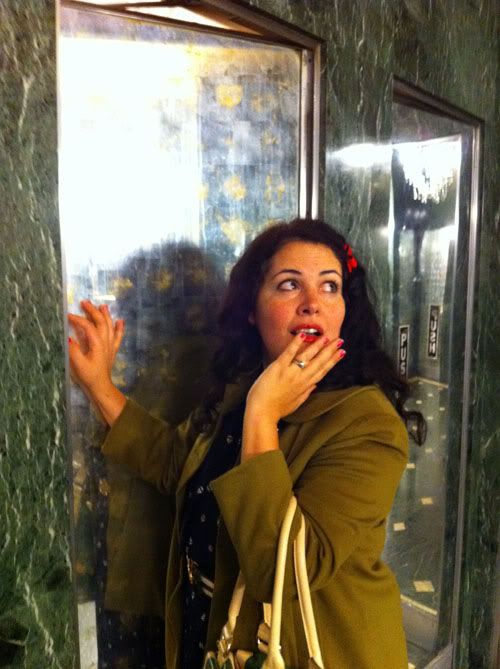 One of the snazzy metal and marble wash basins. The faucet got cut off but it was golden…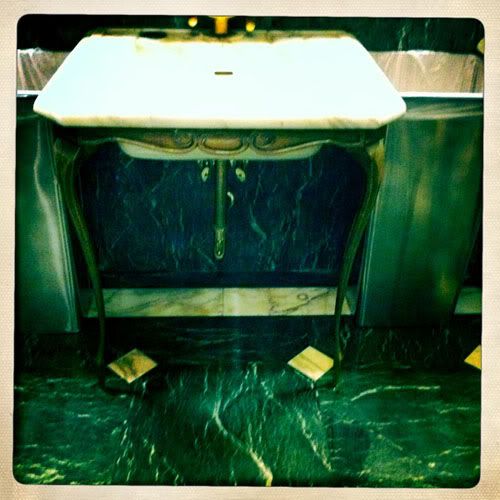 The bathroom was actually designed as part of the old I. Magnin department store back in 1948. I'm not sure why it was never renovated—but we were sure glad it survived! While we waited for everyone to show, we took pictures. I think everyone who actually had to *use* the restroom thought we were crazy. Festive! But crazy.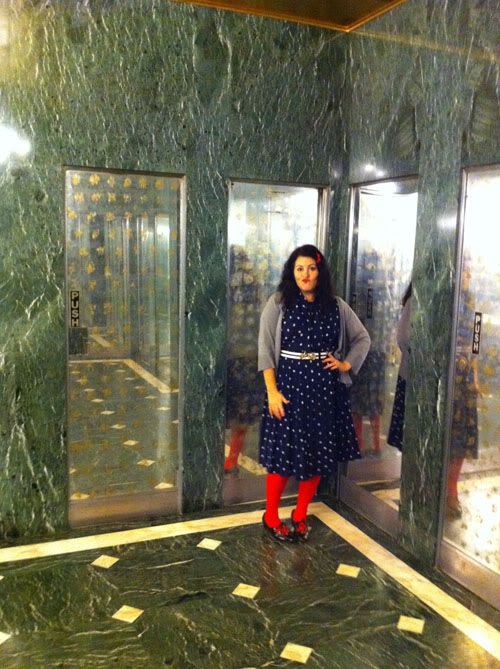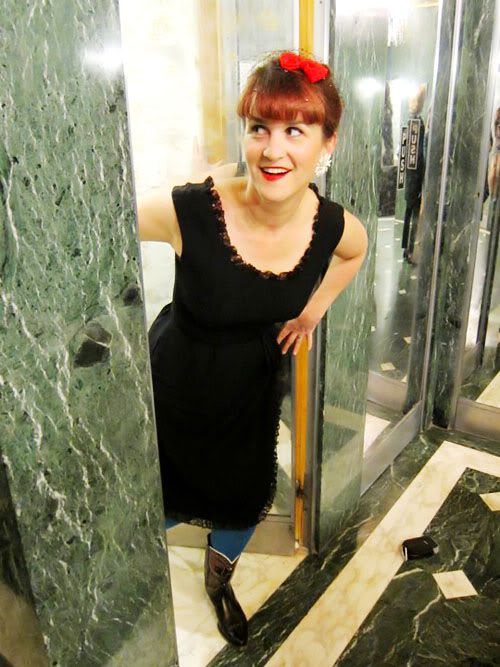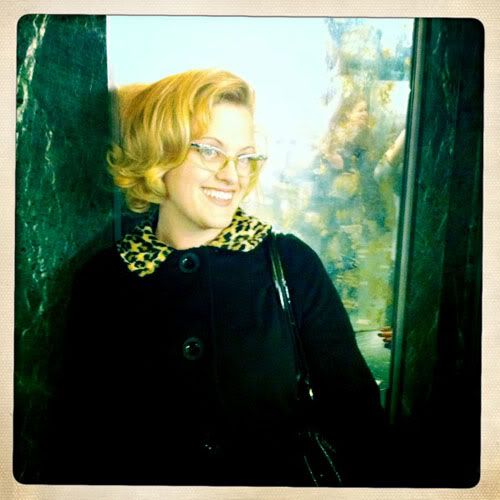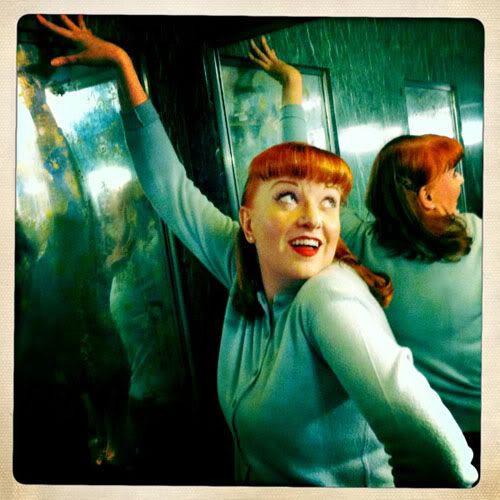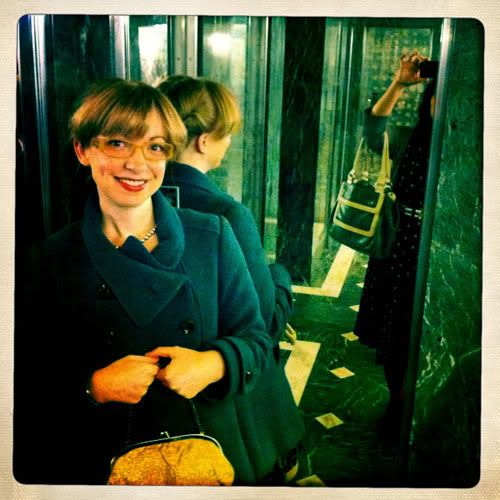 Dueling leopard was glamorously hilarious!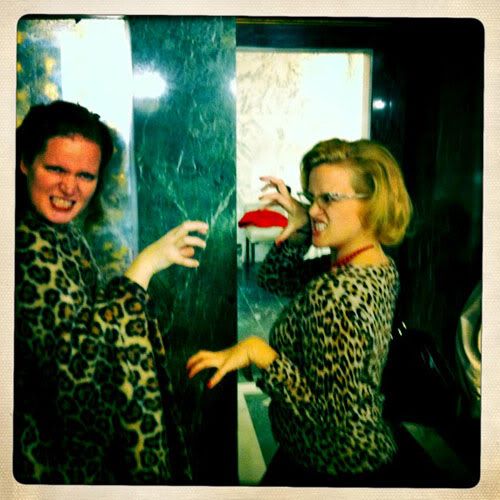 I look so serious! haha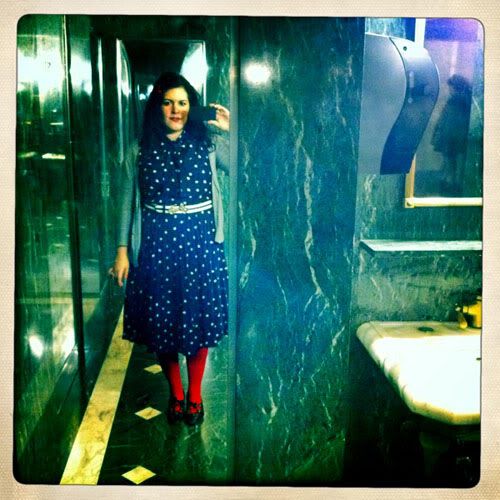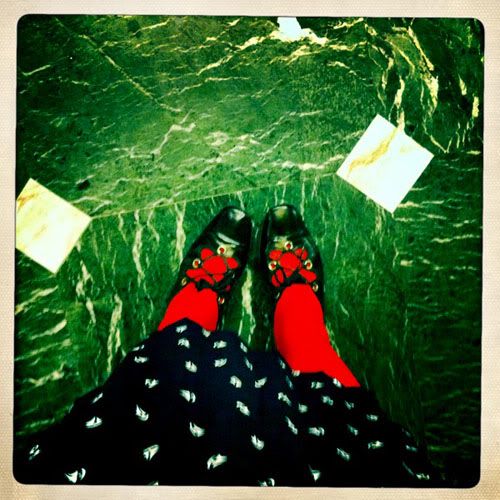 Finally we made it to John's Grill! This time there were 9 of us—and we branched out to include some "non-mama" friends but very groovy girlies. Alas, Dottie couldn't make it this time but she was very missed! The beauty of The Dames is that it's low stress—can't make it one month? No biggie, just show up the next month!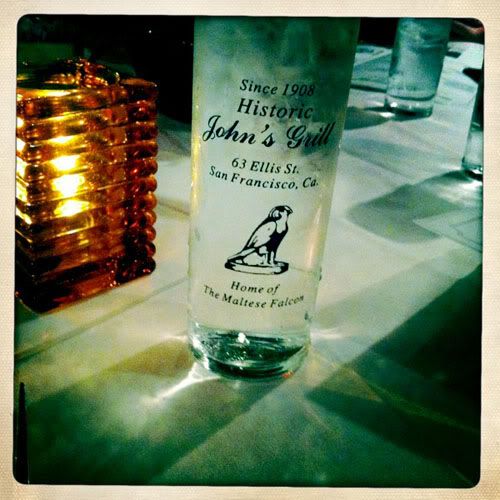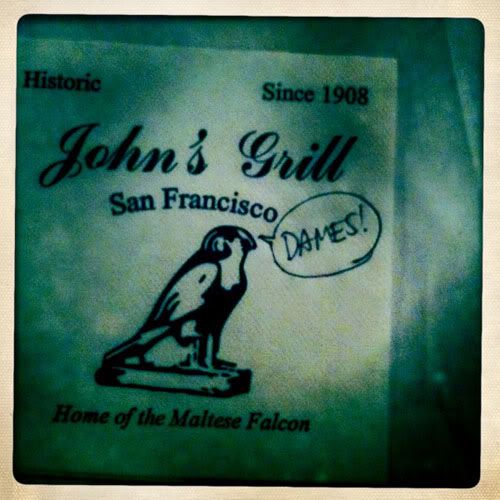 For some reason our table only had half the place settings. I snuck around and grabbed them off the other tables, "I think they had us confused with The Broads…..we're The DAMES, dammit!"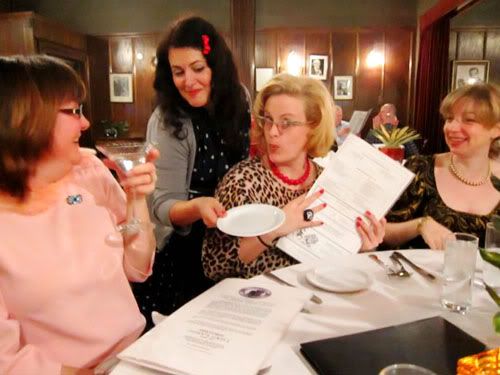 The elusive Maltese Falcon, used in the movie of the same name. I am not quite sure why there is an Emmy in the case too but any chance to pose next to an award? I'll take it!

The food was fab and the company even more delicious. I was just so nice to get out and get to know this lovely group of ladies. I highly recommend starting your own little monthly supper club! You don't have to be vintage obsessed—mix it up! Here's all you have to do:
1.  Invite a great mix of ladies. You can get together with your besties, but  you don't have to even know everyone well. Honestly it's kind of more fun when you don't. Our group is a mix of a few women who are already good friends and a handful I didn't really know that well to start—but I'm soooo enjoying getting to know them better! Start with 2-4 people and let each person invite one extra!
2. Pick your "thang". For us, it's finding retro, old timey restaurants, but there are so many options. You can pick the newest restaurants in your town (and discover new favorites), you can explore different cultures (thai! sushi! ethopian!), you can pick a favorite food (pasta? pizza, seafood?) and try all the spots in town in a quest for the best….the possibilities are endless.
Getting a little time out on your own is so important for a mama—and even if you don't have kiddos, quality hang time with your ladies can be so rejuvenating. Once a month isn't a big commitment either. Give it a whirl! And be sure to let us know if you try it! Do you belong to any other groups? Reading groups? Crafting circles? Or do you just have a standing date with a best girlie? I'd love to hear!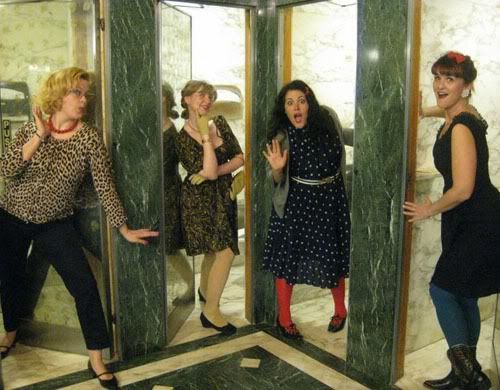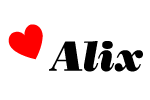 PS Â Pssst! Due to a nasty looming cold, I wasn't able to go to the third installment of The Dames, which was held last week at Spenger's Fish Grotto. Miss Dottie was there representin' and I must say it looks like she had things alllll under control. Dottie rules!