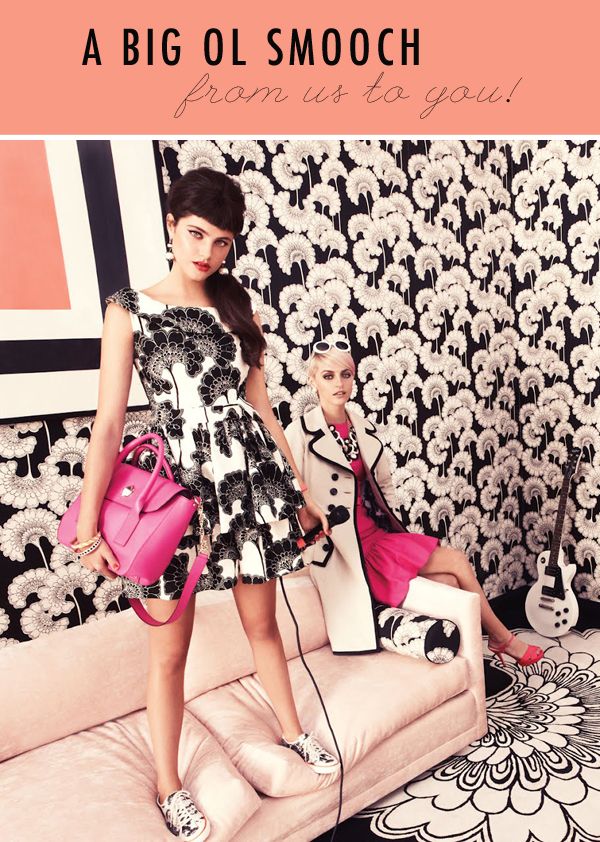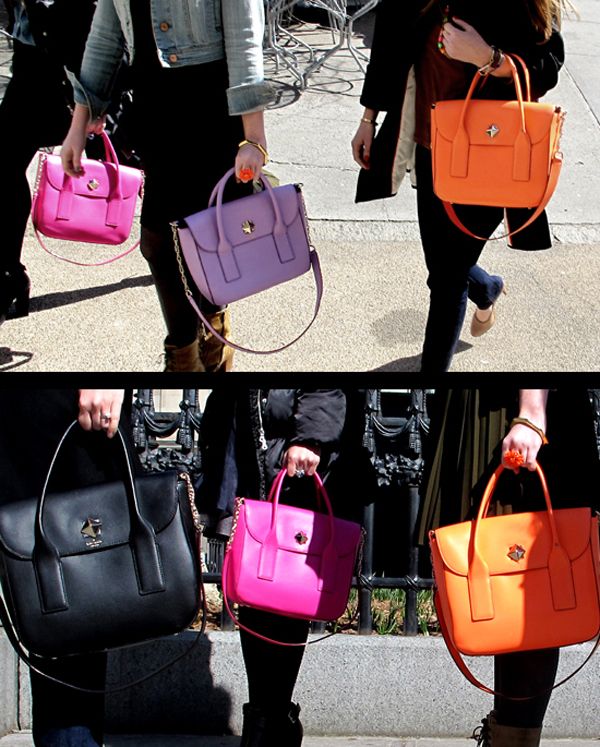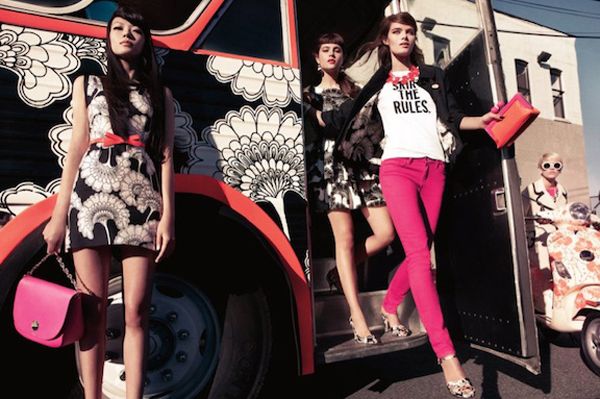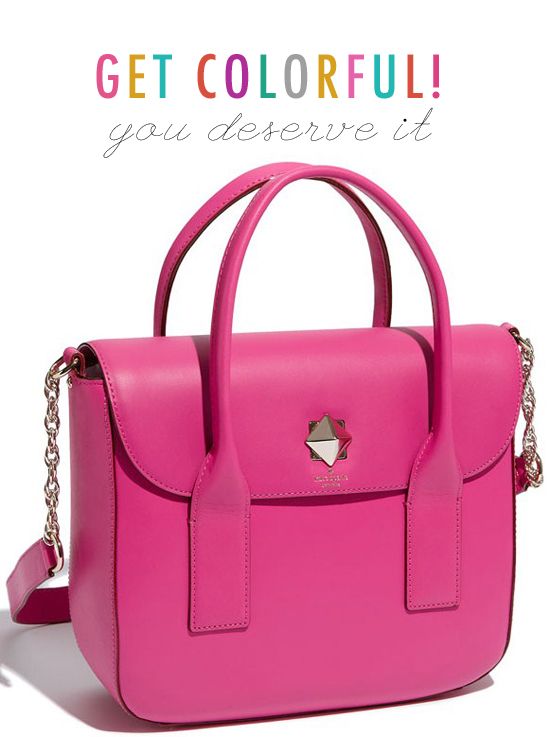 This is it! The big ol' giveaway we've been yackin' about. When Dottie & I started Modern Kiddo, we did it as a way to celebrate our love of colorful vintage, cool design and childhood nostalgia. We've been so blown away by all the wonderful people we have met over these past few years—you guys are so fun and supportive, we wanted to do a little something to say THANK YOU. When we decided to do a Month of Color, we knew we wanted to do an awesome Giveaway. Something fun. Something fabulous. And of course something COLORFUL! The first thing that came to mind was Kate Spade. Walking into the Kate Spade store is my happy place! It's the ultimate eye candy experience….and we just knew a Kate Spade handbag would be the perfect little indulgence. Something we all love, but might not necessarily splurge on for ourselves.
I have to tell you, Dottie and I had the most excellent time picking out something special for you! Of course, we were both immediately drawn to THIS sweet little bon bon! The Hot Pink Bond Street Florence handbag—part of the Florence Broadhurst Collaboration that has everyone swooning. The Kate Spade peeps call this bag, "The Star of our 2012 Spring Collection". And I can see why. I'm mad for that golden turn lock closure….and dottie was dying over the gorgeous black & white floral print lining. And we both flipped for the "stunning pink" color. Yes. That's the official name. Stunning Pink. Sigh.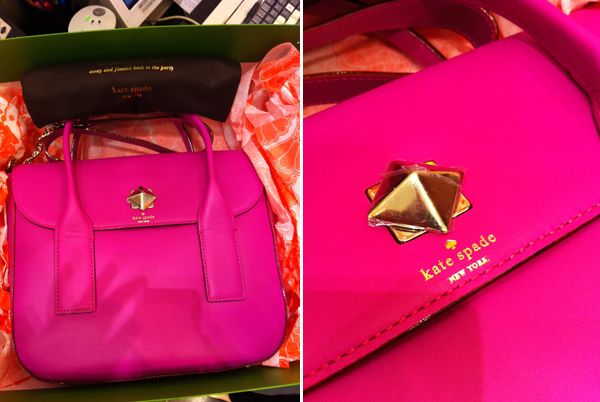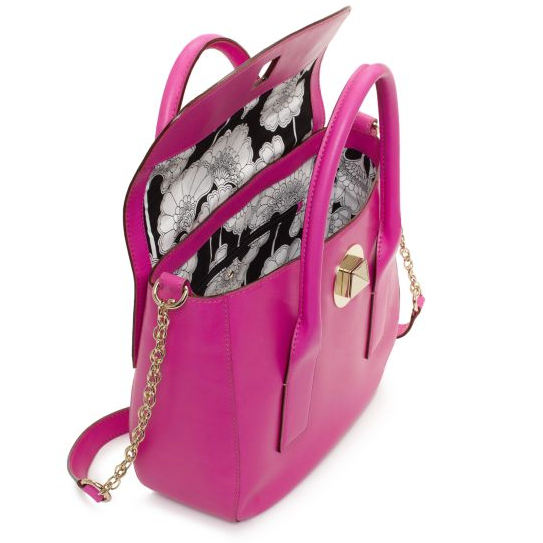 It's modern. It's retro. It's the Kate Spade Bond Street Bag. c/o us!
See that beauty below? That's the actual bag you'll be getting. Oh yes.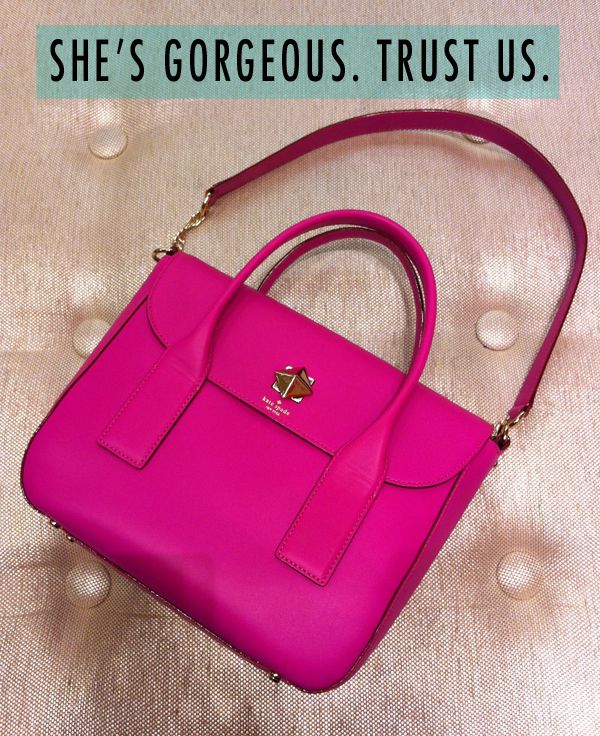 **CONTEST IS NOW CLOSED. THANK YOU TO ALL WHO PARTICIPATED!**
"LADIES, LADIES! HOW DO I GET THIS FAB PINK BAG??"
Easy peasy! There are five different ways to enter to win the Kate Spade handbag. You can do each of these things once.
1. COMMENT. Simply leave a comment below and tell us what your favorite color is! This is all you have to do to enter.
To get bonus entries you may also:
2. LIKE US.  "Like" Modern Kiddo on our Facebook Page. If you already "like" us, just let us know!
3. FOLLOW US. "Follow" Modern Kiddo on our Twitter Page. If you already follow us, let us know!
4. TWEET. Post a link to this contest page on Twitter, using this link: http://modernkiddo.com/?p=6755 and the hashtag #ModernKiddoKateSpade (you can retweet as often as you like but it will only count as ONE entry!)
5.  REPOST. Post a link to this contest page on your own blog or Facebook page (using this link: http://modernkiddo.com/?p=6755 )and let us know by leaving a comment with the link to your blog post below.
**THE CONTEST ENDS NEXT THURSDAY, APRIL 26, 2012 at 11:59pm PST **
A winner will be chosen at random and announced on [edit: MONDAY, APRIL 30, 2012].
So there you have it! Please enter. We'd sure love to see you struttin' around with your new hot pink friend. Oh, and dont' forget to spread the word and tell everyone you know (it's good kharma, baby!).
GOOD LUCK, gorgeous!!
**CONTEST IS NOW CLOSED. THANK YOU TO ALL WHO PARTICIPATED!**