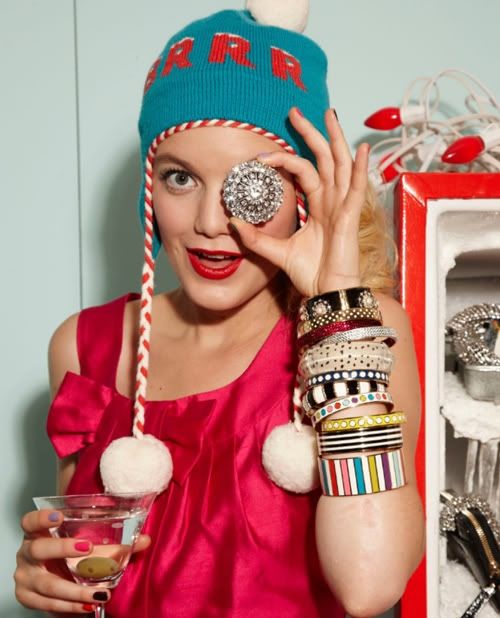 image: Kate Spade
Hurray! It's Thanksgiving this week! And you know what that means, Christmas and Hannukah will soon be upon us. I soooo love the holidays— this is always my favorite time of year—but I have a rule about not even *thinking* about Christmas until after Thanksgiving. I never understand the rush. Trust me, though, once that turkey is long gone I'll be ready for my carols and pretty lights.
At the same time, I know that holiday parties are right around the corner—my work party is Dec. 10!! So since we all have a little extra time this weekend I thought it might be fun to do a little holiday-style shopping round up especially for the ladies! Hey, why should those kiddos get to have all the fun??
VINTAGE PRETTIES
When it comes to party dresses I have three criteria: I want to feel pretty, I want to wear something that's a little different from what everyone else is wearing and I like to feel somewhat comfortable (meaning, no teetering on 5 inch heels for this girlie).
Of course you know my first choice is going to be a vintage dressie. It's the one way to guarantee you walk in wearing something that no one else has! The cut, the colors, the fabrics. If you are searching on eBay or Etsy, here are some grand key words that will pull up some festive lovelies.
This pale blue Ice Princess dress is soooo lovely. Pair it with white sparkly tights and look like a little snowflake! From Etsy seller Chiffonier.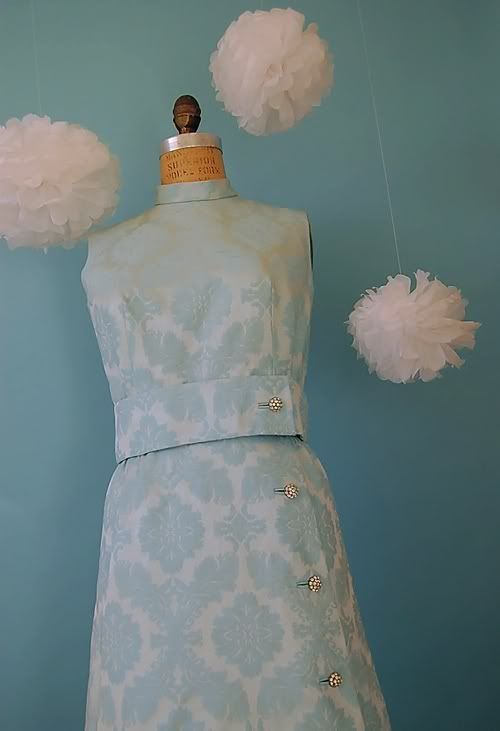 I am so gaga over this colorful chiffon, swirly mosaic gown. It's tooo fabulous! Plus I love any excuse to wear a gown—although if a maxi dress is too much for you, you can always lop it off around the knee for the picture perfect cocktail dress! From the always awesome Frecklewonder Vintage: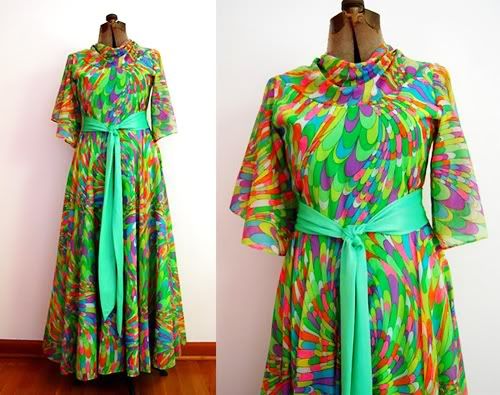 Mmmm. This watermelon fuschia cocktail dress is also soooo gorgeous. Reminds me of a Kate Spade dress! I can imagine twirling around in this with a glass of bubbly in mah hand! Also from my sweet gal Frecklewonder: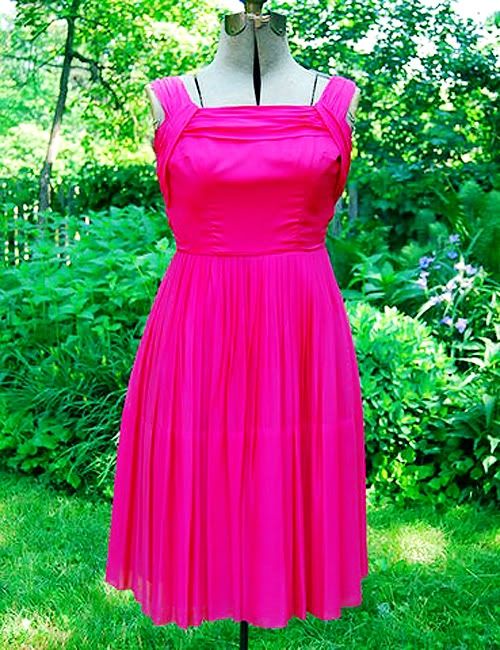 I also love this brilliant emerald green dressie….just look at those jewelled pockets. If this fit me it would already be hanging in my closet. Available on eBay—I lost the listing. I'll find it and update, pinkie swear!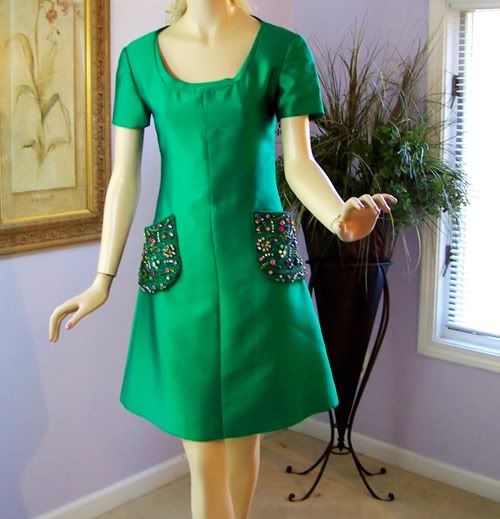 This one is slightly more casual but still so fun….the candy cane, chevron stripes are FAB. From thewitcheryvintage.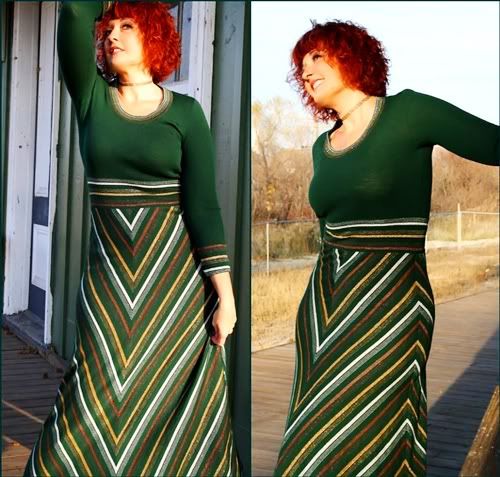 And then, of course, there are the VELVETS. Rich, sumptuous and perfecto for the holidaze. SadieDeluxie Cranberry Red Mini Dress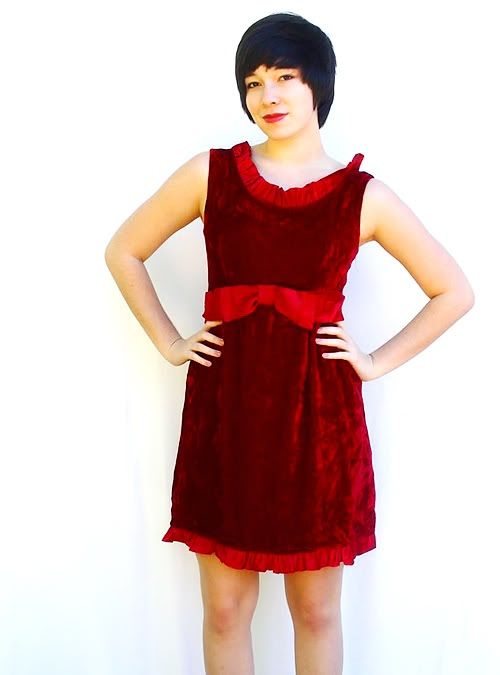 This dreamy blue sapphire dressie:Â Persephone Vintage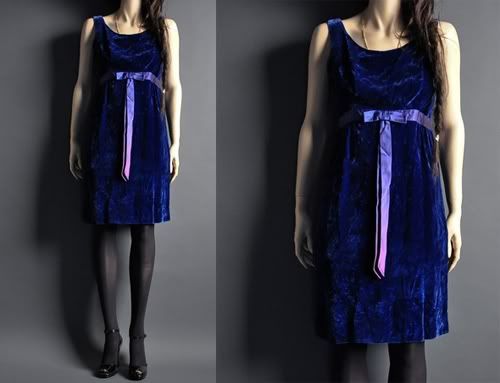 SPARKLE TOPS
As much as I love a good vintage dressie, it's often hard to find them in the perfect size. A great option are these lovely sequin vintage tops. Pair them with a cute skirt (modern or retro) and add a perfect touch of sparkle!
I love the tinsel effect on this cutie harlequin dazzle top from Etsy seller figandtwig: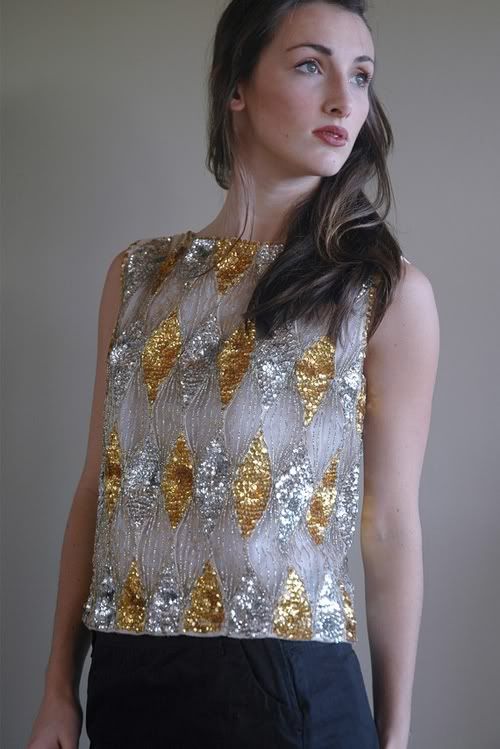 These two remind me of the fairytale, Snow White and Rose Red…..brunettes would look drop dead divine in the cherry red and blondes would look terribly chic in the baby blue. Both from Rtsy seller SkivvyluluVintage.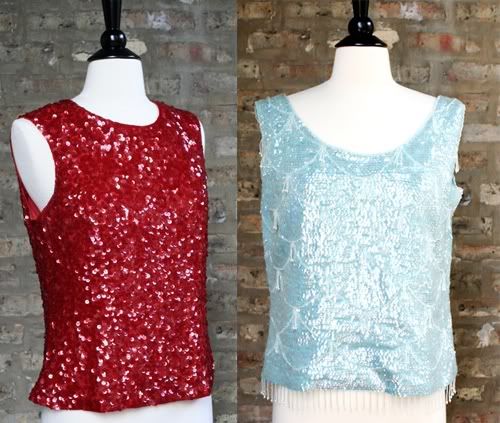 COLOR vs BLACK
A lot of times I hear, "Alix….I love looking at these pretty pictures, but I'm not QUITE this flashy/colorful. It's just not me." Well, honestly I think color is for EVERYONE. But I understand that some people feel much more comfortable in a classic Little Black Dress. And that's OK! You can still add a little punch to the LBD and here are some of my favorite ways.
Colorful stockings! This is one of my all time, super fave looks that works with pretty much any black dress. The key is to keep your shoes simple—look how fun these outfits are, and everyone is wearing simple black shoes!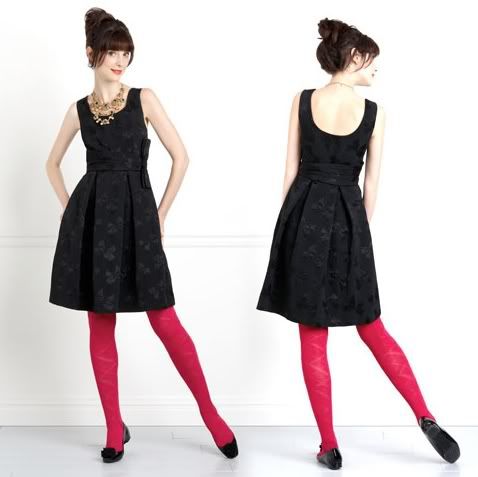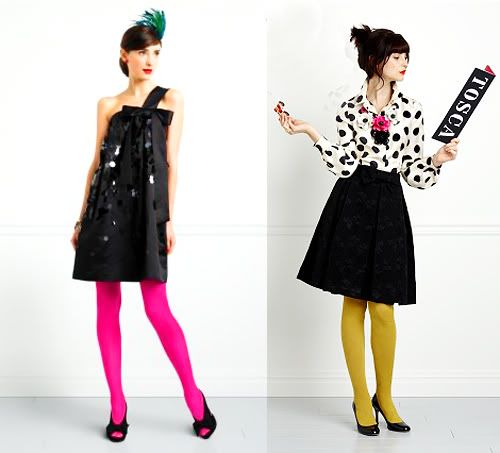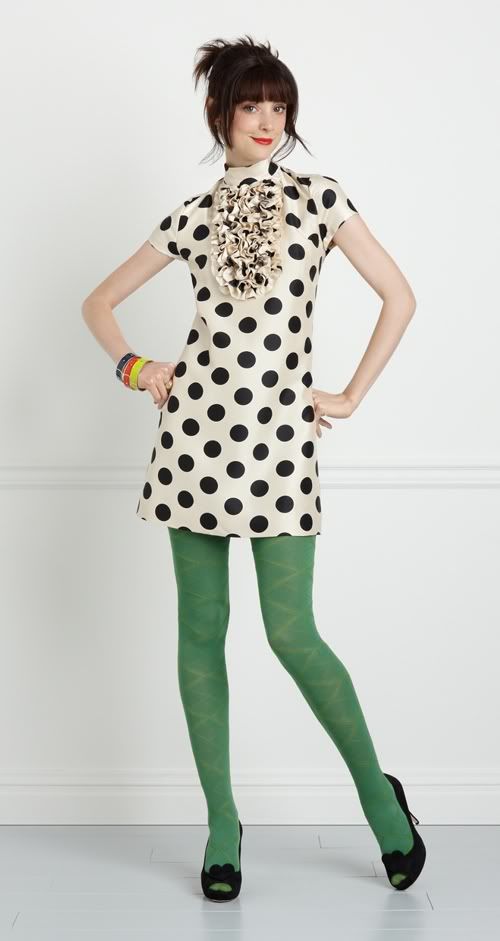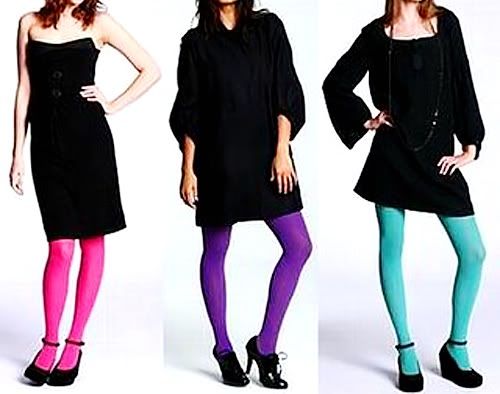 Another favorite way to sparkle up a holiday outfit are embelleshed vintage cardies. These sweet and cozy sweaters are typically from the 50s and add a sweet touch with their beading and sequins. The perfect way to add a little oomph to last year's dressie! They are a great investment because you can even wear them throughout the year with jeans too.
This one from leibemarlene is so beautiful.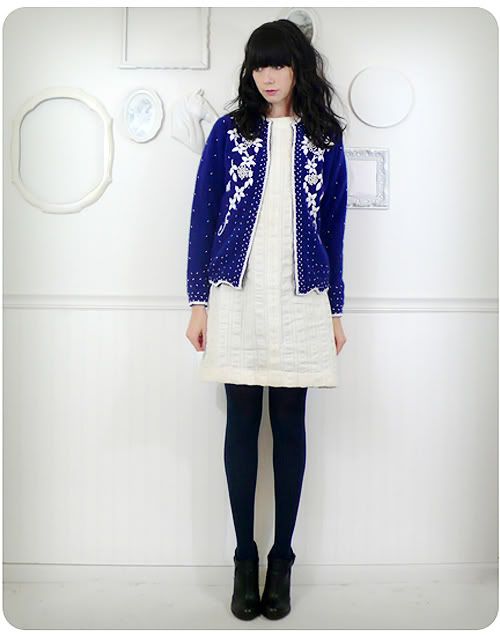 The one above is sold, but you can pick up one just like it on eBay from LoveSpyVintage.
This pretty beaded 50s cardigan from July Poppy is also heaven…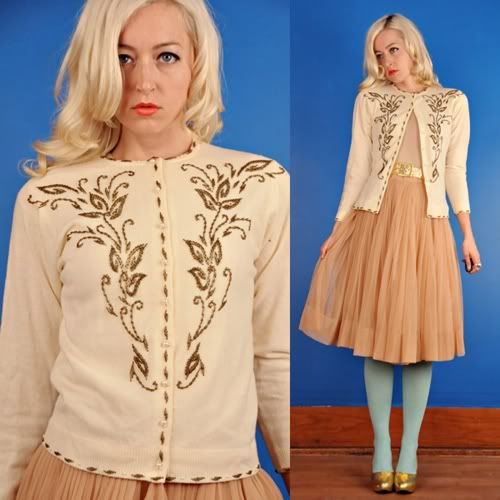 Here's another take on the sequin cardy. I love it belted liked this! Available at Tiger Vintage.

PRETTY PARTY SHOES
And then, of course, there are the sassy shoes! When in doubt, wear something fun, festive and COMFY on those toes!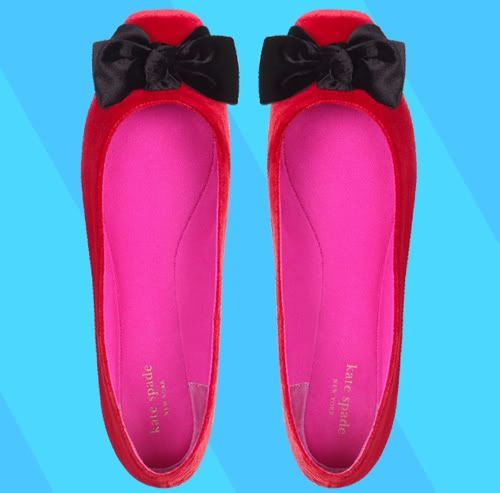 These Miss L Fire golden t-strap numbers are so dreamy. I have them in black with a red rose (see 'em here) and can vouch for the fact that they are COMFY as can be. Pick up a pair at one of my *fave* online shops, MODCLOTH.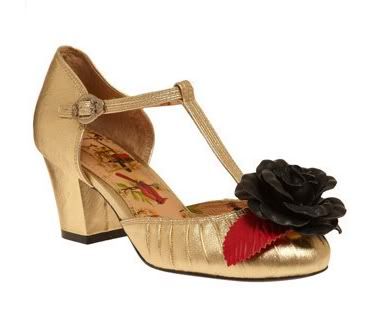 Look how cute these black and white mary jane sassers are? I love the bow detail. Also from MODCLOTH.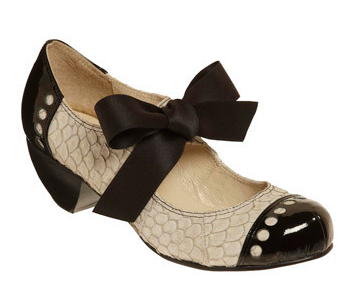 I think these grey patent flats with jewel toes are soooo sweet. And they're a steal from Target.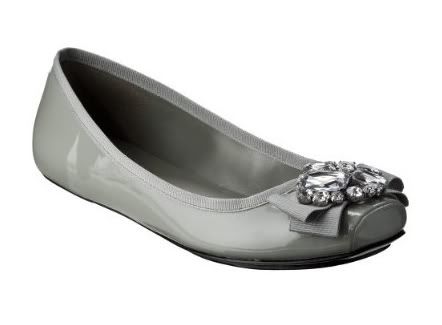 These purple suede wedges have a little more of a heel, and I love the color. From Target.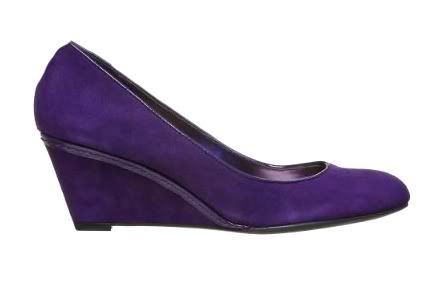 These fuschia fancy flower flats have such a great toe embellishment with that pom pom flower. Love them! They'd be cute with jeans too! From Old Navy.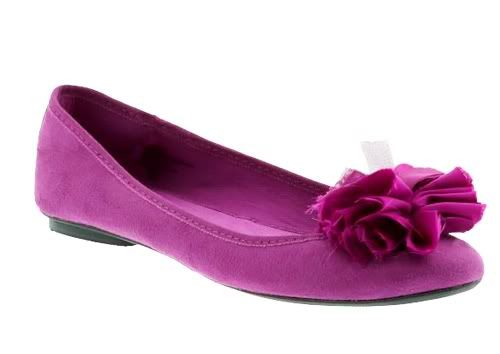 And because vintage isn't for everyone (again, sizing can be tricky) here are two super cute modern options that have a very retro sensibility but are available in a multitude of sizes.
How cute is this Vintage Style LBD? The little belt and Audrey Hepburn neckline is so lovely.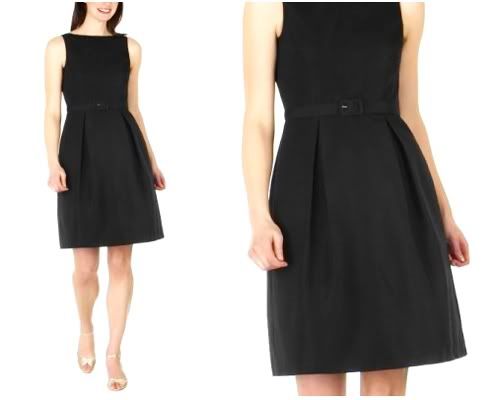 Of course I had to throw in a little pop of COLOR. I think this Purple Jewel Tone dress would be supremely flattering on all shapes…and while it's colorful it's kind of classic, no? Also from Ze Target. No I don't get kick backs from Target. I'm just obsessed.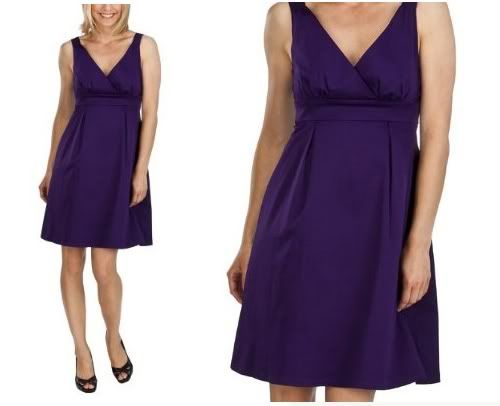 I leave you with my final obsession. The adorable Sue of Giant Dwarf (maker of the iconic Starlette Crown which I covet beyond belief!!) has these heavenly little hair pins. Her Starlette Sparklers, hair pins made with uber sparkly German Glass Glitter, are so fun and pretty. I think one would be super fetching, but I looooove the trio. You know my Devil-Ette code name is The Starlet, so I think these MUST make their way into my hot little hands sooon! They are a great reminder that a little jeweled hair clip can be the perfect final touch to your holiday outfit.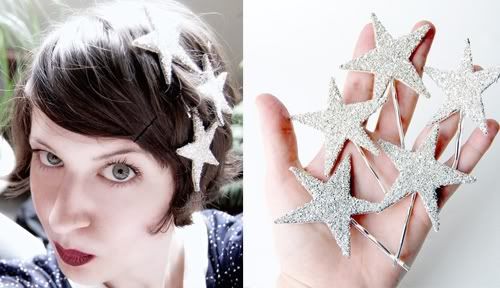 HAPPY MONDAY friends. Should we do another one of these grown up round ups again soon? That was pretty fun!
PS How cute is our Thanksgiving Header, courtesy of Kiddo Artist in Residence, Draw*Pilgrim?? My sweet friend Pilgrim is something I'm supremely thankful for!!