Last week I was thrilled to be a part of In Bloom, a fun week of cool style post organized by the very sassy  My Girl Thursday and Little Tree Vintage! I had such a blast….I wanted to share my Guest Post with you here as well. My topic? Styling vintage pins!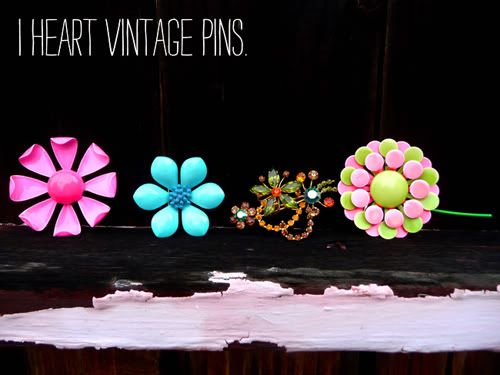 As you all know, I have a major vintage obsession. I especially love the colors and shapes, soooo I thought it would be fun to take a look at one of my favorite colorful accessories: the vintage pin. Small but mighty, vintage pins can really pack a punch and show off your personality beautifully!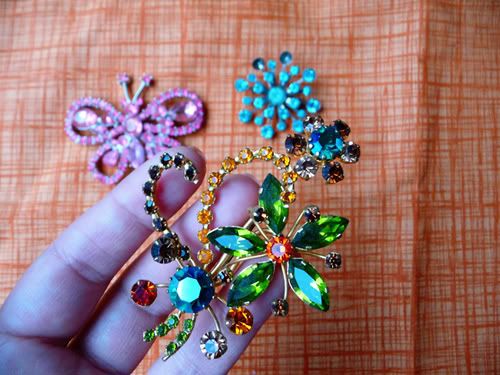 Look how pretty these pins are! I love sparkly rhinestone ones—especially those in whimsical shapes like starbursts and butterflies.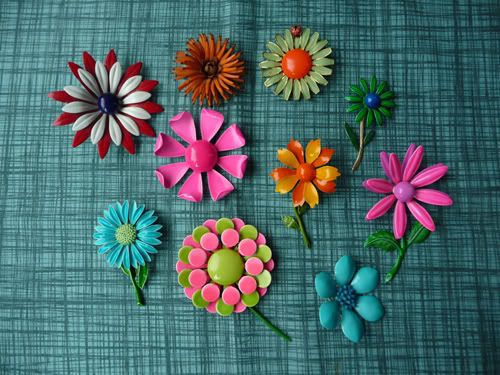 I have to say my heart belongs to those quirky enamel flower pins from the 60s. They're so playful and fun.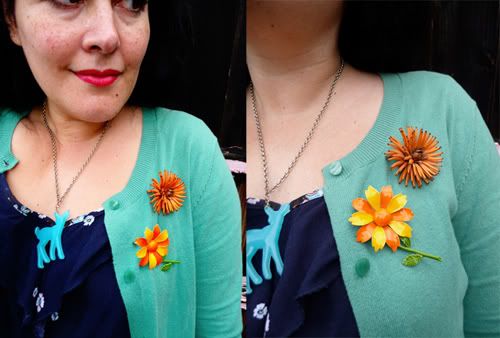 The classic way to wear a pin or brooch is on a cardigan. I love them this way! I'm a maximalist—so one is never enough. Don't be afraid to pile them on.
While you can definitely wear pins on cardigans and dresses, I wanted to show you some other ways to rock the vintage pin. It's the perfect way to add a little punch to any outfit. First up—cuff 'em!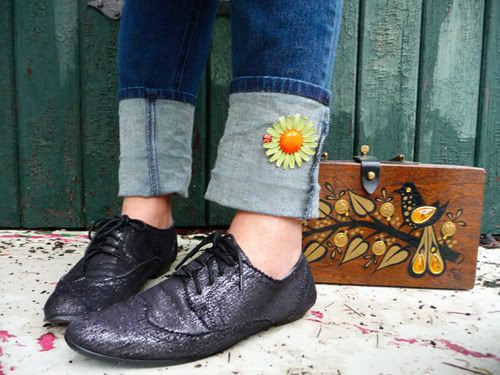 This is a sweet and unexpected way to add a little personality to yer jeans. I had never seen this before and was just inspired one day to add a little something fun to my outfit. I love how it looks!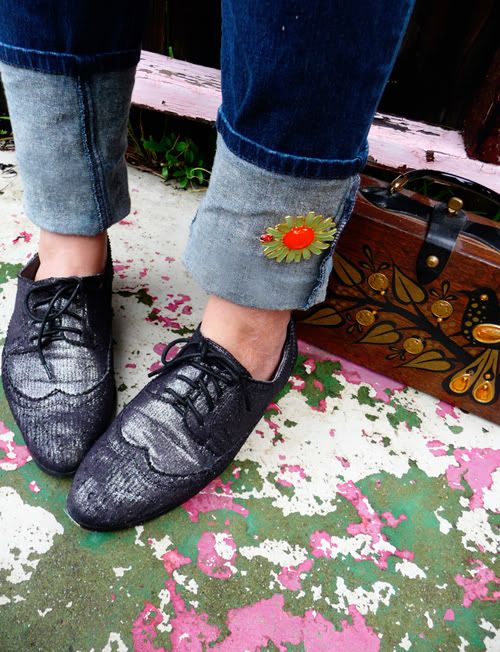 You've tackled your cuff, why not add a fun pin to your hatband for head-to-toe cuteness? It works on any kind of hat (a floppy sunhat! a cozy ski cap!) but I love the incongruous look of a masculine fedora with a sweet flower.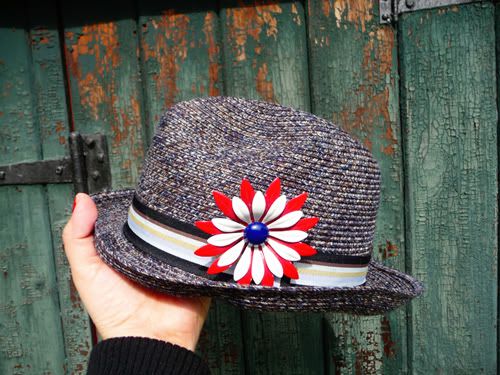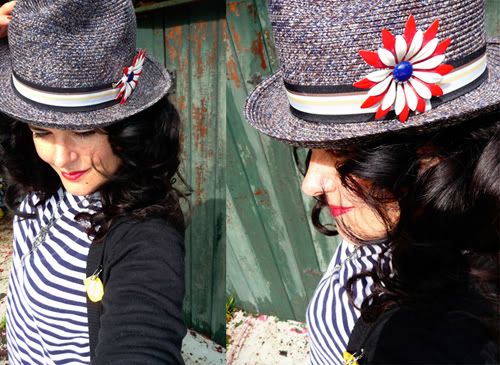 Did you know that these flower pins were often giveaways? Its' true! My awesome friend Karen (of 97 Things to do Before I turn 97) gave me a lovely daisy pin still in the package—it's so cool. According to the label it was hanging around a bottle of Rose's  Hand Lotion. So cool! Alas, I forgot to snap a photo. I'll do it soon, I promise!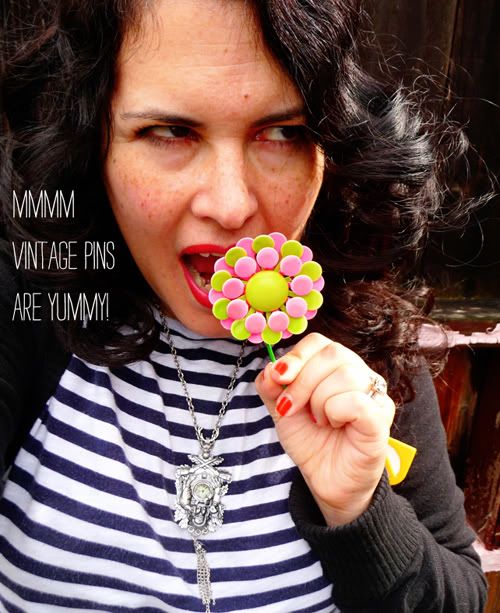 Scarves can be a little slippery. A sweet pin guarantees your scarf stays in place. It's also a fun alternative to a necklace. I'm using flower pins in this story, but a rhinestone pin would be just as cute.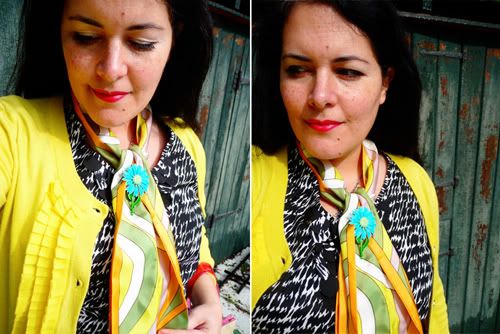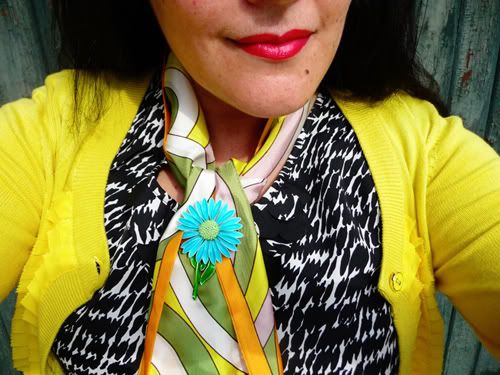 I bought this simple cloth tote at Old Navy. It was cute but it looked a little plain, soooooo I added some a handful of my favorite pins!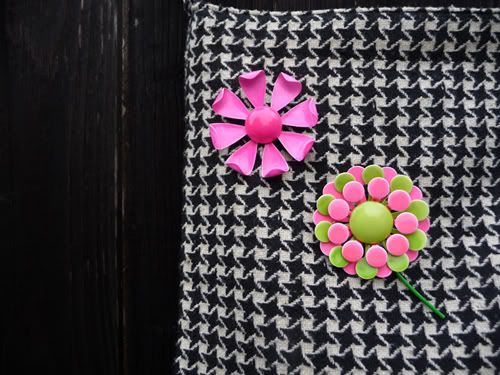 If you're not in the mood to wear a bright accessory on your outfit, think about adding a little touch on the collar of your coat.
TIP: If you have longer hair, avoid putting pointy pins (like the spiky daisy I put on the hat) on your collar or cardigan. Your hair will catch on it like crazy! Trust me…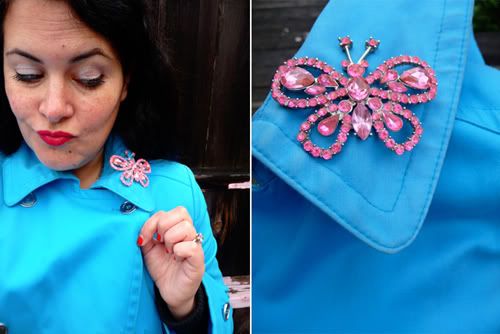 So there you have it. Cheerful, sweet and super easy peasy to style! What's not to love? You can easily find them online at Etsy or eBay!