Wow, I'm still amazed that it is September. We are still plugging along here at the ole MK.  Although I do miss my Alix something fierce,  I know she's rocking it out in Prague. Go, Donna Draper go!  But wonderful weekends still happen. Between tending my sniffling little Peach and sick sweetie, I did manage to scoot out and fulfill a goal of mine. People, I hit the holy grail of garage sale finds and swooped up a vintage dress form from the fifties for a song. Yeehah!
But let's find you all some vintage thrifting goodies. We've got a bang-up mix of stuff today, so let's check it out!
Oh, the vest that launched a thousand crochet hooks! Who didn't evny the little girl who came sashaying into class wearing the handiwork of her handy mom/aunt/grandma/misc. person who was tired of macrame? From Etsy seller, Teenah Time.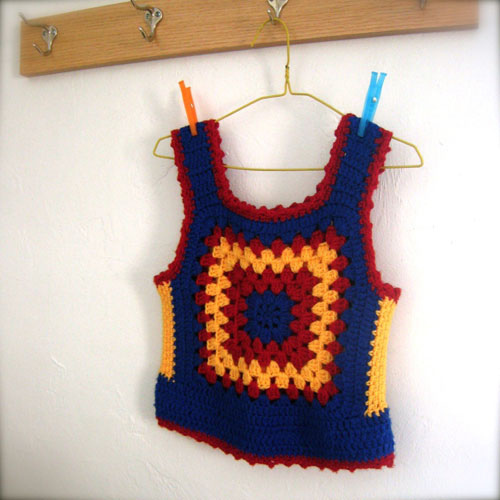 Miss Lish has done it again with this gem of a boy's shirt. A great butterfly collar and a very wearable pattern that would dandy up a pair of jeans or cords quite easily!
Saddle shoes were at one time considered a standard in any child's wardrobe.  I say let's bring 'em back!  And thanks for 3 Ring Circus, we can with this great pair for toddlers.  I'd love to use some sassy polka dot ribbon in a fun color for laces. wouldn't that be fun?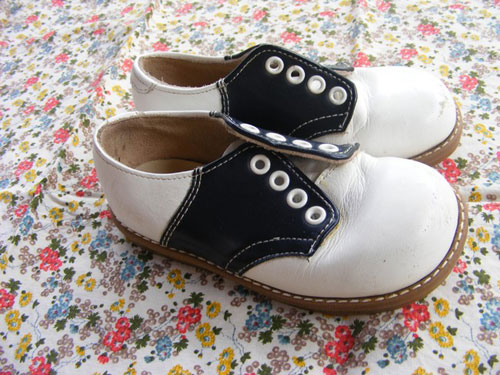 I love this little houndstooth jacket with matching coat.  It reminds me of the one Patrick Dennis wore when he first met Auntie Mame, yes?
Mame Dennis: Well, now, uh, read me all the words you don't understand.
Patrick Dennis: Libido, inferiority complex, stinko, blotto, free love, bathtub gin, monkey glands, Karl Marx… is he one of the Marx Brothers?
From Etsy seller, RedEye Vintage. Oh and check out the "this coat grows" thread. Ummm… That fashion trend needs to return!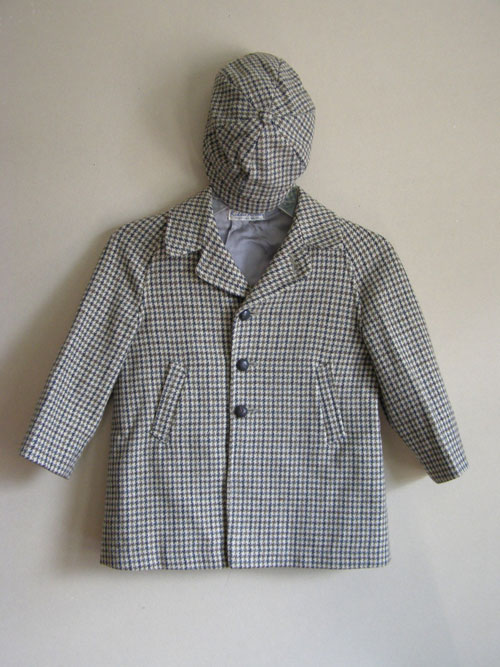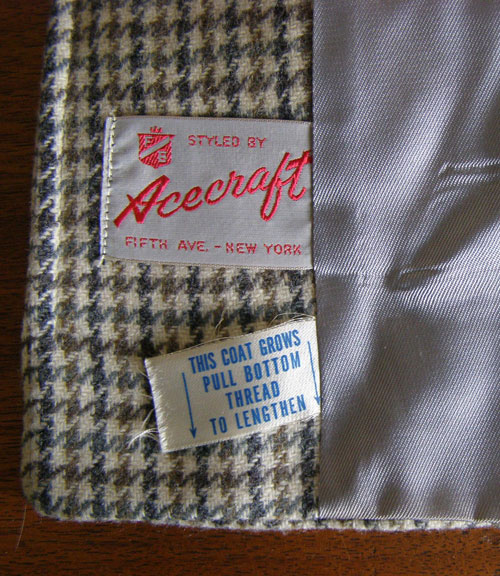 I'm simply crazy for this little pink twill 70s pink jacket with the sweet embroidery–check out those shingles on the rood. And then they added ric-rac edging?  Cuteness level at eleven.  From eBay seller Floozeesvintage.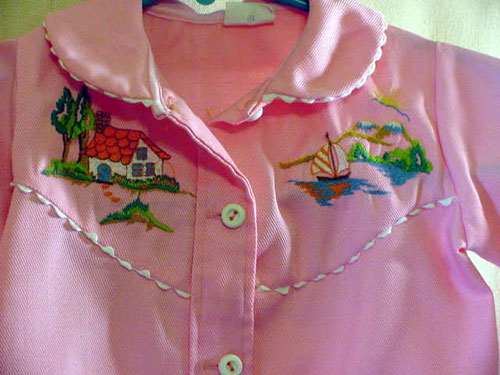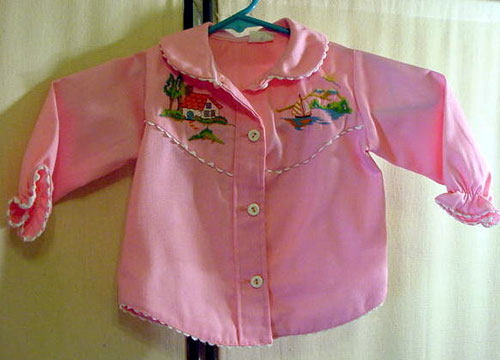 Who doesn't love a good pair of overalls?  And corduroy? And little singing doggies wearing sunglasses playing guitars.  Well, I have found the trifecta of this sublime trio in these overalls offered by eBay seller Kindness Mama.  And she must be the kindest mama to part with these gems.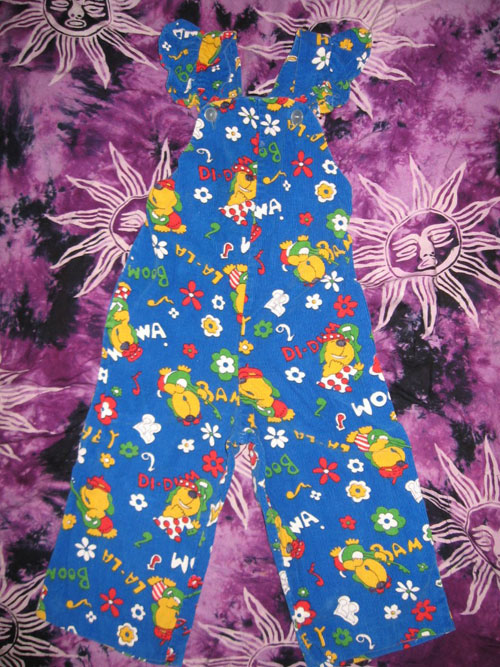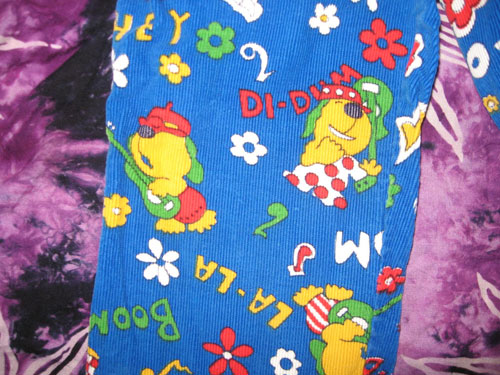 What little girl wouldn't love a sunny yellow jacket WITH matching headscarf? Now, if I could only find its adult doppelganger… From eBay seller, Zeke989.
Oh, but then I found this friends.  My sweetie was walking by my computer and stopped dead in his tracks when he saw these beauts.  Pure bicentennial 1976 U. S. of Yay awesomeness. Deadstock too.  I bow down to you eBay seller, DecoToDisco Vintage.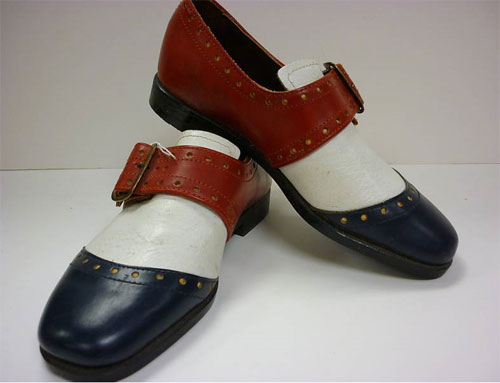 And I must bow down to you again, DecoToDisco Vintage for this HealthTex pint-size version of the leisure suit.  I need to shop where you shop DecoToDisco Vintage…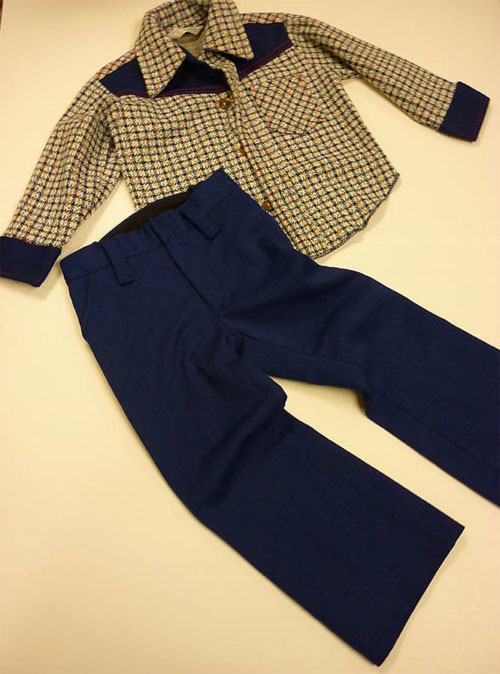 Oh, this sweet cotton dress from the fifties is so dear.  What with its little bunny foo foo hopping through the forest pockets.  From new favorite eBay seller Great Lakes Outfitters.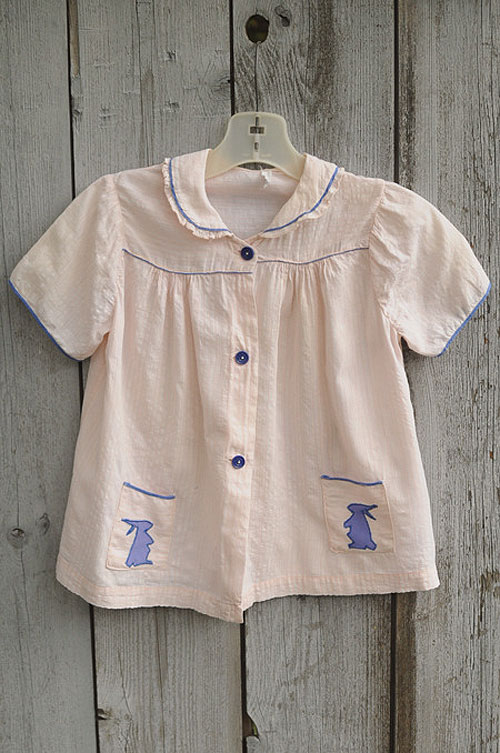 And hey, Frecklewonder is having a bang-up sale of vintage wooden puzzles.  Talk about bringing me BACK.  I had this one! I even remember that smell of the wood. These are such timeless and good looking toys!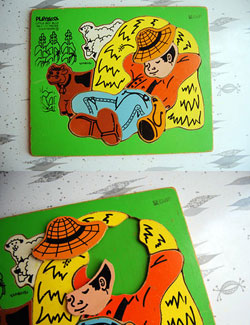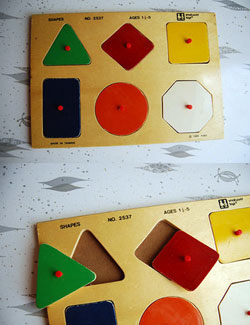 Happy Monday, folks!