Happpppy Monday! It's time for the Vintage Kiddo Retro Round Up, lovelies. I really *do* need to do a theme song, no? This week we are welcoming the arrival of SPRING! That means nary a sweater or scratchy knit in sight. I have a great selection of fun vintage goodies for our weekly e-thrifting session. As always, all these picks are available on Etsy and Ebay for your purchase!
First up? The Girls. Cute dresses, bright colors and fun little details—ladies, we're ready for some sunshine!
Bad puns aside, I am totally nutso for the wee little squirrels on this red hot dressie. OK, so they kind of look like little baby polarbear squirrels, but who cares?? Not I!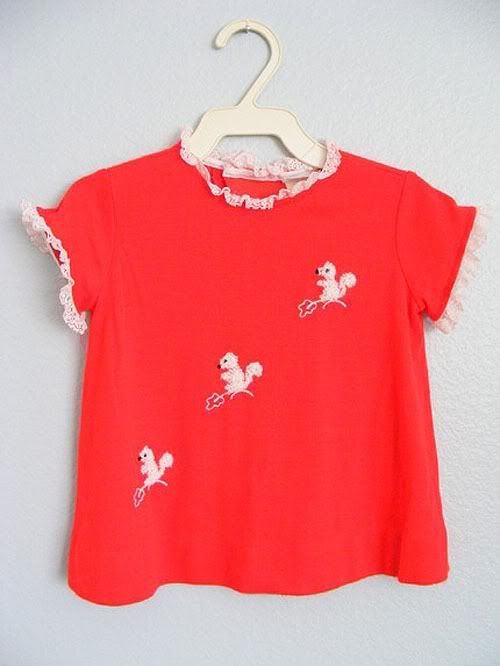 Red Squirrel Knit Dress, Etsy seller ThreeRingCircus
This sassy lil polka dot scarecrow comes with a cute stripy bum cover! I love it—and check out the wee blue bird sitting on her hand!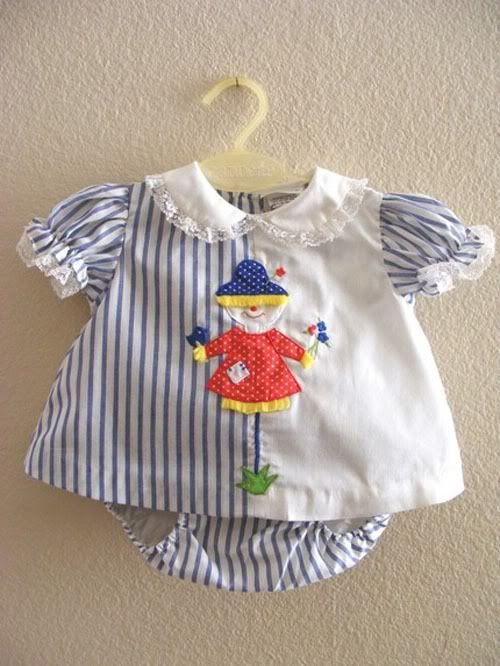 Scarecrow Romper, Etsy seller ThreeRingCircus
I love a classic little puff sleeve and crisp white collar, but the drop waist and teensy bow are what make this one a keeper: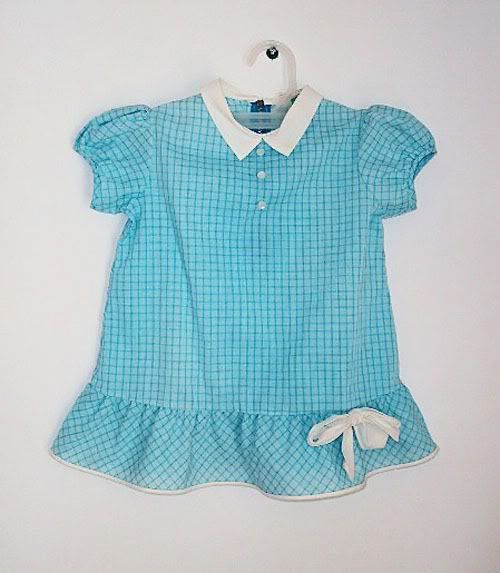 Baby Blue Plaid, Etsy seller Nanzfi
I was going to quote the lyrics to Build Me up Buttercup, because of the yummy buttery daffodil color on this amazing dressie, but you know what? They're kind of a downer. I've always loved the song and thought of it as this upbeat fun song, but seriously it's all about some girl who is totally breaking this guys heart, not showing up to meet him, breaking his heart….dang! Who knew? Well this dress is like a little ray of sunshine—my only sunshine. It makes me happy when skies are gray. You'll never know dear how much I love it. Please just buy this dress right away. Hmmm, now if only I could think of another song to quote…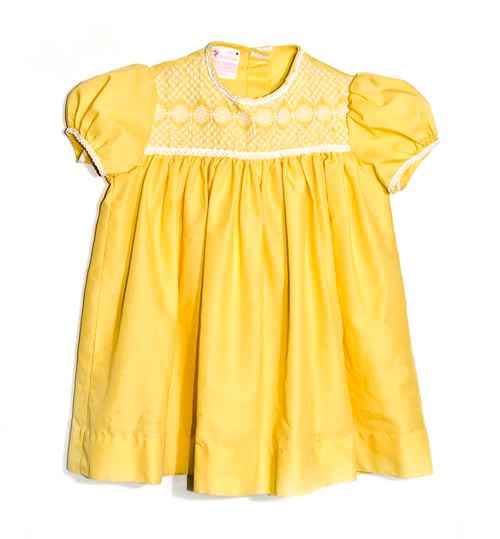 Buttercup Yellow Dress, eBay seller LostandFoundVintage
This is the only long-sleeved lovely in the mix, but it's so colorful and fun I just HAD to include it. I'd love it with colorful tights and maryjanes or with a little pair of sandals and bare legs when it really warms up.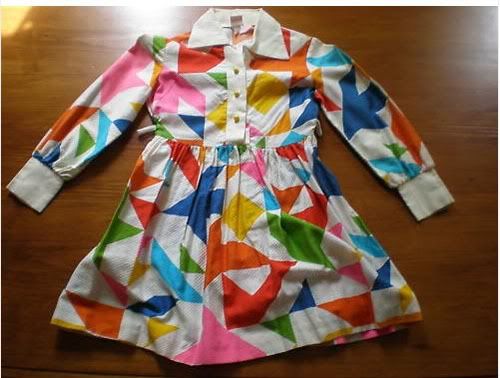 Mod Geomtric Dress, eBay seller: debbrame6x5m
And just for fun—ze pom pom hat!!! (I think technically it's a pom pon, but who really spella it like that anyway, eh?)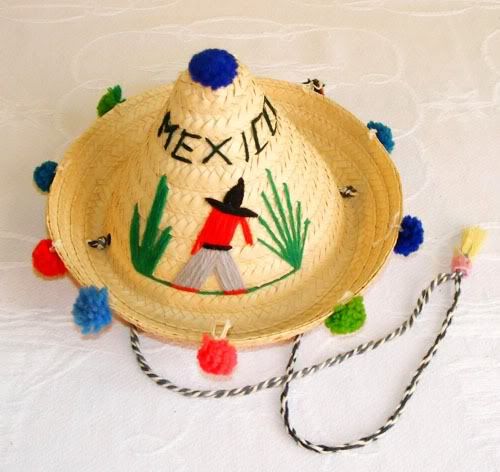 Pom Pom Hat, eBay seller wyogems
OK, now lets look at some goodies for The Boys. Look at this lil set. Gingham? Check! Cute matching diaper cover? Check! Original price tag, never worn-ness??? DOUBLE CHECK!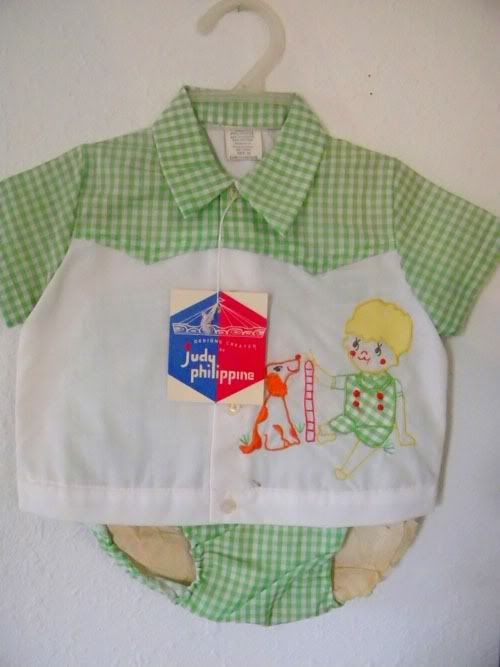 Gingham Romper, Etsy seller loseyoureyesvintage
My birthday is August 22 which makes me a cuspy Leo…so I mean c'mon now. How could I resist this romper???? It's so John John meets the Zodiac. He *does* have a little bit of a goofy stance….almost like he walks around on his hind legs with his arms hanging down. But hey, he IS king of jungle. Let the man walk however he wants to, right? Rrroar!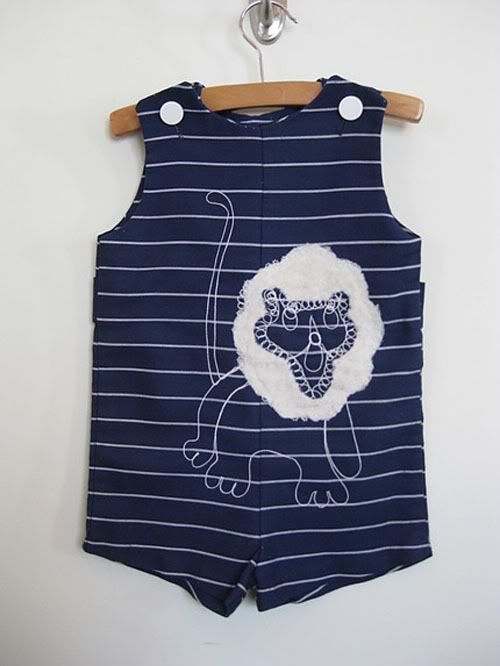 Lion Striped Jumpsuit, Etsy seller GiggleBoss
Ooooooh Luuuucy! You got some 'splaining to do!! This little Ricky Ricardo cutie is amazing!

Ricky Ricardo, Etsy seller ThreeRingCircus
I love the kooky style of this 70s fabric (remember those stretchy belts that say "JEANS JEANS JEANS"??). And yee haw, this one is super cute!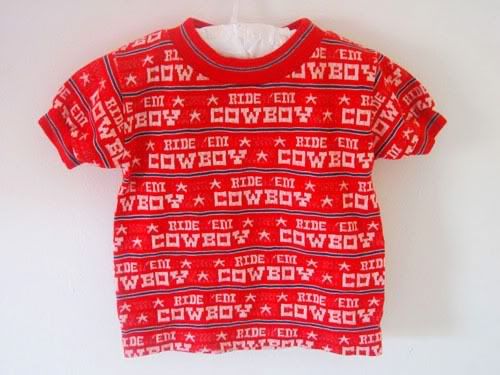 Little Cowboy, Etsy seller thefancytail
As with the girls I have one long sleever in the mix for our little guys. It's just so cool I couldn't resist! And I promise, no Roscoe P. Coletrain jokes.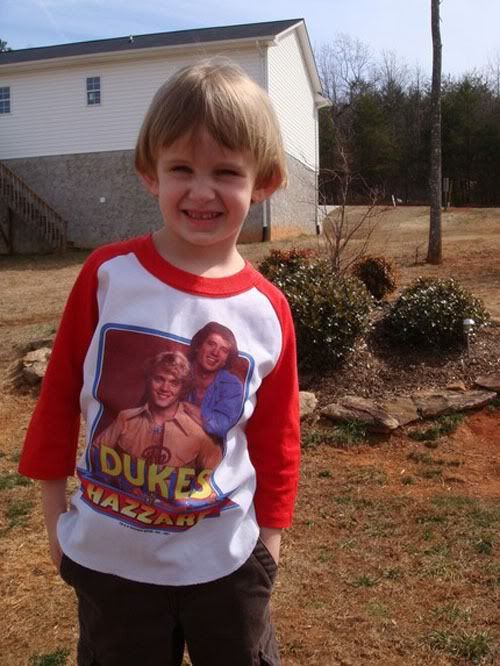 Dukes of Hazzard, Etsy seller differenthues
And finally….in honor of spring…. perhaps the most "unique" item for kiddos out there right now. What what what??? These toy bouncer shoes are BANANAS.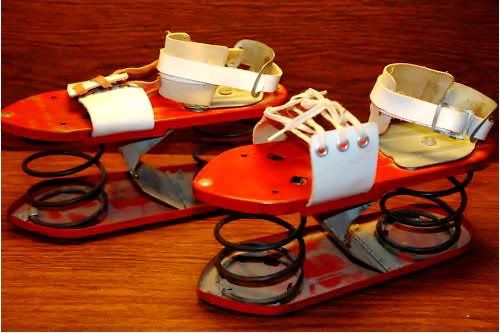 Crazy Spring Shoes from eBay seller moneygreen
Yep, people. SPRING has SPRUNG!!