I know I wrote a little piece on my trip to Paris and why I chose Paris, but I actually planned on writing three pieces on Paris–because it was such a delicious romp and I wish I could have taken each and every one of you on the trip, but since I couldn't I'll take you along through the blog!
So, let me start at the beginning.
One of my best friends, Lin was also in between jobs–both of us starting our new jobs on the same day–and we decided to go for it and buy tix to Paris.  Since she has a 14 month old and I had the Peach, we decided to make it a quick little jaunt. Just four days. Four days to soak up as much of Paris as we possibly could.  But we were up for the challenge.
Armed with some brilliant recommendations from the wonderful Jordan, we boarded a plane and shamelessly gabbed and drank and laughed for the full 10 hour flight to land in sunny (actually mildly rainy and sometimes overcast) PARIS.
Hundreds of guide books have been written about Paris.  How could we possibly do  it all? So we decided not to do it all. But instead play it by ear and enjoy not only Paris, but spending time together.
Isn't it awful that you have these great friendships cemented over years of hilarious single escapades and then you get married and have children and move out of the city into suburbs and all of a sudden you feel you've gone a year since you last saw them in person? Yeah, I hate that too. And I refuse to let it happen, so we wanted to make sure that enjoyment came before agendas.
And enjoyment was had–with a whole lotta laughter to boot.
We landed in Paris and got to our hotel in the 7th Arrondissemont across the street from the Bon Marche around noon and were too wired to even think about relaxing.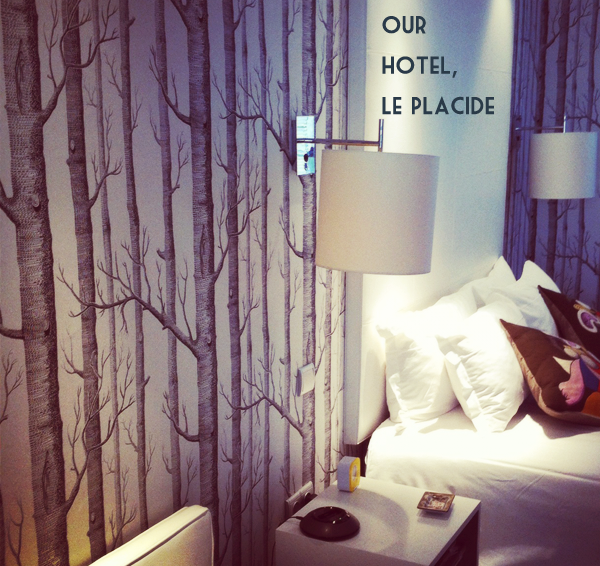 We shamelessly spent the first day getting lost in our little hood stopping every couple of hours at cafes to people watch and have a bellini and pinch ourselves that here we were in Paris and truly it was magical.
We did do more than drink. We did go to a few selected pieces of Paris in the form of art and architecture.  Utterly amazing.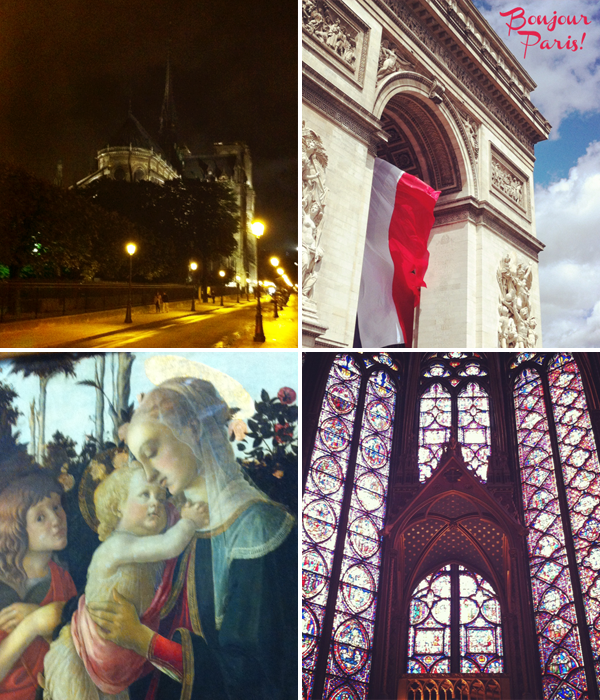 But we were equally charmed with people watching.  Lin and I were especially charmed by the Parisian tot set. So sweet and as well turned out as their parents. Go figure!
Parisian style really is extraordinary.  You will not see someone running around in yoga pants or wearing white running shoes.  And I love that we saw people of all ages. Paris wasn't just a city for the young. Oh no, this was a multi-generational city. And all of them well dressed to boot.  Like this very gracious woman who saw that we were lost and graciously offered to help us find our way back to our hotel. She was wearing an Hermes scarf and Chanel glasses.  She could easily be on the blog Advanced Style in a heartbeat.
As helpful as that lovely lady was, we really must thank our friend, Courtney for being the best Parisian tour guide ever!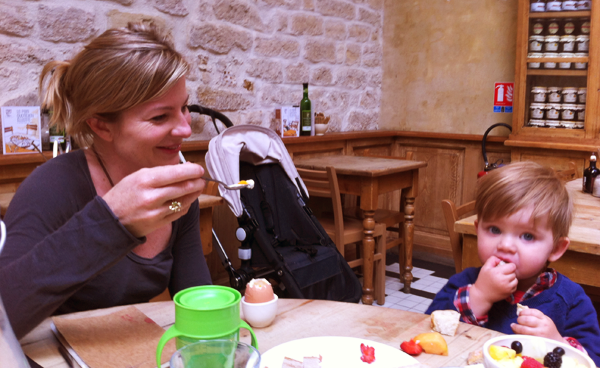 Lin and Courtney went to college together and were fast friends from the moment they met. And with good reason. Courtney is as down to earth and fun and charming as she is beautiful. And man, can she crack out a super cute baby.  Courtney had lived abroad for the past 12 years and spent the last 10 in Paris with her dashing husband in a tiny but perfect little apartment, which was a hop skip away from our hotel.
She took us to this most amazing restaurant that Jordan had recommended as well.  It felt like you were eating inside of an Anthropologie store–deliciously quirky (hello ping pong table in the middle of the restaurant) and all sorts of styles mish-mashed together with a knowing wink and a nod. And the best part was that there was a secret room–it looked like a bookcase, but if you pulled a certain book, voila–crazy secret room!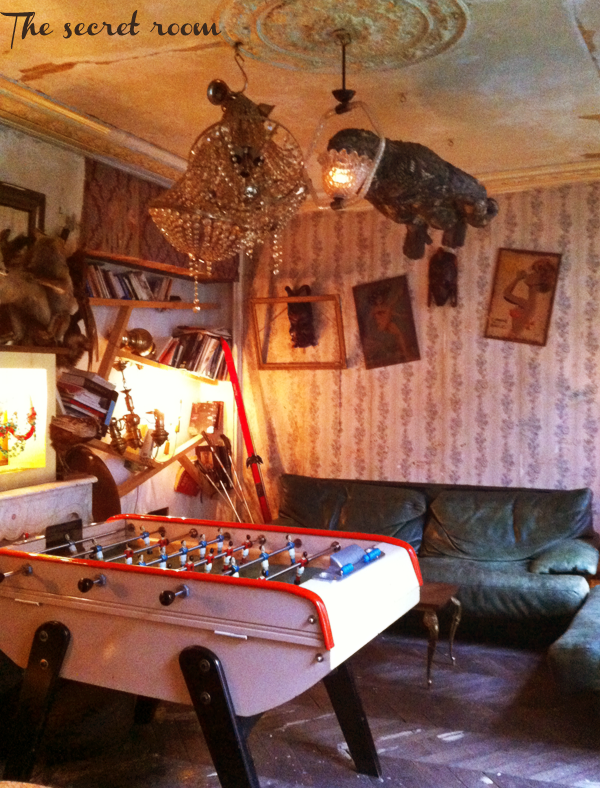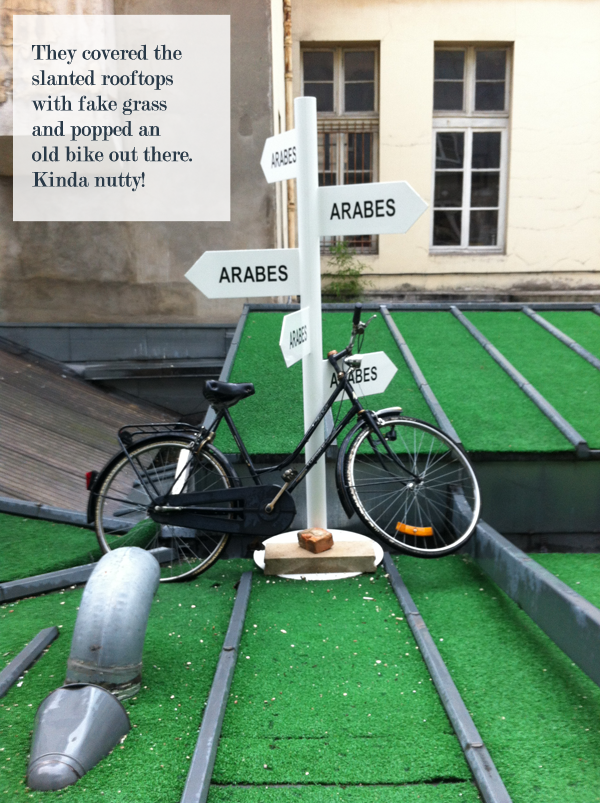 And that was just one of the marvelous places we went with Courtney.
She also took us to this hidden gem of a bar called Prescription.  Of course France is well known for its wine, but artisan cocktails with fresh fruit juices and unique liquors and bitters are just beginning to pop up in Paris. There was no sign on the street and it was after 2:00AM in the morning and she just knocked on a door and we slipped in. Very much like a speakeasy.
Sorry for the grainy photo, but it was so dark in there. And I must apologize for all of my pictures–just taken with my iphone as my camera was dead when I pulled it out of its case on the first day.
I'm sure there are dozens of other little moments.  Delicious little pieces of time that make up anyone's vacation to Paris. And I'm thankful for every one of those moments.
But, how do I summarize my trip? I know it was such a whirlwind trip, but I feel now as if a puzzle piece in my life has been filled. A lifetime of questions about what Paris was like and truly–some things can only be experienced to full understand them, like love, being a parent, going to college–oh the list is endless, but I think you know what I mean.  Hard to sum up in words but priceless what it means to the heart.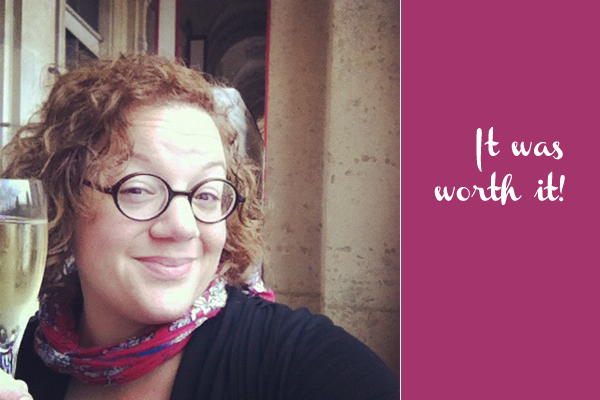 So, I will tuck a bit of Paris in my heart and know that I will be back again.
Have you been to Paris? What was your Parisian experience? Is mine off or like yours? What was your favorite moment?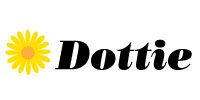 PS: One more post–on shopping and what I did and didn't buy! Stay tuned!