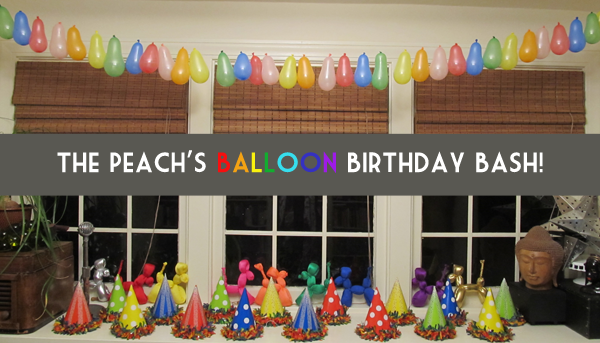 Hoo boy! Â I'm exhausted just remembering this party.
Since we invested most of the Peach's birthday funds into a new play house, we were determined not to spend a lot of money on her party.  I set the budget at $50, so the mantra for the party was Cheap and Cheerful!  We ditched the idea of having helium balloons since that was too spendy for us.  Instead Eric and I watched a few YouTube videos and learned how to make balloon dogs, swords and flowers.  Perfect! Manned with only $20 I headed to the party store and left with cheap plain party hats, some kinda weird ruffly edging stuff and bag of biodegradable balloons.
I used water balloons at $1.39 for a pack of 60 to make a balloon banner which was inspired by one I saw on Pinterest.
I loved the idea of kids running around in fun and fancy party hats! So I jazzed up these plain jane hats with some white sticker dots I picked up from an office supply store and some leftover washi tape I bought last year from Paper Source. And I used that super cheap paper mache rainbow stuff to edge the bottoms of the hats. I did it in less than an hour, while watching Parks & Recreation and 30 Rock.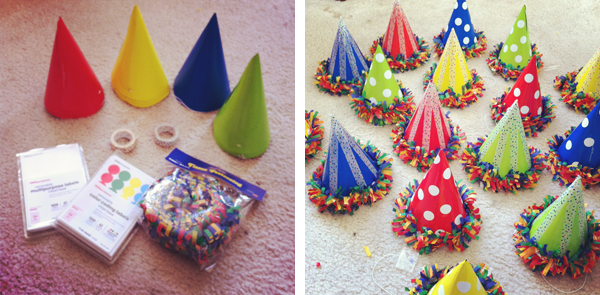 I gotta say the kids loved 'em and wore the heck out of 'em!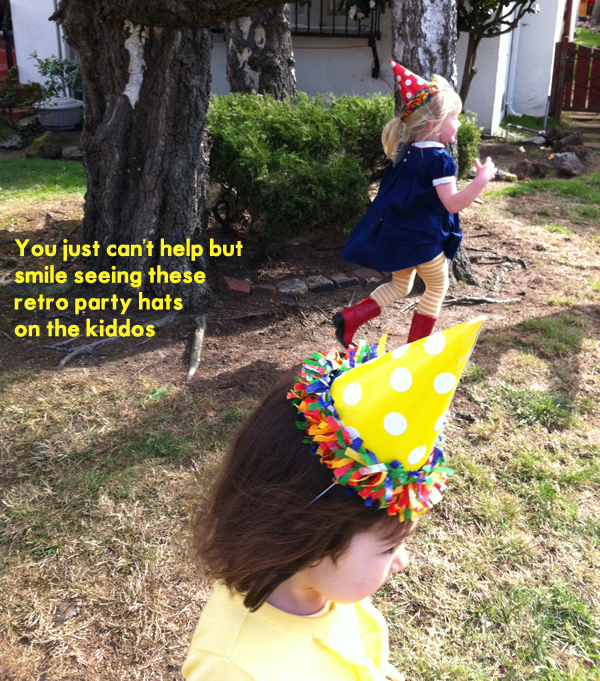 And the last balloon accent to this party was this nutty idea I had to create little balloon doggie stuffed animals.  After two weeks of trial, I made some cute little friends as giveaways for the kiddos.  I made them out of lycra scraps which cost no more than $15 all together.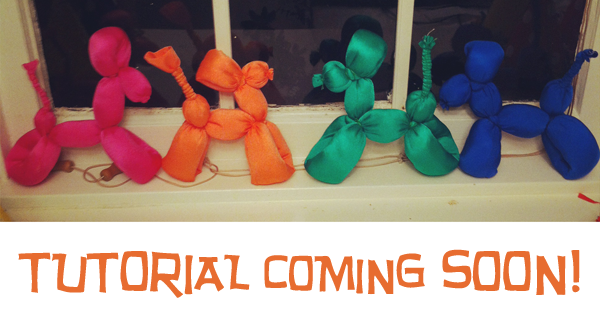 And the kids loved 'em! AS you can imagine, Molly here took the yellow one…
I must admit, the Peach was tickled pink with her little play house. And a lot of the party action happened outside in the play house. Â Please note–Miss Peach picked out her entire outfit herself including her boots!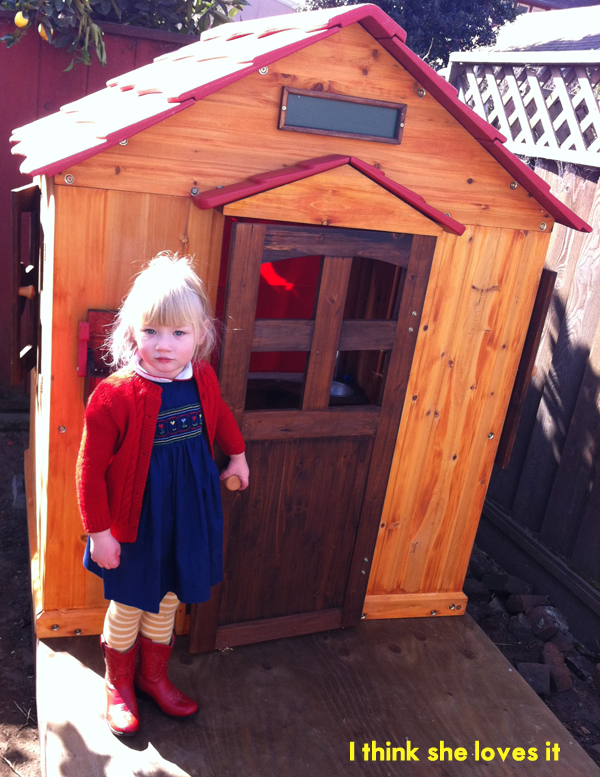 And everyone loved the balloons!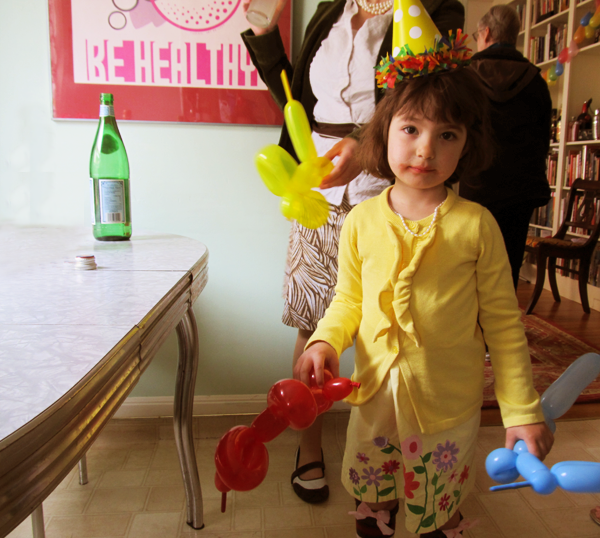 The Peach had a very specific menu she wanted: lemonade, pizza and vanilla cupcakes with vanilla frosting and rainbow sprinkles. DONE! In fact, she was so tickled pink with her cupcakes that she just grabbed one and started eating it without a candle so we had to start singing "Happy Birthday" as she nommed away.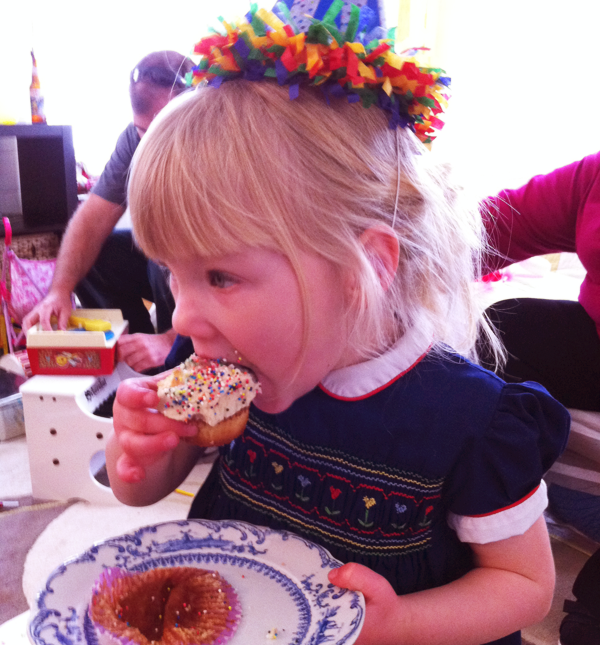 But what the Peach really enjoyed more than anything else was playing with her friends!
You always worry a bit about how your little kiddo will respond to hanging with a bunch of kids. Some she knew well and some were children of my friends that she sees maybe every six months. And I must say there were several times I beamed with pride over my little girl's inherent goodness. Â Miss Peach was drinking her lemonade when another little girl came up to her and said she was thirsty. Â Miss Peach immediately took her little tea cup of lemonade from her own lips and raised the cup up to the little girl's lips to drink. Â Outside, some of the older girls had commandeered the playhouse and wouldn't let little Finn in. He came crying over to the Peach, who immediately took his hand and marched over to the playhouse, knocked on the door and demanded those big girls play with Finn. Attagirl! Â No "How not to be a mean girl" classes for you!
As you can imagine we tucked in be a very happy albeit very tired little three year old into her bed last night.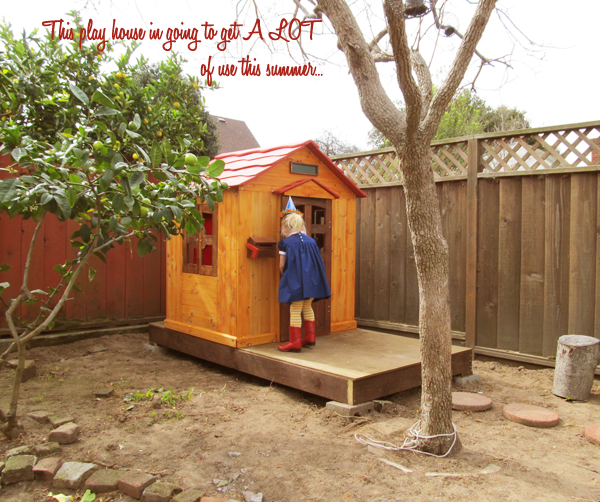 "Cheap and Cheerful" can still produce some pretty priceless memories!