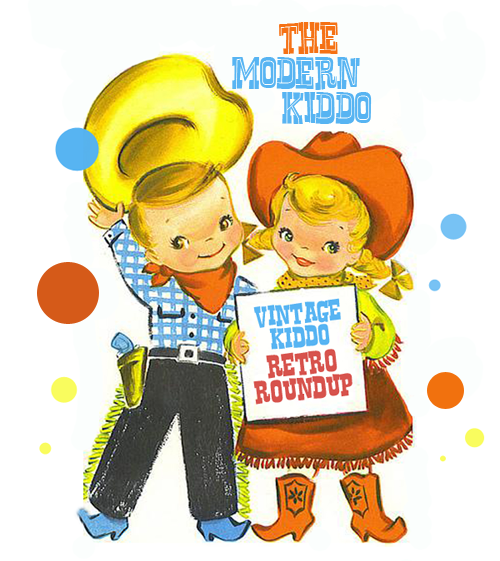 Hi, hi friends!  We had the most lovely weather this past weekend in the Bay Area! We had a very very mellow weekend, which was great since I have TWO business trips scheduled for this week–one to L.A. and one to Austin for SXSW. But I did have time looking online for some vintage goodies to share with you.  I had a request for larger sizes, so all of the vintage pieces featured in today's round up are size seven and up!
Ahoy mateys!  I love this sailor sweater of cuteness!  From Ebay seller, Sherrie's Little Shop.
I love this minty sweet mini dress for a big girl in a size 8. Perfect for spring coming up! From Ebay seller, Obsessed with Vintage.  This seller also has this sweet pink gem available right now!
I honestly can't say no to a good pair of vintage plaid pants for boys.  Especially in a big boy size 7. Actually I think these would be super cute on girls too! From our favorite Fuzzymama!
Speaking of plaid, I adore this big girl size 8 dress paired with a touch of lace. JC Penney's at its best!  From Etsy seller, SHOP at 851.
Who wouldn't want a vintage swimsuit with a Peter Pan collar? In purple plaid? And in a  size 8-10? From Etsy seller, LaDiDottie!
Hurrah for chambray! And the sweet embroidery just made it so adorable! From Etsy seller, IvoryBerry.
I always have a soft spot for a good vintage hat!  And this dapper one is perfect for a seven to ten year old.  From Etsy seller, Ms. Tips!
I always have a weak spot for a good vintage cardi. And the embroidery on this one is just too darling!  From Etsy seller, Presley Pigs.
This vest is the best!  Great navy and white pattern that would be an easy addition to any kiddo's wardrobe!  From Etsy seller, Vintage Aga.
Now, THIS is a brilliant vintage Western shirt in the loveliest green. Ready for SXSW! From Etsy seller, Rock Street seller.
Happy Monday!