First off, happy Valentine's Day, friends! Did you have a lovely weekend primping for today? I passed by See's Candy yesterday and it looked like Armageddon in there! Chocolate hurling through the air! I kid, but it was nice to see that people were excited about this very special day.
And what would make this day even more special? Finding some great deals on vitange goodies for you and yer kiddies! So let's start this round up off with something special…
Is there anything cuter than a little girls' dress with an apron featuring an image of a little girl in an apron?  I know, right? ADORABELLE! From new Etsy friend, MamaFabun!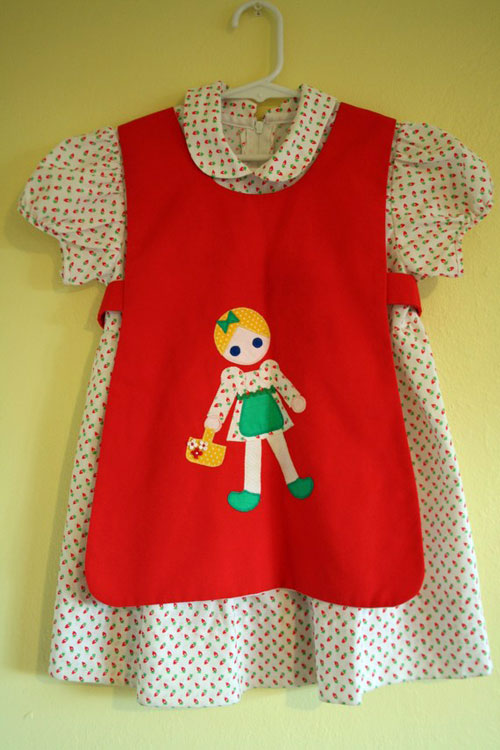 Georgia is really enjoying puzzles right now, so that is probably why I am so attracted to this gem from Playskool! From Etsy seller, Second Hand Score!
Ebay seller, Carla828 has some adorable vintage baby boy clothes including this charming Buster Brown combo or this duo of cuteness that would charm up any little boy's wardrobe.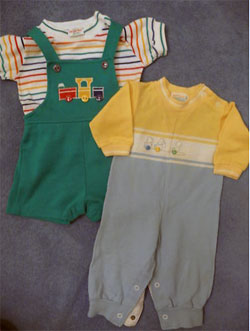 It's a mod mod world with this great tan plaid cape and only $9.00.  Can't you just imagine X wearing it?
But wait it gets better…
Rock on, Mother! From eBay seller, 84hidlprl2x.
It kills me that I didn't feature this two weeks ago so some little boy could have worn this football fabulous shirt to a Superbowl party! FIE! From Etsy seller, BlueBird Lucy.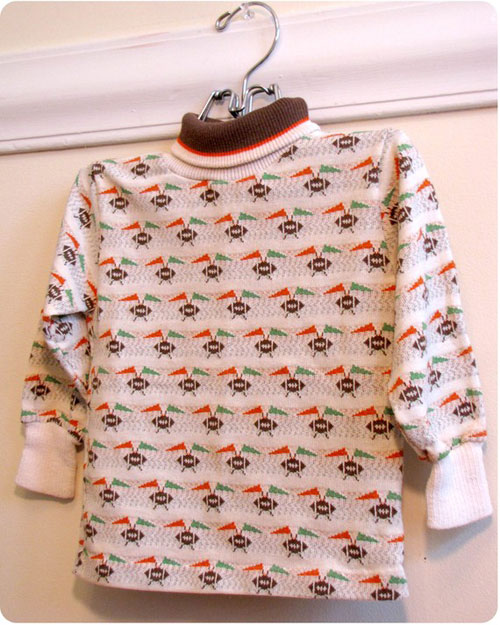 This little vintage  romper that Lish has in her shop is so lovely!  It's the perfect blue highlighted by the sweetest little ribbon.
Anyone in the Minneapolis area might want to bid on this pick up only duckie teetertot, which is killing me with its adorableness!  From Ebay seller, Caringforcats.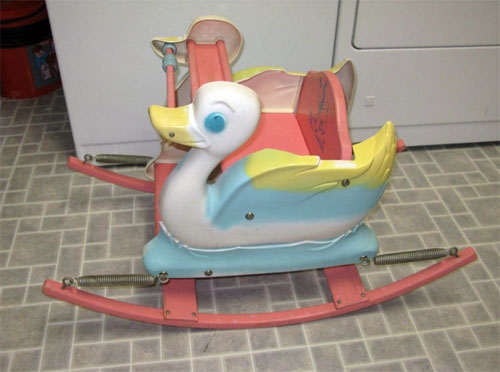 Ahoy matey!  Check out this darling vintage sea-worthy dressie for wee seafaring lass! From Etsy seller, OhSydney.
Wooden toys are wonderful and I love them to death. But a good vintage tin toy is pretty darn kick ass. Like this one. the Litho Friction toy space ship from Ebay seller, Roadshow Finds.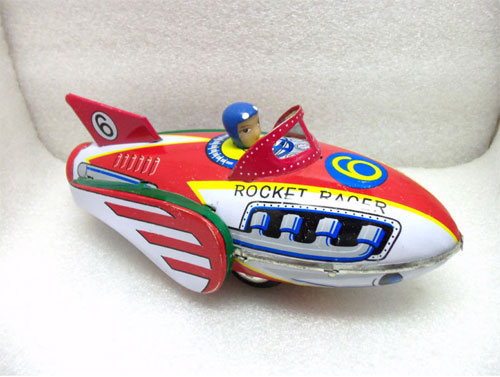 And I always save the best for last. Before there was the bedazzler, there was the Lady Spin Welder Fashion Studio. Because nothing says fashion like welding!  Who wouldn't want to decorate their duds with 'bout a thousand studs? From Etsy seller, Dr. Tongue Toys.