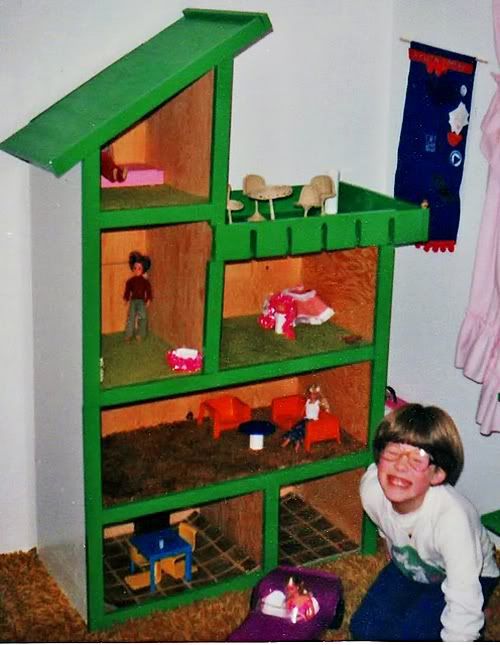 Back in the 1970s, the super lovely Kristin Loffer Theiss had a cool green dollhouse, handmade with love by her father. And it was awesome. In fact, Barbie and the Sunshine Family enjoyed many years of shag-carpeted splendor, living under its little green rooftop. The years went by and when her parents eventually moved, Kristin took the dollhouse home with her, where it sat (and sat) in her basement.  What DO you do with a really heavy dollhouse that, while filled with nostalgia, takes up a lot of precious space?? When Kristin became pregnant with her sweet boy Sayer, she and her husband suddenly had a brainstorm. And this happened: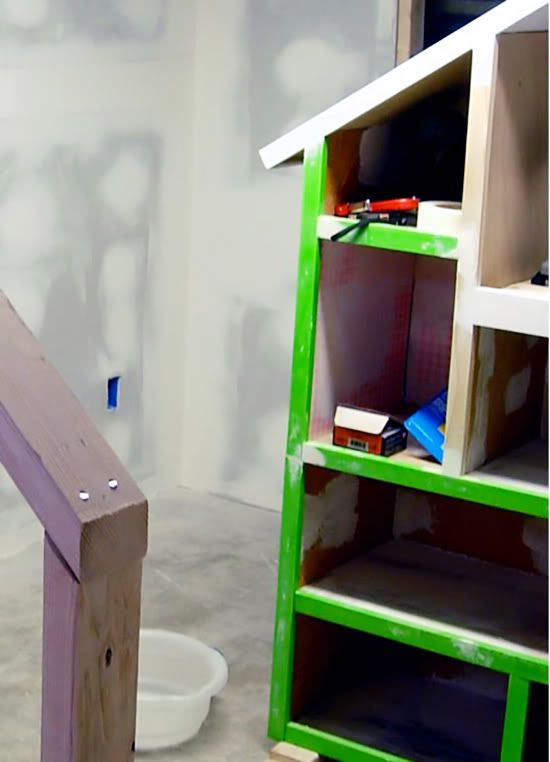 Now before you gasp in horror—the dollhouse! It's being demolished??! Are they crazy?? Ayiiiiiii! Hold on a sec and remember that this is Kristin we're talking about here. Kristin is soooo creative and clever! Leave it to her to come up with something amazing.  And that sassy little green dollhouse with the shag carpeting was transformed….into THIS: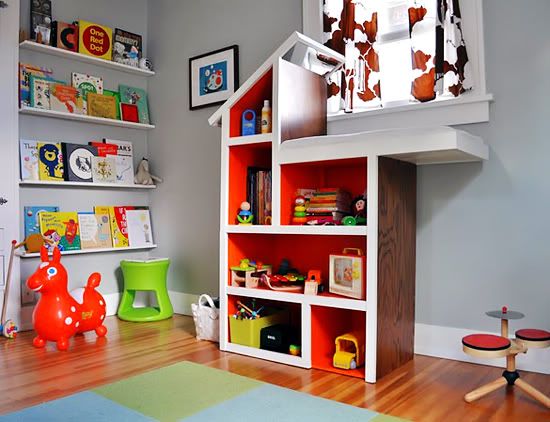 Holy smokes folks, how cool can you get?? It's like the ultimate mid-century nursery piece. Kristin told us that they extended the balcony to make it long enough for a changing table, took the shag carpet out, painted, scraped wallpaper off, added wood, and added a mirror so that little Sayer could make faces at himself while he was being changed. I was totally stunned when I saw this—I mean, have you ever? SO DAMN COOL.
The entire room is a lovely combination of retro chich and vintage modern. Take a gander: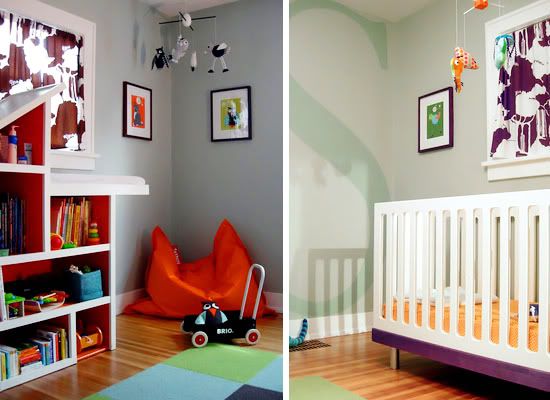 I love that huge "S" on the wall—like a subtle little shadow. And the dollhouse "rooms" transformed into hand toy shelves? Pure genius.
I think this book nook is so sweet. I really love how the shelves make the books look like artwork. (though please note that the art on the walls ain't too shabby either!!) The little IKEA stool is perfect for plunking down and pouring over a great story.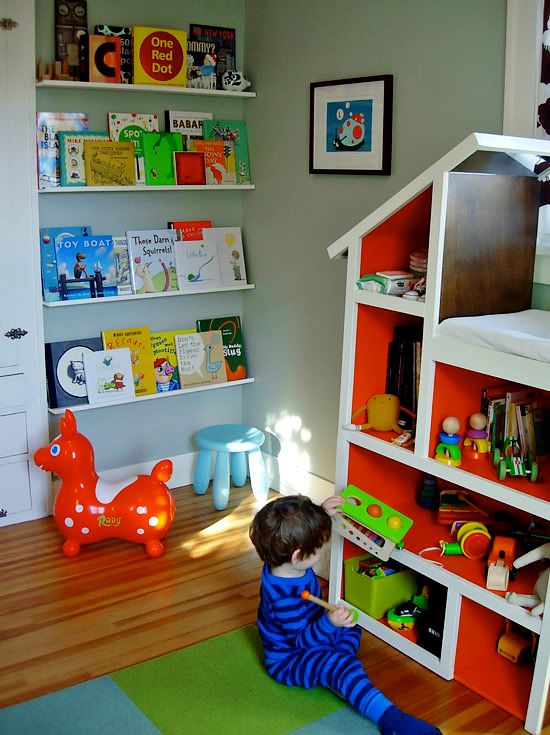 Hi Sayer! What a cutie pie in his sassy little green Eames rocker!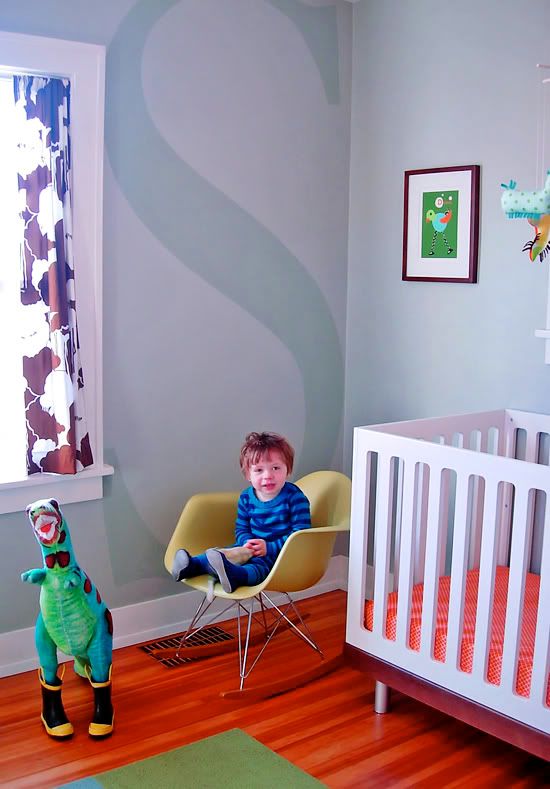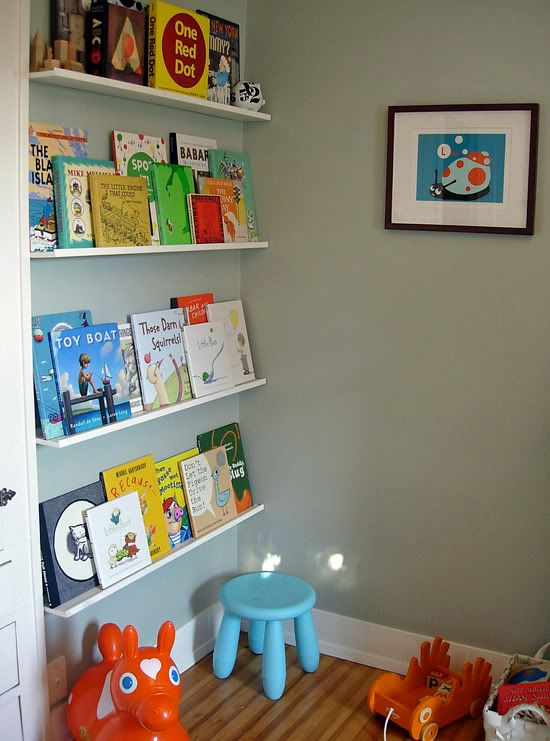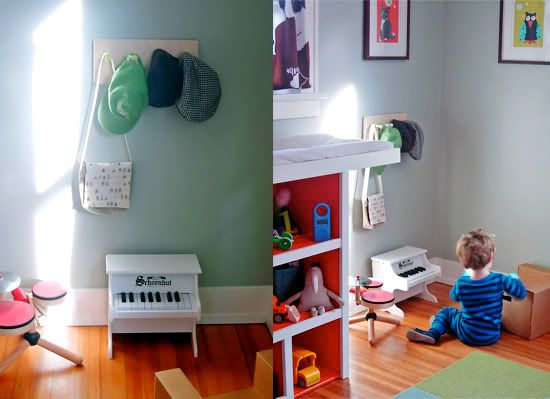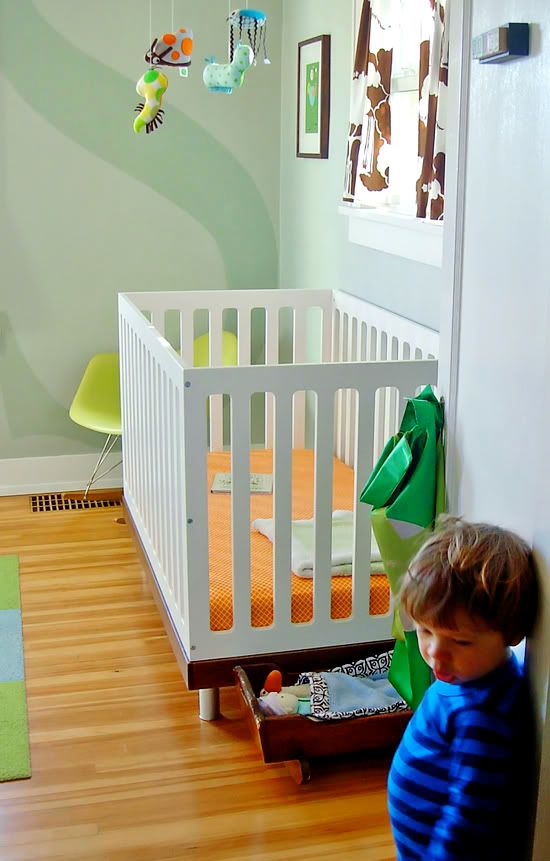 Kristin's gorgeous mobiles look right at home in this room, doncha think??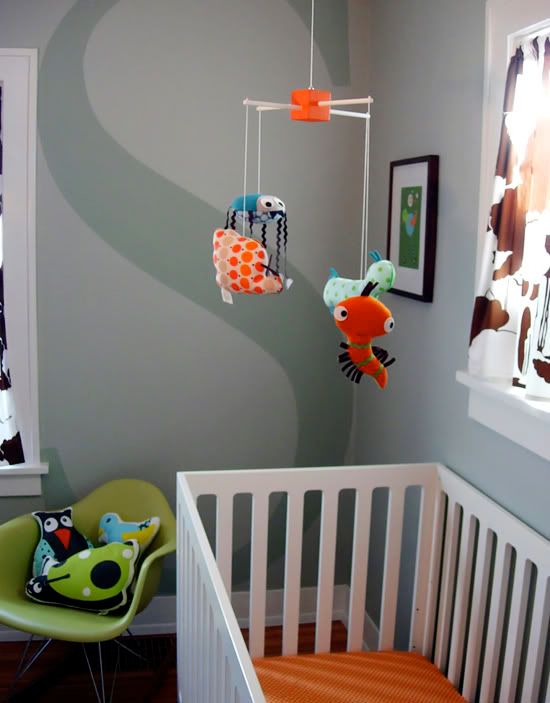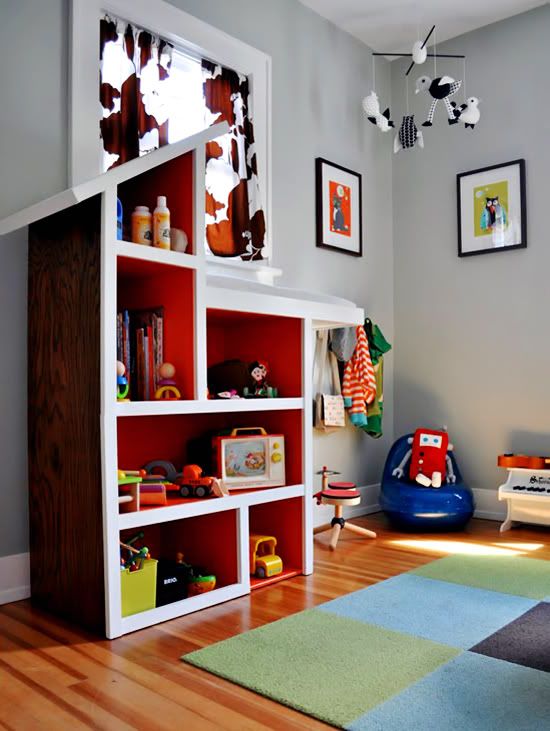 Ahhhhh. So good. Kristin, thanks so much for sharing this awesome room with us! Sayer is a lucky lad to have such a cool mama!! Oh, and because this is Modern Kiddo, you know we like to leave ya with a little fun vintage tidbit. Check out this TOTALLY rad vintage Fisher Price TV that Kristin scored while thrifting the other day! I love lil Sayer kickin' back in the yard.