And this week, friends, we are going to focus in on one particular area of supreme baby kootness! Those widdle footies! The ones you just want to nom on and kiss all day long.
Although it is a shame to cover those little sugarfooties* up,  let's do it in style with the nice selection we pulled together for your viewing pleasure–all available in sizes 0-12 months. And we've come a long way from those white ankle boots of yore.
These Zid Zid Eco Moroccan booties are just killing me with their sublime yumminess. I like the blue pair the most.
I'm in love with these Livie & Luca pink Holland boot. It kinda has that old school feeling to it that is making me that I. MUST. OWN. THEM. Why do you make me suffer so, Livie and Luca?
Right now my husband is in love with tweed, so I expect that he'll buy these tweedy numbers for the Peach as soon as I post this. Sigh.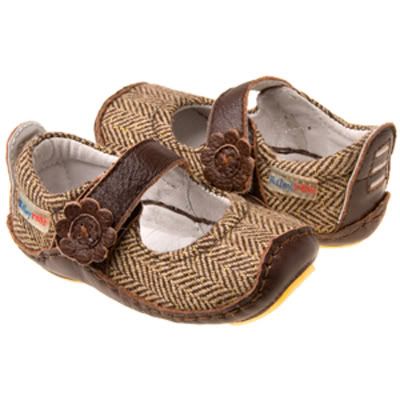 I think red and brown is such a great color combo–it reminds me of little red robins.  And in these tiny loafers, well, they are just stinktown cute.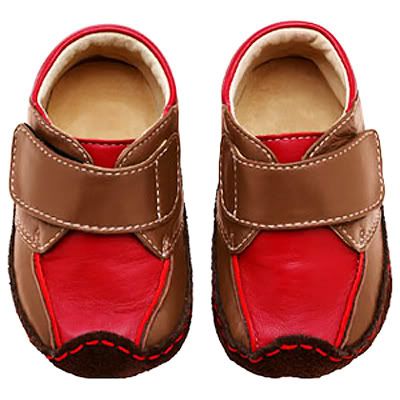 Robeez are a baby shower staple for good reason–particularly when they put such wacky adorableness on their shoes, like this knighted fox pair–what a hoot!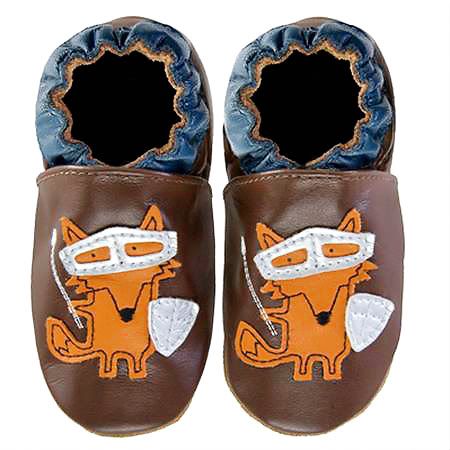 Oh, but then I went to Etsy and lost my mind is baby shoe adorableness.  Crafters throw down the gauntlet of button cuteness when it comes to baby shoes.  Let me share a few with you…
Etsy seller, Garden Alley is cranking the cuteness level up to 11 with this embroidered pair:
FIE, Etsy seller, Gracious May–you are churning out some serious cuteness over at your shop! I don't know what is cuter–the little foot or the little robot shoe over the foot?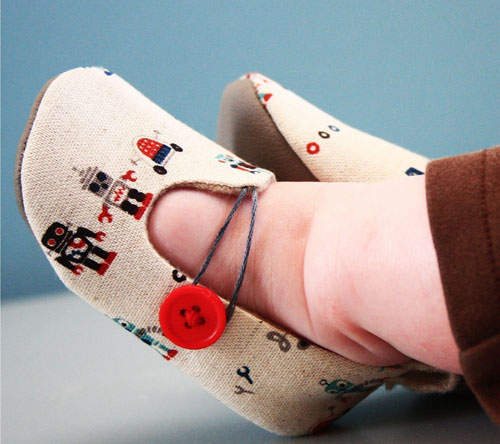 And what about this Mary Jane or this kitty ones?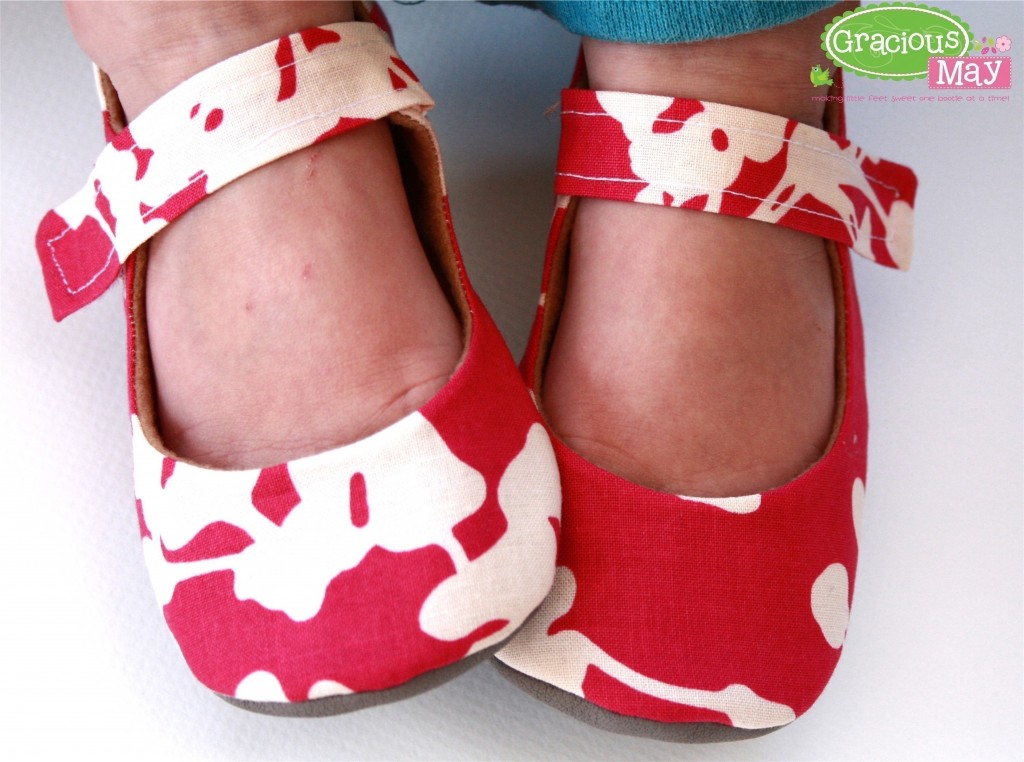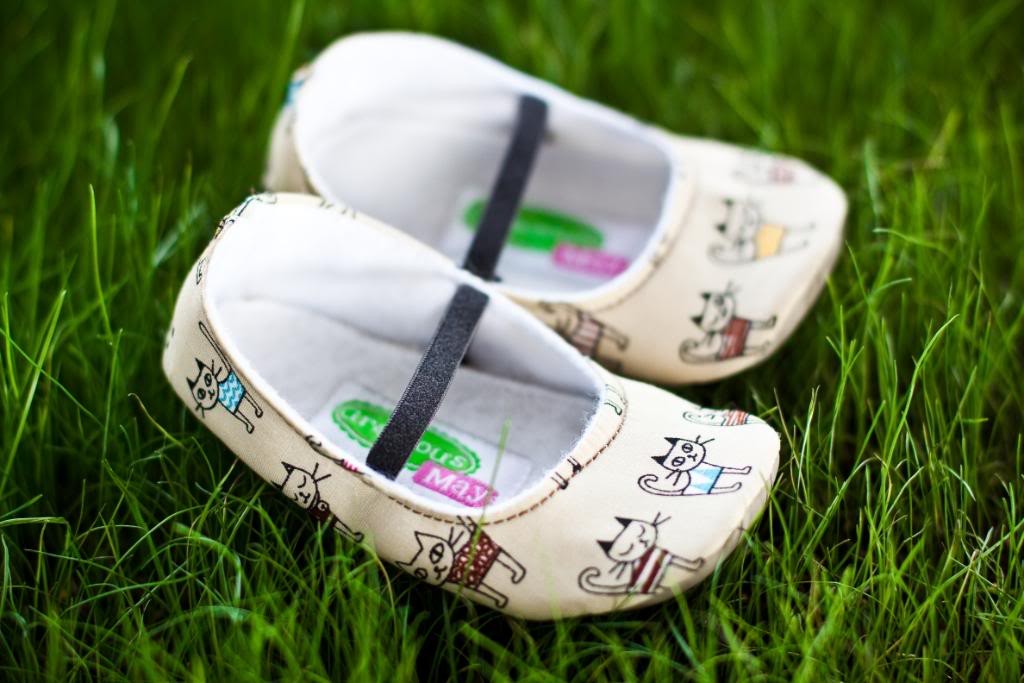 I have a not so hidden love of ticking fabric. And to use it for this tiny tiny shoes? Genius, Etsy seller, Cutienesser.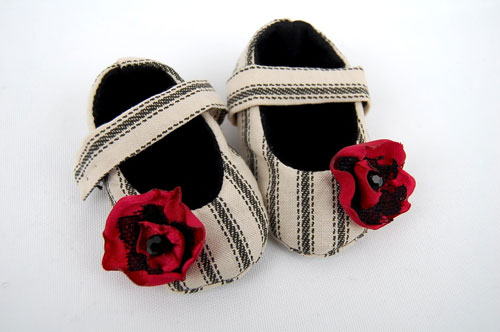 Nothing says love like knit booties, right? Etsy seller HandknitHugs is rocking my world. How could she not with these two cozy posie pairs that say love luv LOVE? Â  I'm dying here.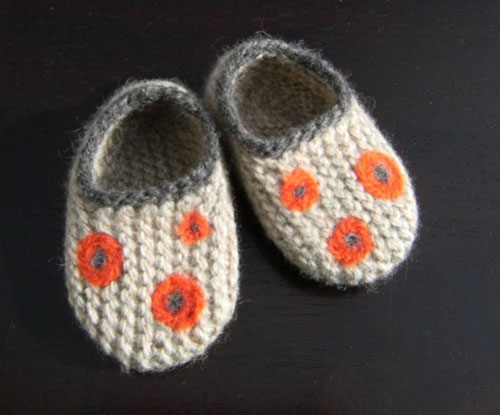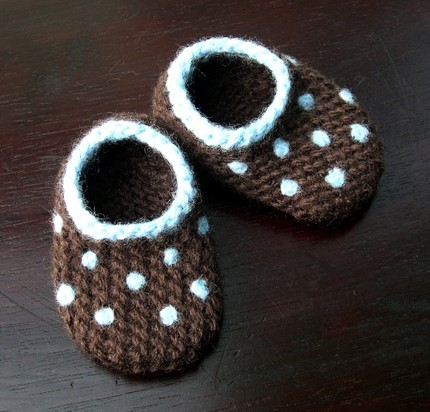 And you know how I love a good upcycled sweater? Well, pair that with baby booties and you end up with this little bit of awesomeness, the town boot from Etsy seller, Wooly Baby.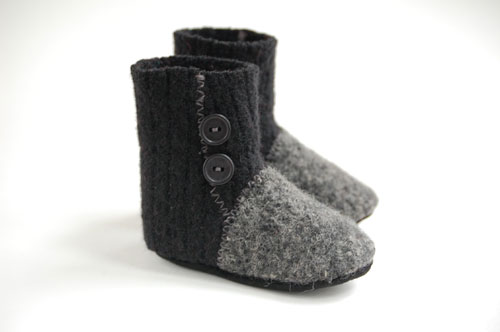 I broke a tooth on this cuteness!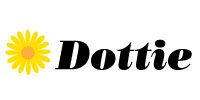 *My mother grew up in the South and Sugarfoot was a term of endearment, so it was tossed around a lot in my childhood with smiles and cuddles. But as an adult, whenever I use the phrase anywhere else, I get looks of complete horror. Please bring back that awesome phrase. And say it with a Southern drawl for effect!