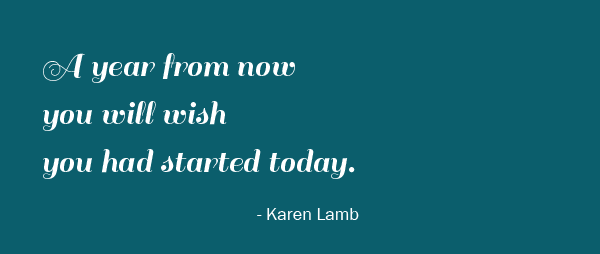 As promised, I'm going to use this space to keep track of  goals I made for myself early January.  Well, I tried to keep my 2013 goals alive and well in January with decent results so far!  To keep myself on target, I thought I would do a few check-ins with you.
GOAL #1: WEAR MORE DRESSES

I kept my goal of wearing at least one dress a week.  But barely. I've decided to add skirts into the mix.  I must say for me dresses in the winter can be a bit tougher, but I'm buying some fleece lined tights to help out with that (when I would prefer a pair of cozy thick sweat pants) so I can have more than one layer of cloth between me and my cold house in the morning.
Some days I just want to throw on pants and that's OK. So—most important realization with New Year's goals so long—don't take them too seriously! More like reminders than strict goals.  But I will say that when I did wear my dresses, I felt more put together and a bit sassier too. So, it was worth it just for that!
I included photographic evidence that I did wear them!  WARNING: I'm not really good at taking photos of myself–I'm always so judgmental of my figure/hair/etc., but I'm trying to get better. So forgive my totally dorky faces.  Any tips on taking photos of oneself would be greatly appreciated!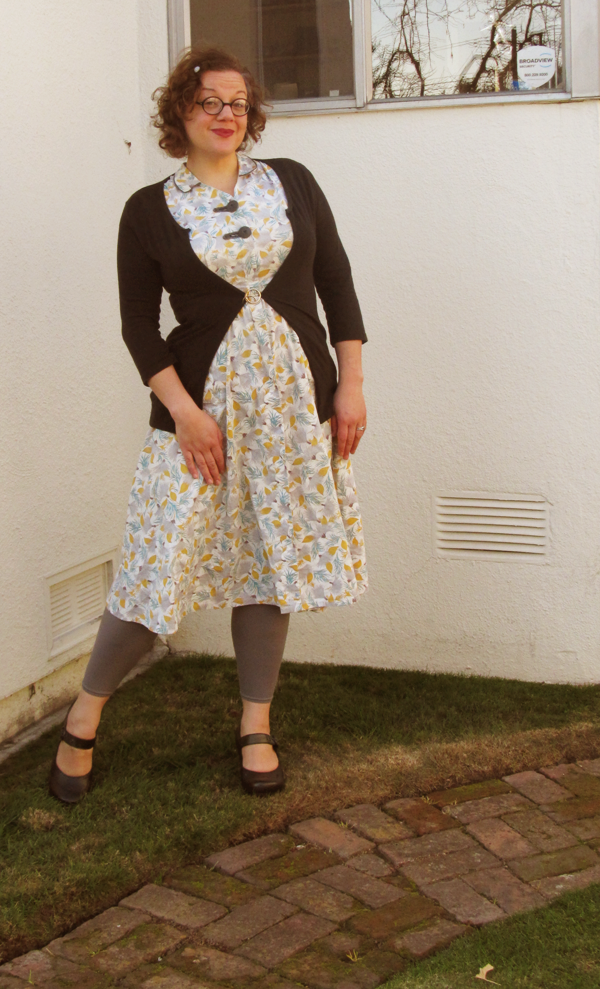 (Vintage dress with old v-neck long sleeved t-shirt cut down the middle and held together with an old circle pin. Shoes are from Dansko.)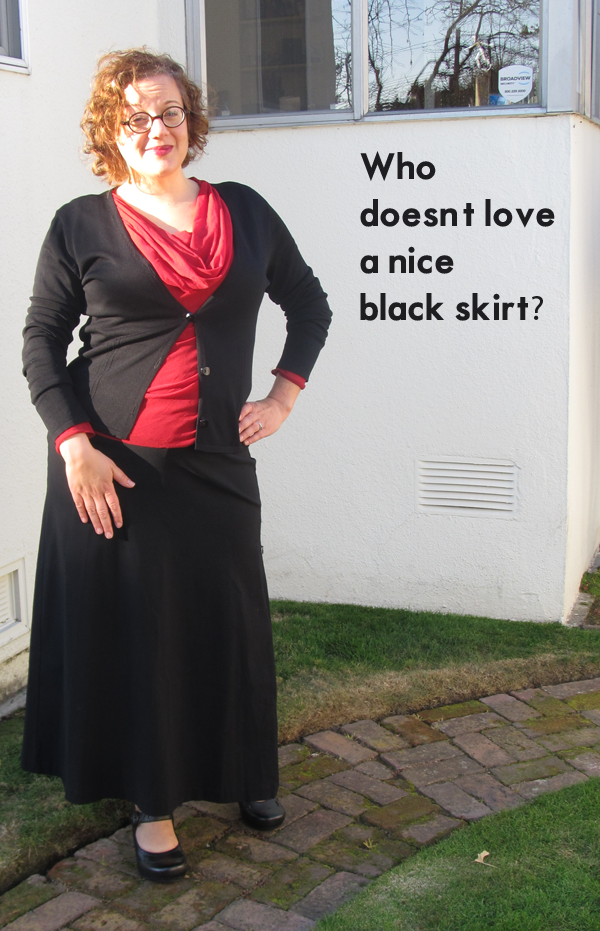 (Black skirt that was given to me from my friend that lost a ton of weight! Westonwear shirt, black sweater I've had for a decade and those Dansko shoes again.)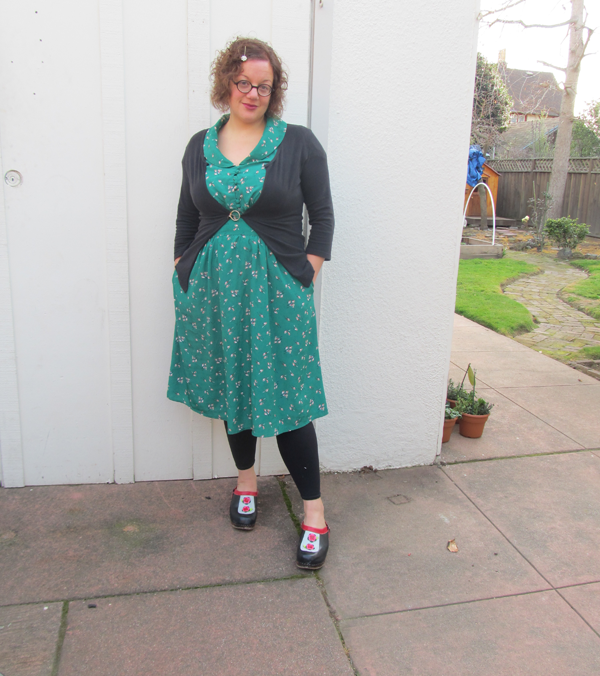 (Dress from eShakti.com, that t-shirt cardi, and clogs from Hannah Andersson)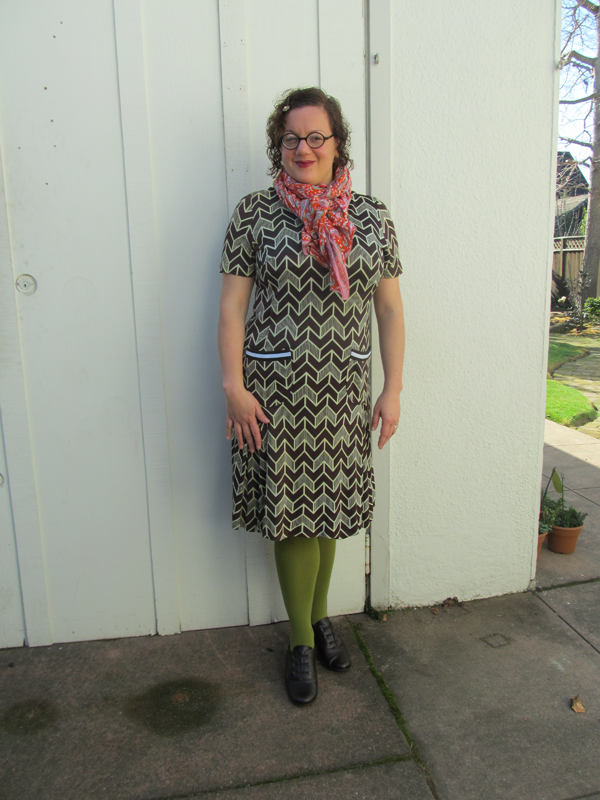 (Vintage dress my friend gave me and sassy/comfy shoes from Aerosoles
.  I can't remember where I got the green tights, but I do love them so! Oh and the scarf I picked up at World Market a year or so ago.And I wore it with this coat I've had forever and some gloves I dyed pink in the great dying bonanza of '12.)
GOAL 2: CRAFT MORE
This goal was all sorts of wonderful to do.  Since I was always putting off crafting for doing other misc. things, I had to make it a priority in my week, which really helped.   I forgot how much I adore it and how time seems to stop when I'm in the middle of doing it.
I've had this organization/purge thing I've been working on over that past few months (more on that later) so I had this desire to finish craft projects that I've had on my list for a long time. One of them was a quilt top I started in the spring of last year.  It was the craziest thing–this quilt I started. No pattern just a freakish need to craft that drove me to ransack my fabric collection and buy bags of scrap fabric on Etsy and sew them together.  I had sewn up the strips quickly, but by summer, they were languishing on a hanger where they stayed until a few weeks ago when I bought some muslin and sewed it all together.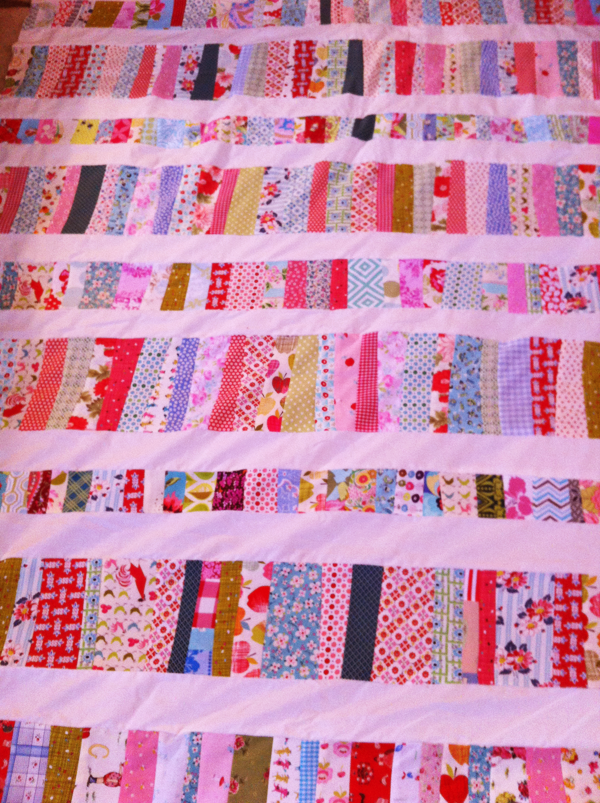 And once I finished the front I had to make the back, which I did in a couple of hours! So, my work here is FINISHED!  Now, I'm going to take it to a quilting shop and have it machine quilted.  This quilt is headed for the Peach's bed! Perfect!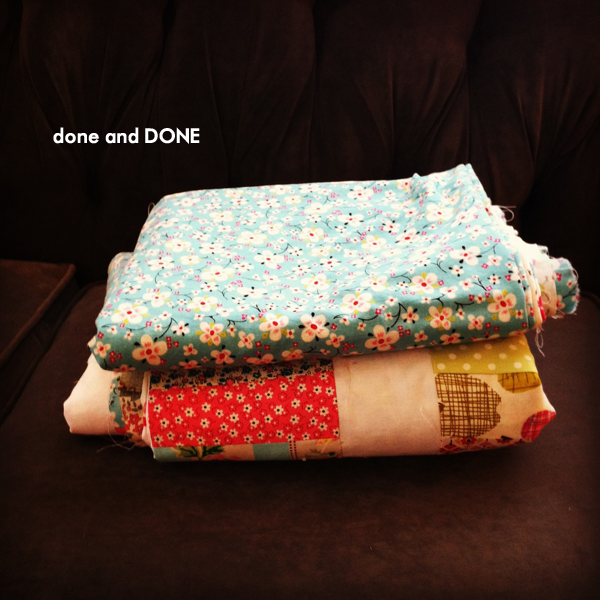 GOAL #3: GO TO A MUSEUM A MONTH
I can't lie–I barely made this one in time!  On Jan. 31st, I went to the DeYoung Museum in SF with my friend, Eileen. I think  lunch and a museum visit are a perfect friend date!  We saw Nureyev's costume exhibit, which was magnificent!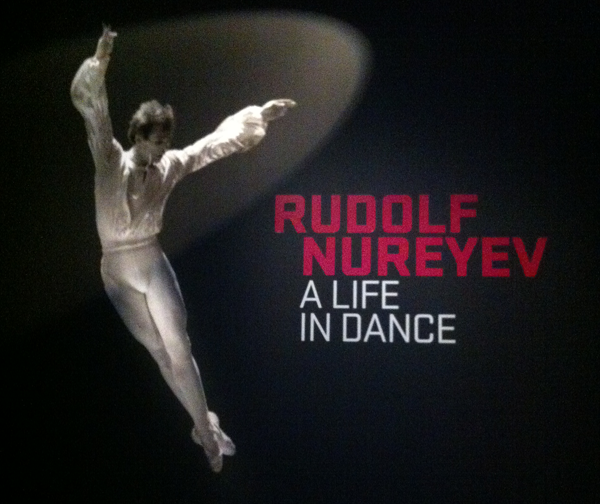 I love ballet and I must admit that I love the costumes just as much as the dancing, so it was a real treat to see the details of these glorious outfits close up.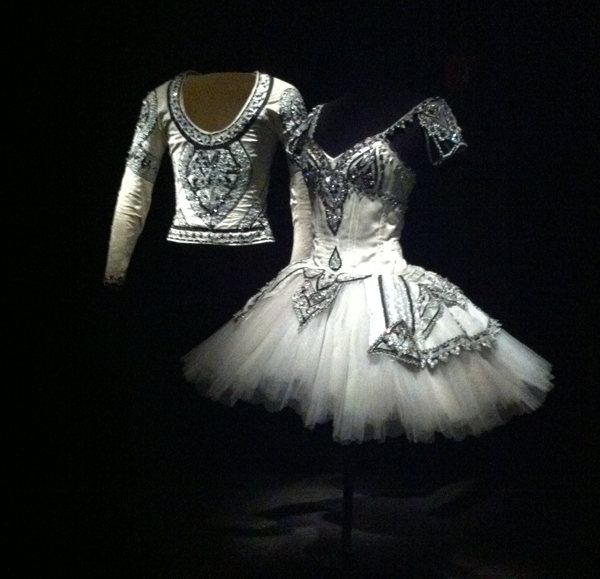 I knew ballet dancers were small, but these looked like they would fit small children–they were so tiny!  The craftmanship was amazing. Like this ribbon basketweave accent. To die for.
For February, I hope to do as well as I did last month with my resolutions.  Crafting wise, I'm hoping to focus on finally doing those little flannel smocks for the Peach that I've been wanting to do since… oh… NOVEMBER. And I'm hoping to go to SFMOMA for Paul Klee's exhibit.
What about you? How are you doing on any goals you are working on?