If that orange princess dress did one thing for me, it was that it made me want to sew even more for the Peach. Easy little dresses that she can wear over turtlenecks and maybe some cozy options instead of long sleeve t-shirts to wear with her jeans and cords. I think this is going to be a great way for me to continue to flew my sewing muscles.
But first to find the right patterns to use. I decided I wanted to use on pattern from Etsy because I think they have some amazing patterns available for children's clothing. Most of their patterns come with incredibly detailed instructions, which I realize I need to create a great finished product.
Here are some I looked at:
I really like this sweet little peasant dress pattern. Looks easy and seeing the plaid version (on such a cute little model) made me kinda excited about doing one out of flannel…Â  From Etsy seller, Dream Spun Kids.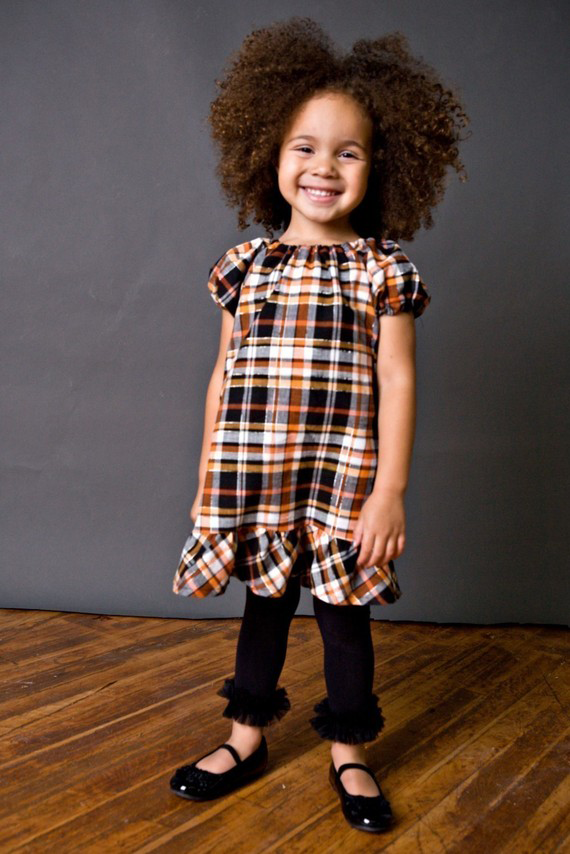 The Charissa dress would look really cute over a white turtleneck.  And I could add a lot of cuteness like a peter pan collar or a placket of ricrac to give it a bit more punch! From Etsy seller, Growing Up With Charissa.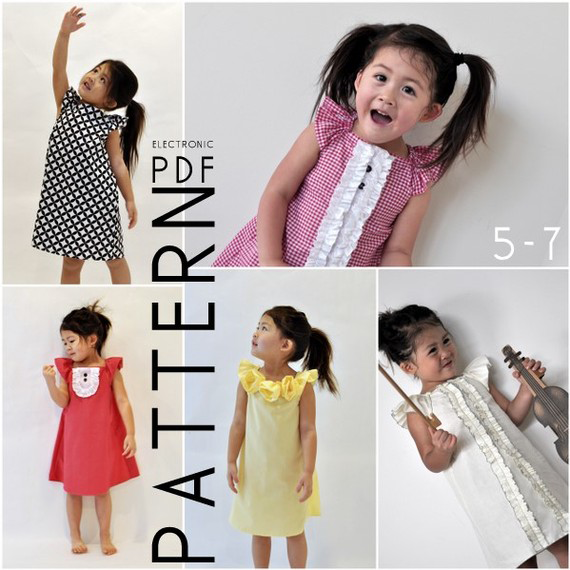 I'm really in love with this darling little blouse that has a faux peter pan style collar/sleeve. Perhaps if I lengthen it, I could turn it into a dress. But I wonder if this would be better for summer. Thoughts? From Etsy seller Too Sweets, who has some of the sweetest little dress patterns around! Actually, I think I'm going to save this dress for summer of 2013.
But I think I'm going to go with this pattern, the Fuwafuwa dress from Dans La Lune. Super simple and when matched with a simple little peter pan collar blouse from Old Navy or a turtleneck and some fun tights or leggings, it will totally be a party of cuteness. And I think I'll use these flannel fabrics I just purchased from Alewives Fabrics, which I think has the nicest selection of flannels around–no too cutesy/baby or holiday themed.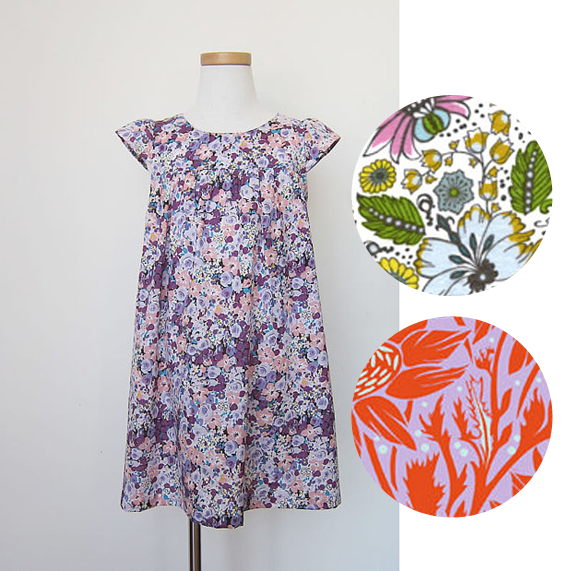 Now for the vintage pattern, I'd like something simple. As I've heard vintage patterns leave a lot of little steps out, which is kinda a bummer to say the least. And since I am easily traumatized by scary sewing steps, I want to keep this as simple as possible.
But simple doesn't mean it can't be super cute!
Check out this darling pattern. I think the collar is a bit much, but that middle one is MONEY! From Etsy seller, Vogue Vixen.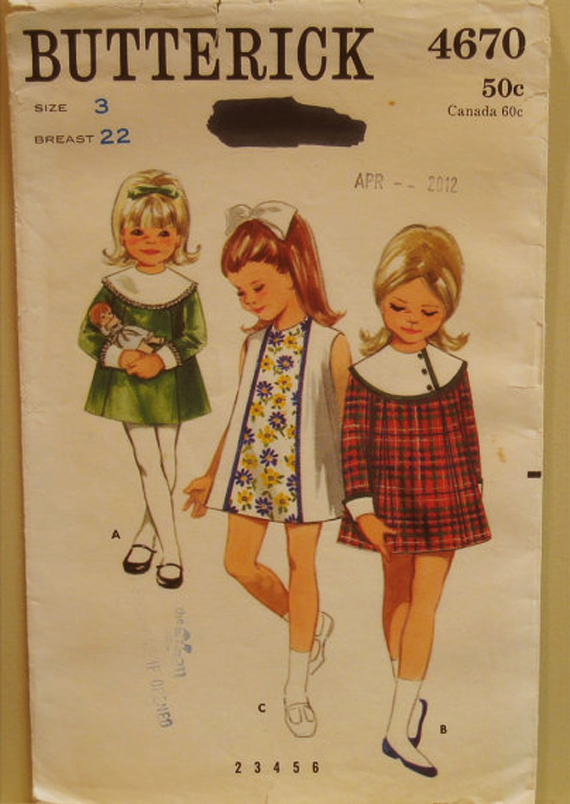 This dress is so short, it could really be used as a little tunic and worn with jeans.  From Etsy seller, Kallie Designs.
I will take all three versions of this dress!  And the little blue purse, please! Pity it is a size 10. Hmmm… Maybe I should get it for later… From Etsy seller, Fresh and swanky.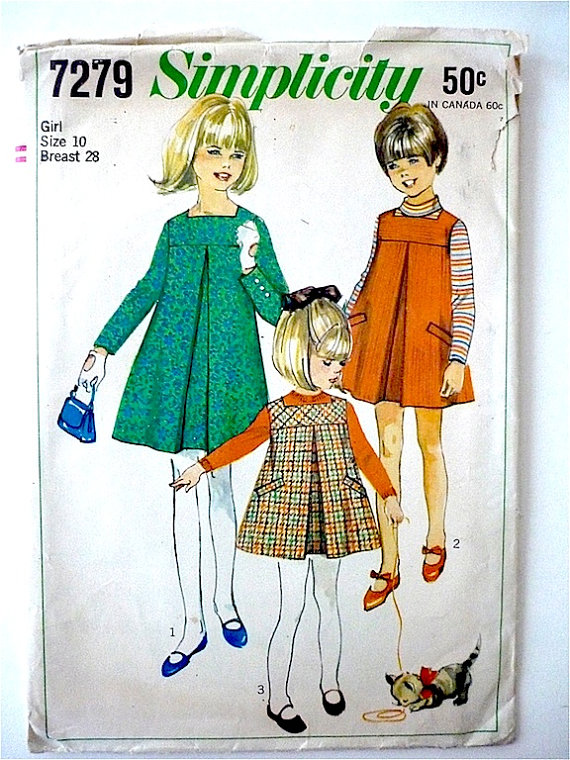 But I did go and buy this pattern. It has long sleeves and a Peter Pan collar and pockets, which I know the Peach will enjoy immensely!  Made out of more snuggly flannel from Alewives and paired with her cords or jeans,  I think it will be a suitable addition to her wardrobe.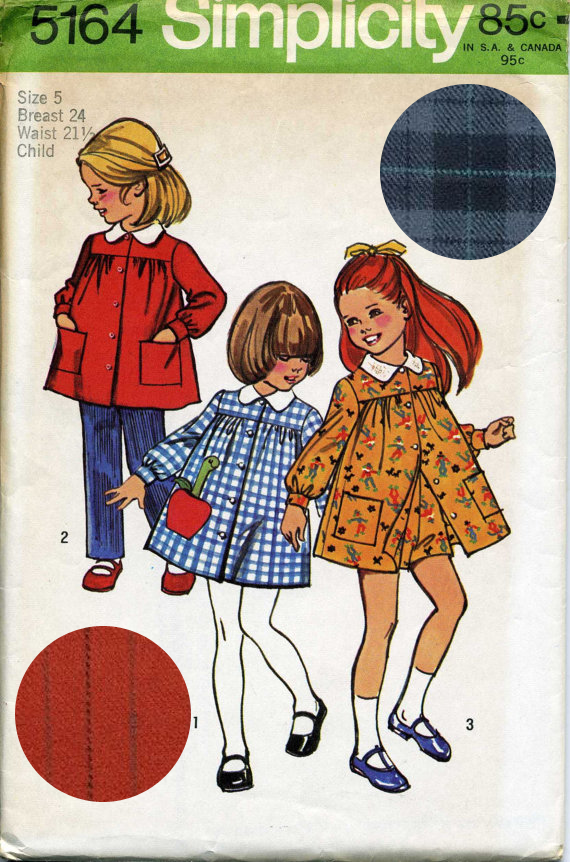 Hmm… That dark blue fabric looks a bit blah for a kiddo. I picked it because it was like a shirt that her Daddy wears, but it does seem rather dreary for a peppy little girl of three, don't you think. Maybe I'll do it in this color instead…
My goal is to make two of each of these dress/shirts I've decided to try to make two and two of the fuwafuwa dress this month. Wish me luck!
Do you do any sewing for your kids?  Have you in the past? What patterns do you use? How long does it take you to "knock out" an item?