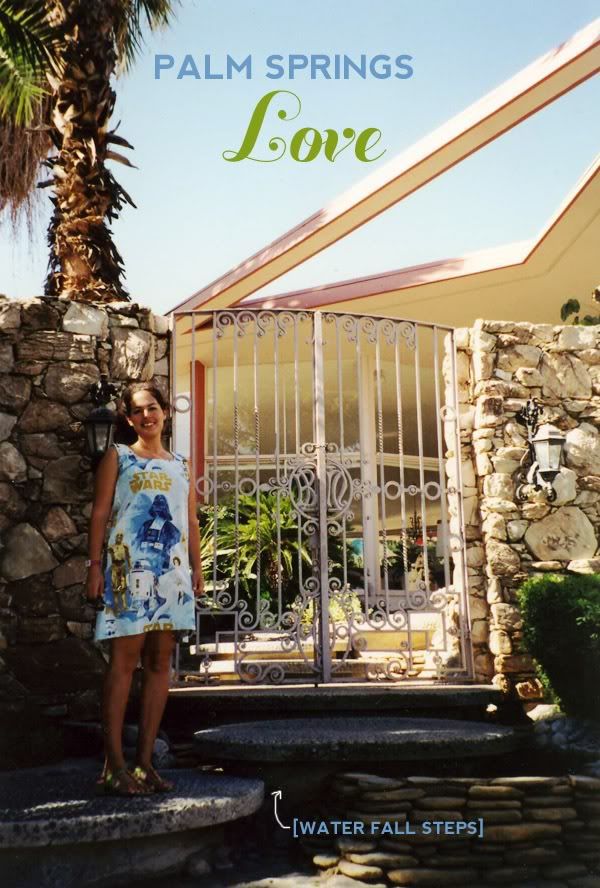 In case you missed it, yesterday was Greg and my Ten Year Wedding Anniversary! I posted a little about our wedding here. We were marriage in Palm Springs, and I shared the groovy locale we were so fortunate to secure: The 1960s Alexander House aka The House of the Future! I promised I'd give you a little tour of the inside…..so here we go!



Around 9 years ago Greg took me to Palm Springs, somewhat against my will. I had visions of geriatric golfers and bleak desert scenery swimming in my head. What I didn't realize was the amazing mid-century splendor that lay hidden there. Now keep in mind this was like, 1999 – 2000 and Palm Springs Modern wasn't even a glimmer in Kelly Wearstler's eye. We were in heaven, it was so perfectly retro. Even the banks were cool, with elegant lines and pale blue mosaic tiles.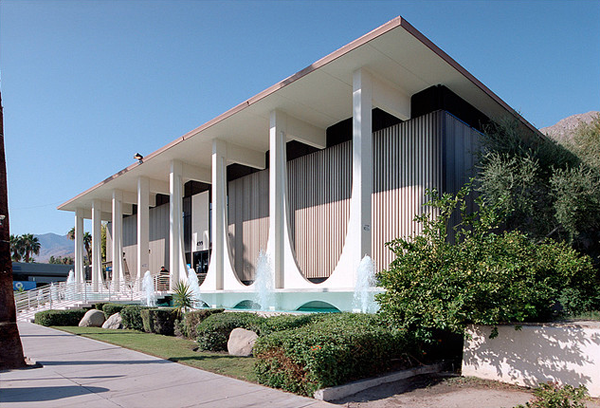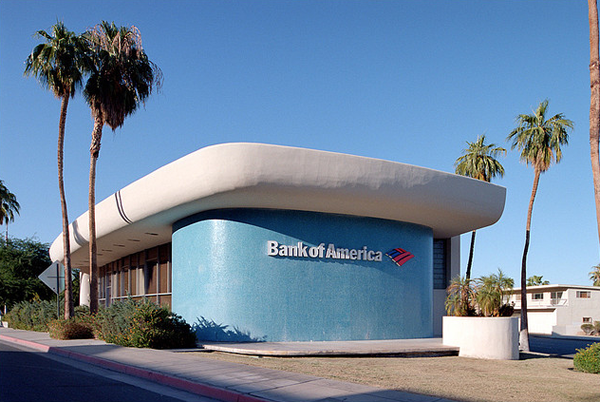 We loved driving around the residential neighborhoods and taking in all the cool architecture. The majority of it was built by the Alexander Construction Company —George and Robert, a father and son team who (along with architects Palmer & Krisel) are responsible for turning Palm Springs into the modern motherland it is today.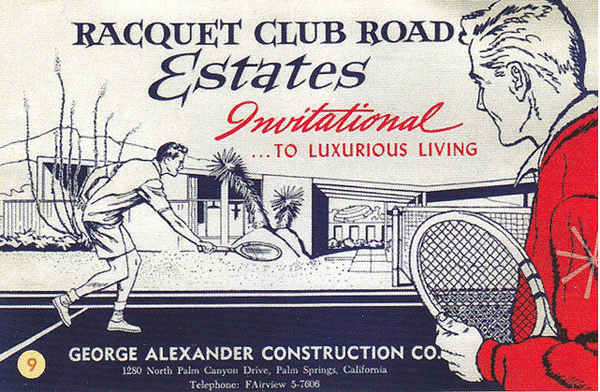 So one afternoon we're driving around. We happened to make a right turn onto Ladera Circle, a cool little cul de sac, and there it was. The House. Looming like a giant, space-age pale pink piece of gorgeousness.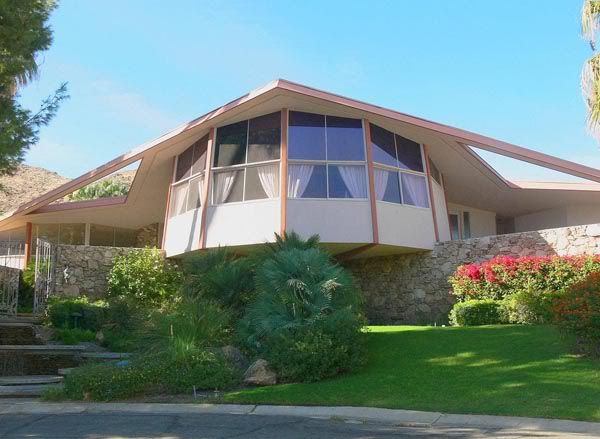 We saw an older woman out front puttering in the garden and thought "WOW! I bet she doesn't even know what she has here. This place is AHmazing." After doing a little research we realized that this house was designed by William Krisel and built by Robert Alexander for his wife Helene in the early 1960s. Here he is with the architectural model of the house—and the house-in-progress in the background.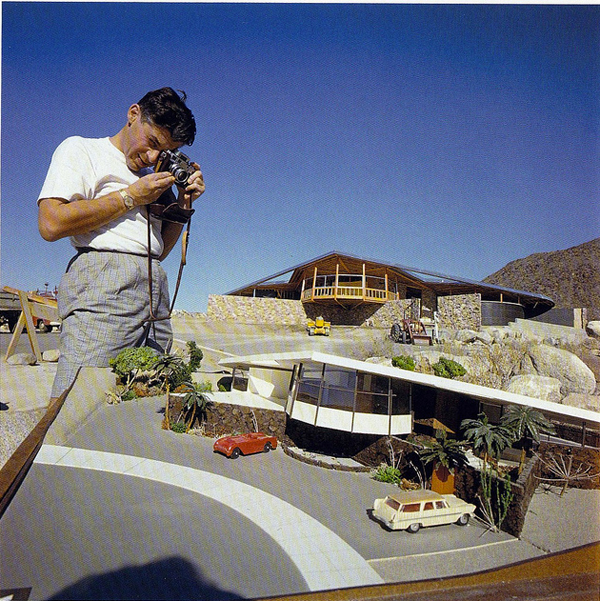 When it was completed, it was dubbed "The House of the Future" in the September 1962 issue of Look magazine in an article called, The Way Out Life. Check out how suave Bob Alexander is getting into his rad little car: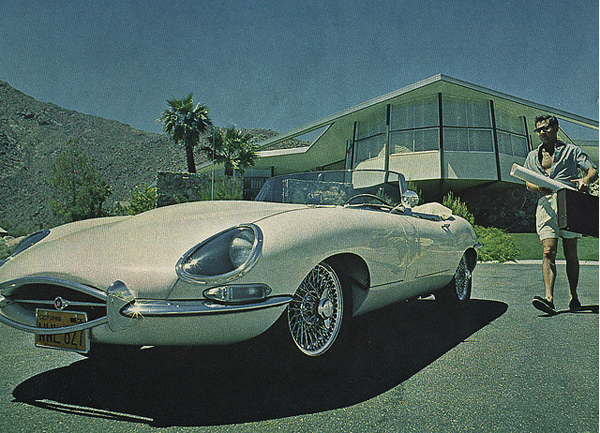 OH Helene, chillin' with a smoke. All I can think is, "Don't ash on that carpet!!!!!!!"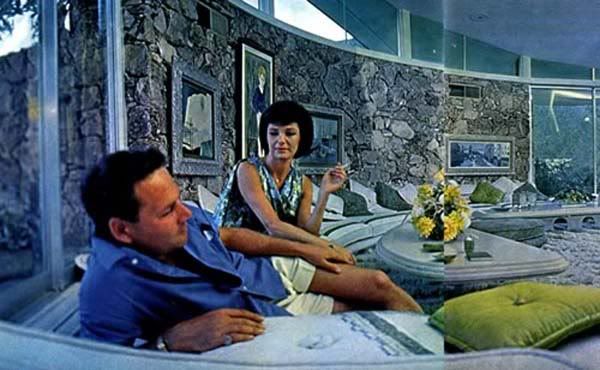 I love sunk-in bathtubs and this one doesn't disappoint.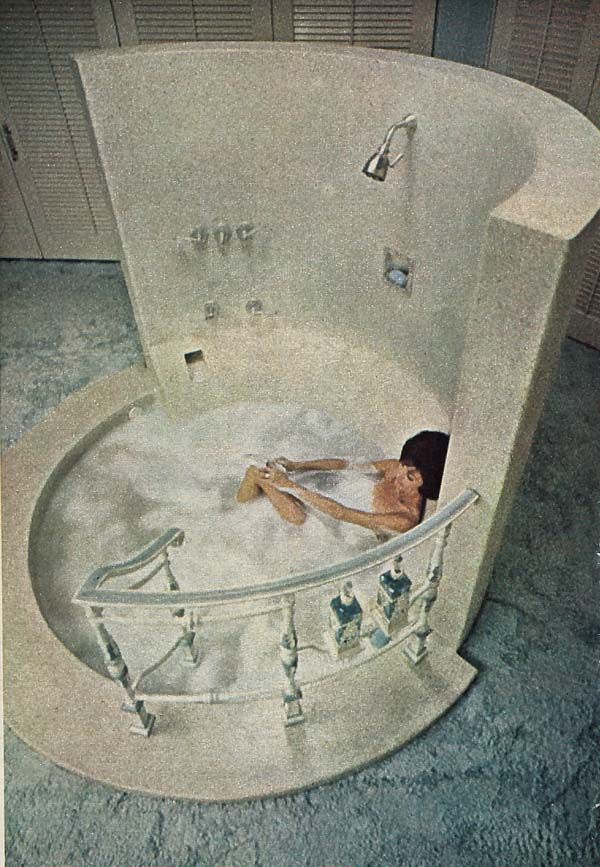 The house was a sensation, but it would become even more famous when a certain Mr. Elvis Presley rented it out as the site for his future wedding. Gossip columnist Rona Barrett tipped off the press so Priscilla and Elvis snuck off to Vegas instead. But the house….the house! Elvis loved it so much, that he rented it out for their honeymoon and stayed nearly a year.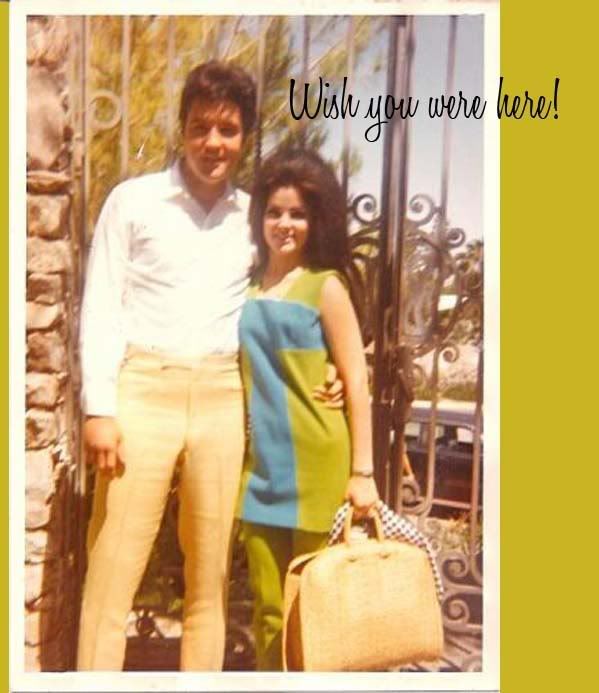 Here they sit on the iconic couch…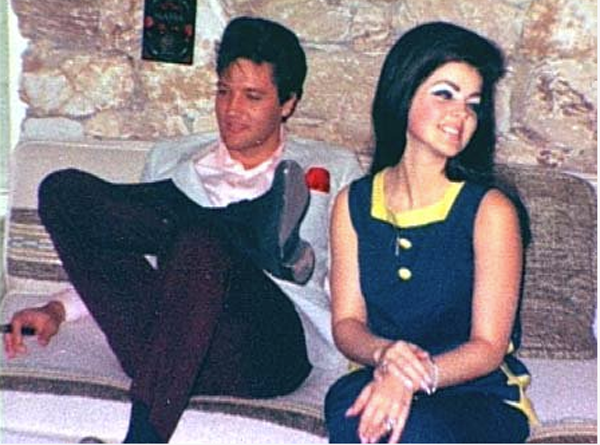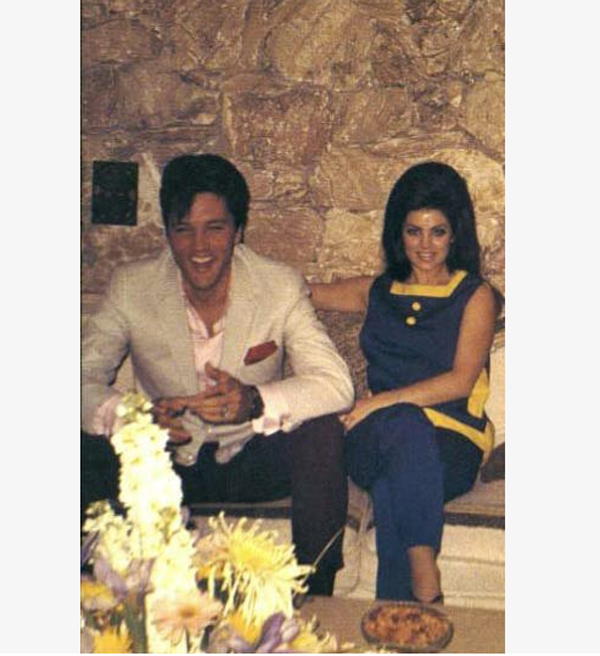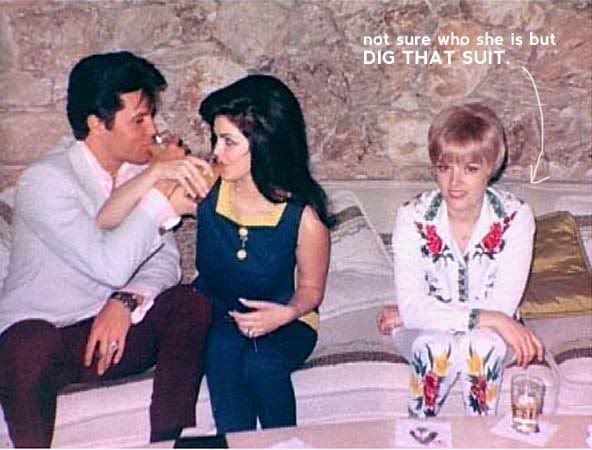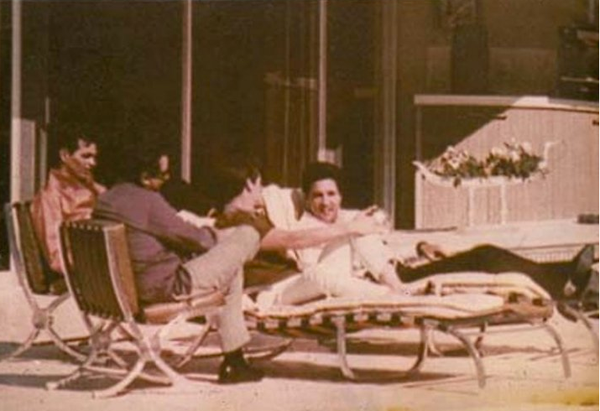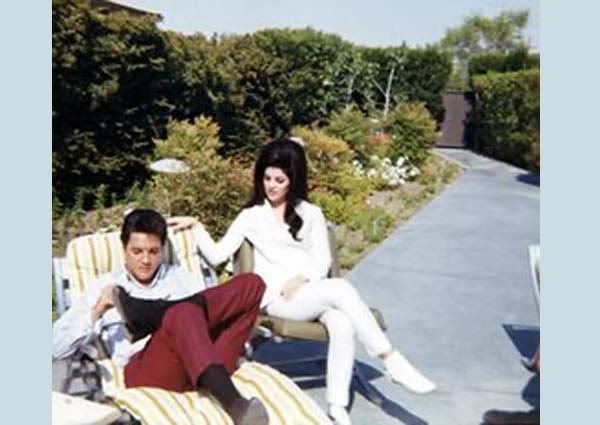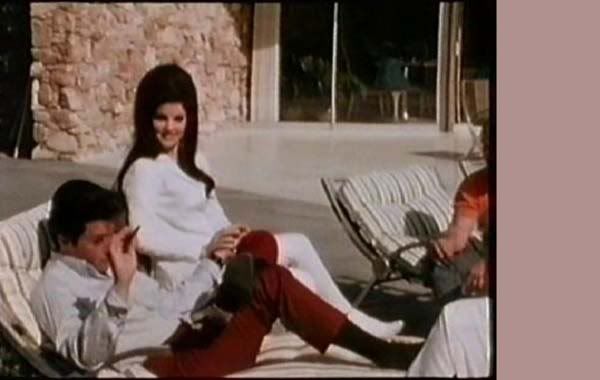 Rumor has it that he wanted to buy the house, but Bob Alexander wouldn't sell.
Let's take a lil look inside!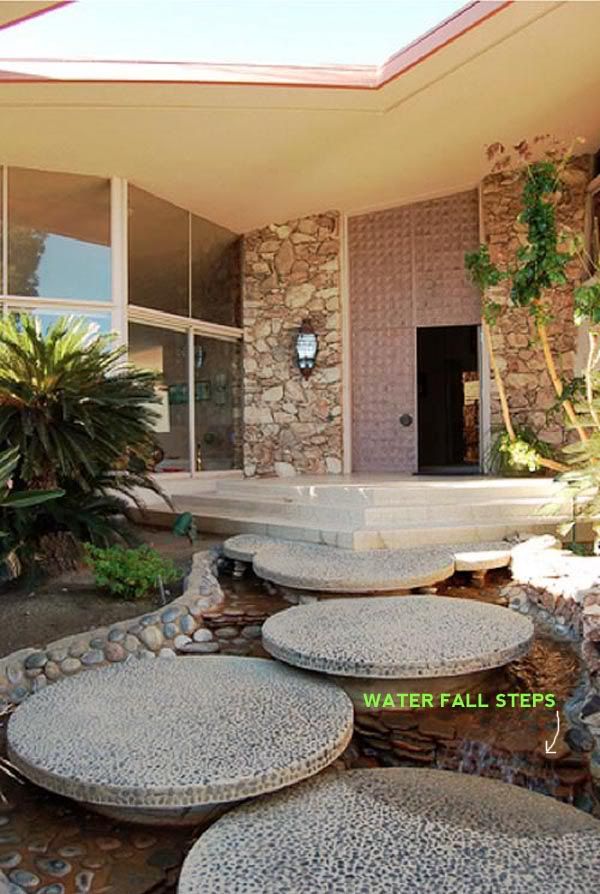 See those huge round circular stepping stones?  I remember when the man who owned the house was showing it to us for the first time, he flipped a little switch and a water fall came rushing down the sides of the steps. Greg and I looked at each other and silently said, "AHHHHHHHH!!!"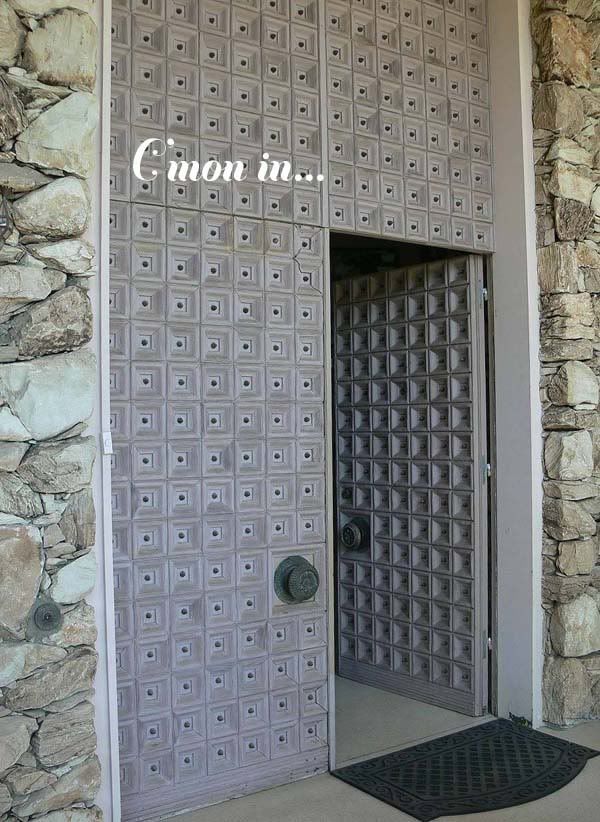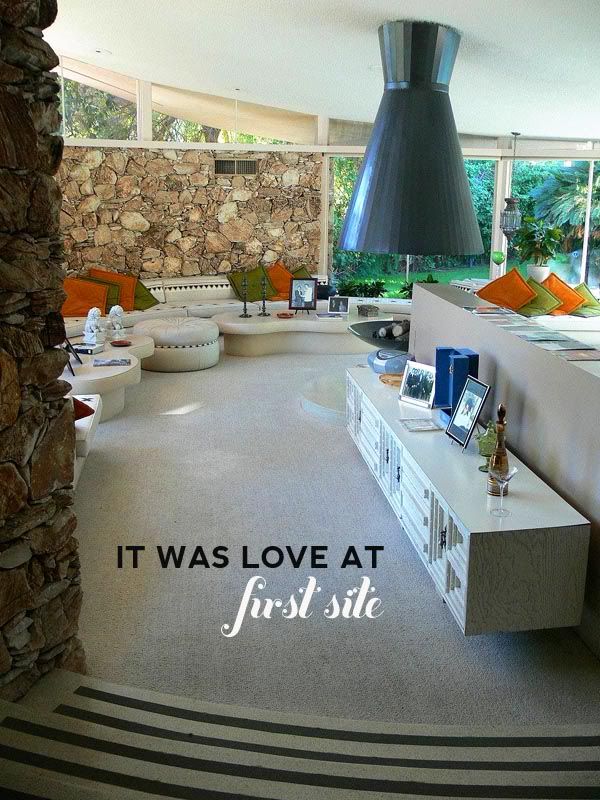 The first thing you see is the amazing living room. Its entirely round. In fact, the whole house is a series of four circles built on three different levels—there isn't a square room in the place.
The star is the spectacular 64-foot built-in, white leather  sofa that runs around the length of the room! Hot hot hot!  Even the free-standing fireplace is circular and looks like it belongs in a space station.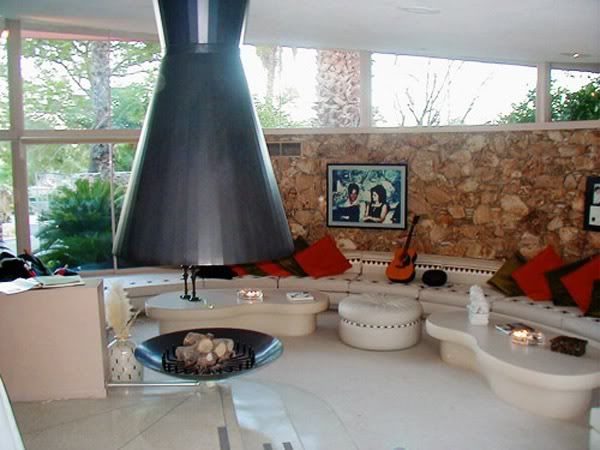 Aw and here we are on the white sofa too!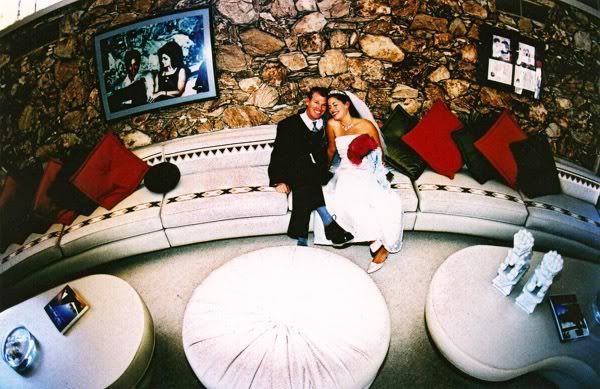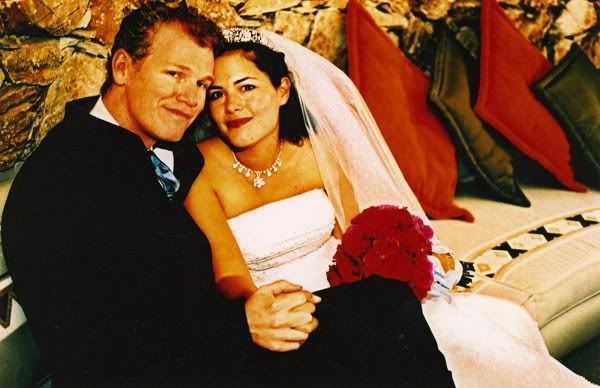 Gigantic windows the run along the entire back wall give you a view of the yard and make the space have that true "outdoor/indoor" feel.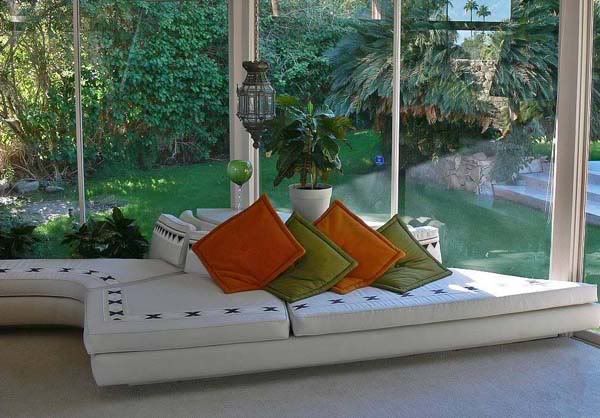 Outside is a large yard with a cool asymmetrical pool. There is much more of a lawn than you see here—and it's where we had our actual ceremony. One of my favorite memories of the wedding was waiting  in living room to make my entrance (to Moon River.…) and looking out the huge windows to see all our friends and family sitting outside waiting. Seeing all our loved ones, from all these different parts of our life, gathered together was so touching (and surreal!). At night, the pool because really magical, offering all kinds of pretty light while we danced and drank the night away! The tables were arranged around the patio and had lots of floating candles and simple flowers….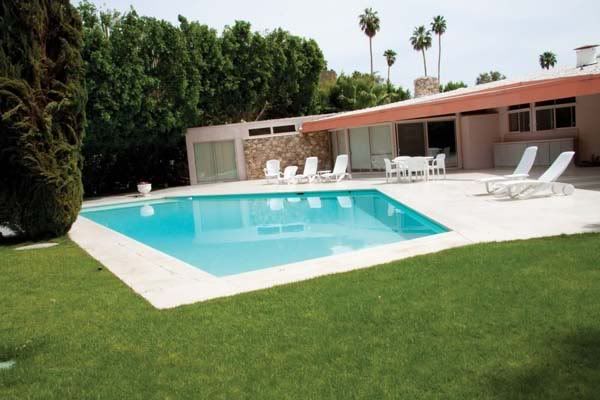 Back inside…..the dining room is on a raised platform off the living room (this was where we had our cake displayed):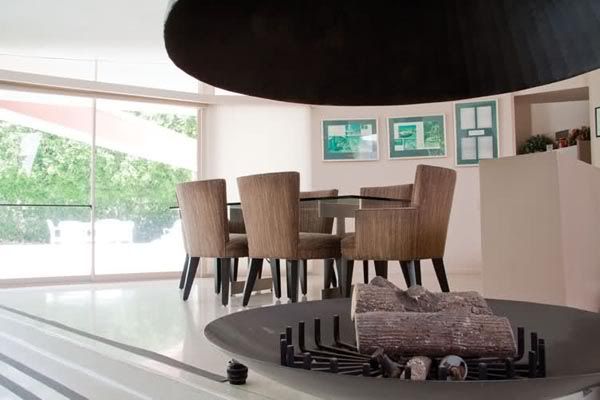 The kitchen keeps the circular motif too, with a circular cooking range (the whole room is round as well). See those stones on the wall behind the cooking range? It's not the wall of the kitchen, there is actually a counter back there and it looks onto the next room….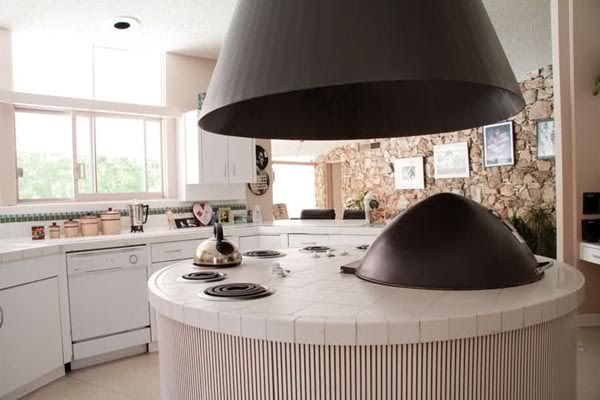 The next room is The Jungle Room. This is a quirky little crash pad—sort of a lounge/study. It too has large windows that look out onto the backyard. There is a vintage jukebox in there and an odd mannequin wearing a black leather jumpsuit that may (or may not) have belonged to Elvis.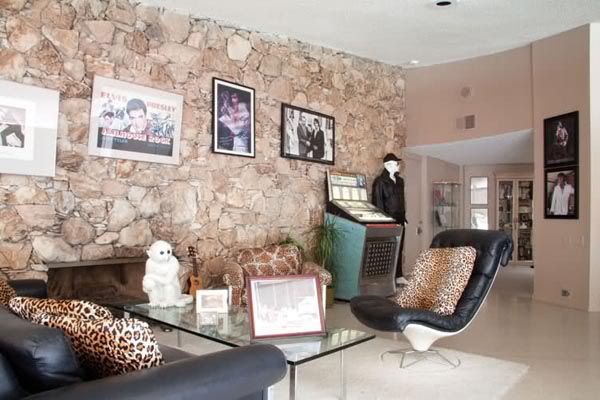 After the living room, the most spectacular room is the master bedroom. This is the room that you can see from the very front of the house—those giant curved windows.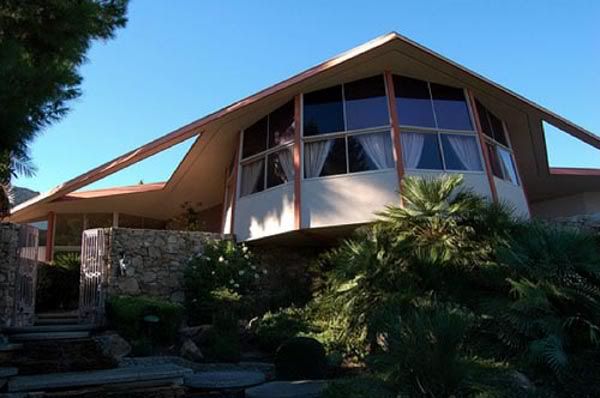 The room is upstairs and features a huge (HUGE) bed.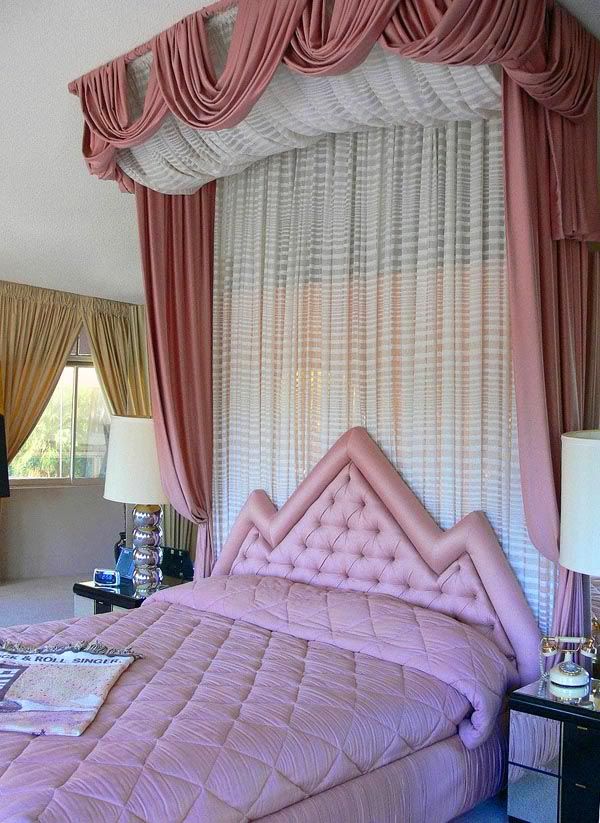 Legend has it that Lisa Marie was conceived in this bed because she was born exactly 9 months from their honeymoon stay. Hubba hubba! (As a side note, there are some random "New" decorating touches throughout the house…like that easel with a weird portrait of Elvis and Priscilla…and "Just Wanna Be Your Teddy Bear" bears on the chairs. Yeah….those all got tucked away in the closet, and my vintage "styling" bits came out in their stead! haha)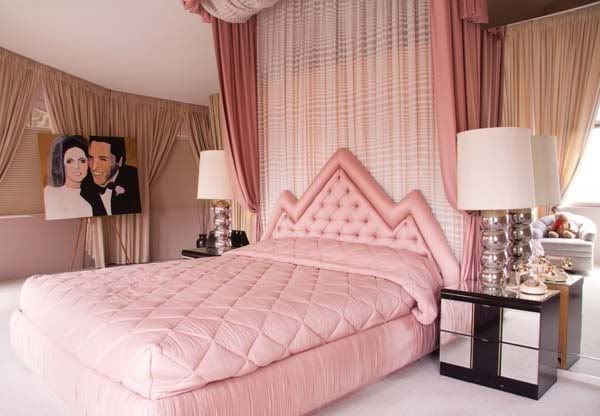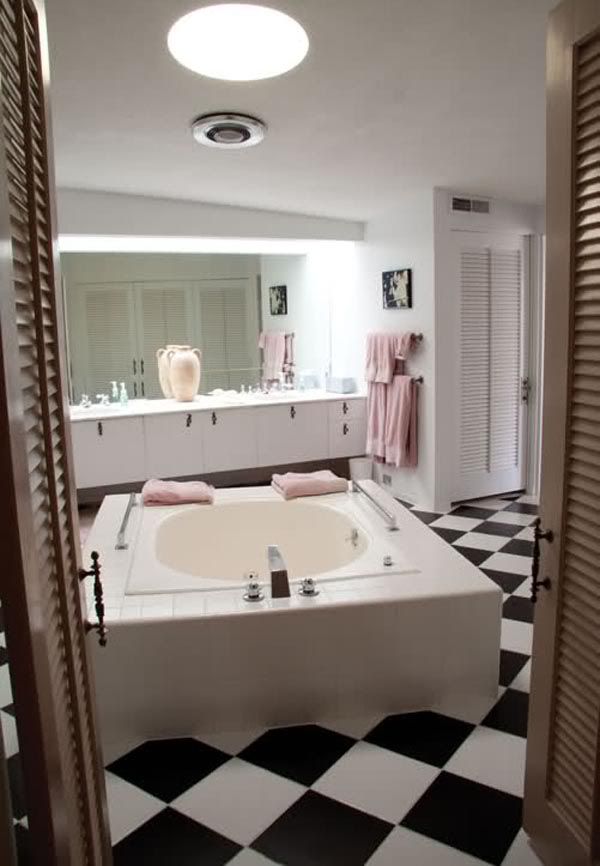 The bathroom is cool too, although that fabulous sunk-in tub we saw earlier has been replaced with a slightly more modern hot tub version. This was where I got ready….which was so amazing. The only challenge was, I wanted everyone to be able to come up into the room and enjoy it too, so after I primped at a leisurely place, we scrambled to tuck away all evidence and get it ready for the guests. In the bathroom we had a basket with Elvis-style sunglasses and pinkie rings for the guests to take—my one concession to the kitsch of The King!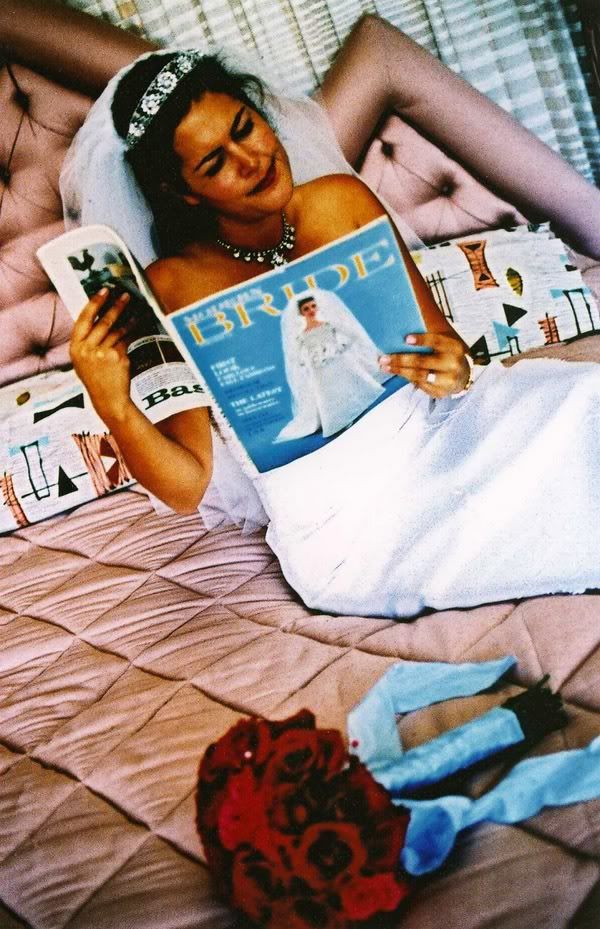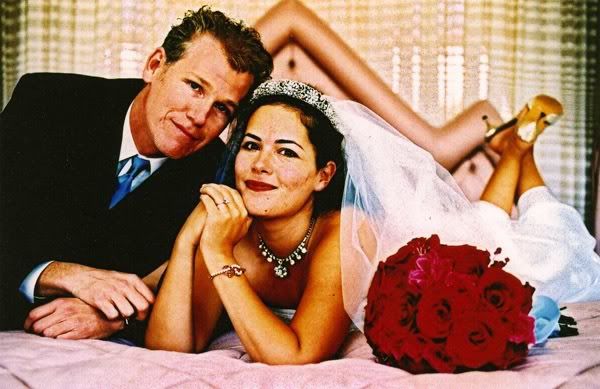 So there you have it! If you are ever in Palm Springs be sure to look it up….1370 Ladera Circle, Palm Springs, CA. A place that will always forever be a special place in our hearts!